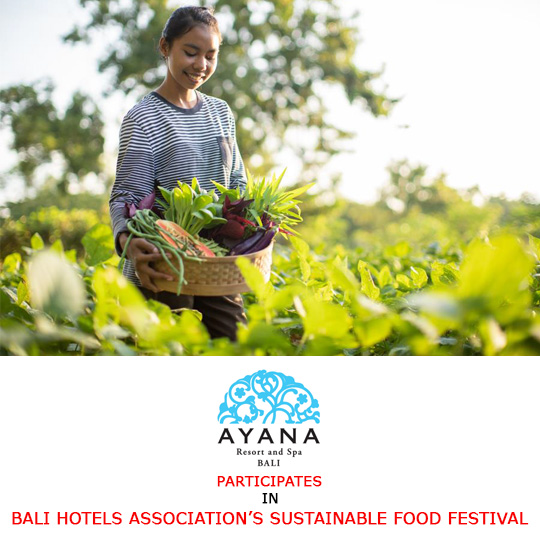 presented by

AYANA PARTICIPATES IN BALI HOTELS ASSOCIATION'S SUSTAINABLE FOOD FESTIVAL
Published by Sugar & Cream, Wednesday 13 October 2021
Text by Dira Rohmatun, images courtesy of AYANA Resort and Spa, Bali
"Sustainable Cuisine for A Better Living" | @Sami Sami Restaurant, 27 September to 16 October 2021
Sebanyak 30 hotel yang tergabung dalam Bali Hotels Association berpartisipasi dalam Sustainable Food Festival 2021 yang dibuka pada 27 September 2021 untuk menandai Hari Pariwisata Dunia yang selaras dengan tema "Tourism for Inclusive Growth", dan akan berakhir pada Hari Pangan Sedunia, 16 Oktober 2021. Festival ini memungkinkan para peserta menunjukkan inisiatif untuk beralih ke cara penyajian hidangan yang lebih berkelanjutan, dengan menerapkan 100% sumber bahan dari Indonesia, mendorong minimal 75% produk organik tumbuh, menghormati prinsip-prinsip perdagangan yang adil, dan memastikan semua produk makanan laut bersertifikat berkelanjutan dan unggas free-range.
Salah satu hotel termasyur di Pulau Dewata yang ikut andil dalam Bali Hotels Association Sustainable Food Festival ini ialah AYANA Resort and Spa, Bali. Di mana, para tim kuliner AYANA akan menyajikan makanan menggunakan bahan berkelanjutan tanpa mengurangi kelezatan cita rasanya, sekaligus menciptakan lingkungan yang lebih baik. Di festival ini, para koki berbakat menyiapkan tiga menu hidangan dengan harga RP 350.000 neto di Sami Sami Restaurant. Sebuah restoran Italia bergaya trattoria yang terletak di tebing menghadap Samudra Hindia. Menawarkan pemandangan menakjubkan di setiap saat, yang sangat tepat untuk mencicipi hidangan lezat ini.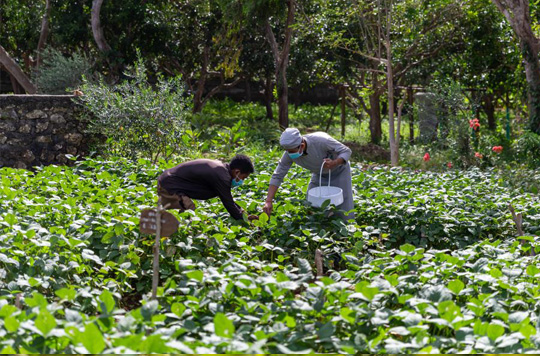 Pilihan hidangan lezat yang ditampilkan untuk Appetizer and salad ialah Tartare di Pesce – Singaraja barramundi fillet dengan bumbu lemon dan bawang putih, jeruk Kintamani vinaigrette, dan lobak merah Bedugul. Ada juga Fiori di Zucca – bunga zucchini yang crunchy diisi dengan ricotta Bali dan keju Scamorza, disajikan dengan saus tomat organik yang dipanen dari pertanian AYANA.
Untuk pilihan Main course, AYANA menyajikan Petto di Pollo Agli Agrumi – sous vide dada ayam kampung dengan jeruk dan saus herbal lokal, pure labu, dan kacang panjang dan confit wortel dari pertanian AYANA. Terdapat juga menu Dentice in Padella – pan-seared ikan kakap merah Jimbaran dengan saus tomat yang disajikan dengan sayuran hijau dan tuile bayam Bali dari pertanian AYANA.


Presented by Interni Cipta Selaras
Terakhir, pada menu Dessert, AYANA menyuguhkan menu pilihan berupa Wild Berries Panna Cotta disajikan dengan gelato stroberi dan local berry coulis; dan Delizia al Limone, kue lemon organik dari pertanian AYANA.
Untuk pengalaman bersantap yang lebih ringan, Anda dapat memilih pilihan pizza khas Sami Sami yang tersedia dengan harga Rp 200.000 net termasuk air kelapa. Juga terdapat menu a'la carte yang mengguggah selera.
Penasaran? Kunjungi Sami Sami Restaurant pada 27 September-16 Oktober 2021. Untuk informasi dan reservasi, silakan hubungi melalui WhatsApp ke +62 361 702222.