Aqua Reflections by Sebastian Gunawan
Published by Sugar & Cream, Tuesday 20 February 2018
Text by Hermawan K, Images courtesy of Aqua
"Reflections of You" 
Aqua Reflections menggandeng desainer fashion kenamaan tanah air, Sebastian Gunawan, untuk mempersembahkan inovasi terbaru pada kemasan botol kaca premium, yaitu desain full sleeve bernuansa floral.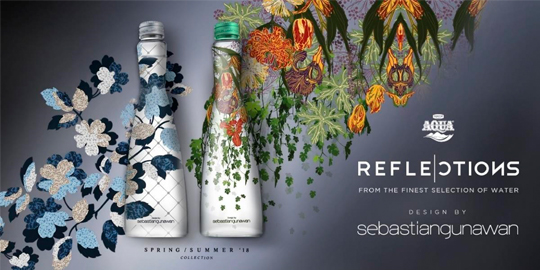 Sejak pertama kali diluncurkan pada 2011, Aqua Reflections menawarkan air mineral berkualitas tinggi yang diambil dari mata air terpilih dan diproses dengan teknologi mutakhir. Kemudian, pada 2016 dan 2017, Aqua Reflections meluncurkan desain botol baru dengan tampilan bersahaja sekaligus elegan, melalui sebuah kampanye "Reflections of You".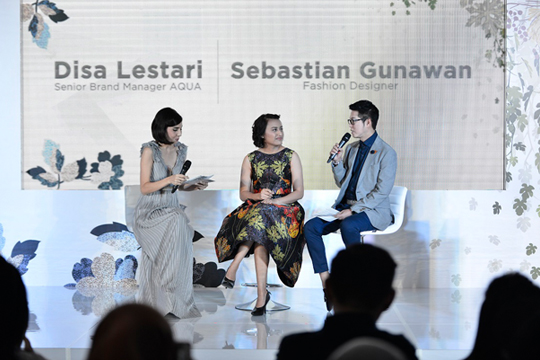 Kampanye tersebut mengajak masyarakat untuk menyadari bahwa segala sesuatu yang menjadi pilihan hidup, seperti hobi, antusiasme, maupun edukasi, merupakan cerminan diri. Refeksi dapat membantu menemukan jati diri. Hal ini diinterpretasikan oleh Aqua Reflections melalui empat pilar utama; fashion, seni, musik, kuliner, yang diwujudkan melalui kolaborasi dengan para figur inspiratif yang bergelut dengan keempat bidang tersebut.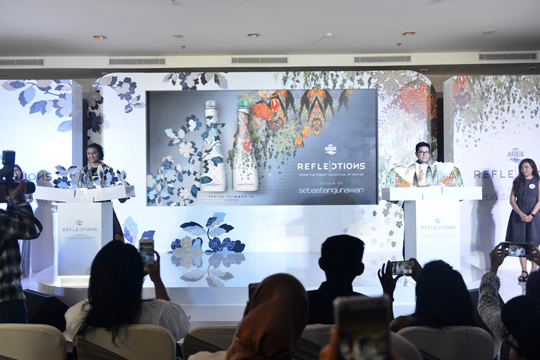 Pada tahun 2018 ini, Aqua Reflections dan Sebastian Gunawan menampilkan desain full sleeve pada medium botol kaca premium. Kolaborasi ini dituangkan ke dalam dua desain berbeda yang menghiasi botol Aqua Reflections Still dan Aqua Reflections Sparkling. Tidak hanya itu, kini Aqua Reflections juga hadir dalam kemasan 750 ml untuk mengakomodasi kebutuhan akan momen berbagi.
Untuk Aqua Reflections, Sebastian Gunawan mengaplikasikan filosofi "Alam" dalam bentuk nuansa floral. Filosofi ini mencerminkan nilai bahwa alam atau lingkungan yang sehat akan menumbuhkan bentuk keindahan. Sang desainer juga telah menyiapkan dua rancangan gaun yang turut melebarkan kreasinya untuk Aqua Reflections, dan menjadi bagian dari pembukaan peragaan busana tunggalnya yang bertajuk "Blissful Blossom" tanggal 5 February lalu
Pada tahun sebelumnya, Aqua Reflections merangkul Tex Saverio (fashion), Eko Nugroho (seni), dan majalah Foodies (kuliner) sebagai pengejawantahan dari kampanye "Reflections of You".