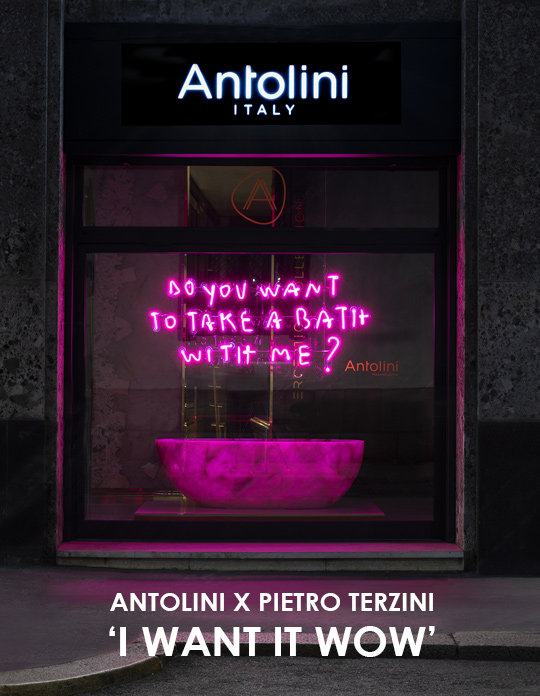 presented by

ANTOLINI X PIETRO TERZINI: 'I WANT IT WOW'
Published by Sugar & Cream, Friday 14 July 2023
Images courtesy of Antolini
Thoughts Inlaid in Natural Stone
Antolini MilanoDuomo Stoneroom menjadi panggung untuk dialog tak terduga antara dinamisme seni jalanan yang tidak konvensional dari keindahan intrinsik batu alam yang abadi pada Milano Design Week 2023. Kini, masa lalu, dan masa depan berpadu dalam pameran I WANT IT WOW, terima kasih kepada teknologi terkini Antolini, di mana 'komentar' Pietro Terzini dalam bentuk LED, tatahan, dan karya seni  terdengar pengunjung, merangsang indra serta imajinasi mereka.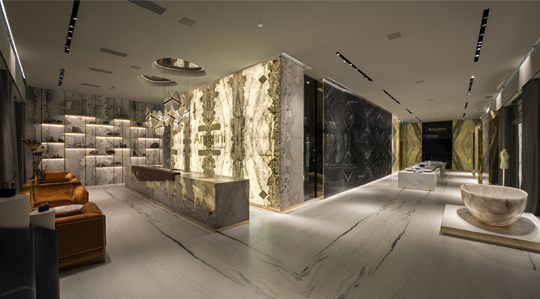 Sebuah proyek lintas disiplin di mana batu alam adalah satu-satunya protagonis menjadi permukaan di mana frasa seniman muda menjadi hidup, terinspirasi oleh visinya tentang keberadaan dan didorong oleh pengetahuan dan kompetensi Antolini.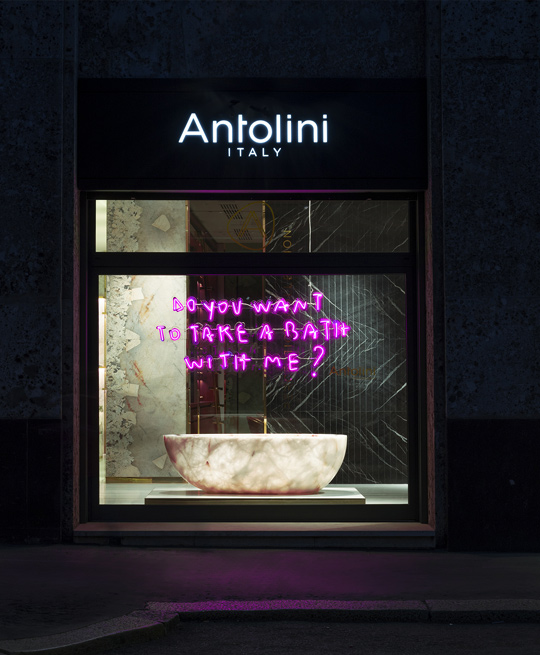 Huruf-huruf dari moto Terzini diukir di permukaan beberapa batu terindah di Antolini Exclusive Collection: Brèche Fantastique, Dalmata, Calcite Azul menggunakan semburan air bertekanan tinggi.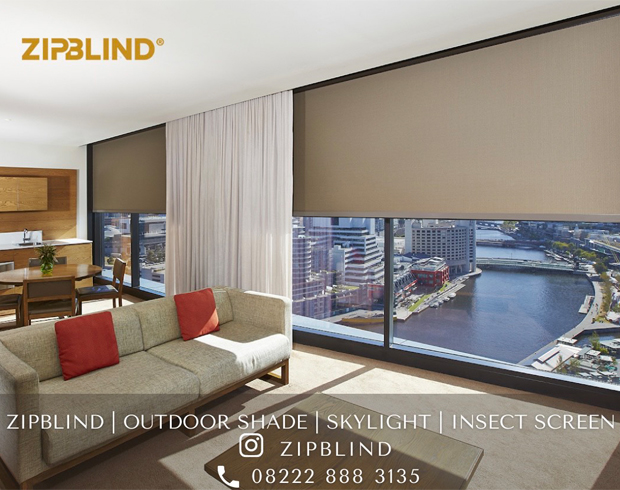 Presented by Zipblind
Bianco Lasa|Covelano Vena Oro, Amazonite, dan Noirblanc, di sisi lain, adalah batu-batu yang membuat huruf Terzini berbentuk sempurna, mengisi ruang dengan cara yang sama seperti tinta mengisi 'halaman'.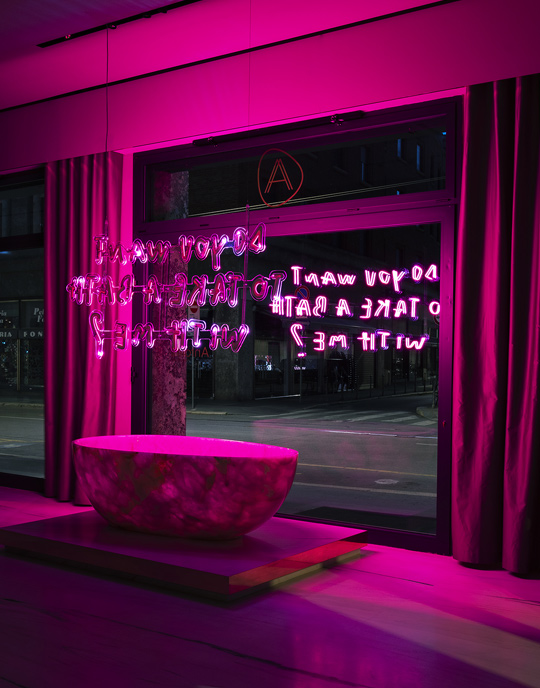 "Good things take more or less 190 million years," "Made by earth designed with heart", dan" Nothing is written in stone" merupakan pernyataan yang terbentuk sempurna dibuat oleh Terzini melalui kata-kata MOMENT, NO MISTAKES, dan CHANGE.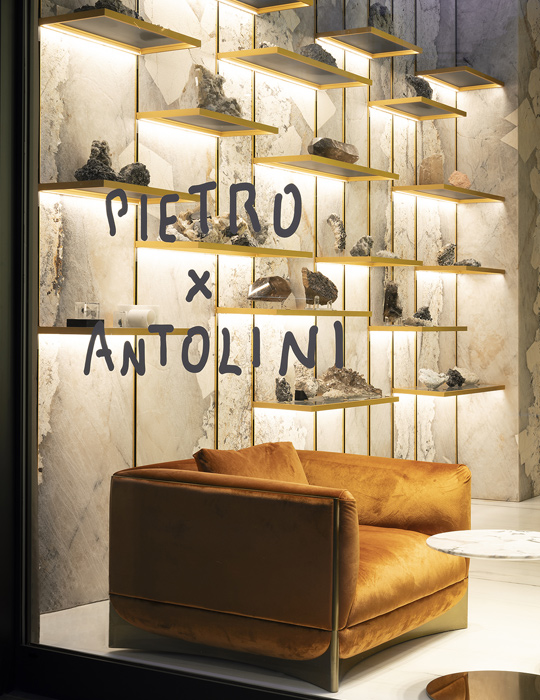 Mereka mengubah batu alam menjadi 'halaman' yang dipoles sempurna yang menjadi 'kendaraan' eksklusif untuk frasa Pietro Terzini, dalam puisi yang sangat orisinal antara klasik dan kontemporer, menggunakan teknik tatahan kuno, DNA kreatif, dan fokus pada penelitian, inovasi, dan lanjutan. teknologi yang membedakan Antolini.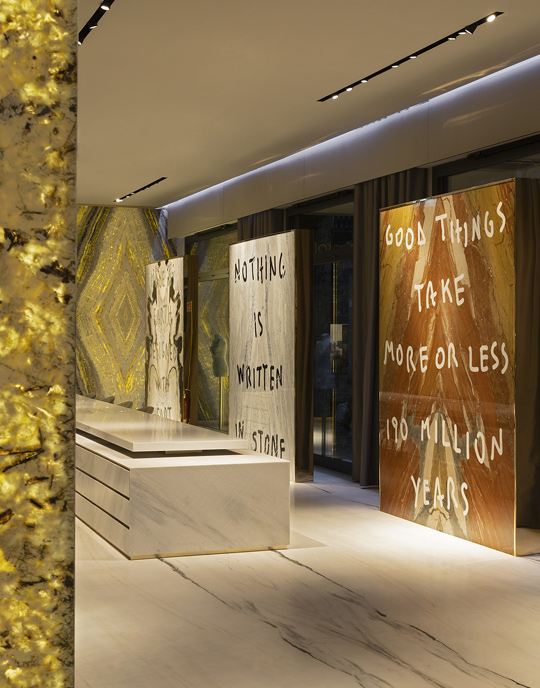 Susunan bebatuan, dengan asal-usul geologis, warna, dan komposisi mineralnya yang bervariasi, menciptakan kontras kromatik dan tekstur yang berdampak WOW  secara fisik menunjukkan nama instalasi tersebut.

"The exhibition project I WANT IT WOW stimulates new combinations of art, design and innovation, making the beauty of the masterpieces of Mother Nature become the central focus. The harmonious interaction of these three spheres generates infinite possibilities of craftsmanship applied to stone with the help of technology. In this case, to transpose the creative concept of the artist Pietro Terzini, the technology of the inlay work becomes fundamental, followed by a phase of workmanship involving the know-how of Antolini, in which the hollow and full parts are precisely assembled by the artisans. The process concludes with the polishing of the stone to bring out perspective effects and contrasts." – Alberto Antolini, CEO of Antolini Italy –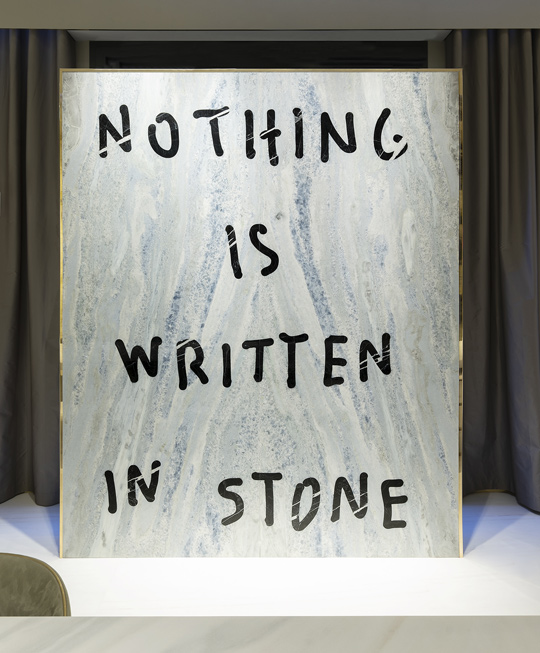 Di sisi lain, "AFFAIR" adalah judul undangan pop bercahaya "Do you want to take a bath with me?" ditampilkan di bak mandi di Cristallo Lumix, mengundang pengunjung untuk meninggalkan hambatan dan membiarkan diri mereka pergi di saat-saat kesenangan murni.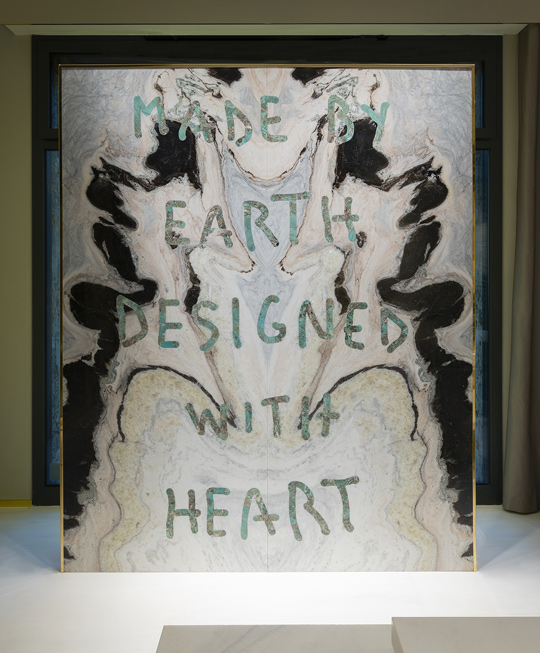 Focal point pada Antolini MilanoDuomo Stoneroom adalah Perception Wall, berkat Terzini, menjadi media untuk menyampaikan pesan yang lebih dalam, terungkap hanya di akhir jalur pameran: ungkapan "Nothing is as it seems" mendesak kita untuk mendekati kehidupan tanpa pernah berhenti menjelajahi alam kita sendiri.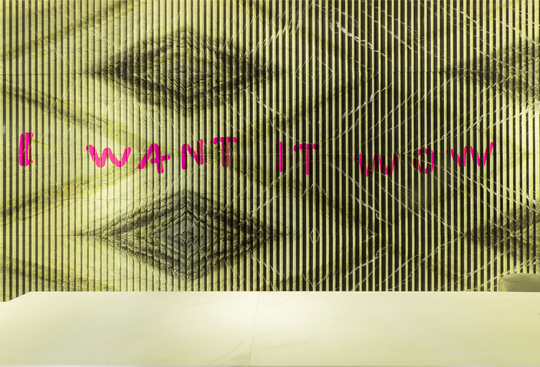 "I am proud to collaborate with Antolini. The projects made for this installation mix the excellence of Italian craftsmanship with my own taste for irony: the result emerges in unique, original creations." – Pietro Terzini, Artist –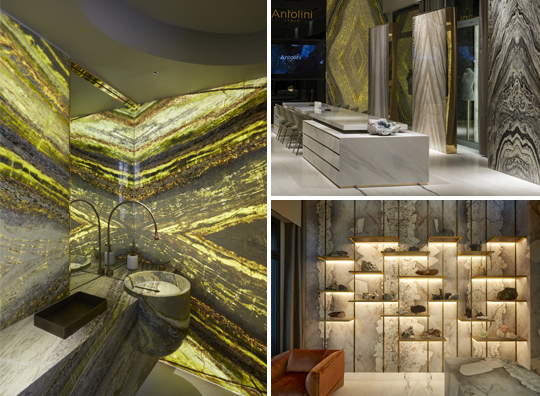 Kolaborasi ini menegaskan identitas dan misi Antolini MilanoDuomo Stoneroom, dua tahun setelah pembukaannya: menjadi lokasi di jantung Kota Milan yang menyambut para arsitek, desainer, dan pecinta material halus dari seluruh dunia, sebuah lab dan hub yang sepenuhnya dikhususkan untuk pesona tak terbatas dari alam semesta batu alam, dalam segala bentuk dan penerapannya.
Tempat nilai budaya dan energi eksperimental, dan ekspresi paling bersemangat dari keinginan keluarga  Antolini untuk menceritakan eksklusivitas dan keunikan bahan alami, mengeksplorasi dan mengusulkan bahasa baru yang mengandalkan tradisi untuk selalu melihat ke masa depan. Berkat pendekatan dinamis dan inovasi yang berani, yang bila diterapkan pada kreasi yang ditawarkan oleh alam mengungkapkan esensinya yang hidup, bersemangat, dan dapat ditempa.