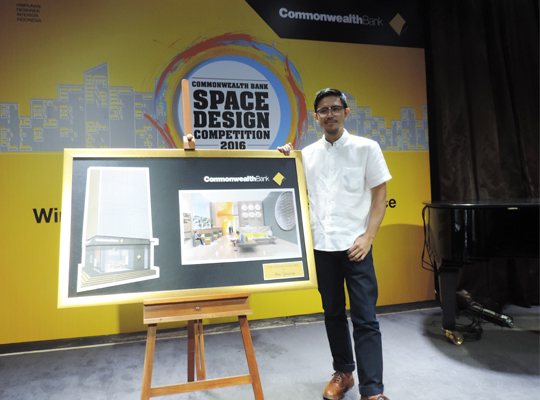 Alvin T Won Commonwealth Bank Space Design Competition 2016
Published by Sugar & Cream, Friday 14 October 2016
Commomwealth Bank
Niat Commonwealth Bank untuk mentransformasi banknya ke layanan keuangan digital diperkuat oleh kerja sama dengan desainer lokal dalam rangka merevitalisasi desain bank keseluruhan. Salah satunya adalah dengan menyelenggarakan Commonwealth Bank Space Design Competition 2016 yang dimenangkan oleh Alvin T. Pengumuman tersebut diumumkan bersama HDII (Himpunan Desainer Interior Indonesia) pada tanggal 6 Oktober 2016 lalu.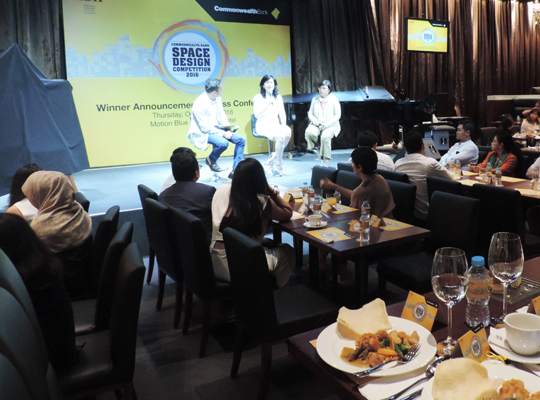 Commonwealth Bank berharap, dengan menjalin kerja sama bersama desainer lokal, rancangan ruang cabang akan menjadi lebih sesuai dengan nuansa digital yang simpel, seamless dan mudah diakses.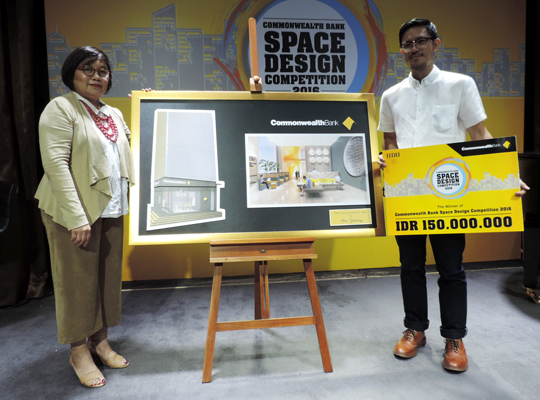 "Langkah-langkah ini adalah usaha kami dalam mewujudkan visi Commonwealth Bank yaitu: to excel at securing and enhancing the financial wellbeing of people, businesses and communities." ujar Presiden Direktur Commonwealth Bank, Lauren Sulistiawati.
Karya desainer lokal Alvin Tjitrowirjo yang terkenal dengan brandnya Alvin T dianggap paling sesuai dalam merepresentasikan nilai inovatif, kenyamanan, dan kemudahan yang diusung Commonwealth Bank Indonesia.
Seperti yang dikutip dari berita pers, Ketua Umum HDII Lea A Aziz mengatakan bahwa bahwa kerja sama dengan Commonwealth Bank dapat mendorong perkembangan para desainer lokal dan juga dapat menjadi pemicu pertumbuhan industri desain dan kreatif di Indonesia.
Pada kuartal terakhir 2016, kantor cabang di Kelapa Gading akan menjadi pilot project dalam upaya revitalisasi cabang, termasuk perubahan desain ruangan menggunakan inspirasi hasil karya Alvin. Pemenang pertama berhak atas hadiah utama senilai Rp150.000.000, dan 17 pemenang runner-up lainnya masing-masing akan memperoleh hadiah sebesar Rp150.000.000. (AL)