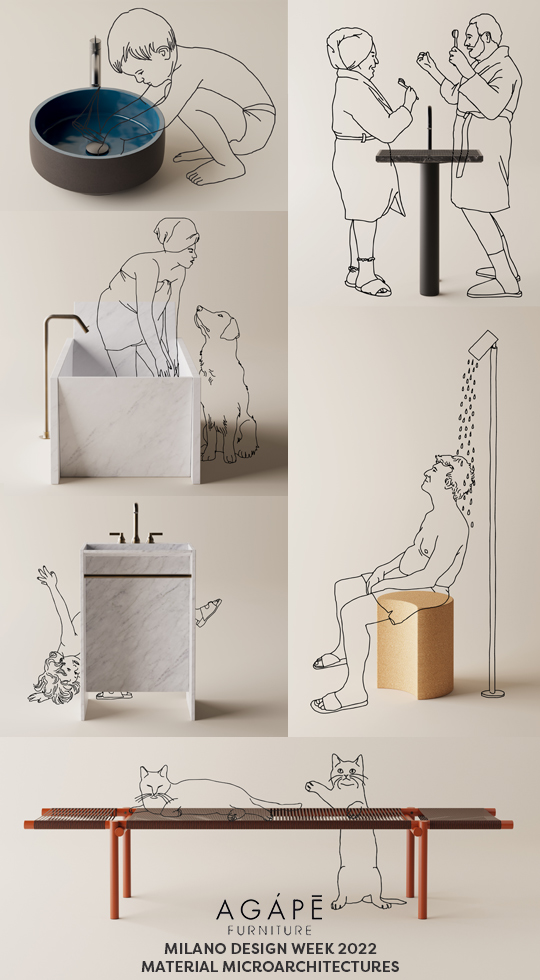 presented by
AGAPE AT MILANO DESIGN WEEK 2022 – MATERIAL MICROARCHITECTURES
Published by Sugar & Cream, Wednesday 08 June 2022
Images courtesy of Agape
Alessandro Andreucci, Benedini Associati, Marco Carini, Jean Nouvel Design and Patricia Urquiola
For Milan Design Week 2022 Agape interprets bathroom furnishings through an architectural lens, with deep roots in the culture of design that is the brand's true passion. It is a vision that works on multiple levels and touches numerous emotions.
Agape with Alessandro Andreucci, Benedini Associati, Marco Carini, Jean Nouvel Design and Patricia Urquiola introduce a new philosophical approach: the bathroom is a landscape to be freely composed.
Face à face bathtub and washbasins by Jean Nouvel Design
This new series of architectural bathtubs and washbasins marks the launch of the collaboration between Agape and the French architect. Thanks to an ingenious system of invisible joints, the bathtub is constructed such that its surfaces appear to simply approach one another side by side. The effect is both imposing and light, essential and material. The surfaces brush gently against one another, and thanks to the extremely precise inclination of the panels that become the backrests, the bathtub is transformed into a cozy nest where you can sit, stretch out, read and relax. The poetics of two-dimensionality continues in the collection's washbasins, available in the countertop, wall-mounted and freestanding versions. All channeled thanks to the suitably inclined plane of the basin, they combine vertical and horizontal surfaces for a rigorous architectural structure. A towel bar or storage component may be added. Abstract objects that use contrast to enhance, like the bathtub, the almost baroque splendor of the marble.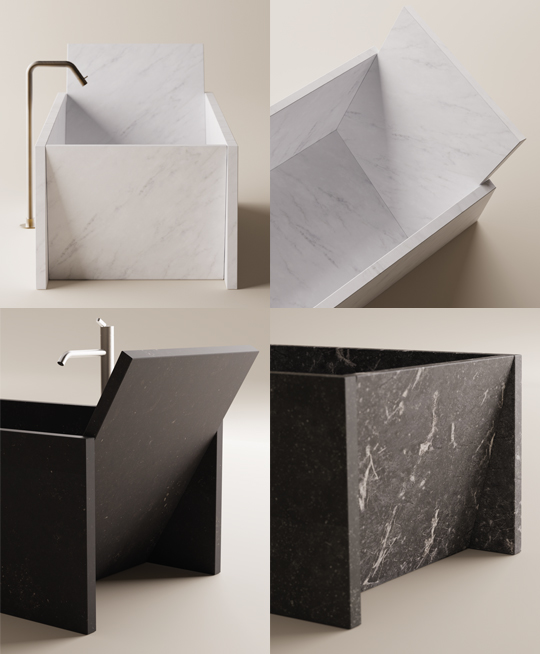 Face à face bathtub by Jean Nouvel Design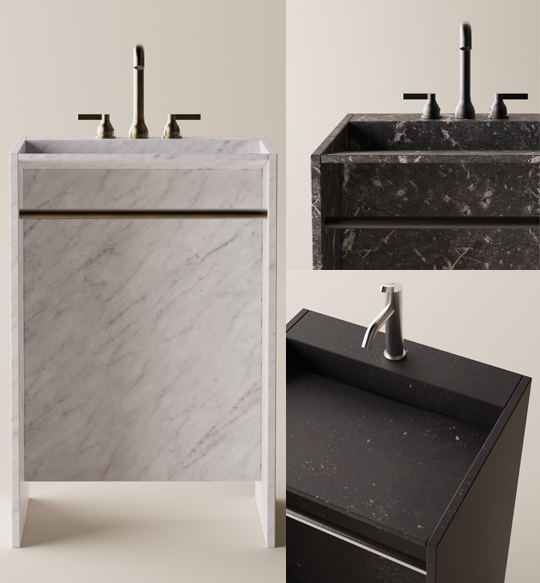 Face à face washbasins by Jean Nouvel Design
Ell freestanding washbasin by Benedini Associati, Andrés Jost, and Diego Cisi
The interpretation of the washbasin in the Ell series by Benedini Associati, Andrés Jost and Diego Cisi is an iconic but lightweight piece. The top piece with its aerator aligns with the basin, and the two become a single element. And what happens if a sink is placed far from the wall? A creative yet rigorous investigation reveals the pure essence of the washbasin. A horizontal line supported by a column. Two simple architectural elements that radicalize function. The design of the entire surface, completely integrated with an aeration grid and eliminating the usual basin, enhances its dual use as a washbasin and support surface for soap and other objects. The top and the grille are in white Corian®, or in white Carrara, Carnic grey or black Marquina marble, and the column is in white or dark powder-coated steel.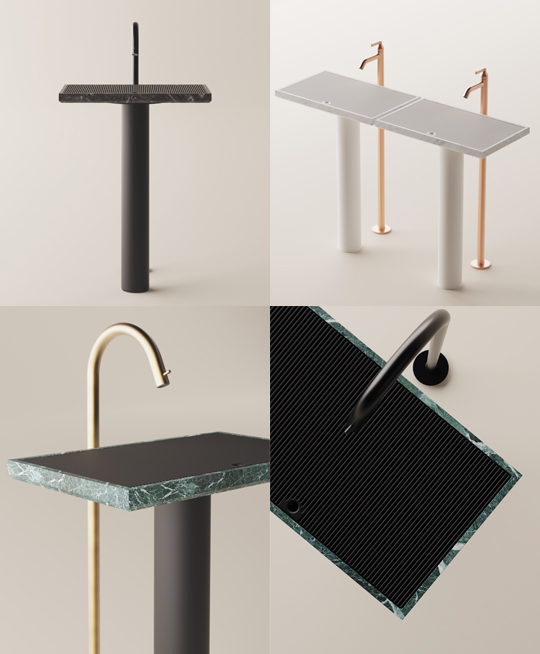 Ell freestanding washbasin by Benedini Associati, Andrés Jost, and Diego Cisi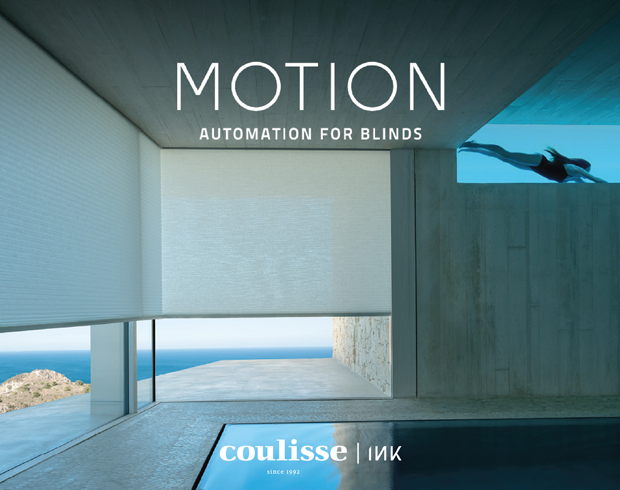 Presented by Coulisse | INK
Cenote washbasin by Patricia Urquiola
In Mexico, the cenote is an ancient natural cave, a source of fresh water and a spiritually important location to pre-Columbian cultures. Patricia Urquiola's collection of washbasins reveals a magnetic presence full of material and sensory vibrations. Far removed from mainstream decorative style, the refractory clay surface is carefully worked to leave the exterior deliberately rough, either in natural red or with a dark earthen slip. Surprisingly, the enameled interior is pleasantly smooth to the touch and shiny. An evocative play of contrasts between roughness and smoothness joins artisan handiwork to make each washbasin a unique, distinctive, and valuable object. A simple and functional architectural piece.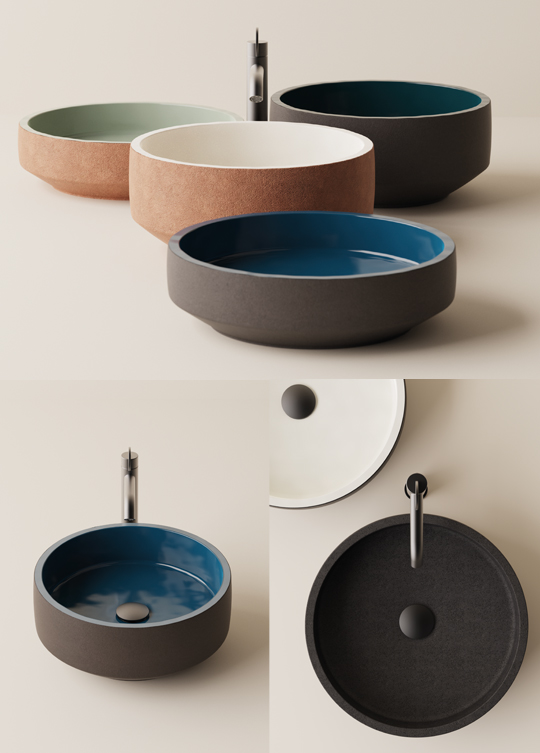 Cenote washbasin by Patricia Urquiola
Vis-à-vis stools and Rendez-vous day-bed benches by Marco Carini
With both of these designs, Agape makes its first foray into using cork, a sustainable material sourced from the circular economy, and introduces new types of furniture into its bathroom collection. The idea of the bathroom as a space dedicated to one's self and well-being is strengthened.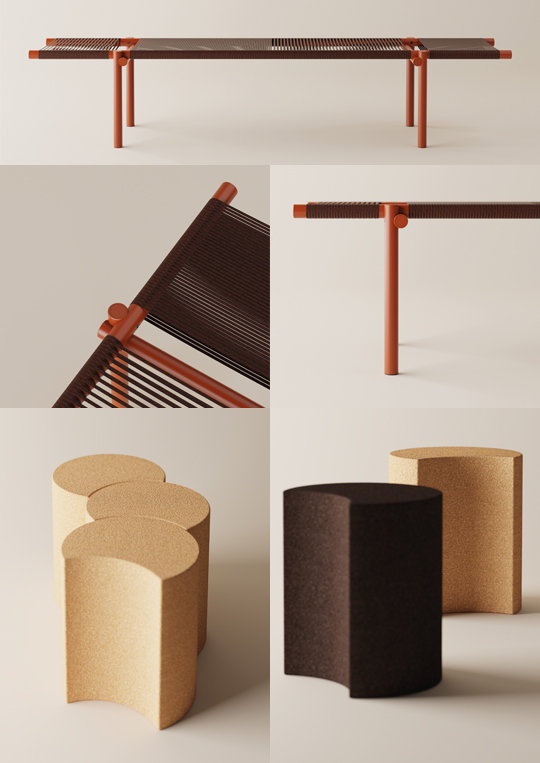 Vis-à-vis stools and Rendez-vous day-bed benches by Marco Carini
Vis-à-vis is a light and maneuverable stool made entirely of natural or heat-treated cork. It can also be used as a small side table. Removing a slice from the cylindrical body creates a curve that has the same radius as the base. That means you can link one piece to another indefinitely, even creating a circular motion if you want. That same curve also allows two people to sit comfortably facing each other on two stools.
That same freedom of function returns in Rendez-vous. Three day-bed benches in three different heights that can be used individually or stacked, creating a space to sit, have a conversation, or stretch out and relax. The surface consists of ropes of cork, with a hand-woven technical metal core. The supports and frame are made of recycled aluminum tubing painted in a warm brick-red color. These two collections are designed to safely come into contact with water, giving them a place in a home environment as well as in hotels and hospitality, even outside the bathroom or outdoors – the only limit is your imagination.
Voilà container system by Alessandro Andreucci
What do you do with the empty space around the tub and sink, making good use of their sculptural presence while also keeping everything you need to use them close at hand? Alessandro Andreucci responds: Voilà. A new concept of retractable containers with a mirror that pivots at two points along the vertical axis. When needed, the mirrored surface rotates and reveals the interior equipped with shelves, towel racks and power outlets. With a simple gesture, everything becomes easily available. With its sleek lines, Voilà itself becomes an architectural element in the room, creating movement and perspective with a rhythmic series of columns for a functional, furnished wall.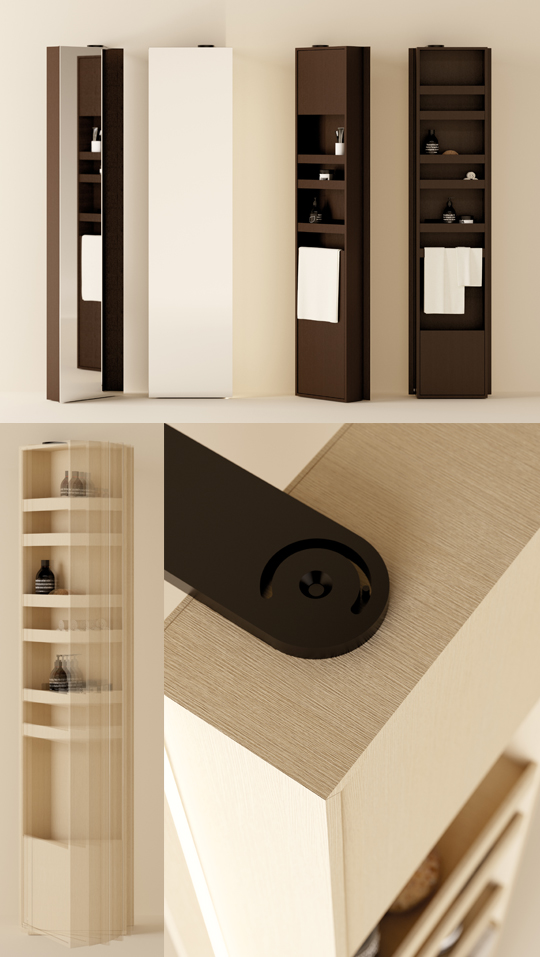 Voilà container system by Alessandro Andreucci
Faro mirrors by Benedini Associati
Pure geometry and intense decorative effects. A circle and a line. A series of wall-mounted mirrors, where the attachment element also serves as lighting. The diameters are 60 and 90 cm.
Dot Line shelf by Garcìa Cumini
The Dot Line series is enriched with a new addition for independent use. This shelf with a towel bar echoes the iconic style of the collection. An interplay of essential lines for a versatile object, equipped with lighting thanks to the LED strip in the underlying surface of the tabletop. The frame is made of black anodized and brushed aluminum. The base is marble, in finishes from the Agape catalog.
Line updates and new finishes
New textures for the Bucatini line of accessories and accents by Fabio Bortolani and Ermanno Righi, now also in a version with sustainable cork strings sourced from the circular economy and running through the series as an alternative to steel, bringing a warm and biscuity hue to each piece.
A new wall-mounted interpretation of the outdoor shower Open Air by Benedini Associati, and a new double floor sink for the Ottocento series, also by Benedini Associati.
The Sen line by Gwenael Nicolas is enriched with a swiveling shower head, a wall lamp, a two-way thermostatic mixer unit with hand shower, countertop accessories, and a new white finish. Finishes are also being expanded for the Pear 2 sanitaryware series by Patricia Urquiola. Now also available in dark gray or green interior and exterior.