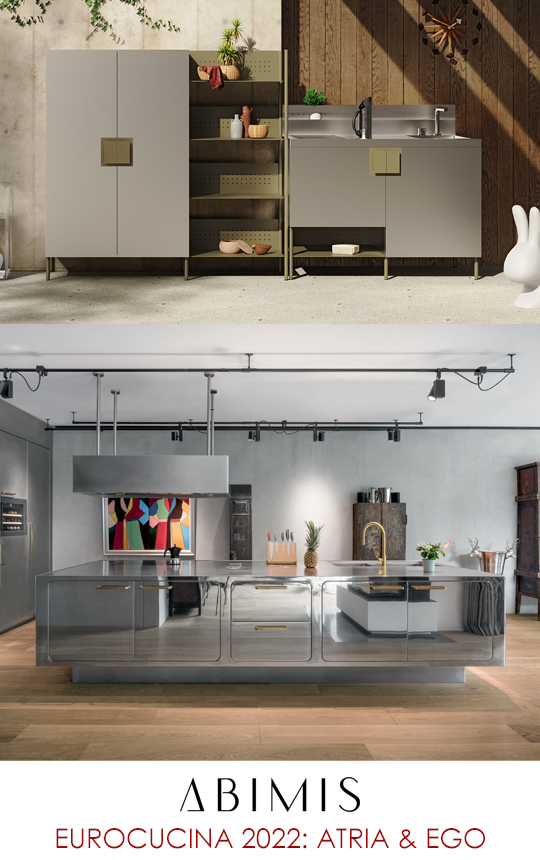 presented by

ABIMIS PREVIEW EUROCUCINA 2022: ATRIA & EGO
Published by Sugar & Cream, Thursday 23 June 2022
Images courtesy of Abimis
Versatile, Compact, and Elegant
ABIMIS memperlihatkan dua koleksi andalan yang dipamerkan dalam ajang EuroCucina 2022 (bagian dari Salone del Mobile.Milano), yang seakan menjawab kebutuhan terkini akan dapur untuk hunian Anda. Jenama ini merilis dapur terbaru ÀTRIA, sebuah dapur yang kompak, efisien, kostumisasi, dan juga dirancang untuk outdoor. Kegiatan memasak diruang terbuka kian menjadi tren dalam 5 tahun ini. Dirancang oleh Studio Delineo bersama Massimo Rosati, ÀTRIA outdoor kitchen terinspirasi dari dunia arsitektur.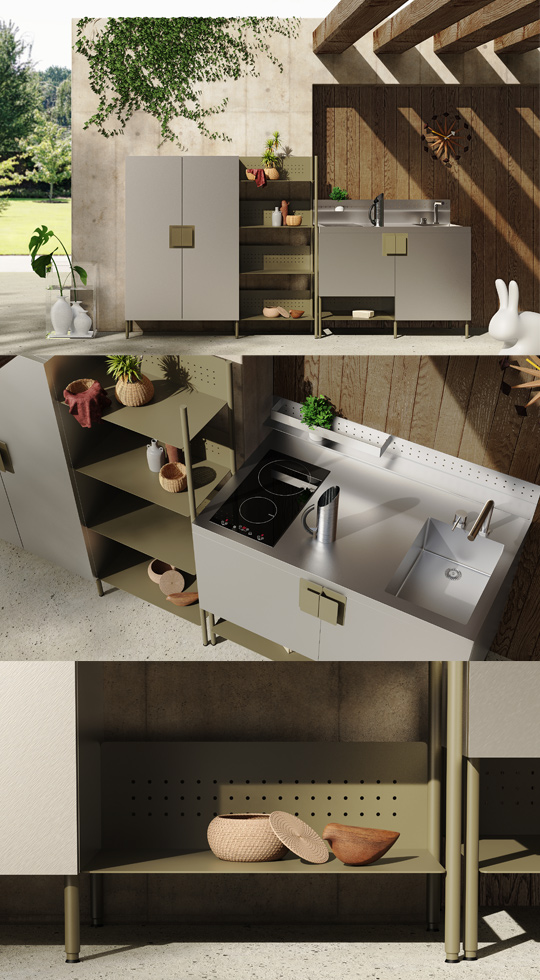 ÀTRIA Garden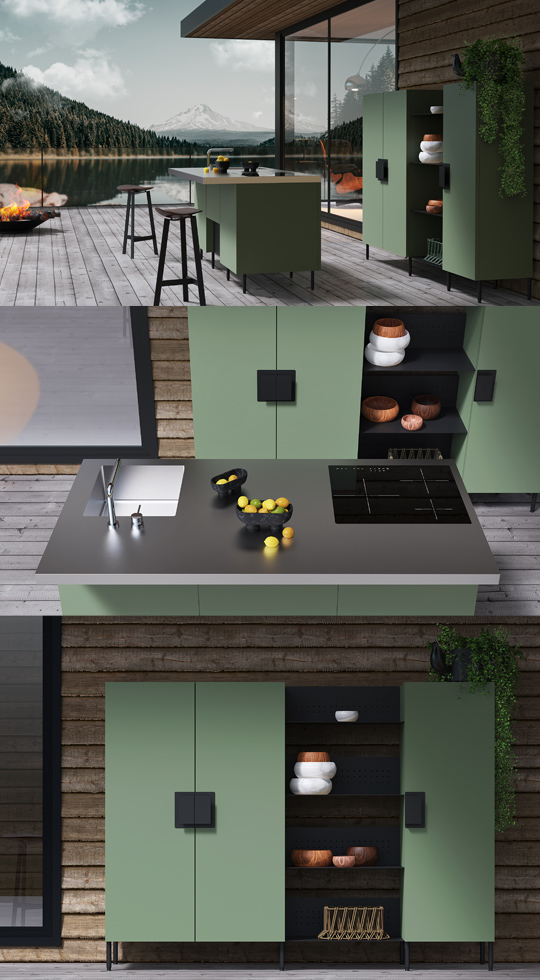 ÀTRIA Mountain
Siluet geometris dan sederhananya dicirikan oleh pergantian ketat ruang penuh dan kosong dengan proporsi yang harmonis. Dan seperti dalam desain arsitektur, bentuk sederhana dan geometris dari outdoor kitchen ini telah dirancang untuk berinteraksi dengan cahaya alami dan untuk memastikan variasi warna yang selalu berbeda, yang bervariasi seiring berjalannya waktu. Nama ÀTRIA berasal dari kata Latin trium. Sejak zaman Paleo-Italic, atrium telah menjadi jantung rumah, ruangan yang menjadi tuan rumah perapian rumah tangga dan tempat berlangsungnya kehidupan keluarga. Pemilihan nama tidak sembarangan, faktanya ÀTRIA outdoor kitchen dari Abimis dimaksudkan untuk menyatukan dua simbol kuno kehidupan rumah tangga:  the hearth and the open space of the home.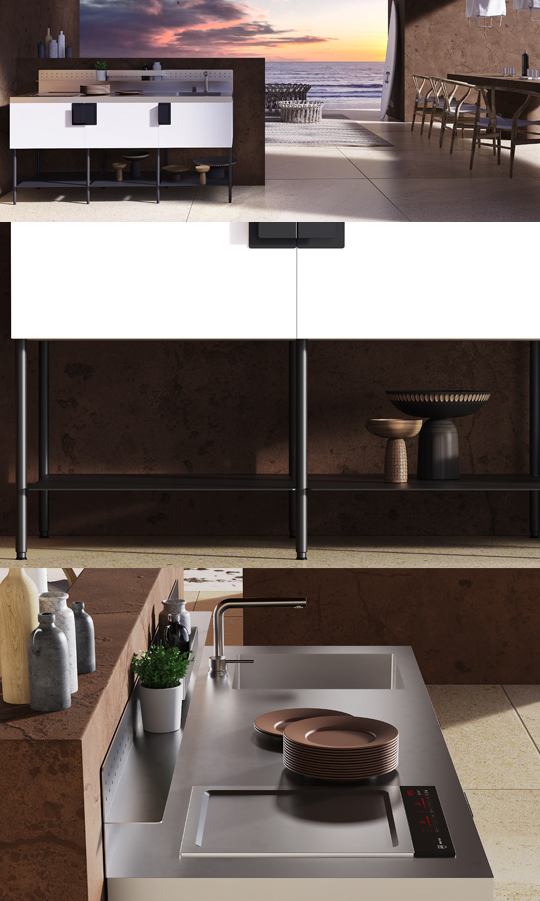 ÀTRIA Sea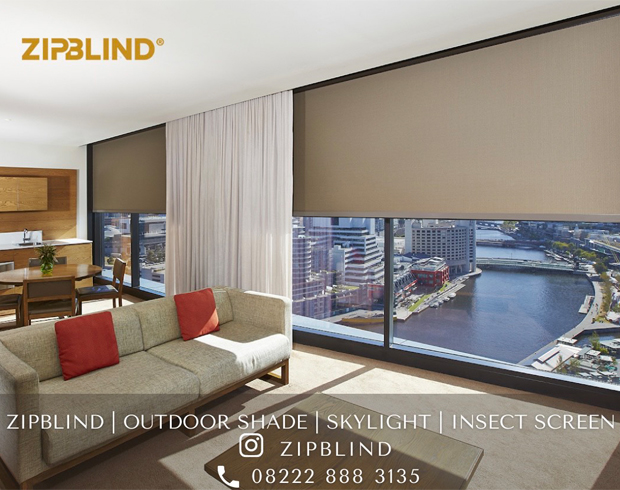 Presented by Zipblind
Produk ke dua menjadi andalan tidak lain adalah menampilkan sisi narsistik dari keberadaan sebuah dapur. Ego Kitchen dirancang dengan material baja anti karat yang dipoles mengkilat menyerupai cermin. Karakteristik permukaan cermin dari baja anti karat membuat dapur menjadi lebih hidup. Ego, menjadi dapur tempat semuanya dimulai dan merupakan model pertama oleh Abimis yang dirancang untuk memasak seperti koki profesional di rumah.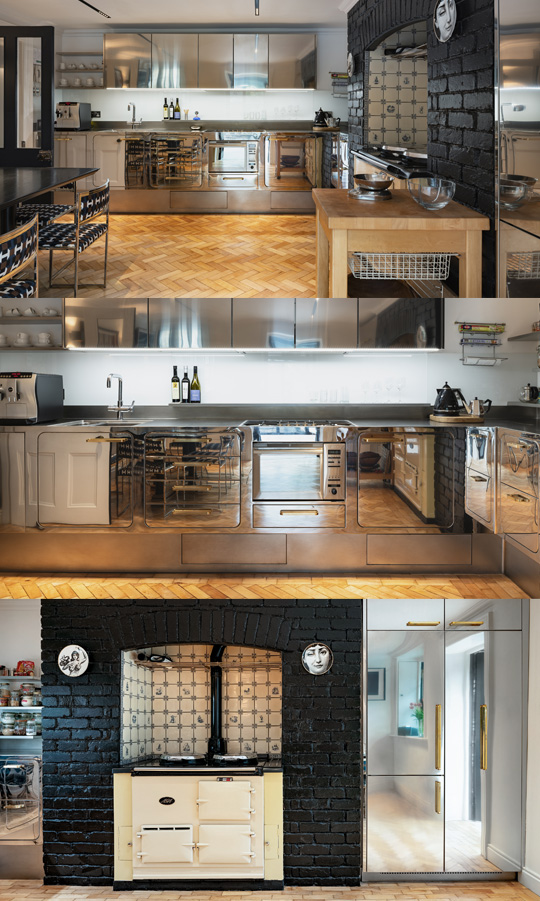 Ego Dublino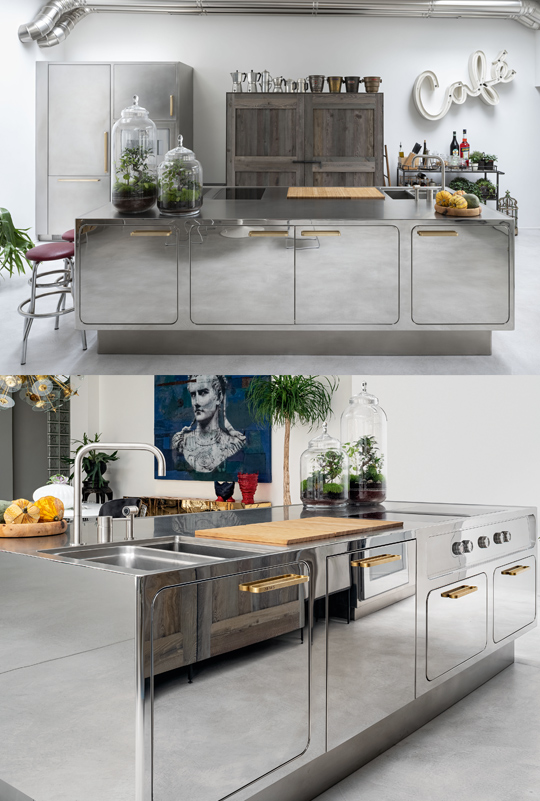 Ego Firenze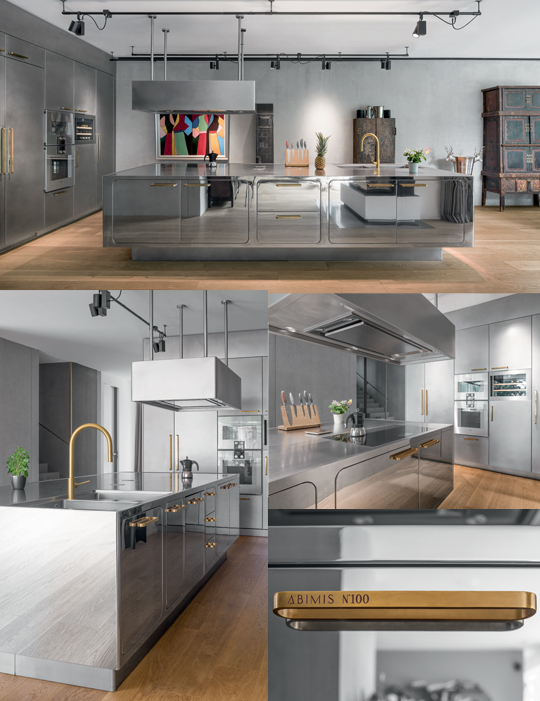 Ego Monaco
Abimis, dalam kemitraan dengan arsitek Alberto Torsello, merancang Ego, sebuah dapur yang menggabungkan tingkat kinerja superior dari restoran profesional dengan bentuk dapur domestik yang lebih elegan, sehingga menjadi solusi dari dapur profesional menjamin kinerja yang unggul untuk koki, tetapi gaya estetika mereka tidak cocok untuk pengaturan tempat tinggal. Desainnya menonjol karena siluetnya yang bulat, terinspirasi oleh dapur tahun 1950-an. Setiap Ego Kitchen sepenuhnya dapat disesuaikan dan dipesan lebih dahulu, untuk beradaptasi dengan kebutuhan setiap pelanggan. Setiap dapur tersedia dalam 3 sentuhan akhir alami –  orbitally polished, brushed, atau mirror-finish – atau dapat dicat dengan semua warna RAL. (DB)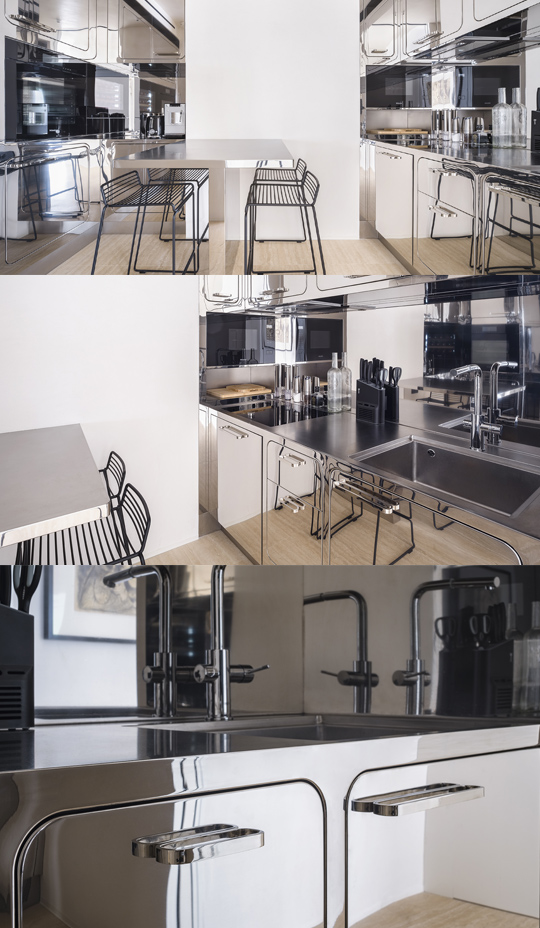 Ego Montecarlo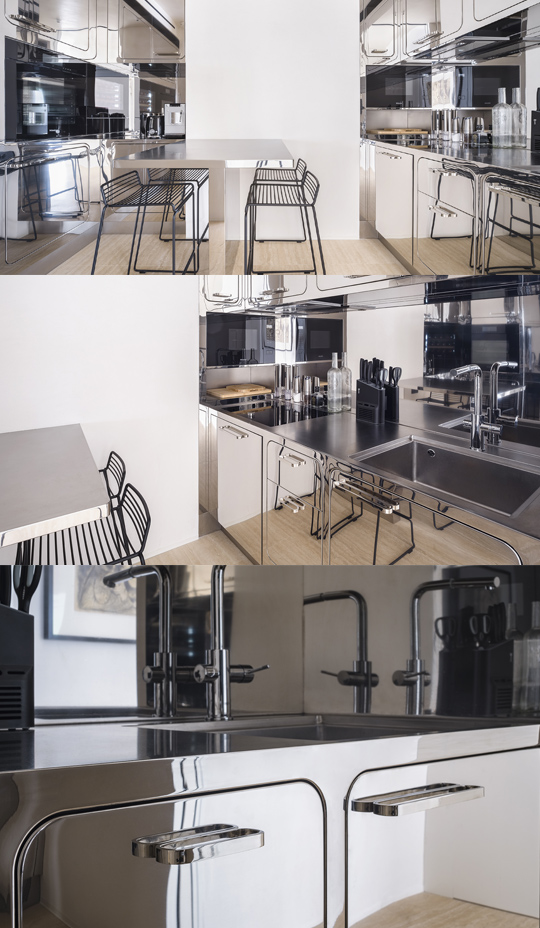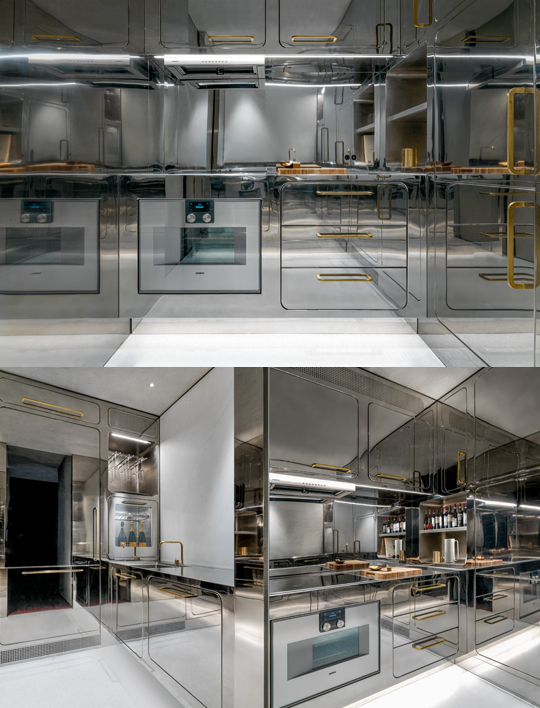 Ego New York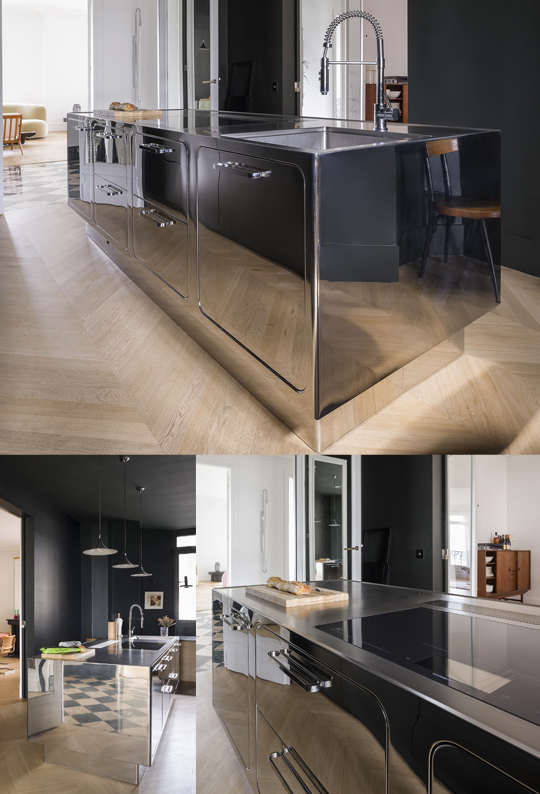 Ego Parigi