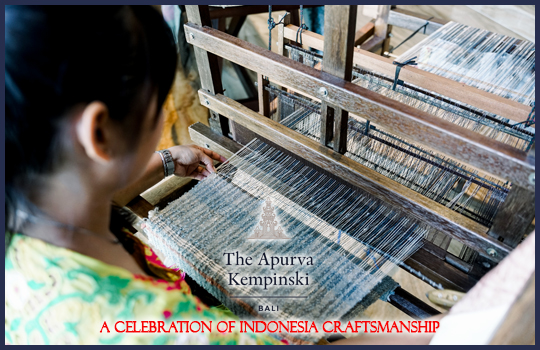 presented by

The Apurva Kempinski Bali : A Celebration of Indonesia Craftsmanship
Published by Sugar & Cream, Monday 07 October 2019
Text by Dira Rohmatun, images courtesy of The Apurva Kempinski Bali
Arts and Crafts Inspired by the Nation's Rich Hertage
26-31 Agustus 2019 lalu telah berlangsung pameran meriah bertajuk "A Celebration of Indonesia Craftsmanship" di The Apurva Kempinski Bali. Selebrasi ini bagian dari komitmen hotel untuk mendukung dan melestarikan ragam seni budaya dan kerajinan di Indonesia. Termasuk mengaplikasikannya lewat interior dan arsitektur hotel yang merepresentasikan warisan budaya Indonesia.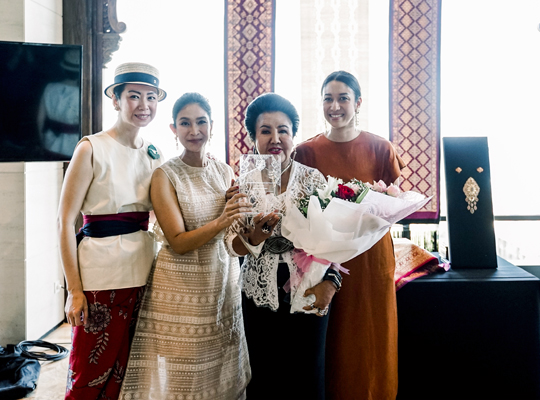 Grace KTRI, Happy Salma , Desak Nyoman Suarti, dan Dewi Sri Luce Rusna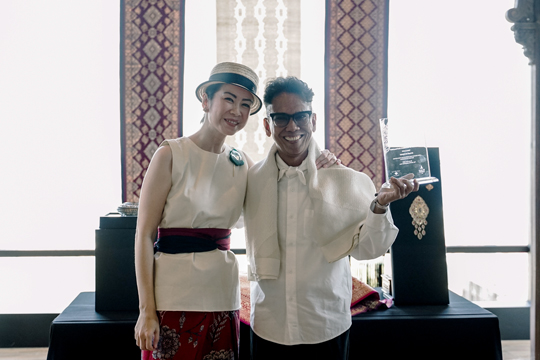 Grace KTRI dan Edward Hutabarat
Berkolaborasi dengan Happy Salma, Art Advisor The Apurva Kempinski Bali sekaligus pemilik Tulola Jewelry, pameran menampilkan beragam produk kerajinan Indonesia, termasuk koleksi keluaran terbaru dari Tulola, bertajuk "Perjalanan Kenangan". Berbagai produk kerajinan dan demonstrasi pengrajin Asha Curated Boutique and Gallery juga turut diperlihatkan termasuk koleksi Tenun – sebuah produk tenun dari Tarum Bali, kesenian macramé, pahatan cangkang, serta kesenian janur. Melalui pameran ini pengunjung dapat menyimak beragam koleksi kerajinan asli Indonesia dan bahkan bisa berpartisipasi langsung dalam proses pembuatannya.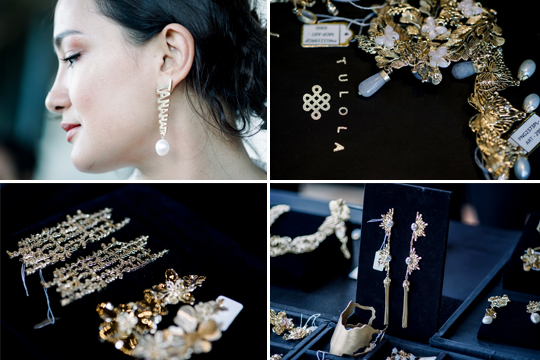 Chef Ho Weng Kit – Curated Dish of The Apurva Kempinski Bali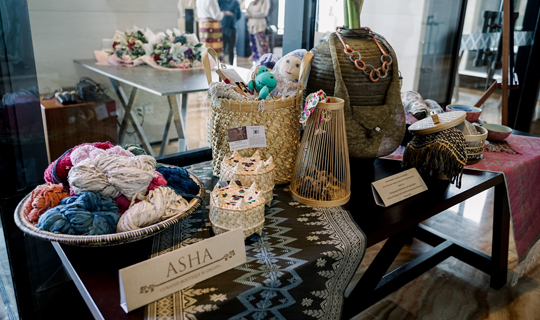 Curated products of Asha Curated and Boutique Gallery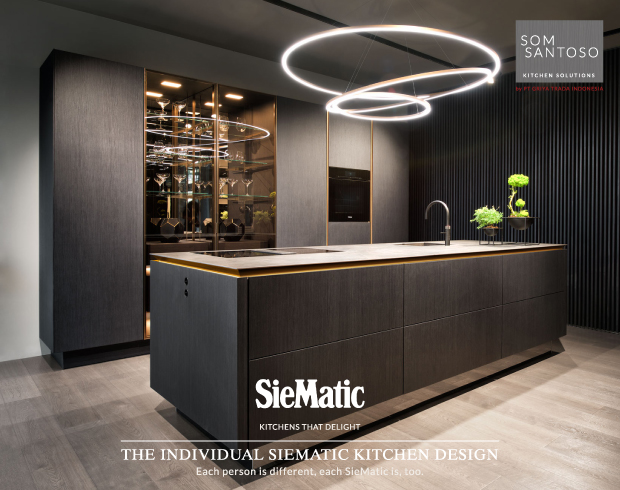 Presented by Som Santoso
"Pameran ini bukan hanya sekedar pagelaran seni dan budaya biasa. Ini merupakan bagian dari perjalanan panjang dan berkesinambungan untuk menghargai dan melestarikan kearifan budaya Indonesia, yang telah mendarah daging dari generasi ke generasi. Selalu menjadi kesenangan pribadi bagi saya untuk menjadi sebuah bagian dari perhelatan seperti ini, dan bersama The Apurva Kempinski Bali saya menanti untuk membawa warisan budaya Indonesia ke barisan terdepan." kata Happy Salma, Art Advisor di The Apurva Kempinski Bali.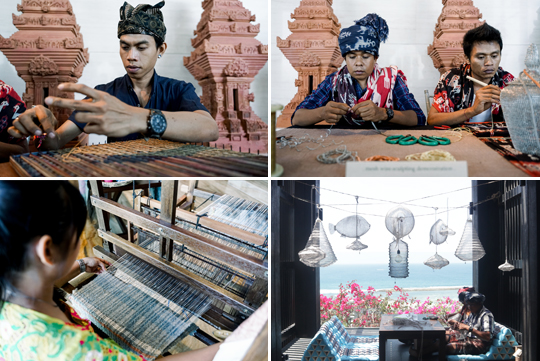 Art of Macrame, Art of Mesh Wire from Sumba, Tenun Weaving by Tarum Bali, dan Wire Crochet by NIMA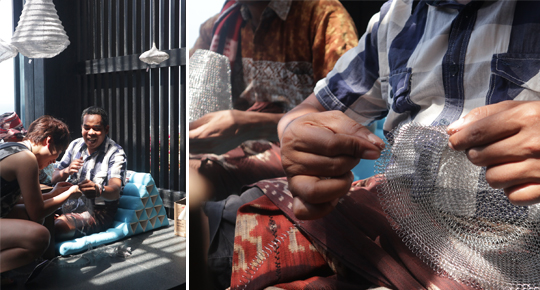 Wire Crochet by NIMA
Selain pameran, The Apurva Kempinski Bali juga mempersembahkan "Special Recognition of Craftsmanship Award" dengan memberikan penghargaan kepada dua tokoh penting dalam kerajinan nusantara yaitu, Desak Nyoman Suarti, seorang penari bali, desainer perhiasan, dan aktivis yang mendorong perempuan Bali untuk mengeksplorasi seni lokal dengan mendirikan Suarti Design Center serta Luh Luwih Foundation – dan Edward Hutabarat, seorang desainer pakaian yang fokus pada kekayaan warisan budaya Indonesia dalam setiap mahakaryanya. Di mana kreasi dua tokoh sang desainer turut dipertunjukkan di antara karya seni lain selama pameran berlangsung.


Shell Carving by Canipara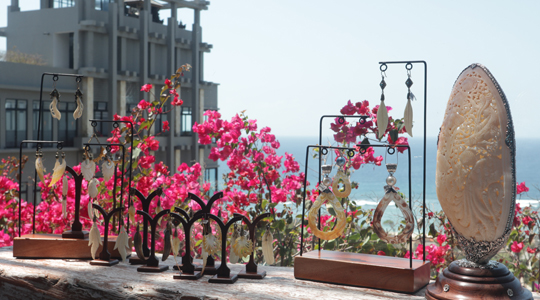 Shell Carving by Canipara
Perayaan kerajinan Indonesia yang berpangku dalam semboyan bangsa yakni Bhineka Tunggal Ika, The Apurva Kempinski Bali berhasil mengenalkan dirinya sebagai wujud sejati dari budaya dan kerajinan Indonesia yang dikurasi oleh ratusan pengrajin Indonesia.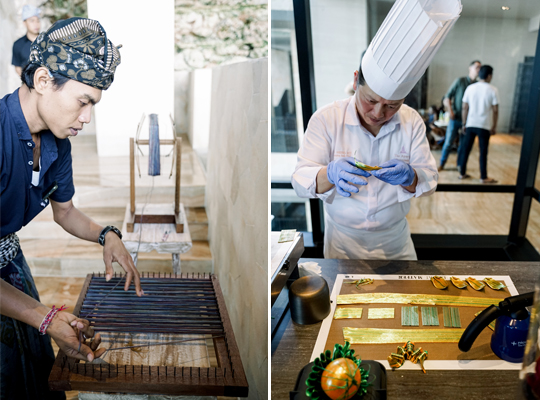 Tenun Weaving by Tarum Bali dan Chef Ho Weng Kit – Curated Dish of The Apurva Kempinski Bali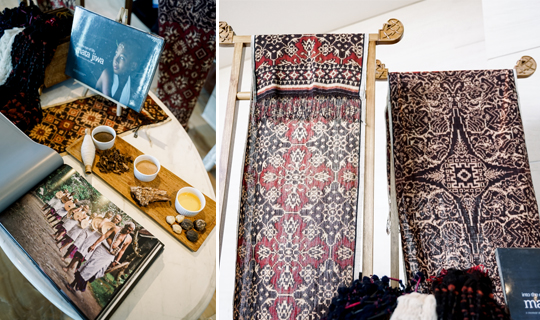 Tenganan Pegringsingan Book and Fabric by Amalia Firman