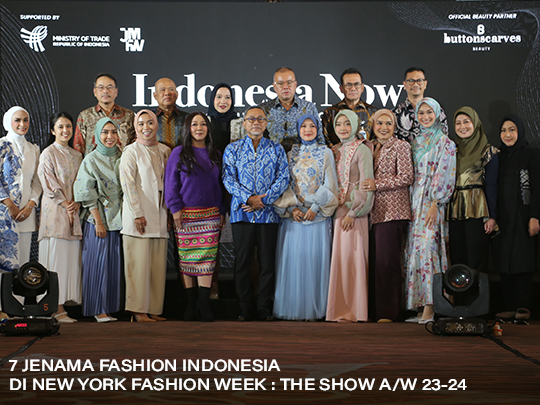 presented by
7 JENAMA FASHION INDONESIA DI NEW YORK FASHION WEEK : THE SHOW A/W 23-24
Published by Sugar & Cream, Monday 13 February 2023
Images Courtesy of Studio One PR
Indonesia Now, 13 Februari 2023 @ New York
Kabar gembira dari industri mode Indonesia. 7 jenama modest fashion yang terdiri dari Buttonscarves, KAMI., Zeta Privé, Anggia Mawardi, Lenny Hartono, Nada Puspita dan Ayu Dyah Andari x BT Batik Trusmi, akan hadir pada pegalaran Indonesia Now di panggung New York Fashion Week : The Show A/W 23-24. Peragaan busana ini hadir atas dukungan dari Kementerian Perdagangan Republik Indonesia dan Jakarta Muslim Fashion Week (JMFW).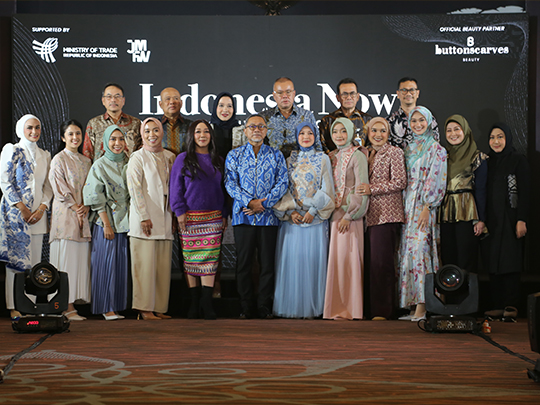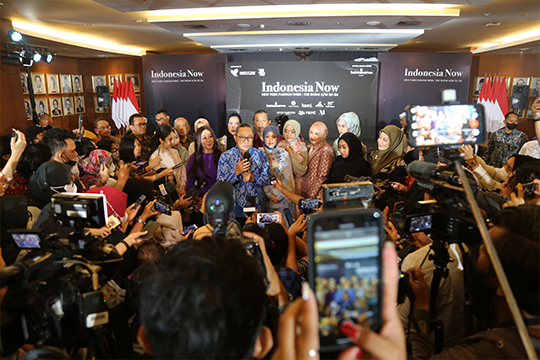 "Masa depan Indonesia dalam mode modest itu bisa dibilang sangat cerah. Melalui peragaan di New York Fashion Week nanti, saya berharap desainer muda kita dengan karya luar biasa, keunggulan luar biasa, bisa mendunia dan tentunya mempunyai pengalaman baru dalam event internasional," ujar Zulkifli Hasan, Menteri Perdagangan RI, saat konferensi pers 31 Januari 2023 lalu di Gedung Kementrian Perdagangan RI.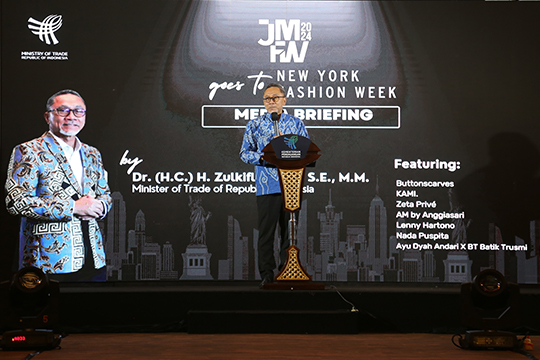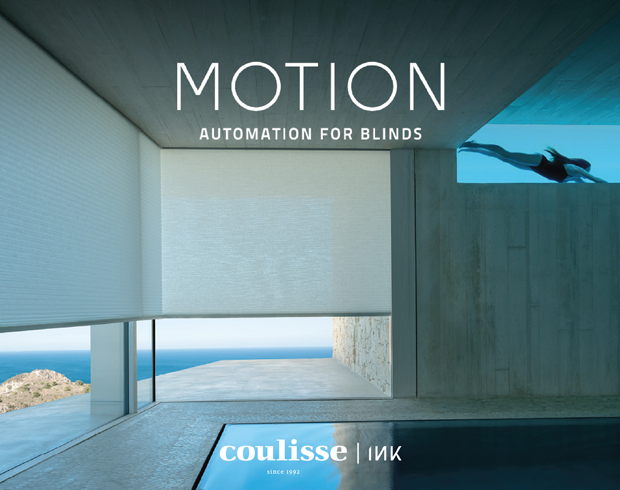 Presented by Coulisse | INK
Masing-masing jenama memberikan penjelasan singkat tentang karya yang akan mereka tampilkan. Seperti Buttonscarves dalam "The Dream Capsules" yang terinspirasi dari gaya modern tentunya berpadu dengan gaya modest. Kami dengan "Charaka" menampilkan kekayaan lokal dari Kain Tapis Lampung, Zeta Privé menjadikan kota New York sebagai inspirasi utama dalam koleksi "The Talking Poin", AM BY ANGGIASARI mengusung konsep sustainable dalam tema "Komorebi", Lenny Hartono melalui "Song(s) of Archipelago" memperlihatkan kain Songket sebagai protagonisnya, Nada Puspita dalam "A Breath of Modesty" membicarakan tentang pakaian modest yang nyaman dengan sentuhan feminine klasik, dan Ayu Dyah Andari bersama BT Batik Trusmi meneruskan koleksi "Basundari: Kala di Wedari" yang menyoroti batik Mega Mendung.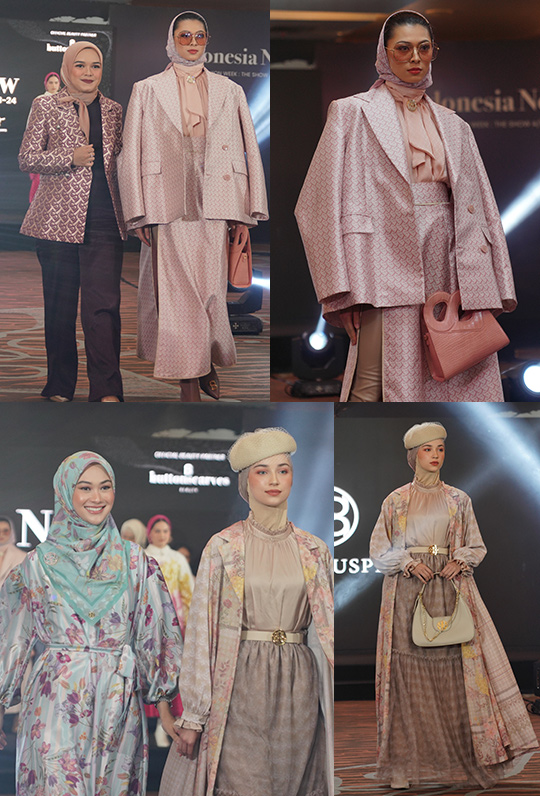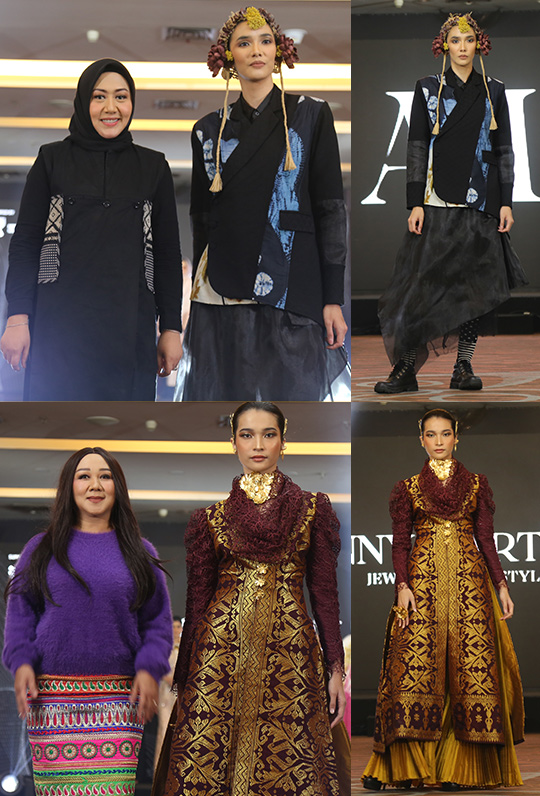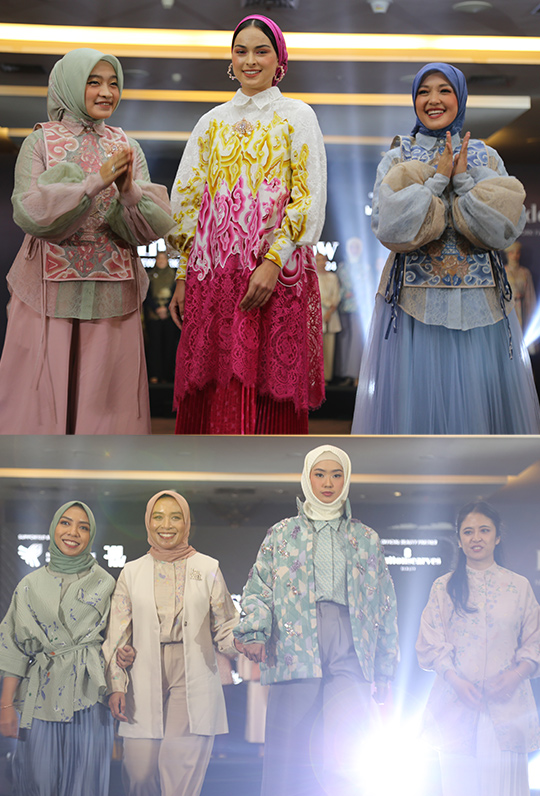 Pada kesempatan ini juga, Buttonscarves Beauty turut hadir sebagai Official Beauty Partner yang menampilkan riasan bertema "Popping Autumn", terinspirasi dari warna musim gugur dan dipadu vibrant color. Di panggung New York Fashion Week : The Show A/W 23-24, Buttonscarves Beauty merepresentasikan karakter makeup yang anggun dan fresh serta dapat digunakan untuk sehari-hari. (AP)