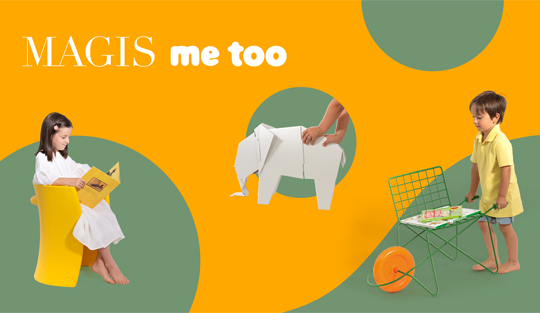 presented by

3 OBJECTS FROM MAGIS INVITE INTERACTION & PLAY
Published by Sugar & Cream, Friday 30 July 2021
Text by Dinda Bestari, Image courtesy of Magis Design
All Dedicated to A Child-Sized World
Kerap kali kita berpikir, di masa pandemi saat ini sangat riskan jika anak-anak bermain di luar. Padahal secara psikologis, anak-anak butuh bersosialisasi, berinteraksi sambil bermain. Bermain bisa dibilang menjadi rutinitas kreatif anak-anak. Bagaimana caranya? Mereka dapat mengembangkan keterampilan yang diperlukan untuk bermain secara kooperatif dalam struktur kelompok, sehingga saling berinteraksi.
Salah satu caranya juga adalah berinteraksi dengan objek dianggap sebagai jenis permainan. Mereka dapat mengamati bentuk primata, karena bisa menjadi ide untuk eksplorasi anak berkembang di dunia sehingga mereka menemukan hal-hal menarik di dalamnya. Melalui permainan fisik – khususnya demi perkembangan motorik halus, dan imajinasi. Dan, juga membangun model objek nyata atau imajiner dan membayangkan skenario atau narasi.
Jenama asal Italia, Magis dengan desainnya selalu unik dan jenaka, menghadirkan koleksi Magis Me Too, yang mempersembahkan 'permainan' untuk anak-anak agar saling berinteraksi serta tetap fun dan aman.
Let's find out!
MY ZOO
'Hewan-hewan' di My Zoo yang dirancang oleh Martí Guixé begitu playful dibuat dalam bentuk mainan-mainan besar, dan anak-anak bebas mewarnai 'hewan-hewan' tersebut dengan pilihan warna yang tak terbatas. My Zoo mencakup lima objek berbeda, seperti jerapah, beruang, gajah, unta, dan paus yang terbuat dari karton putih yang kokoh. Tersedia dalam dua dimensi, kecil atau besar, mamalia ini bisa diwarnai sesuai keinginan anak-anak. Bentuknya, yang mengingatkan pada lipatan dalam origami, sangat mengesankan ketika ukurannya lebih besar. Permainan dimulai selama perakitan, and doesn't stop!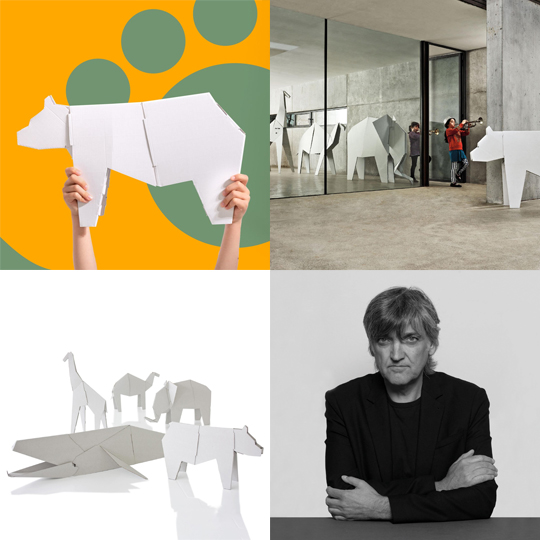 My Zoo by Marti Guixé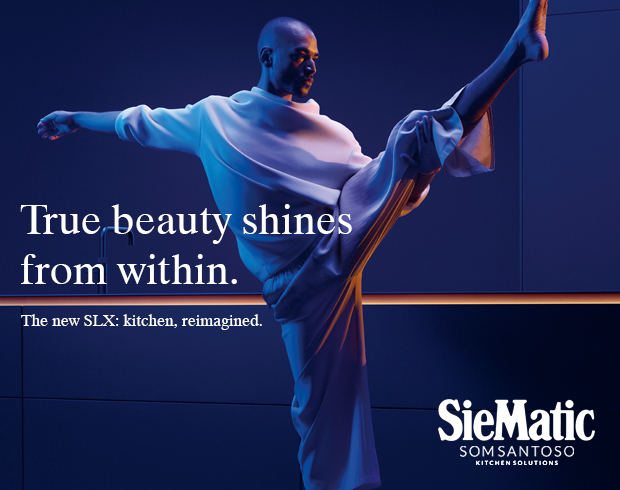 Presented by Som Santoso
TRIOLI
Trioli menggabungkan tiga fungsi yang berbeda, dan dengan melakukan itu tiga cara berbeda untuk melihat dunia, dalam satu objek tunggal. Produk ini merupakan kursi anak-anak dengan dua pilihan ketinggian tempat duduk yang berbeda jika diputar ke depan, bisa berfungsi menjadi rocking chair. Fun, colorful, and durable!  Trioli terbuat dari polietilen yang dicetak secara rotasi. Hadir dalam tiga warna cerah, kuning, biru, dan merah, ideal digunakan anak di outdoor area. Trioli diciptakan oleh Eero Aarnio, salah satu eksponen Desain Nordik yang paling terkemuka dari 1960 – an serta dianugerahi Compasso d'Oro pada tahun 2008.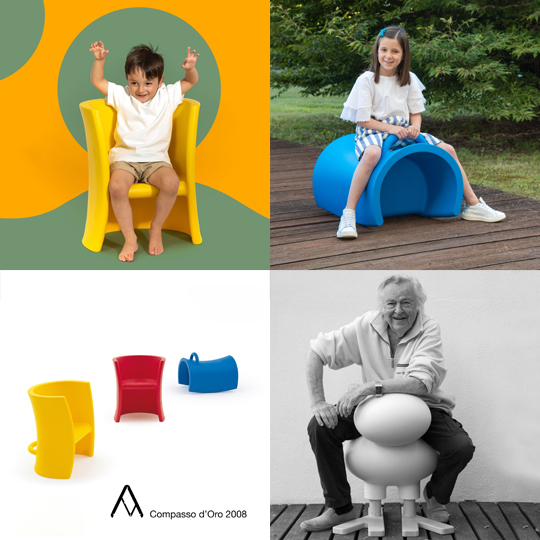 Trioli by Eero Aarnio
TROTTER
Trotter adalah kursi bergerak yang menyenangkan dan fungsional untuk anak-anak yang terbuat dari batang baja hijau dan roda oranye yang dibentuk dengan rotasi. Strukturnya meniru bentuk gerobak dorong dan roda yang mencolok, seperti mengajak untuk anak-anak untuk aktif, bahkan fleksibel untuk memindahkan kursi ke tempat terbaik, lagi dan lagi.  Kursi yang 'cerdik' ini dirancang oleh Rogier Martens, seorang desainer yang dikenal dengan ide-ide orisinalnya. Trotter mudah digeser, sehingga menjadi teman bermain yang ideal untuk anak-anak. Konstruksinya bisa menjadikannya meja yang sangat praktis. Karena desainnya yang fungsional, Trotter dapat digunakan dalam segala kesempatan, bermain di dalam ruangan maupun luar ruangan.  Trotter is made to move!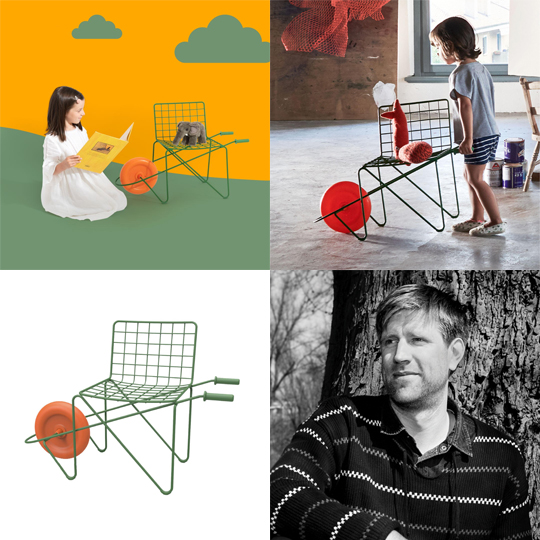 Trotter by Rogier Martens