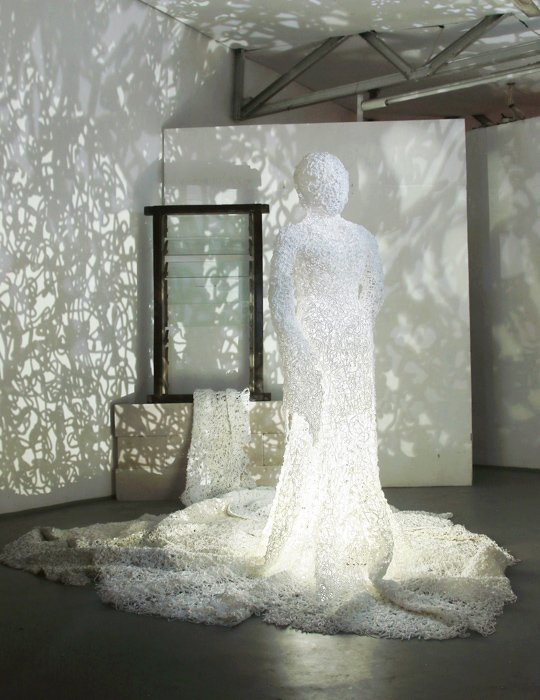 Ziarah Tiga Soliloquy Lenny R. Weichert
Published by Sugar & Cream, Friday 16 September 2016
Text by Bambang Asrini Widjanarko, Photography courtesy of Lenny R. Weichert
Pergelaran solo "Pilgrimage" karya Lenny Ratnasari Weichert adalah sebuah ajakan menafsirkan kompleksitas hidup seorang perupa. Kita menemui energi estetis, refleksi personal, aura spiritual sekaligus ingatan-ingatan Lenny sebagai manusia komunal. Terutama, upayanya untuk menggeledah relung terdalam jiwa, seperti apa dan bagaimana seharusnya menjadi seorang perempuan? Ia menyajikan sebuah perjalanan menempuh ke dalam diri, yakni lelaku ziarah (pilgrimage) yang dihamparkan. Menyajikan pentas monolog atau soliloquy dengan cara bertandang dari pintu-pintu identitas ke-perempuanan dan sejarah, menyuruk kedalam jendela teritori yang global dan yang lokal; selain itu menjenguk beranda ke-Islaman dalam perspektif kultural.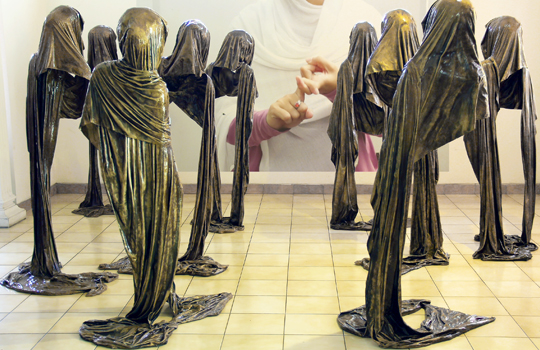 Karya Pertama, seni instalasinya dengan judul "To Be or Not To Be", dengan media silicone, linght, glass, wood, overall display dimensions variable, Lenny menyambangi wilayah kristalisasi pengalaman-pengalaman. Semacam proyeksi dan identifikasi memori  masa lalu yang beragam, seperti kegundahan sebagai seorang perupa perempuan dan perannya sebagai manusia yang menjaga reproduksi generasi, sebagai ibu. Tarik-menarik spasial dalam ruang fisik, antara "patung" yang diandaikan raga Lenny sendiri dan teks-teks di dinding sebagai sang liyan yang mendekam dalam jiwa; yang pada akhirnya menguarkan pernyataan final "menjadi atau tidak akan pernah menjadi".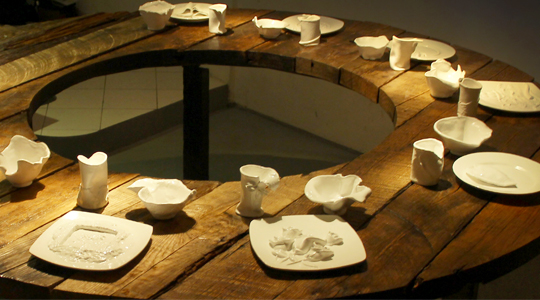 Sedangkan, karya ke-2, video-instalasinya yang berjuluk "Dinners Club", dengan media wood, video, resin, air dry clay, overall dimensions variable, Lenny membuat "perjamuan makan malam" yang unik dan sangat spesial dari tokoh sejarah dan dunia mitologi. Sebuah zona yang kompleks dan bertumpuk-tumpuk pemahaman juga tafsir. Meja yang membentuk gender female, video dokumentasi dan piring-piring yang tersemat lambang-lambang dari 9 perempuan: Malahayati, Colliq Pujie, Bunda Teresa, Siti Khadijah, Helena Blavatsky, Aung San Suu Kyi, Dewi Sri, Venus serta Dewi Kwan Im. Zona ini memberi pesan bahwa ada narasi keterbelahan identitas dan teritori privat dalam beberapa episode hidup Lenny yang menguak kesadaran kolektif  terhadap banyak perempuan-perempuan lain yang mengalami nasib tragik (dari mantan Tahanan Politik sampai keluarga buruh yang memperjuangkan kebebasan berekspresi) dengan membagi kegelisahan-kegelisahan yang sama diantara mereka.
Untuk karya ke-3, seni video-instalasinya dengan media video channel, painted resin, overall display dimensions variable dengan judul "Homage to Anonymous",  ia bernarasi tentang Islam, tidak mengulik soal scriptural kitab suci, namun lebih pada sejarah dan budaya Islam di Tanah Air. Sosok Fatimah Binti Maimun diandaikan sebagai hulu para Wali, yakni Wali Songo. Saudagar kaya dan penyebar religi Islam di Pulau Jawa yang berpusat di Gresik, Jawa Timur yang diimajinasikan "mengkloning" dirinya dalam wujud 9 patung perempuan berhijab.  Zona dimana sejarah dan mitos tentang figur Fatimah hendak mengkritisi konsep dominasi patriarki di masyarakat dan dalam waktu sama sebuah empati pada perempuan-perempuan yang dihilangkan dalam sejarah, ditiadakan dengan sengaja dan menjadi anonim.
Pilgrimage adalah pameran solo Lenny Ratnasari Weichert yang puitik; 3 babak soliloquy, yang menghantar pada gerbang tiga zona ziarah personal melintasi luka-luka para perempuan dan kegelisahan identitasnya di masyarakat yang terus bergerak dan berubah seiring waktu.