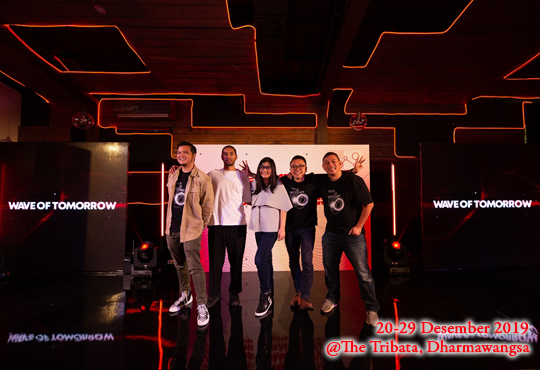 presented by

Wave of Tomorrow: Ahead of Its Time!
Published by Sugar & Cream, Thursday 12 December 2019
Text by Dinda Bestari Image Courtesy of Wave of Tomorrow
The biggest Arts & Technology Festival in Indonesia : 20-29 December 2019
Maraknya industri seni yang berkolaborasi dengan era digitalisasi demi membawa sebuah perubahan, sehingga melihat pergerakan tersebut, deretan insan kreatif terpilih mengadakan bertajuk  Wave of Tomorrow yang akan menghadirkan karya modern dan futuristik yang diharapkan akan membawa tranformasi ke dalam industri seni tanah air. Festival seni berbasis teknologi dilengkapi dengan pertunjukan musik yang atraktif rencananya akan diselengarakan pada 20-29 Desember 2019 di The Tribata, Dharmawangsa.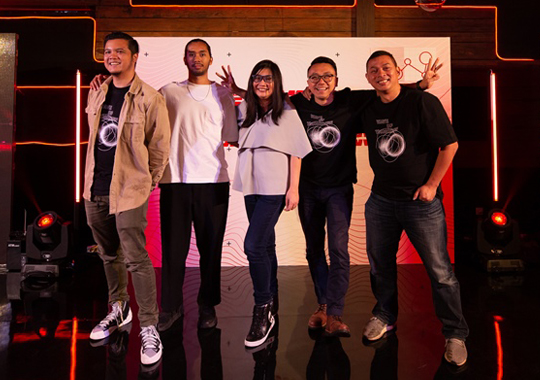 (Kiri ke kanan) Adrian Soebono, Xandega, Mona Liem, Adi Panuntun, Rubi Roesli

Wave of Tomorrow 2019 merupakan kali kedua festival seni ini ditampilkan setelah sebelumnya telah sukses pada 2018 di lokasi yang sama.
"Wave of Tomorrow kembali melibatkan berbagai kreator progresif dengan karya-karya yang mampu menghadirkan sebuah pengalaman dan interaksi berbeda bagi para pengunjung dan penggemarnya. Pengalaman unik tersebut diciptakan agar para audiens dapat merasakan sebuah transformasi hasil dari perjalanan progresif para kreator yang telah dikurasi oleh figur profesional dan ahli di industri seni," jelas Adrian Subono, President Commissioner Level 7 selaku penyelenggara.
Demi menghadirkan komposisi line up yang dinamis untuk sebuah konsep festival yang berbeda, pihak Level 7 dibantu oleh art curator dan music curator. Mona Liem terlibat dalam Wave of Tomorrow sebagai Art Curator.  Dengan pengalamannya di berbagai festival seni internasional, Mona dipercaya untuk mengurasi line up di Wave of Tomorrow sehingga mempertajam konsep karya yang dihadirkan.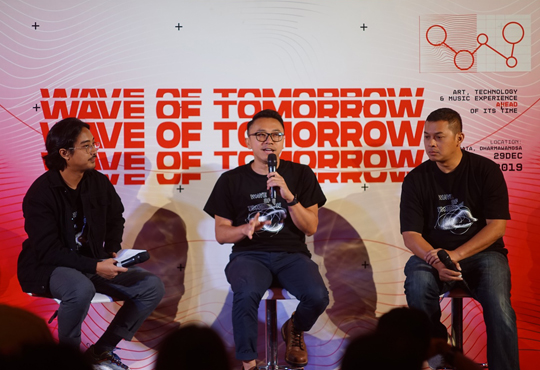 (Kiri ke kanan) Adi Panuntun 'Sembilan Matahari' & Rubi Roesli
"Kami akan membawa sekitar 13 kreator dengan background dan disiplin ilmu yang berbeda. Sehingga dalam gelaran Wave of Tomorrow nanti akan ditemukan karya-karya instalasi seni interaktif dengan elemen multi-disiplin mulai dari 3D visual, mapping, lighting, augmented reality, bahkan robotic. Berbagai elemen tersebut akan menunjang konsep kreatif untuk menyampaikan berbagai pesan dari para kreator. Hal tersebut dapat memberikan sebuah pengalaman unik dan berbeda bagi para pengunjung," jelas Mona.
Beberapa kreator yang akan tampil di Wave of Tomorrow di antaranya yaitu Sembilan Matahari, Rubi Roesli, Maika, Kinara Darma x Modulight, U Visual, Motionbeast, Notanlab, Farhanaz, serta beberapa artis internasional seperti Nonotak, dan Tundra.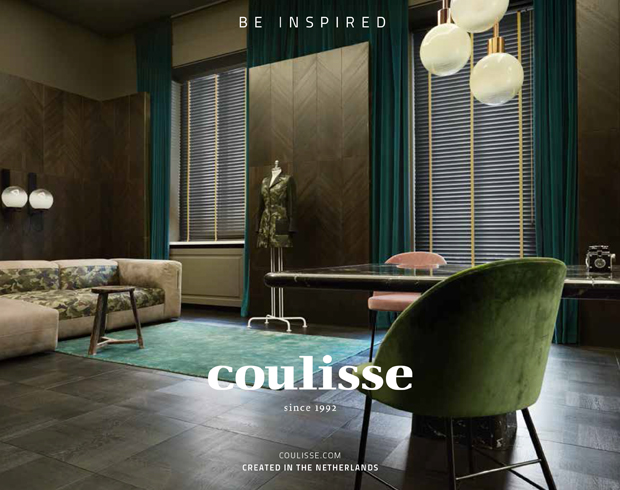 Presented by Coulisse
Sembilan Matahari yang sebelumnya banyak bermain dengan visual mapping, akan hadir berbeda di Wave of Tomorrow kali ini menggunakan elemen kinetik dan robot. Adi Panuntun, CEO Sembilan Matahari, saat ditemui di acara talkshow Wave of Tomorrow 2019 mengungkapkan bahwa ia dan kolektifnya ingin menghadirkan karya yang lebih interaktif.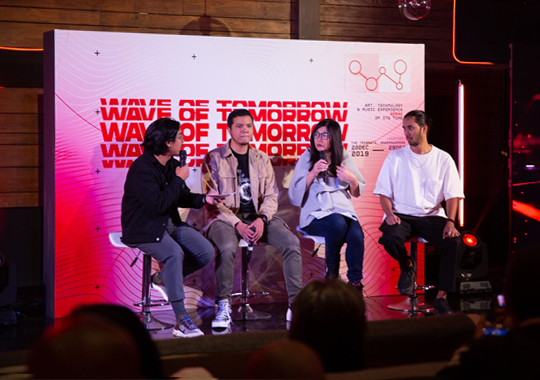 (Kiri ke kanan) Adrian Soebono Level7, Mona Liem, Xandega 'Studiorama'
Selain pameran seni yang penuh dengan karya memukau, pada pencinta music juga akan disuguhi penampilan menarik dari musisi populer maupun emerging artists dengan karya yang unik, seperti Kunto Aji, Danilla, Petra Sihombing, Eva Celia, Sunmatra, Dekadenz, Random Brothers, dan masih banyak lagi.
Tiketnya sudah bisa diakses seharga IDR 100.000 per hari atau all days access IDR 500.000. Untuk informasi lebih lengkap, bisa mengunjungi waveoftomorrow.id.