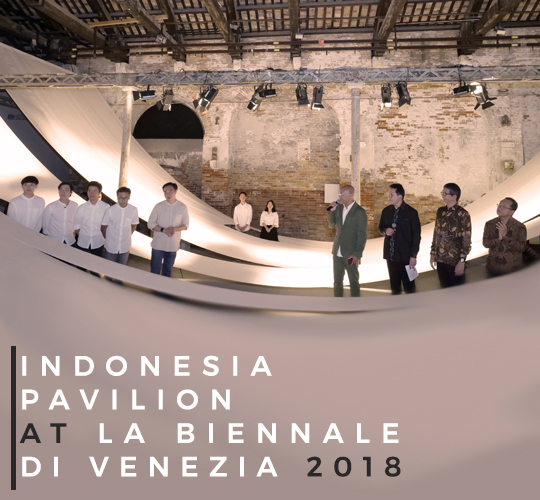 VENICE BIENNALE – INDONESIA PAVILION 2018: AN AUTHENTIC INDONESIAN EXPERIENCE IN ITALY
Published by Sugar & Cream, Friday 03 August 2018
Text by Anggita D S, photography by Timur Angin
SUNYATA: The Poetics of Emptiness (May 26 – November 25, 2018, Venice)
Sebuah kehormatan dan kebanggaan dirasakan oleh Indonesia ketika diberi kesempatan untuk menggelar ajang Indonesia Pavilion 2018 di 16th Architecture Exhibition yang diadakan di Arsenale, La Biennale di Venezia, Italia.


The Curators and The Commissioners
Dibuka pada 25 Mei lalu, acara ini merupakan kerja sama antara BEKRAF dan INDONESIA PAVILION, di mana Triawan Munaf sebagai Inauguration Chairman dari BEKRAF melakukan opening speech, kemudian turut dihadiri oleh Ricky Pesik sebagai Deputy Chairman BEKRAF, Joshua Simanjuntak sebagai Deputy Marketing Director BEKRAF, Achmad Djuhara sebagai Ketua Ikatan Arsitek Indonesia, serta Steve Manahampi sebagai President INDONESIA PAVILION. Tak ketinggalan, para kurator handal seperti Ary Indra sebagai Chief Curator dan dibantu oleh Jonathan Aditya, Johanes Adika, Dimas Satria, dan Ardy Hartono. Istimewanya pula, pada acara ini turut hadir Ibu Swan, yang mengawali Dapur Solo dari sebuah garasi 30 tahun lalu, merayakan kekuatan bangsa dengan menyatukan rasa tradisional dan persembahan modern. Kekuatannya sebagai Woman Entrepreneur mempertegas semangatnya untuk mengeksplorasi dan melestarikan warisan budaya bangsa dalam formula kekinian zaman.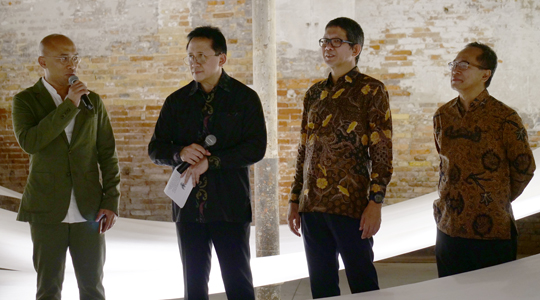 Ary Indra, Triawan Munaf, Ricky Pesik & Achmad Djuhara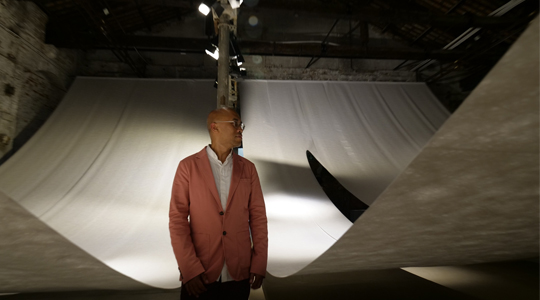 Ary Indra, The Chief Curator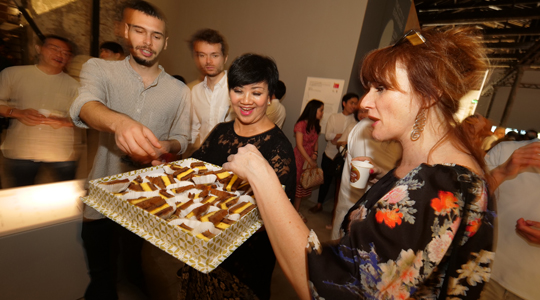 Indonesia Experience by Ibu Swan of Dapur Solo
Diadakan dengan tujuan untuk memahami kembali arsitektur Indonesia dan memicu kemungkinan baru yang dapat terjadi dalam desain kontemporer, tema yang diusung ajang ini adalah "SUNYATA: The Poetics of Emptiness". Gagasan di baliknya adalah, SUNYATA diharapkan bisa menjadi titik tolak dalam membuka wacana perancangan arsitektur Indonesia, terutama saat menyikapi praktik-praktik yang berbasis pada grid, juga derasnya gelombang parametric yang menjadi akses dunia digital di masa kini dan mendatang. Paviliun ini sendiri dirancang untuk dapat memberikan pengalaman nyata saat berada di dalamnya, sementara pengamat atau pengunjung dari luar hanya bisa meraba secara visual.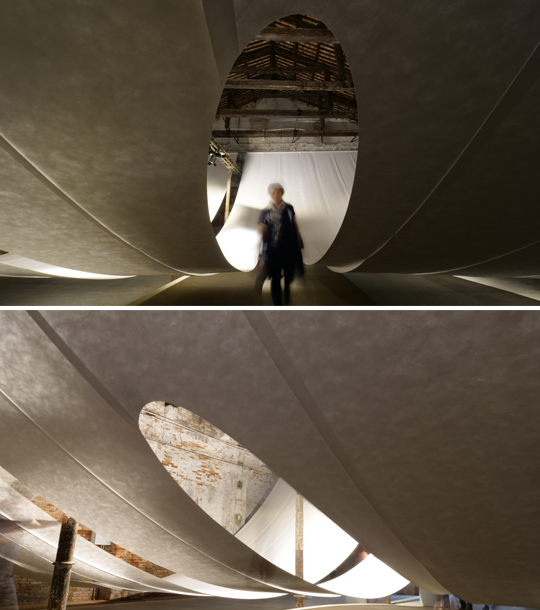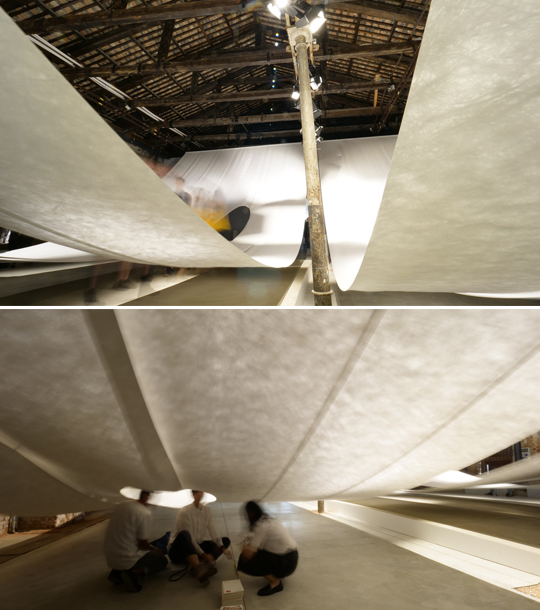 Bagaimana caranya? Ternyata di dalamnya, platform di bawah kertas yang 'membukit' atau menukik naik akan menghadirkan kondisi tipografi yang terasa berbeda. Di samping itu, perbedaan posisi saat melihat pengunjung duduk dan mengamati Anda dari dalam akan membentuk hubungan "penonton dan yang ditonton" antara kedua belah pihak – orang-orang yang berada di dalam dan di luar void. Penasaran apa yang menginspirasi tema di baliknya? Filosofi di balik ini tak lain adalah kisah Dewa Ruci, yang ditulis oleh Yasadipura I di era Sultan Pakubuwono III (1749–1788), menceritakan perjalanan Bratasena untuk menemukan air suci selama pertempuran Bharatayudha. Dalam keputusasaannya, Bratasena bertemu Dewa Ruci, makhluk suci yang memiliki tubuh kerdil. Dialog singkat antara keduanya menjelaskan bagaimana suatu bentuk bisa 'dipahami' dan bagaimana suatu bentuk bisa 'terjadi'. Bagi orang Jawa, wujud merupakan manifestasi dari pencarian spiritual dalam menemukan jati diri. Dengan menampilkan kekosongan, para kurator ingin membuat sebuah analogi tentang bagaimana sebuah bentuk dapat hadir dengan menempatkan diri manusia sebagai elemen utama sebuah ruang: yakni dengan simulasi cara menemukan bentuk melalui proses pencarian spiritual.