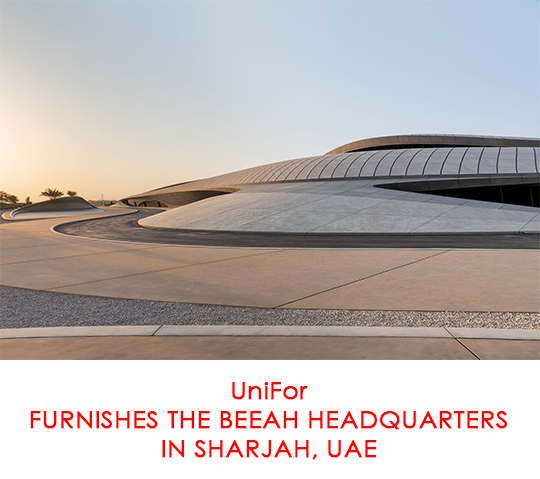 presented by
UniFor FURNISHES THE BEEAH HEADQUARTERS IN SHARJAH, UAE
Published by Sugar & Cream, Friday 12 May 2023
Images courtesy of UniFor
Allows workers to Adjust the Furniture Features to Their Own Specific nNeeds
New Sarjah, UEA, terinspirasi oleh bukit pasir tempat ia muncul. Kantor pusat BEEAH, pelopor energi terbarukan dan solusi berkelanjutan untuk kota masa depan, adalah mahakarya arsitektur dan model keberlanjutan yang mewujudkan panggilan dan dedikasi perusahaan. Struktur futuristik, dirancang oleh Arsitek Zaha Hadid, didukung oleh energi terbarukan serta menonjolkan penggunaan sumber daya energi yang efisien.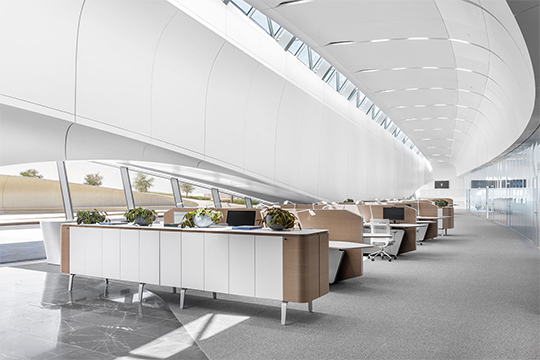 Strukturnya terdiri dari dua struktur berbentuk bukit pasir berliku-liku yang menyatu dengan pemandangan gurun di sekitarnya dan berfungsi sebagai elemen totemik yang unik.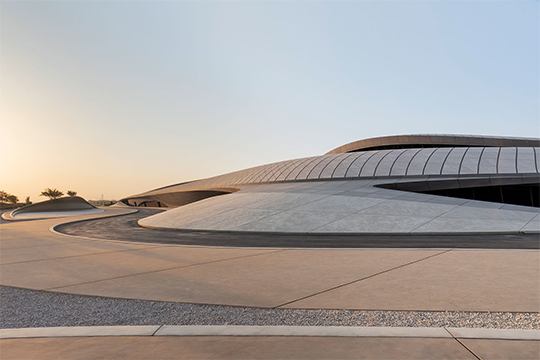 Dengan desain interior oleh ACPV ARCHITECTS Antonio Citterio Patricia Viel didasarkan pada konsep ruang yang holistik dan berpusat pada manusia, dengan penekanan kuat pada kesejahteraan tempat kerja. Furnitur dari studio ini,  fleksibel dan dapat disesuaikan ditujukan untuk kebutuhan pekerja harian, memberikan lingkungan yang elegan, bercahaya, dan berkinerja.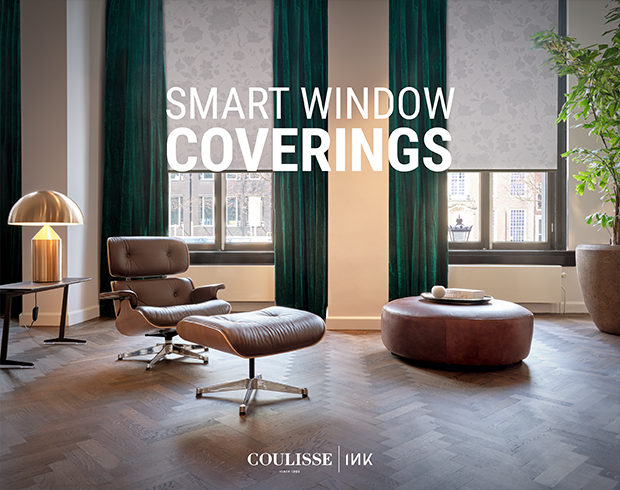 Presented by Coulisse | INK
"Innovation is in the details – in the design of the particular elements of the furniture for BEEAH headquarters. While most often furniture can be customized in color and in materials, in this case, the office desks are custom-designed down to the smallest detail in a way that allows workers to adjust the furniture features to their own specific needs."  – architect Antonio Citterio, Chairman of ACPV ARCHITECTS –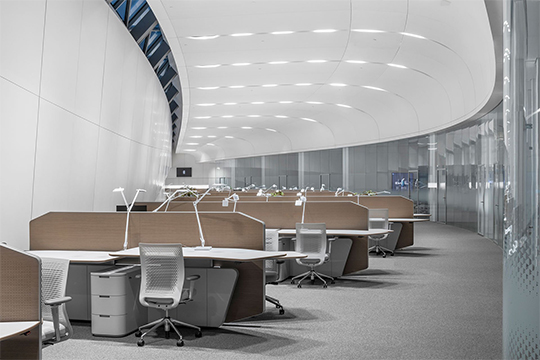 "Our interior design adds a new layer of benefits to the overall functioning of the new headquarters. The custom designed furniture within the interiors improves physical conditions and personal well-being to a great extent." – architect Patricia Viel, CEO of ACPV ARCHITECTS –

"For BEEAH Headquarters interiors we selected sustainable furniture and finishes with the highest sustainability standards responding to LEED and WELL certifications and Cradle to Cradle criteria for the entire product lifecycle. We selected the design of Antonio Citterio for Vitra ID Chair, offering numerous benefits to the worker health, stimulating the use of the core body muscles and the custom-made workstations by UniFor characterized by a high work flexibility." – Francesca Carlino, Partner, ACPV ARCHITECTS –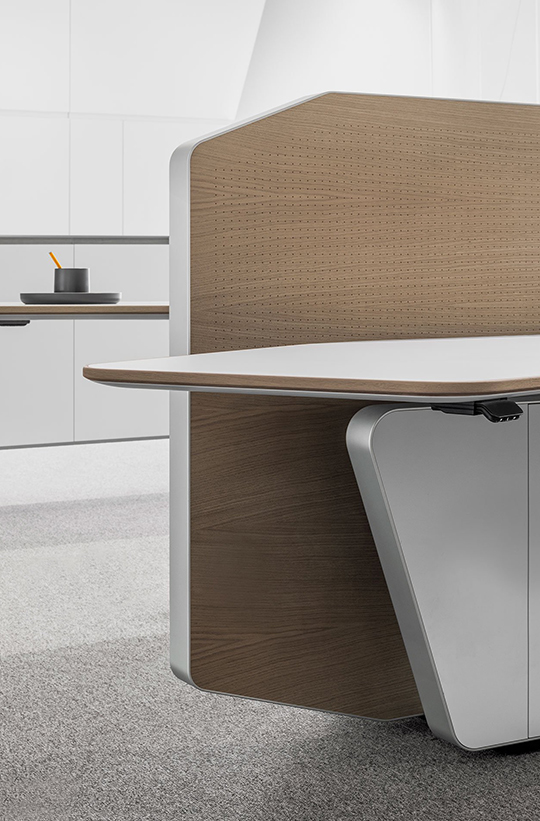 Visi BEEAH, dikombinasikan dengan pendekatan yang disesuaikan dan perhatian cermat terhadap detail ACPV ARCHITECTS, telah menginspirasi UniFor untuk membuat komponen furnitur berdesain unik. Workstation melingkar dengan bentuk "kupu-kupu" yang berbeda menyatu dengan arsitektur organik bangunan, yang dilengkapi dengan panel dinding berlubang mikro berbingkai logam akustik untuk privasi maksimal. Pin logam pada panel memungkinkan pengguna mempersonalisasi booth mereka dengan elemen dan aksesori pribadi.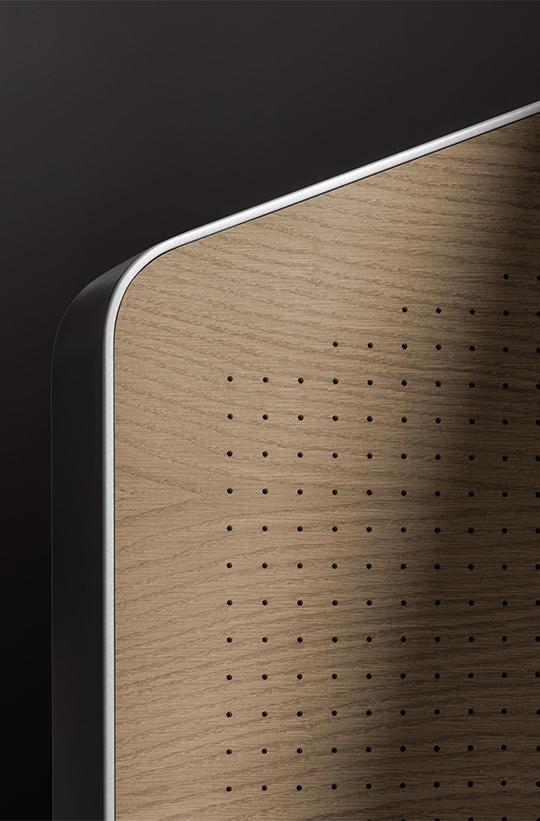 Inti teknologi dari workstation dapat disesuaikan ketinggiannya tersembunyi di balik kerangka logam. Meja kerja dapat disesuaikan untuk berbagai kebutuhan berkat panel kontrol terintegrasi yang elegan. Workstation dan credenza dirancang khusus dengan dasar baja anodized platinum ditata dengan detail dan efisien di area tersebut.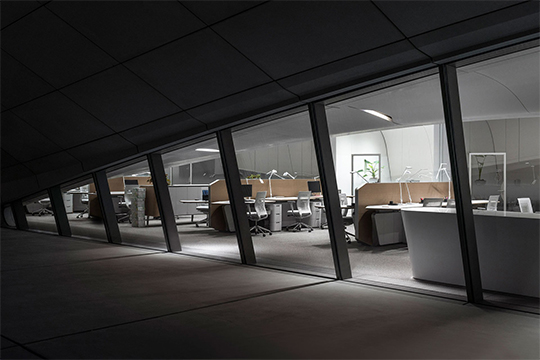 Meja untuk tempat kerja eksekutif menampilkan bagian atas berbentuk yang ditopang oleh satu kaki yang digabungkan dengan unit laci, dengan menyembunyikan mekanisme yang dapat diatur ketinggiannya. Proyek UniFor dilengkapi dengan meja rapat berbentuk pahatan  dalam berbagai dimensi dan dibedakan oleh sistem terintegrasi untuk mengendalikan lingkungan ruangan. Workstation dari lini iSatelliti, model S200,  dapat disesuaikan dengan panel kain akustik, juga disertakan dalam proyek ini.
Arsitektur interior Kantor Pusat BEEAH, dihidupkan oleh workstation yang dirancang oleh ACPV ARCHITECTS dan diproduksi oleh UniFor, merupakan 'latihan' dalam menyesuaikan detail terbaik lingkungan kerja dengan kebutuhan karyawan secara berkelanjutan, menggunakan teknologi bangunan mutakhir. Proyek ini berakar pada pandangan ke depan BEEAH, keahlian ACPV ARCHITECTS dalam desain interior dan furnitur yang dirancang khusus, serta kemampuan UniFor untuk menerjemahkan "the desiderata" menjadi furnitur yang tak lekang oleh waktu.