presented by

TURRI 2021 COLLECTION (PART 1)
Published by Sugar & Cream, Thursday 13 January 2022
Image courtesy of Turri
Huang Quan, SBGA (Blengini Ghiradelli), Andrea Bonini
Setelah sukses menampilkan koleksi terbaru 2021 di ajang 'supersalone' (Salone del Mobile.Milano 2021) September lalu di Milan, Turri memperkenalkan lini koleksi terbarunya secara lengkap. Dengan moto 'the Italian way to beauty' , Turri secara terus konsisten memperbarui eleganitas gaya Italia mengarah modernitas dan kontemporer dengan beberapa desainer ternama yang mendapat kehormatan untuk menampilkan kreasi terbaru untuk jenama ini. Koleksi terbaru meliputi living room, dining room hingga bedroom area. Sebagian koleksi merupakan perpanjangan/penambahan dari koleksi sebelumnya (baca di sini).
Berikut jajaran koleksi terbaru Turri dengan semangat 'the Italian way to beauty'  dari sudut pandang jenama ini:
• Pinnacle Collection by Huang Quan
Pinnacle merupakan koleksi yang penuh dengan simbol dan makna, yang diekspresikan dengan sangat baik pada tiap detailnya.  Pegunungan dan alam mengilhami bentuknya, dengan referensi yang jelas di   dasar pahatan meja atau di garis kaki vitrine yang sleek.'Goresan' yang berani dan kuat, ditenangkan oleh  elemen lain yang lebih lembut dan lebih melingkar seperti di bagian belakang kursi yang membungkus  atau di sisi sideboard yang melengkung. Bahkan untuk pemilihan bahan bukan sekedar kebetulan: bagian  atas marmer menjadi  referensi yang jelas untuk elevasi warna bebatuan alam, sementara di satu sisi,   kayu walnut abu-abu. dan di sisi lain tekstir kulit yang lebih lembut mengekspresikan keseimbangan    antara keagungan dan kemegahan.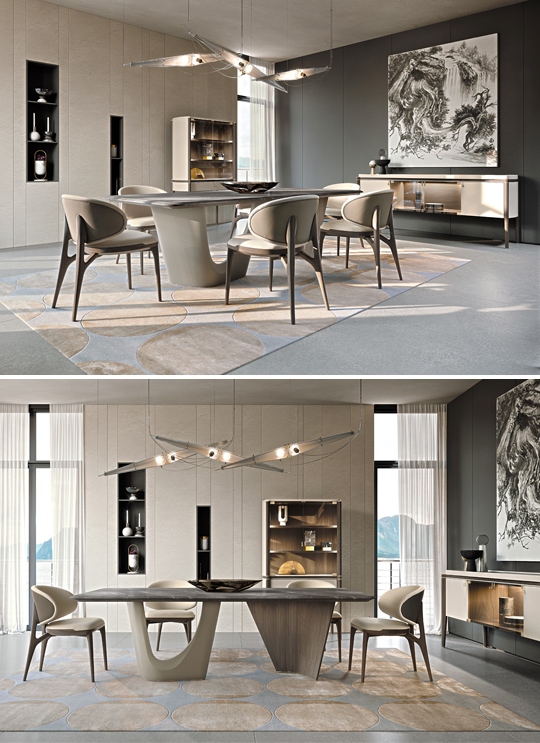 Pinnacle Collection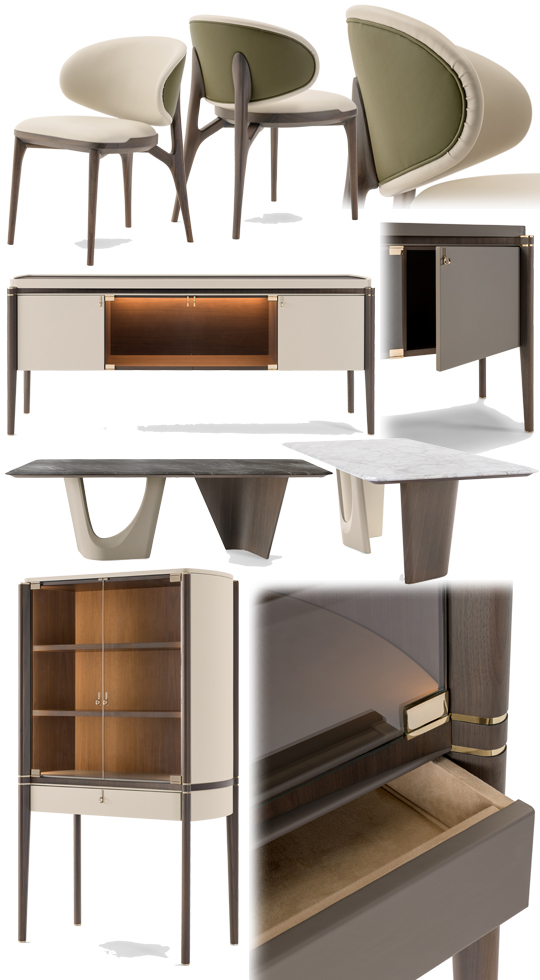 Pinnacle Collection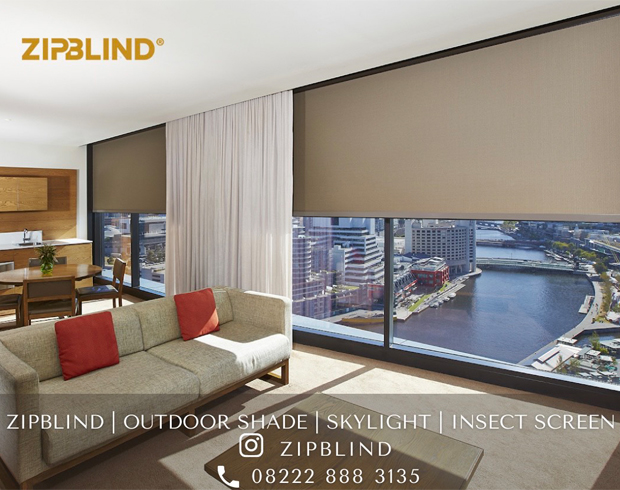 Presented by Zipblind
• Milano Collection by  SBGA (Blengini Ghirardelli)
Meja bundar dari koleksi Milano  ini memiliki table top melingkar yang tersedia dalam material marmer  atau kayu lacquer mengilap, didukung oleh base dengan bentuk geometris. Mulai dari metal base, serangkaian bilah kayu berpernis mengilap ke atas meja, menciptakan permainan 'potongan' diagonal  yang atraktif. Pengaplikasian material kulit serta detail logam membuat meja ini  terlihat autentik dan modern.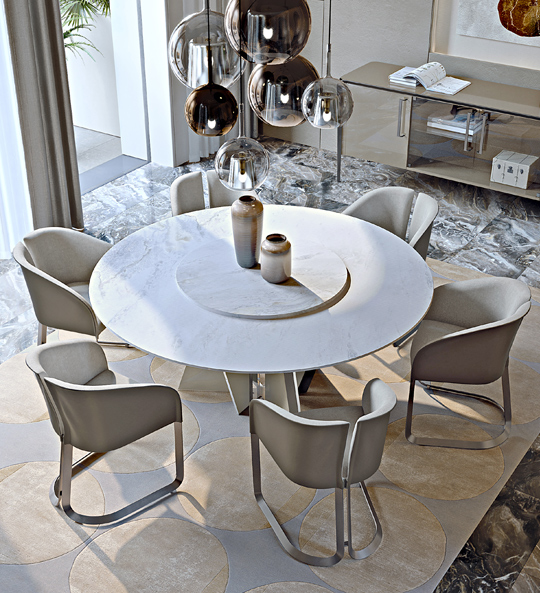 Milano Collection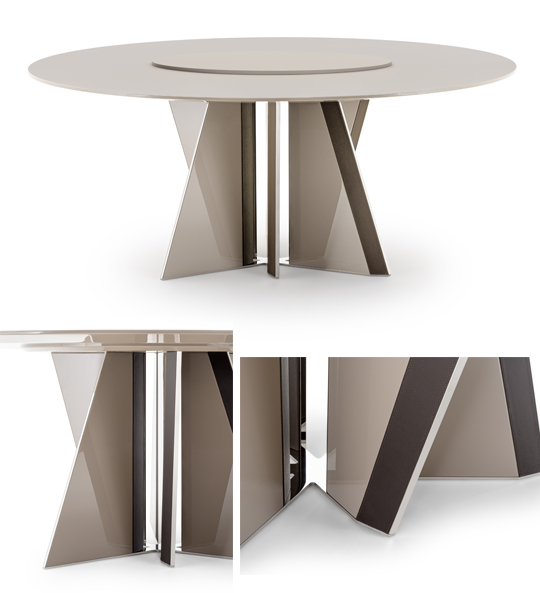 Milano Collection
• Zenit Collection  by  Andrea Bonini
Unit TV Zenit  memperkaya dan melengkapi lini diningroom dengan karakter identitas yang kuat. Selaras dengan tiga pintu kayu berpernis mengilap Kesinambungan tiga pintu dari kayu berpernis mengkilap  'terganggu' oleh sisi kabinet yang berliku-liku: seperti laci melengkung yang dilapisi kulit, menciptakan rak  terbuka yang luas di bawah bagian atas kayu atau marmer. Unit ini ditopang oleh kaki logam yang tipis  dan ringan. (DB)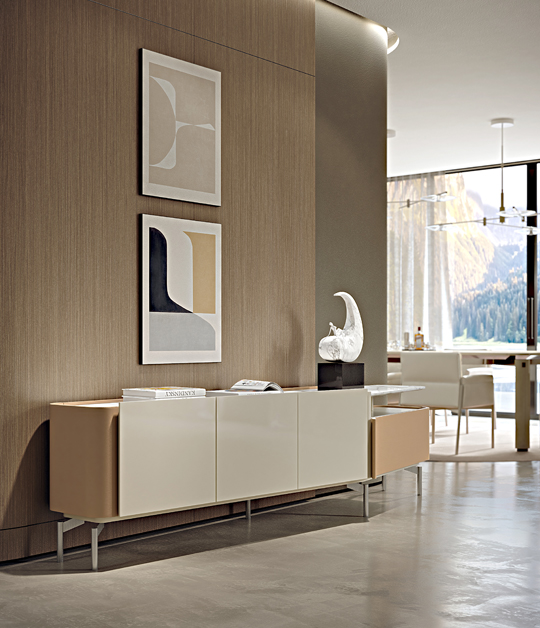 Zenit Collection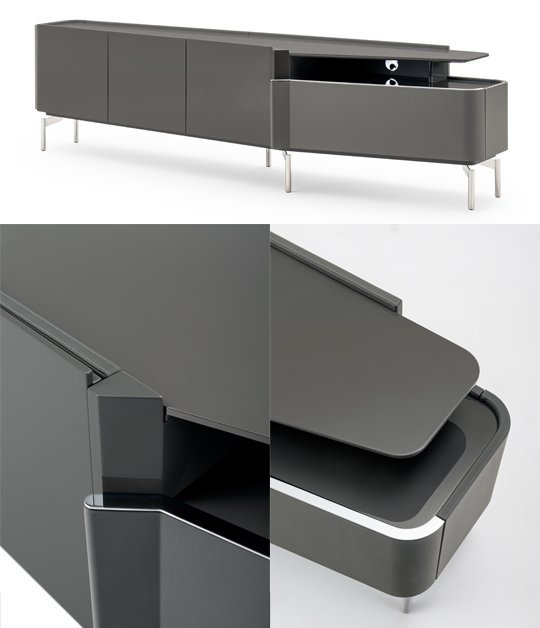 Zenit Collection