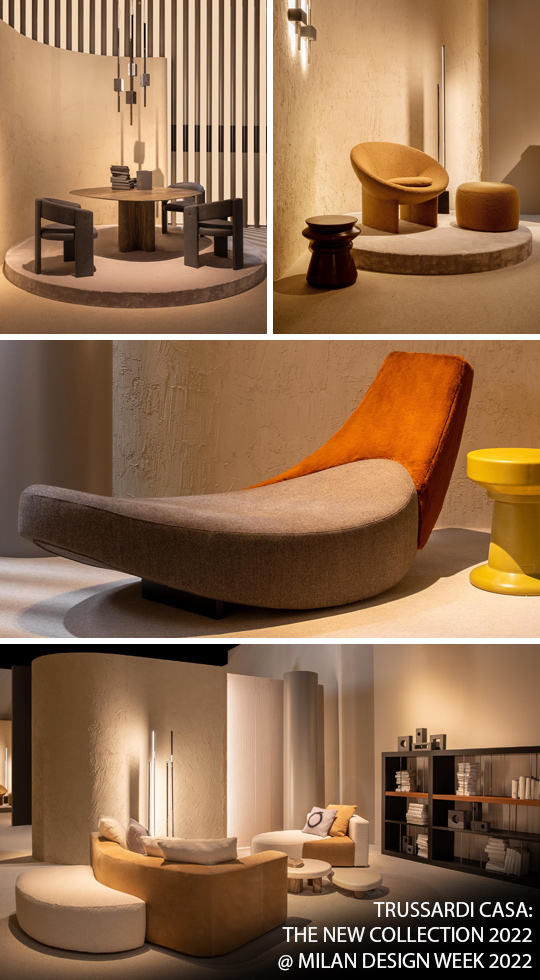 presented by

TRUSSARDI CASA: THE NEW COLLECTION 2022 @ MILAN DESIGN WEEK 2022
Published by Sugar & Cream, Wednesday 20 July 2022
Images courtesy Trussardi Casa
Redesigns Home Living Spaces
Trussardi Casa baru saja meluncurkan babak penting dalam sejarah dan berfokus pada desain, dan Milan masih protagonis dari gaya hidup jenama ini, dengan mengungkapkan citra sejalan dari perubahan besar di kota ini. Keanggunan sebagai simbol modernitas, dipadukan dengan gaya sophisticated dan timeless sehingga mudah diakses, demokratis, serta terlihat energik dan sensual.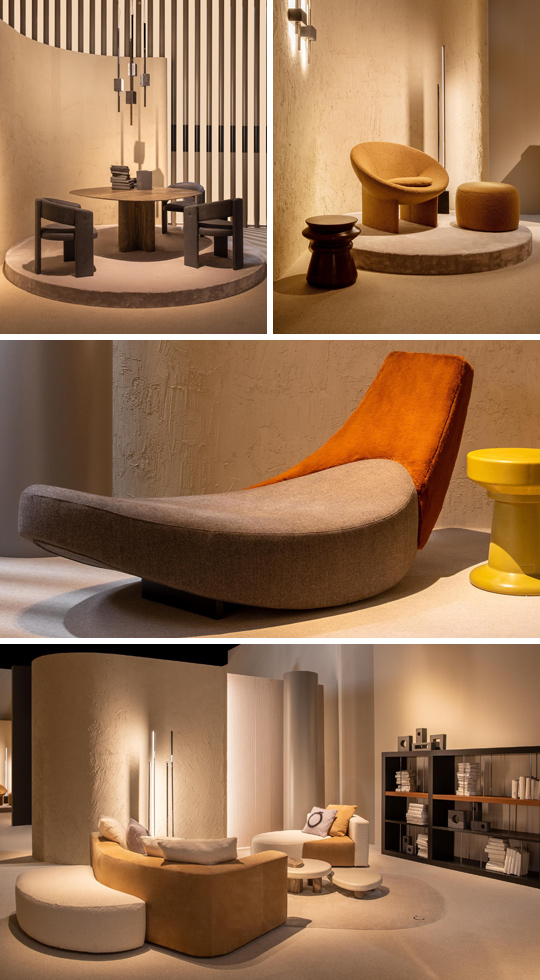 Dalam visi ini, Trussardi Casa telah melibatkan sekelompok desainer berbakat seperti Leonardo Talarico, Elisa Ossino, Lanzavecchia+Wai, dan Matteo Agati yang menghidupkan koleksi furnitur yang terinspirasi oleh conviviality, hospitality, dan inclusiveness, dan bergabung dengan koleksi yang dirancang oleh Carlo Colombo. Setiap karya memiliki kepribadian sendiri dan mengekspresikan ciri khas dari orang yang mendesain, tapi bersama mereka menciptakan 'orkestra simfoni' yang luar biasa. Dibuat berkat craftsmanship dan keunggulan manufaktur Luxury Living Group, koleksi Trussardi Casa terungkap di pertemuan antara garis lembut dan elemen geometris, antara bentuk organik dan detail 'guratan'.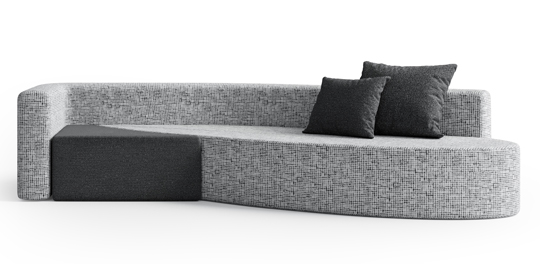 Astract Sofa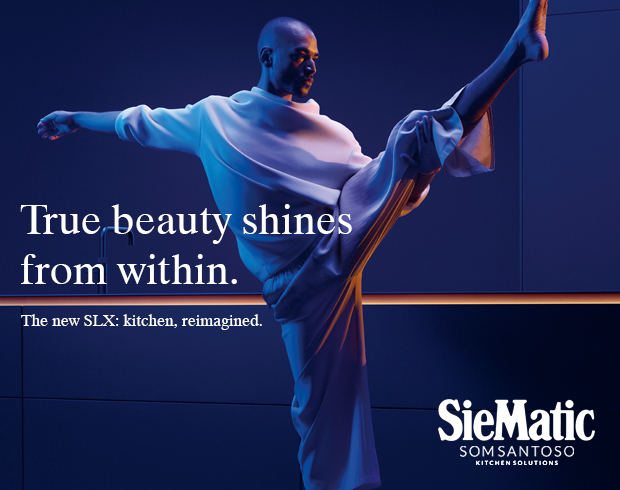 Presented by Som Santoso
Carlo Colombo
Kemitraan dengan Carlo Colombo terus memainkan peran utama dalam konsep dari jenama Trussardi Casa. Carlo Colombo menghadirkan versi coffee table dan versi dining table: dua lembaran kaca disatukan dual fumé yang elegan dengan efek transparan, mendefinisikan dasar dan mengungkapkan spontanitas gerakan kreatif. Sedangkan model rak buku  menggabungkan efek ringan dan kehadirannya melengkapi solusi dari desainer.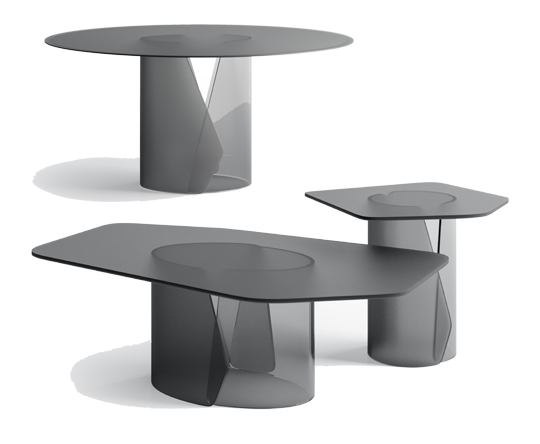 Cross Coffee Tables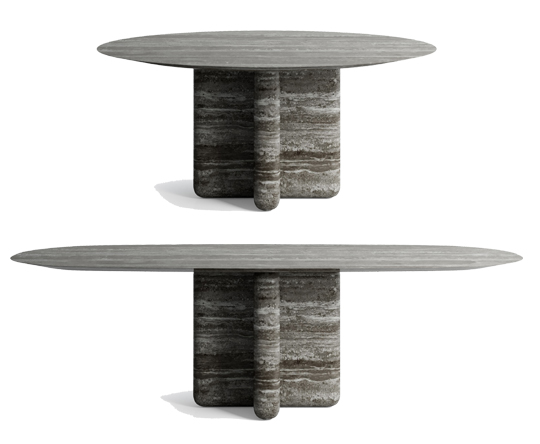 Andrey Dining Table Round & Rectangular
"The collection represents the brand's elegance and search for materials and colors that define it using the language of soft, essential forms. Colored glass as the supporting structure best expresses this design idea, leaving creative freedom in form and function." – Carlo Colombo –
Leonardo Talarico
Sebuah tanda yang tepat untuk 'memotong' ruang, membawa pendekatan sculptural Leonardo Talarico ke dalam desain rumah dengan Halfmoon dormeuse. Objek penting dan nyaman ini seakan menemukan kembali arti dari kesenangan relaksasi. Dengan minimalis dengan sentuhan oriental, Halfmoon cocok untuk meditasi dan mengingat tangram di persimpangan dua elemen utamanya. Pertemuan siluet ini juga memunculkan rangkaian sofa asimetris dan sculptural yang bermain-main dengan bentuk dan warna secara ekstrim pada kemurnian estetika. Talarico juga menghadirkan beberapa koleksi coffee table yang terbuat dari "kristalisasi"  ide arsitektural 'pemotongan' ringan pada kaca.


Halfmoon Dormouse
"I have taken part in this path for Trussardi Casa with great pleasure, both in terms of product design and general image: the aesthetic direction will be that of sophisticated contemporary thinking." – Leonardo Talarico –
Elisa Ossino
Mekong Armchair yang dirancang oleh Elisa Ossino menjadi tempat lahir untuk 'kembali ke asal''. Garis-garis lembut dan kehadirannya yang monolitik membawa semua daya pikat dunia primordial di mana alam masih berlaku. Seperti semua karya desainer, kursi ini menggabungkan abstraksi geometris dan referensi ke metafisika, mendefinisikan hubungan yang intens antara objek dan ruang di mana ia ditempatkan. Di sana tidak ada kekurangan coffee table yang menggoda yang menyerupai batu yang dipoles oleh waktu dan dining table dengan sentuhan akhir bertekstur yang terlihat seperti objek metafisik.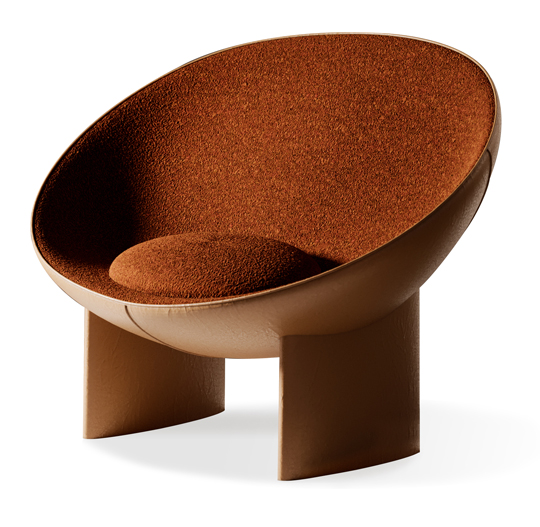 Mekong Armchair
"I conceived these creations by thinking of designing not a piece of furniture, but a character in what I like to consider a story made up of relationships between materials, signs, surfaces, and forms. I somehow followed a plot, making choices inspired by what I was doing. It is a new way of working for me, embracing a more narrative dimension. Defining a style is first and foremost storytelling. A story that stands out from all the others." –  Elisa Ossino –
Lanzavecchia+Wai
Garis-garis halus, menyelubungi, inklusif yang disela untuk menghidupkan perubahan mendadak dalam bagian sebuah desain. Pertemuan yang berlawanan ini menghasilkan Nebula Sofa, yang dengan sempurna menggambarkan pendekatan duo Lanzavecchia+Wai terhadap desain. Tradisi dan ironi berbaur secara tak terduga dalam bahasa yang menghasilkan karya dengan nuansa kontemporer baru, terbuat dari emosi dan keceriaan.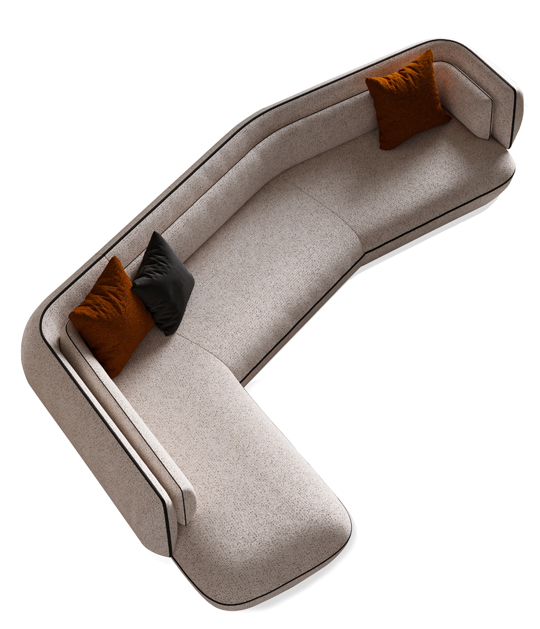 Nebula Sofa
"Designing for Trussardi meant dealing with the legacy of a brand that has made the history of Italian design, with the whispered luxury that invites us to enjoy everyday comfort.  I designed it with a contemporary and timeless home in mind; Nebula is a domestic cloud sculpted with sweeping gestures that welcome us with its softness in the utmost comfort; a luxury to be experienced, full of details to be discovered." – Francesca Lanzavecchia –
Matteo Agati
Matteo Agati berfokus pada konsep single chair melalui Fence Chair, dalam versi chair dan armchair, yang memainkan interaksi murni bentuk dan bahan yang kontras. Dari sebuah ide desain yang menyertai asal usul objek ini, kursi lain juga terbentuk, seperti terpotong dari lembaran kertas dan kemudian dirender tiga dimensi seperti di pop-up. (DB)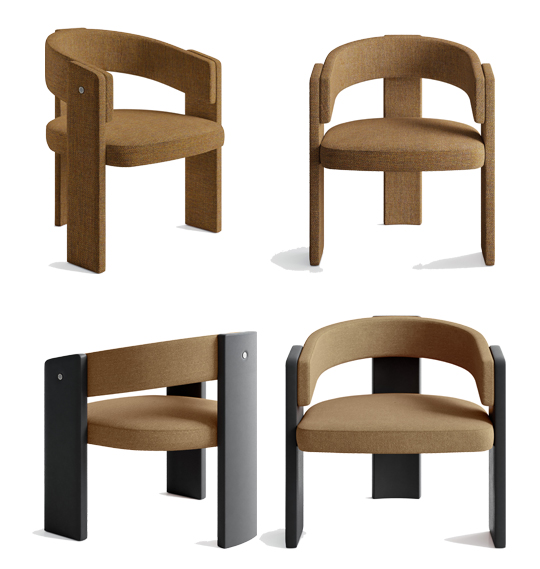 Fence Chair

"The pieces designed for Trussardi Casa are characterized by the harmonious contrast of different elements: geometric and sculptural shapes that are at the same time soft, with sharp but delicate lines. A whispered luxury that looks to fashion for details in cross-contamination of several disciplines."  – Matteo Agati –