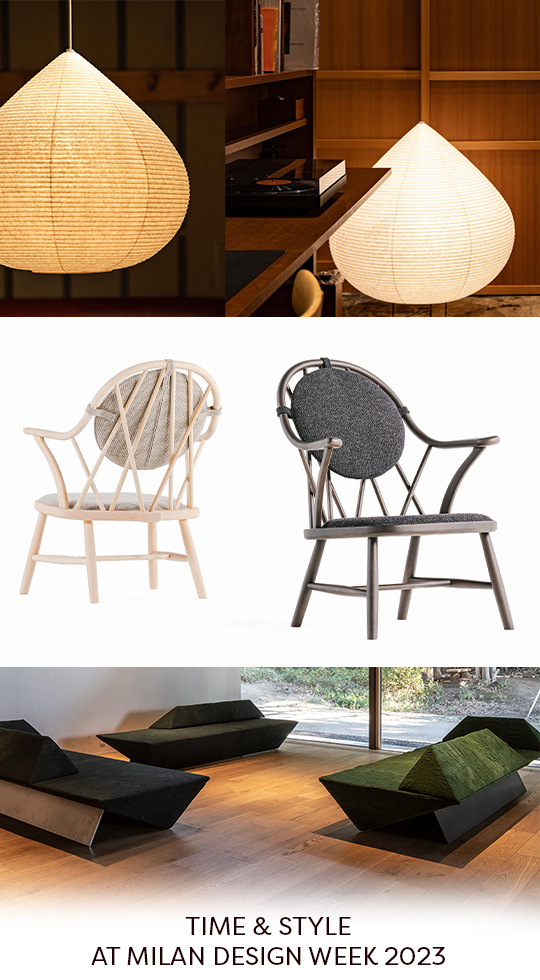 presented by

TIME & STYLE AT MILAN DESIGN WEEK 2023
Published by Sugar & Cream, Friday 12 May 2023
Images courtesy of Time & Style
New Products by Kengo Kuma, Peter Zumthor, Claesson Koivisto Run, and Drill Design
Design Talks
Kengo Kuma, 17 April 2023, 17:00  – 17:40
Claesson Koivisto Run, 17 April 2023, 18:00  – 18:40
Drill Design & Aoi Huber Kono, 18 April 2023, 17:00  – 17:40
The Design Talks are conversations with Ryutaro Yoshida, CEO Time & Style, moderated by Birgit Lohmann, Founder Designboom.
New Products by designers and architects
Developing products with architects and designers offers us a new perspective and insight. We have created pieces of furniture by evolving past designs tailored for architectural projects by architects and designers. The products conceived by those who design architectural spaces will generate new interior environments. We will present new products by Kengo Kuma, Peter Zumthor, Claesson Koivisto Rune, and Drill Design at Milan Design Week.
KA designed by Kengo Kuma
The concept of the KA sofa originated from a wordplay, kaku-kaku, denoting "angular" in Japanese. The flat seat extends like a horizon, and the backrest in the shape of a triangular prism runs horizontally like a range of mountains, exuding a presence that blends in with a natural landscape.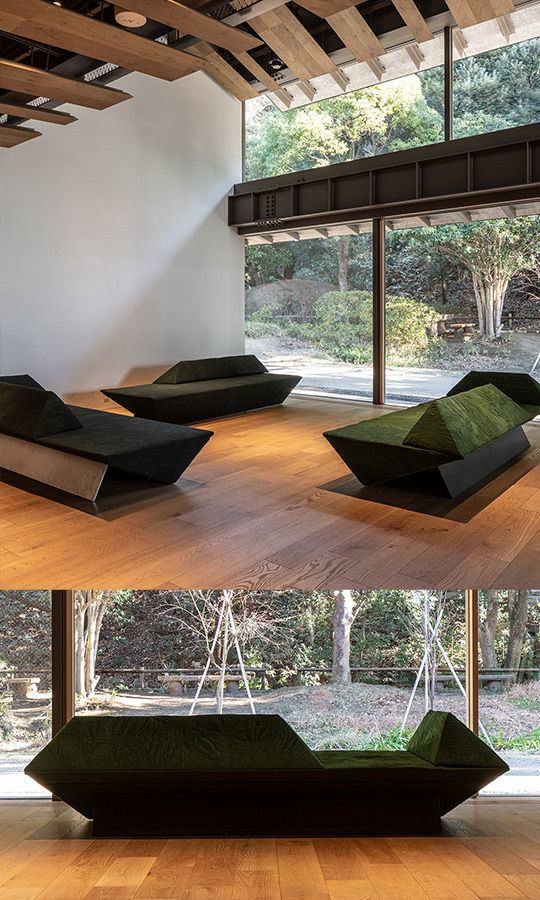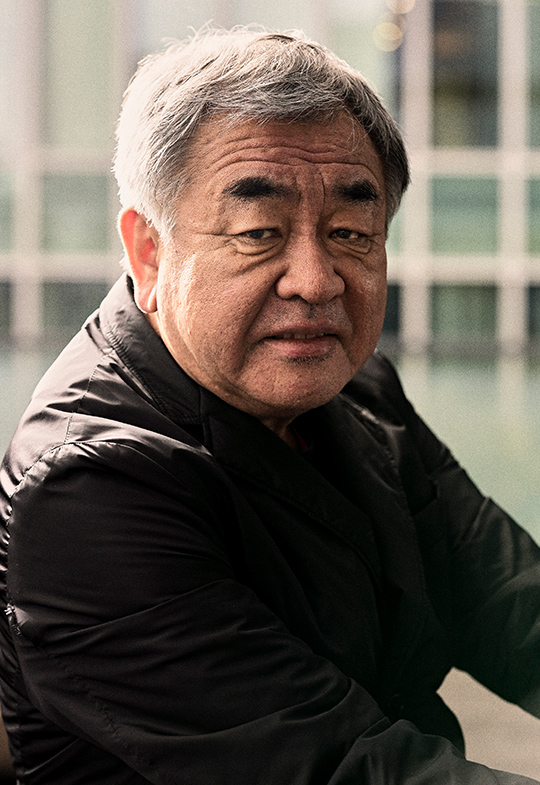 Kengo Kuma
We also developed an original textile inspired by moss. We gathered several types of real moss and scanned their surface with a 3D scanner. The scanned data was then processed to knit a three-dimensional, cylindrical textile using the Whole-garment knitting technology. This was an endeavor to use a Japanese motif as a starting point to create a new texture, which matches or even surpasses Japanese textiles in their exquisite visual qualities and richness of texture.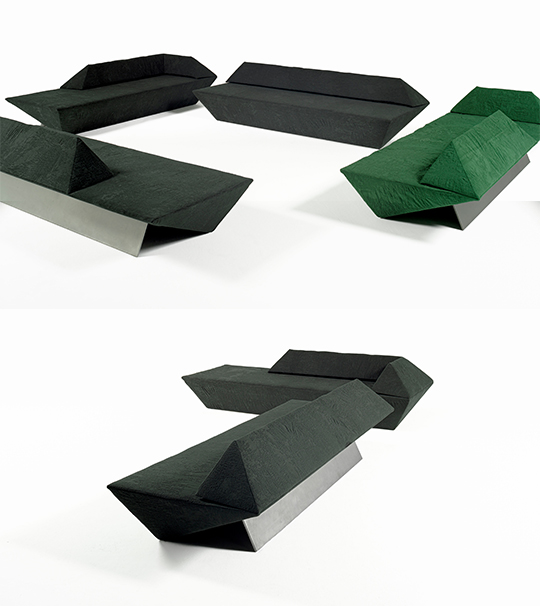 Presented by Interni Cipta Selaras
Valserliege designed by Peter Zumthor
Chaise longue was designed for a spa complex in the Swiss valley of Vals, Therme Vals, built of stacked layers of local stone. The chair profile is made of laminated wood, arranged at equal interval, softly curved to fit the human body, and lifted into the air by slender metal legs.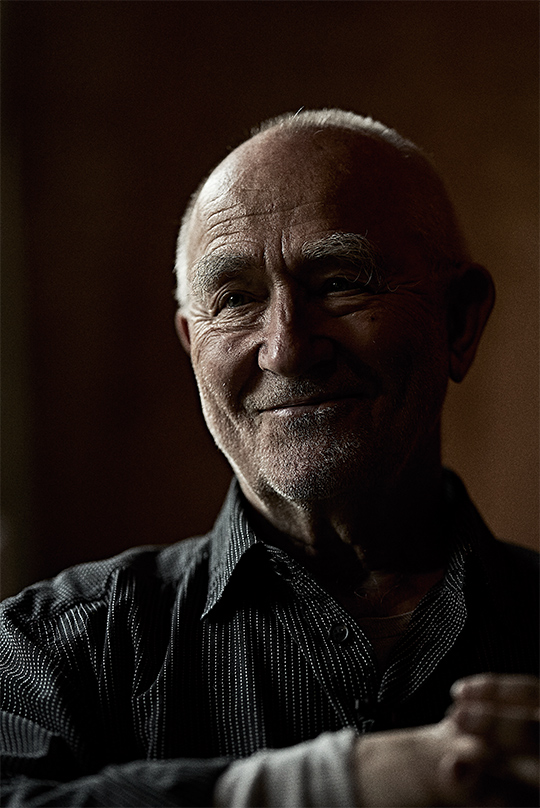 Peter Zumthor
K5 drop rice paper drop Iantern designed by Claesson Koivisto'Rune
K5 Tokyo is a hotel whose interior design was conceived and designed by Claesson Koivisto Rune, a design group based in Stockholm, Sweden. This unique facility includes hotel accommodation, a restaurant, a wine bar, and a coffee shop, ali housed in a newly renovated historic building in Tokyo, Japan.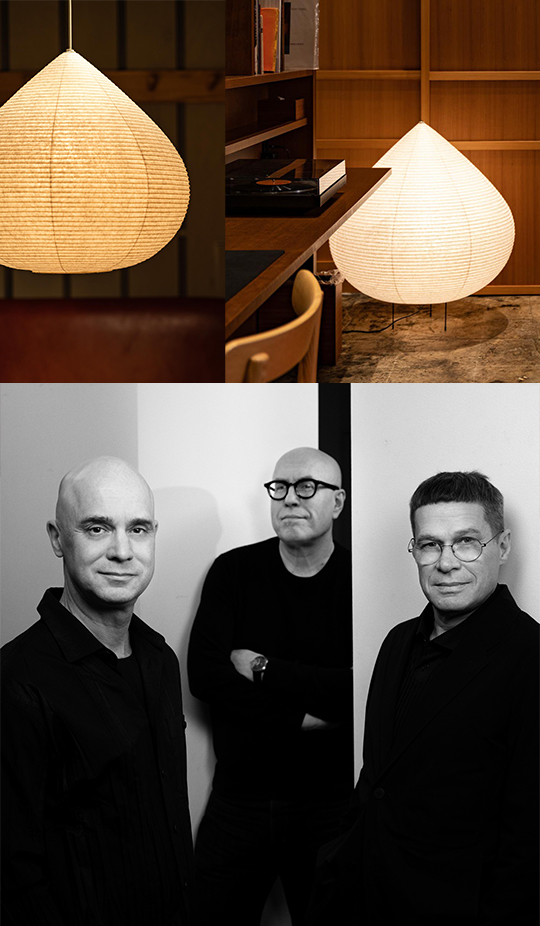 Claesson Koivisto'Rune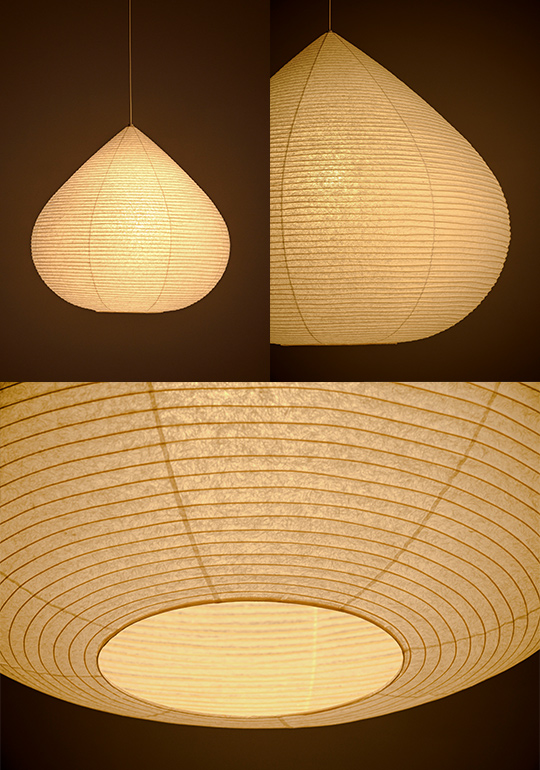 K5 drop rice paper drop lantern is made with the techniques of Suifu lantern making in Ibaraki Prefecture, an area known for the production of durable and sturdy paper lanterns. For the lantern's shade, we chose Echizen washi paper, a traditional paper with a history of about 1,500 years and characterized by its warm color and durability due to the long and thick Japanese mulberry fiber used as the raw material.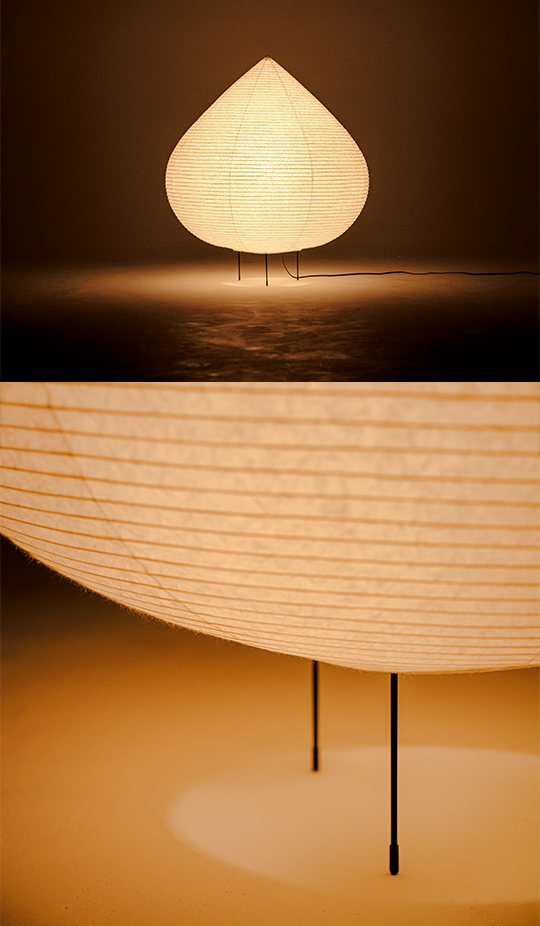 Diamond back chair designed by DRILL DESIGN
A design studio with more than a decade-long experience in research of the Windsor chair, DRILL DESIGN has developed this iconic chair into an elegant lounge chair brimming with a strong presence. By merging the dichotomies of the classic/the modern and calmness/tension, the studio presented a new image of the Windsor chair.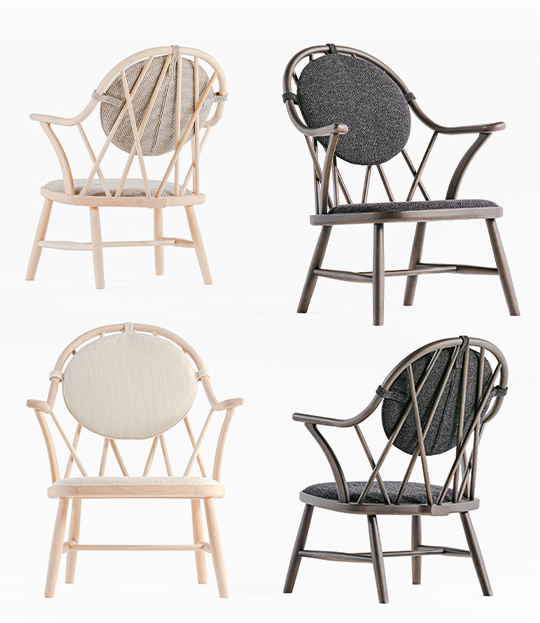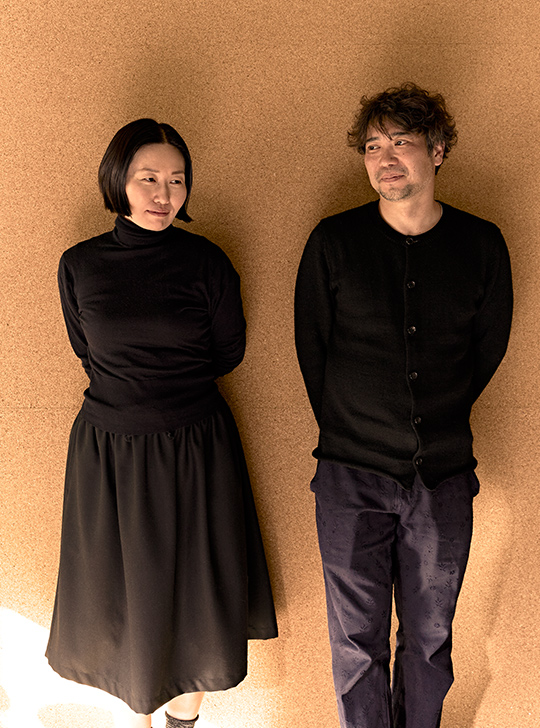 DRILL DESIGN
The eight spokes on the backrest are constructed to gently embrace and support the back and waist of the user for a comfortable seating experience. The chair is characterized by the backrest with spokes interlaced into a diamond-shaped pattern, from which its name is derived.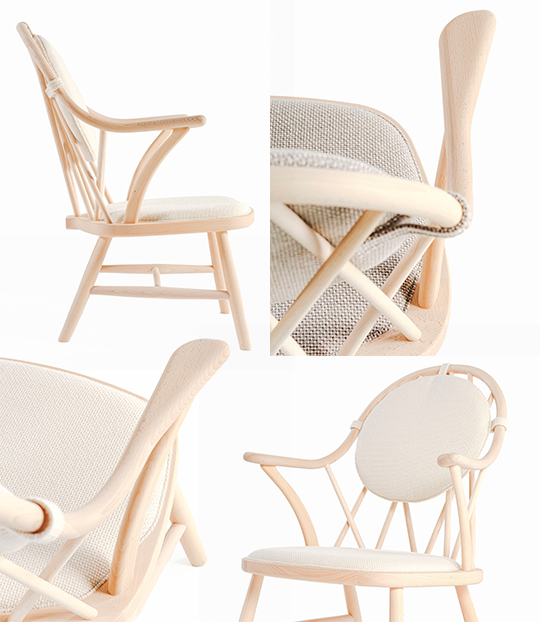 Time & Style ēdition by Boffi I DePadova
Time & Style êdition new products
Time & Style Edition, a furniture collection by Boffi DePadova and Time & Style, blends the aesthetic sophistication of Italy and the refined artisanship of Japan. The collection's products were born from the resonance between the two distinct cultures, crafted with Japanese materials by artisans who draw on traditional techniques.
This spring, we are delighted to present new products of the Time & Style Edition. Interior accessories that enrich the space join the collection, which previously consisted of furniture items that form the basis of interior design, including tables, chairs, and cabinets.
We present a partition inspired by Shoji screens that define Japanese architectural spaces and made only with washi paper and Akita cedar; a stool reinterpreted from an Oke bucket for everyday use, made of cedar from the lush Yoshino forests; and a hanger meticulously carved out from solid wood. Every piece is rooted in the craft traditions of different parts of Japan. The products, which are portable to suit a variety of uses and settings, create a wealth of spatial experiences.
Milan Design Week 2023 at Time & Style Milan 16 –  23 April, 2023
10:00  – 21:00
Time & Style Milan
Via Eugenio Balzan, 4, Largo Claudio Treves, 2, Via San Marco, 13, 20121 Milan, ltaly