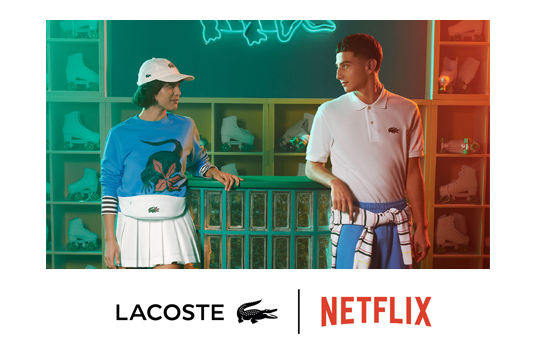 presented by

THE UNIQUENESS OF THE COLLABORATION FROM LACOSTE X NETFLIX
Published by Sugar & Cream, Friday 26 May 2023
Images courtesy of Lacoste
Iconic Capsule Collection
What happens when fashion meets entertainment? This is what makes it so amazing when the two inspire and connect with their audience in new ways!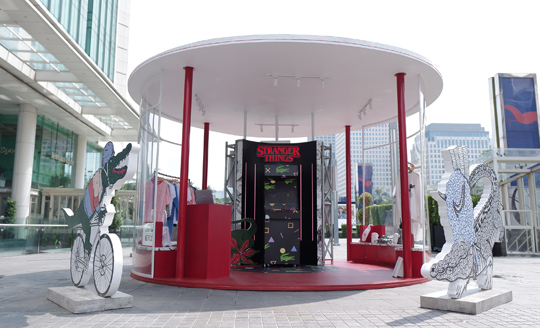 Dan, siapa yang mengira label fashion ternama,  Lacoste berkolaborasi dengan perusahaan hiburan yang begitu dicintai, Netflix terhubung 'menyapa' penggemarnya dengan pendekatan yang baru, yaitu merilis capsule collection. Koleksinya terinspirasi dari rangkuman semua karya Netflix, kolaborasi ini berangkat dari delapan serial original, seperti: Stranger Things, Bridgerton, Lupin, Money Heist, The Witcher, Sex Education, Shadow & Bone, dan Elite.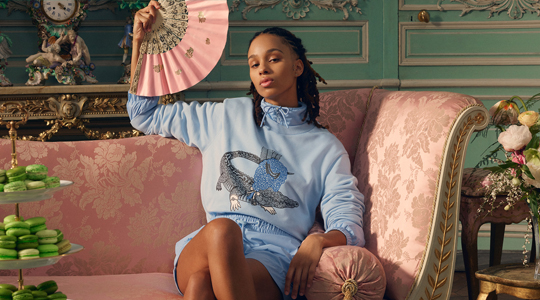 Bridgerton

Garis merah, yang menggabungkan mode dan hiburan, menyempurnakan seragam "Netflix & Chill" untuk variasi pakaian siap pakai sehari-hari tanpa gender. Koleksi kolaborasi ini memadukan olahraga, gaya, dan fandom dengan menghadirkan item ikonis dari  Lacoste  termasuk kaos polo, sweater, baju olahraga, dan aksesori. Koleksi ini akan menarik bagi mereka yang menyukai petualangan, romansa, televisi, dan fiksi.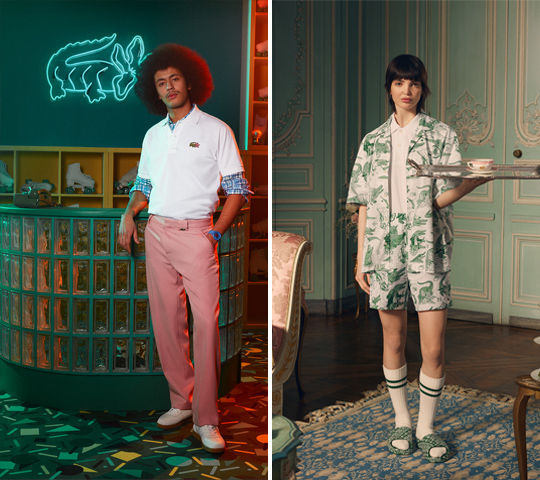 Stranger Things | Bridgerton
"Kami sangat senang dengan kolaborasi ini, yang memadukan keunikan dua referensi global dalam kreativitas dan inovasi, serta kekuatan tak tertandingi untuk mengidentifikasi komunitas dari berbagai kelompok." "Koleksi yang dihasilkan dari kolaborasi kami adalah manifestasi dari perpaduan kekuatan, dari kode, pengaruh, dan keahlian kami masing-masing," ujar Catherine Spindler, Wakil CEO Lacoste.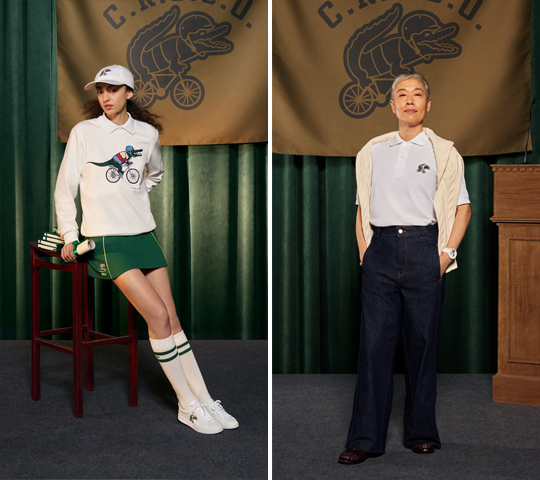 Sex Education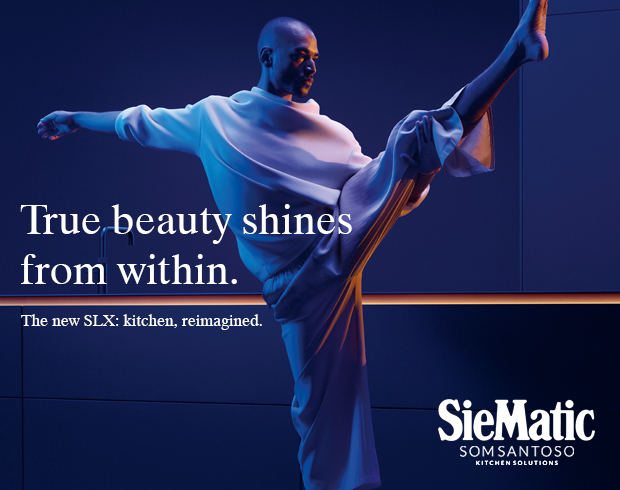 Presented by Som Santoso
"Kami percaya bahwa sebuah produk dapat menjadi media yang kuat untuk bercerita, dan bekerja sama dengan Lacoste  memungkinkan kami menggabungkan dunia mode dan hiburan. Koleksi ini menjadi cara menarik dan kreatif bagi penggemar untuk mengekspresikan kecintaan mereka pada cerita dan karakter acara kami," tambah Josh Simon, VP, Consumer Products, Netflix.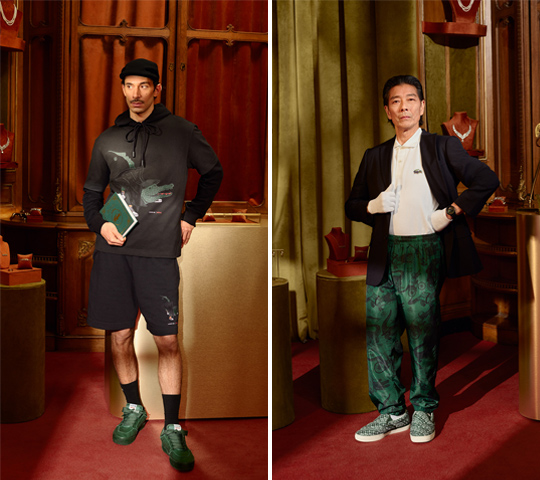 Lupin
Setelan klasik dan tanpa gender Lacoste telah didesain ulang berdasarkan delapan program Netflix. Polo, topi, sweater, dan baju olahraga adalah beberapa item dalam koleksi baru yang memadukan olahraga dan mode. Motif buaya  Lacoste hidup berdampingan dengan karakter Netflix dengan cara yang tidak biasa. Untuk Stranger Things, wajah buaya berubah menjadi Demogorgon yang Memikat. Buaya mengenakan wig mewah untuk menghormati Ratu Charlotte dari Bridgerton. Sedangkan koleksi lainnya menghiasi cetakan seperti toile de Jouy dengan buaya yang menyatu dengan grafis platform streaming ini. Hal ini menjadi koleksi satu-satunya dan dicintai yang memungkinkan para penggemar untuk mengekspresikan hasrat mereka akan kesan serta label fashion favorit dengan menampilkan gaya yang mencerminkan individualitas mereka.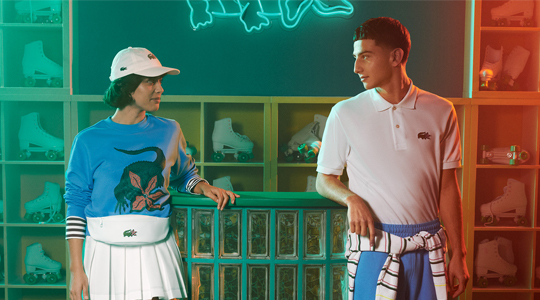 Stranger Things
Sebagai bagian dari kolaborasi, menghadirkan rangkaian film yang menampilkan buaya di alam yang menggabungkan kode dari berbagai episode Netflix dengan 'alam semesta' Lacoste. Menggunakan koleksi Lacoste x Netflix, karakter fiksi ini tampil menawan, untuk dipakai di mana saja.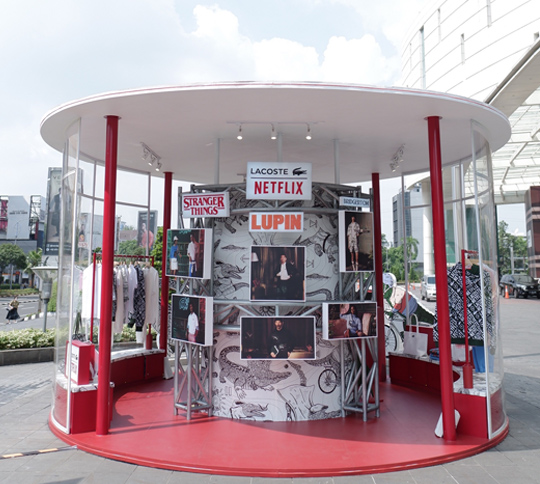 Koleksi Lacoste x Netflix tersedia akan ditampilkan di toko Lacoste di seluruh dunia atau via online di Lacoste.com/id. Atau, Anda dapat berbelanja di  di Netflix.shop.