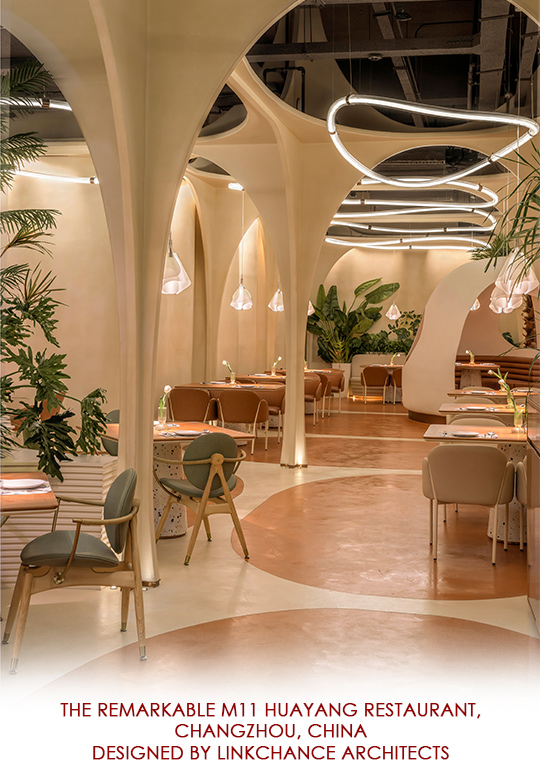 presented by
THE REMARKABLE M11 HUAYANG RESTAURANT, CHANGZHOU, CHINA DESIGNED BY LINKCHANCE ARCHITECTS
Published by Sugar & Cream, Wednesday 18 January 2023
Photography by Jin Weiqi, Linkchance Architects, and Video by Souvisua
Inspired by and Composed of Timeless Arabesque Elements
Meet 11 is a place to eat, meet friends, and pass the time in a refined, contemporary interior! Restoran yang terletak di Fase II Jalur Qingguo, Kota Changzhou, Provinsi Jiangsu ini memiliki konsep desain keseluruhan interior mengambil inspirasi dari budaya tradisional Arab. Apakah itu keindahan tak terbatas dari pola dan dekorasi arsitektur Arab, kelezatan tarian Timur Tengah, atau melodi halus dari musik dunia Arab.
Tata letak keseluruhannya teratur dan rapi, dan terdapat potensi untuk mengintegrasikannya ke dalam ruang dengan tatanan yang unik. Konsep desain interior secara keseluruhan mengambil inspirasi dari budaya Arab tradisional, apakah itu keindahan tak terbatas dari pola dan dekorasi arsitektur Arab, kelezatan tarian Timur Tengah, atau melodi halus musik dunia Arab. Keindahan estetika abadi mereka berasal dari keseimbangan antara ritme yang mengalir dan rasa keteraturan yang halus.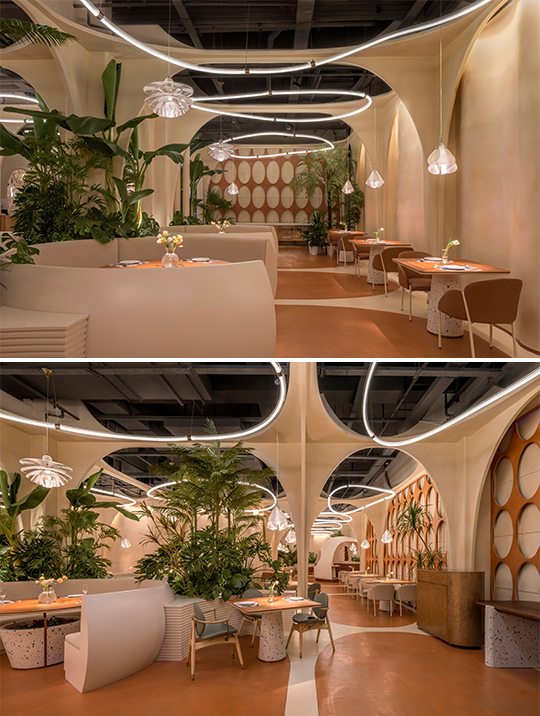 Meet 11 menargetkan wanita muda dan modern mandiri di Changzhou sebagai pelanggan mereka. Isyarat konseptual interior tentang kekuatan halus dan lekukan halus konsisten dengan prinsip inti kecantikan Arab – menanamkan rasa keteraturan, keseimbangan, dan keindahan bagi semua orang yang datang ke sini.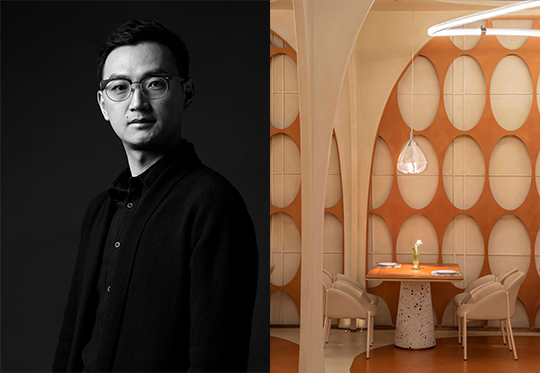 An Zhaoxue  Cropped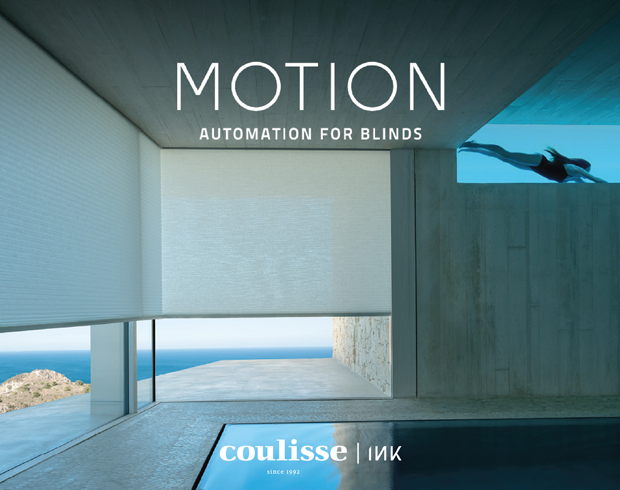 Presented by Coulisse | INK
Ruang – ruang di restoran ini memiliki tantangan tersendiri bagi para desainer. Bagaimana menangani banyak kolom yang ada, jumlah cahaya alami yang tidak mencukupi di situs, dan pertanyaan teknis tentang bagaimana mewujudkan eggshell-style surfaces yang mengelilingi bilik restoran, sehingga butuh solusi kreatif untuk membentuk suasana Meet11 yang unik.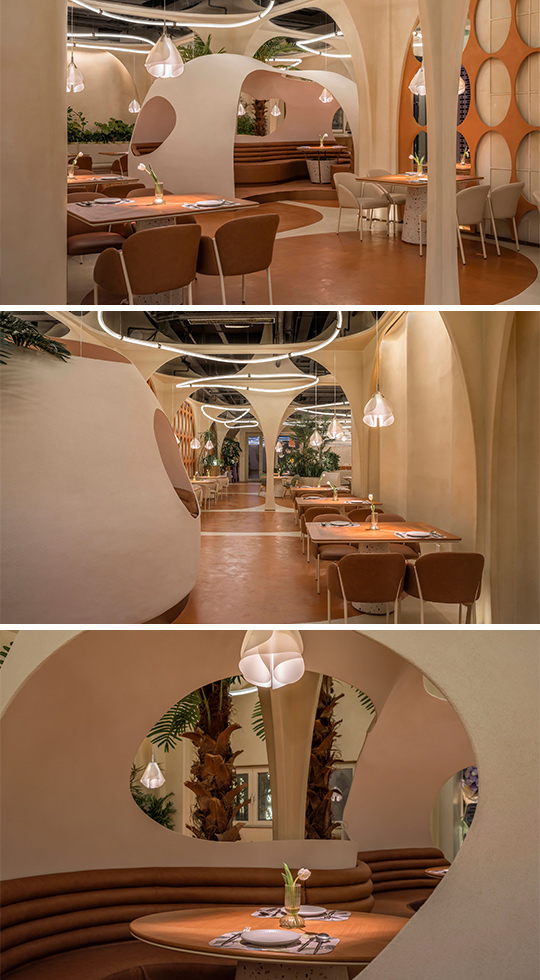 Ruang utama Meet 11 terbentang di sekitar estetika Timur Tengah, dengan fitur utamanya adalah lengkungan Arabesque yang digunakan dalam desain modular, yang memungkinkan konstruksi lebih mudah dan efisien, serta memberikan struktur dan ketegangan visual yang kuat. Pintu masuk utama diposisikan di sisi kiri bar, memungkinkan staf bar untuk menghadap dan melayani semua pelanggan di dalam ruangan. Empat stan melingkar terletak di seberang bar, dengan kelompok tanaman tropis ditempatkan di antara mereka untuk menciptakan suasana yang santai dan ramah. Para desainer juga telah menciptakan dua ruang semi tertutup dengan penutup yang mengingatkan pada cangkang telur. Beberapa bukaan memungkinkan sisa ruangan mengalir ke seluruh restoran, memberikan koneksi visual yang kuat dengan ruang utama sementara juga memungkinkan pelanggan yang duduk di sana merasakan privasi.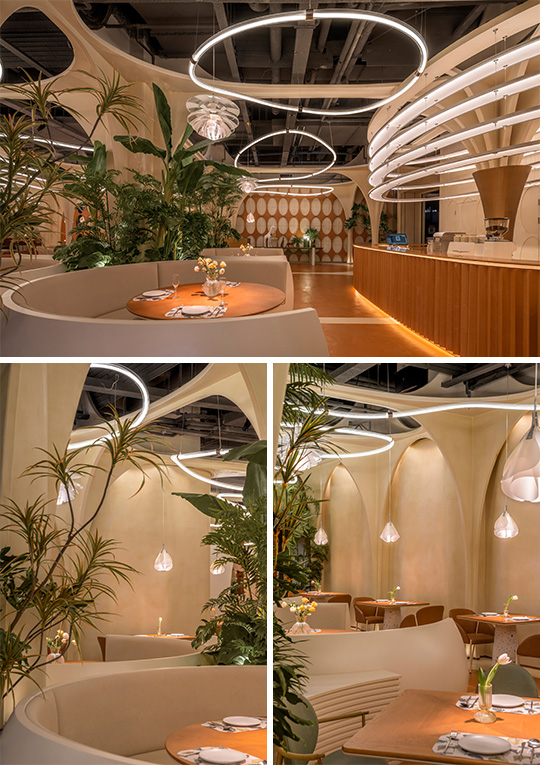 Bentuk keseluruhannya dalam beberapa hal kontras dengan sisa ruang, namun tetap memiliki estetika yang serupa dan memberikan nuansa berbeda pada suasana restoran. Dinding interior didekorasi secara sederhana dan elegan dengan cahaya, disediakan secara tidak langsung oleh strip LED yang tersembunyi di balik lengkungan dan bukaan berbentuk oval di partisi tipis yang dibangun 8 cm dari dinding utama. (DB)

Nama Proyek: M11 Huayang Restaurant
Lokasi: Qing Guo Xiang, Changzhou, China
Pemilik Proyek: Changzhou Dacheng Xiaoai Catering Management Co., Ltd
Periode proyek: July 2022 – October 2022
Proyek area: 450 m2
Firma Desain: Linkchance Architects
Ketua Desainer: An Zhaoxue
Tim Desain: Yan Xinxiu, Wei Zetong, Chang Mengya, Li Jiaqi, Du Fangfang
Konsultan Pencahayaan: Owen
Material: PanDOMO, micro cement, perforated aluminum plate, light guide plate, teak, mirror stainless steel plate, etc
Tim Konstruksi: Hangzhou Tangyao Decoration Engineering Co., Ltd/ Chengchang Hongzhi Building Materials (Beijing) Co., Ltd. PanDOMO Studio(Beijing)/Jiangsu Changzhou Hengfeng Weiye FRP Co., Ltd
Copywriting Desain: Linkchance Architects