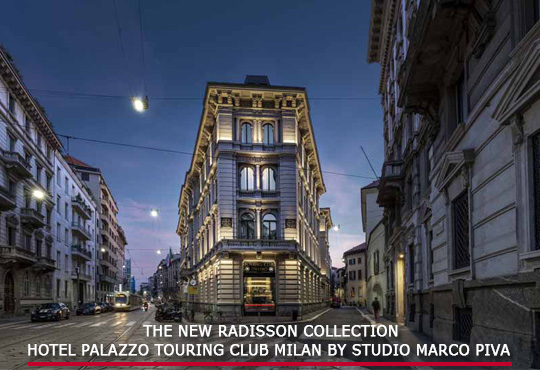 presented by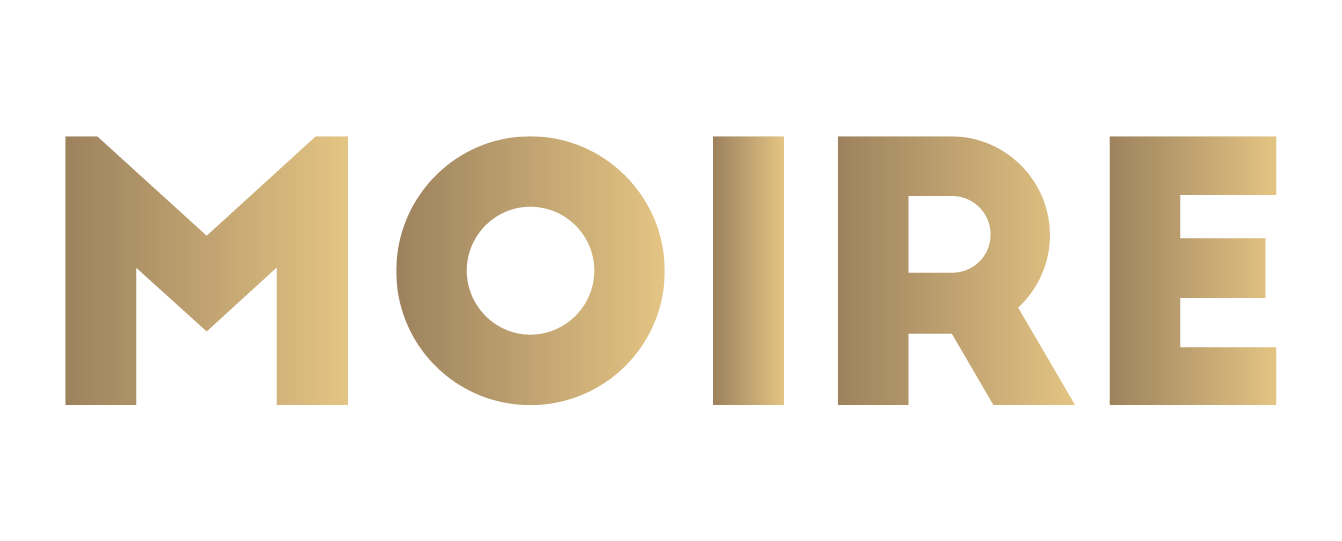 THE NEW RADISSON COLLECTION HOTEL PALAZZO TOURING CLUB MILAN BY STUDIO MARCO PIVA
Published by Sugar & Cream, Friday 12 November 2021
Text by Dinda Bestari, Image courtesy of Studio Marco Piva
An Iconic Building at the Center of Italy
Proyek pembangunan kembali dan restorasi Palazzo Bertarelli oleh Studio Marco Piva telah selesai. Radisson Collection Hotel Palazzo Touring Club Milan  yang baru kini resmi dibuka dan proyek ini salah satu ekspresi paling indah dari era Art Nouveau akhir yang berlokasi Milan serta menjadi headquarter bersejarah dari Touring Club Italiano (TCI).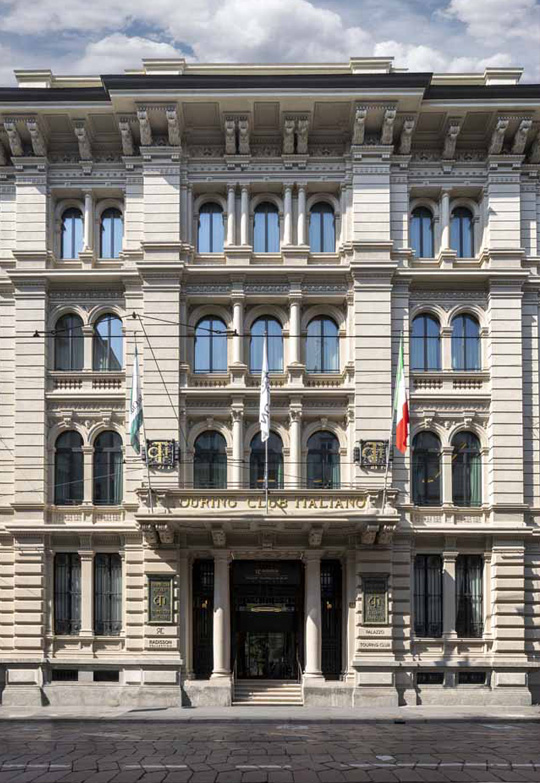 Palazzo Touring Club – External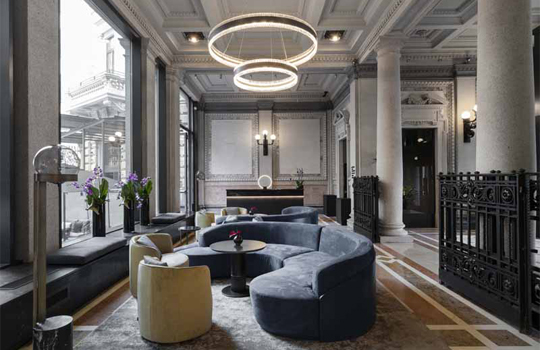 Palazzo Touring Club – Lobby Reception

"With my Studio, I have a forward-looking goal: living the present, while preserving the past and planning the future. This is the perspective that has guided the restoration of Palazzo Bertarelli, taking advantage of every aspect of the original building, allowing its elegant and sophisticated soul to travel into the 21st century."
– Marco Piva, Founder of Studio Marco Piva –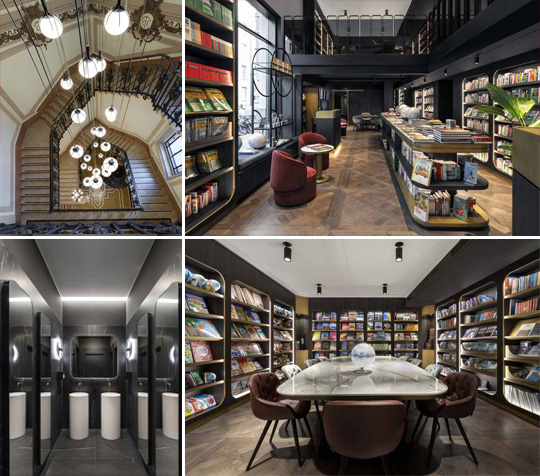 Palazzo Touring Club – Main Staircase | Lobby public restroom | Library
Pemulihan sejarah autentik yang menembus aula bangunan adalah hasil dari 'operasi' besar dan penting dari minat budaya yang besar: untuk melestarikan dan memberikan kilau baru pada warisan sejarah dan budaya Touring Club Italiano (TCI). Dengan Intervensi desain arsitektur dan interior yang dilakukan oleh Studio Marco Piva yang tepat setelah menemukan inspirasi dalam konsep 'perjalanan' (traveling). Material pilihan  penyelesaian akhir, elemen-elemen perabotan, setiap detail yang mengingatkan mereka dalam imajinasi umum. Seperti elemen-elemen yang terkait dengan 'perjalanan' (traveling) dan berhubungan dengan sejarah pendirian Touring Club.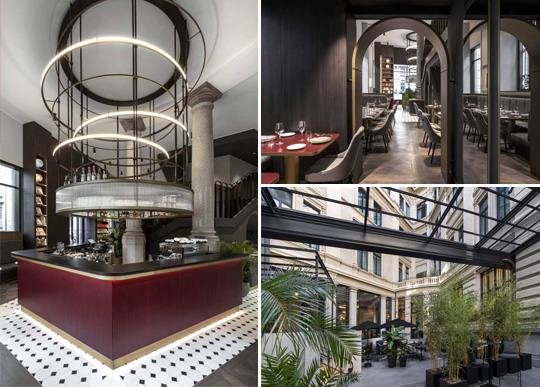 Palazzo Touring Club – Bar | Restaurant | Court
"The transformation of the historic Touring building fits within the context of the regeneration of the Association, safeguarding both its social function and the testimony of its values. The style and direction with which Radisson and Studio Marco Piva have carried out the project, decidedly innovative when it comes to the world of hotels, fits perfectly with everything that represents the Touring world. In this original undertaking, the Italian Touring Club regenerates its memory in what it hopes will become the new Home of travellers, attributing it the maximum amount of value and consolidating tradition, heritage and generation of resources." – Franco Iseppi, President of the Touring Club Italiano –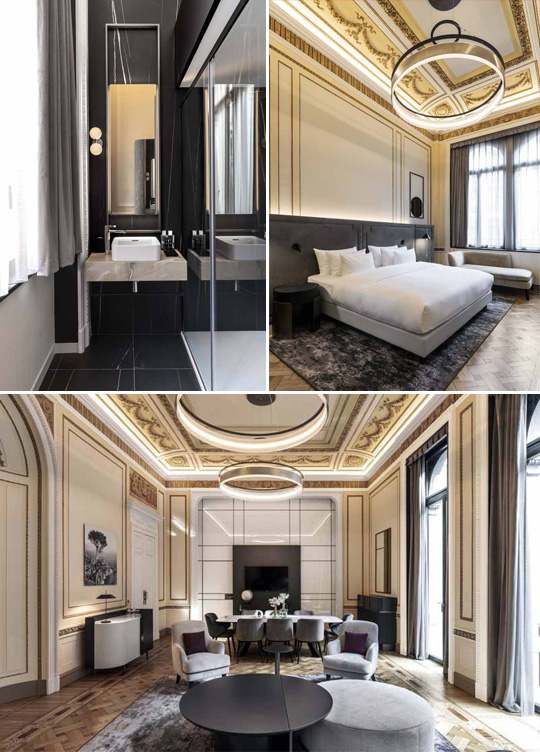 Palazzo Touring Club Presidential Suite – Bathroom | Suite Room | Living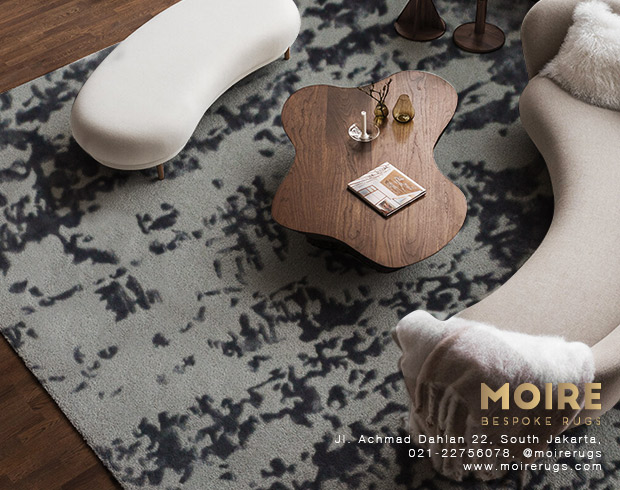 Presented by MOIRE Rugs
Proyek yang digagas oleh Studio Marco Piva ini bertujuan untuk merestorasi bangunan megah yang berasal dari tahun 1915 yang kesempurnaan dan kejayaannya masih autentik. Hotel bintang 5 ini menjadi titik referensi untuk pariwisata kelas atas dalam kontinuitas dialog dengan Kota Milan. Melalui pelayanan tamu hotel ataupun penduduk setempat, dengan tujuan menegaskan dan membantu penyebaran budaya 'perjalanan' (traveling) di Italia maupun seluruh dunia. Dalam latar bersejarah ini, tamu dan penduduk setempat akan menemukan diri mereka 'tenggelam' dalam pengalaman unik: 'perjalanan' budaya antara masa lalu, sekarang, dan masa depan.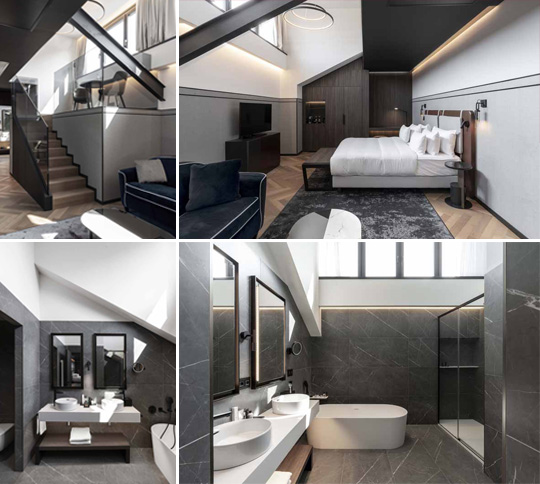 Palazzo Touring Club – Loft Collection premium 
Konsep yang mendasari proyek ini dibagi menjadi tiga bidang intervensi utama, terkait dengan pemulihan monumental dari fasad asli, dengan kebutuhan untuk menanggapi kebutuhan baru yang dihasilkan dari perubahan penggunaan yang dimaksudkan, serta pemulihan ruang kondisi yang dapat digunakan. Sementara pada saat yang sama menjaga hubungan erat dengan fungsi yang sudah ada sebelumnya, berkaitan dengan  perhatian besar terhadap detail –  menggabungkan nilai-nilai sejarah dan modern – yang sebagian besar dirancang khusus oleh Studio Marco Piva.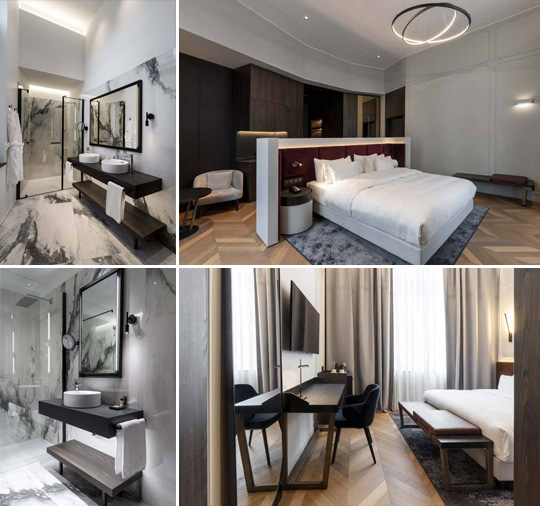 Palazzo Touring Club – Junior Suite | Collections Room | Collections Room Bathroom

"We are very happy to have opened our Italian flagship hotel in this historic building in Milan, which with its interior design by Studio Marco Piva is set to become an iconic hotel in the city. The Studio has done a great job in preserving the history and the charm of the Palazzo and beautifully reimagined its spaces to fit the needs of a "premium lifestyle" hotel, to the joy of travelers and the Milanese alike."
– Laurent Heras Guerquin,  General Manager of Radisson Hotels –