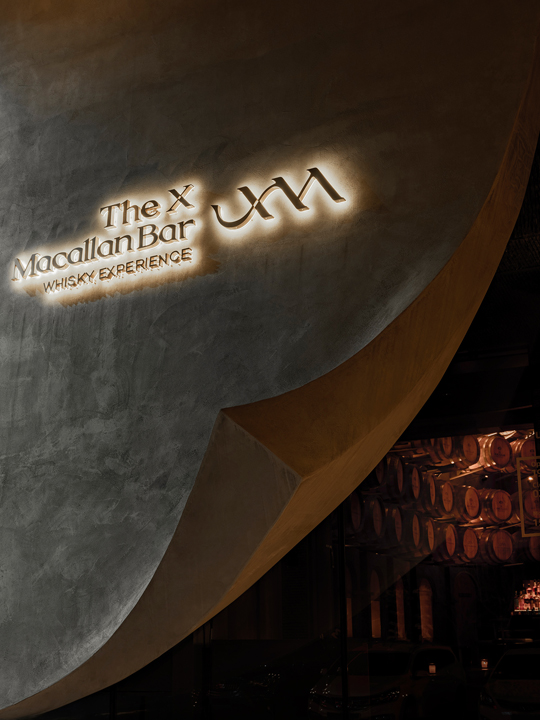 presented by
THE IMMERSIVE X MACALLAN BAR BY JINGLE DESIGN
Published by Sugar & Cream, Thursday 08 September 2022
Images courtesy of Jingle Design, Photograph by TOPIA VISION
Classical Whiskey Atmosphere
Tanpa hal-hal sepele, jarak, dan batasan, desain X Macallan Bar by Jingle Design dengan sempurna menginterpretasikan 'adegan' minum wiski bersama teman-teman, menyusun melodi gaya klasik, serta menciptakan ruang imersif di luar hiruk pikuk kehidupan kota.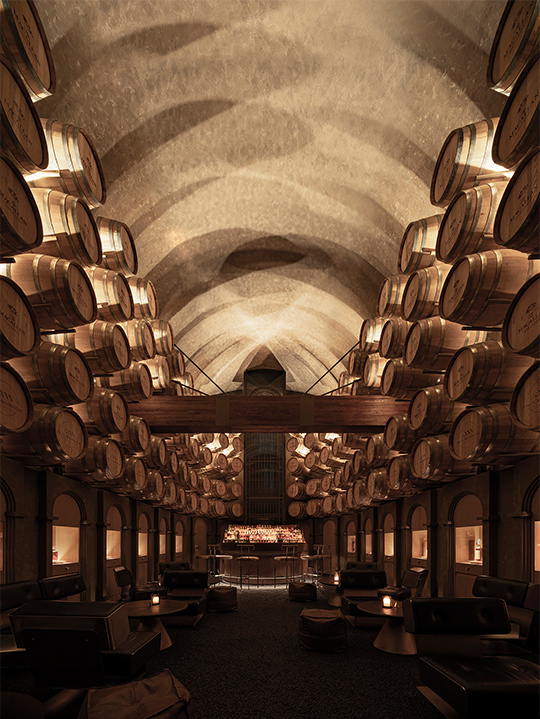 "In the design for the X Macallan Bar, we continued our commercial-logic-based philosophy, not only endowing the space with beauty but also providing practical solutions to maximize its profitability and values. There is no need to add some patterns to the material if it can be used fully and skillfully, since decorative beauty is additional and artificial, while the beauty of materials is natural and original."–  Jingle Design –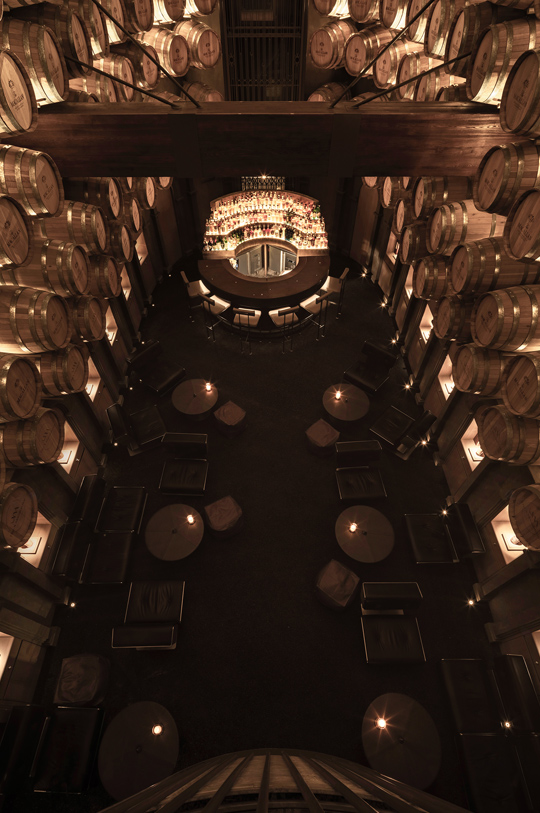 Desain harus memecah stereotip, sehingga membentuk kembali interaksi adegan, dan mendorong ke arah tujuan bisnis dalam logika pengembalian dan tren pasar di luar formula kreatif dalam hukum estetika. Alunan warna berintegrasi dengan dinding dan tanah pada area yang luas menjadi salah satu strategi orientasi budaya di tempat ini. 'Membuang' dekorasi yang berlebihan, ruang yang besar, konstruksi sususan tong kayu ek, dan  matriks membentuk perasaan ruang yang unik – seakan waktu mengalir dengan konsepsi artistik lipat.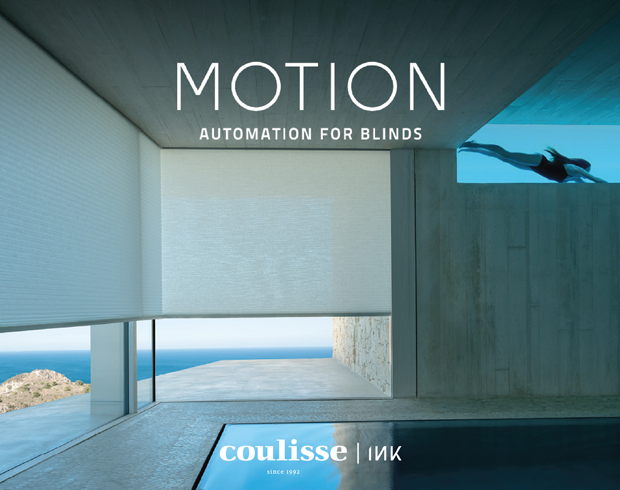 Presented by Coulisse | INK
Ratusan tong kayu ek, menjadi seperti sebuah instalasi seni besar dalam susunan yang teratur, memantulkan cahaya dan bayangan dengan jejak waktu, terlihat metafora lipat seni kontemporer demi membangun pengalaman melintasi ruang dan waktu.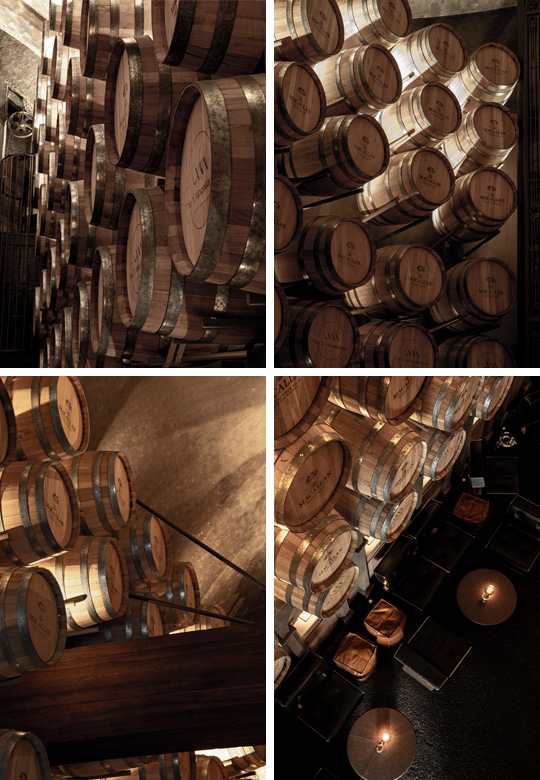 Ke dalam projek ini, dinding menjadi elemen desain yang klasik. Alih-alih berfungsi sebagai latar belakang standar, tekstur kasarnya membangkitkan kebebasan bohemian yang menggemakan keragaman. Bahasa desain mengundang "penghuni" untuk mendefinisikan gaya hidup.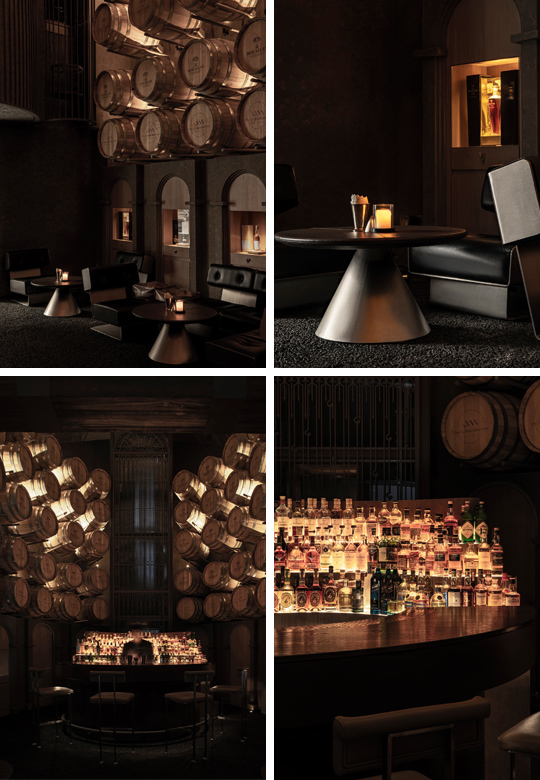 Saat memasuki ruangan, Anda akan merasa seolah-olah sedang duduk di pub Irlandia, menikmati film atmosfer karya Wong Kar-wai atau tenggelam dalam alunan blues romantis. Padanan gaya retro akan melayani tamu yang berbeda, memungkinkan mereka untuk menikmati diri mereka sendiri dalam kenyamanan yang luar biasa. Dengan tekstur kayu dan logamnya, bar counter berkilau dalam cahaya, memungkinkan orang untuk merasakan suasana klasik, sementara latar belakang logamnya akan membawa orang kembali ke dunia nyata. Truly an amazing experience!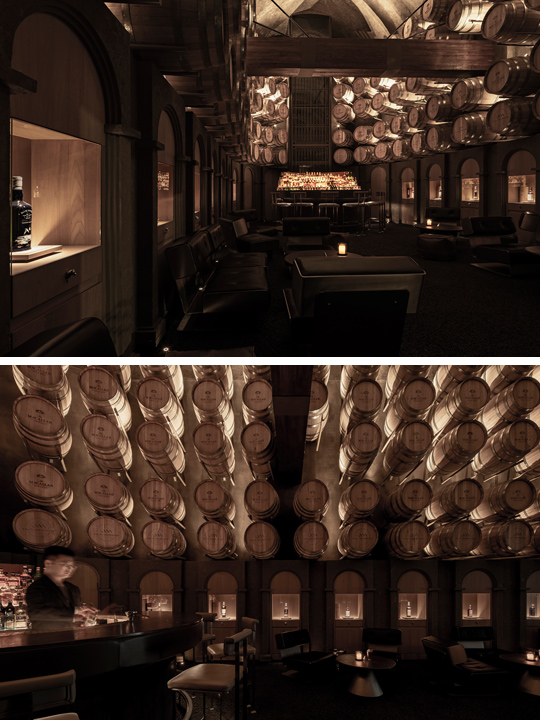 Di bawah cahaya redup, ruang itu menghadirkan keindahan 'pahatan' asli. Apakah itu tekstur kasar dari langit-langit atau kayu balok yang kokoh, akan menyentuh hati orang pada kemurnian bahan.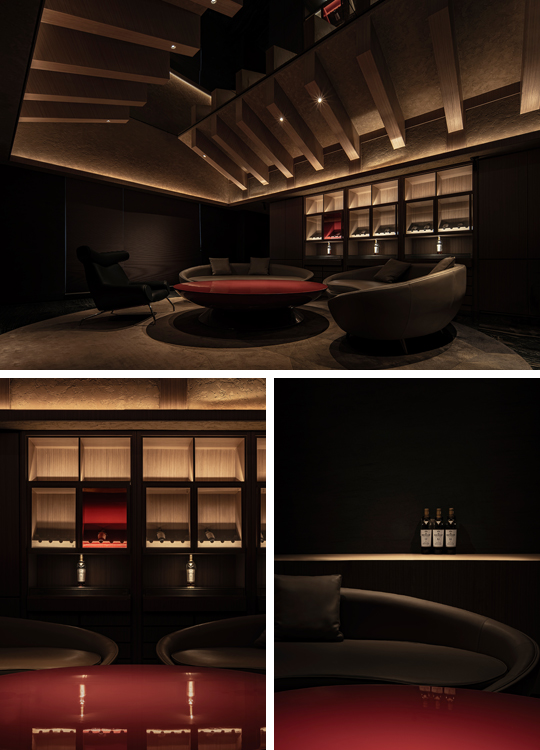 Struktur dinding yang dibangun di bawah bebatuan memiliki tekstur kasar dan kuat, menyuntikkan 'kesenangan' asli dan alami di alam liar pada interior demi mewujudkan suasana timeless.  Lemari kaca anggur di sekitarnya terlihat seperti jendela pertunjukan yang halus dalam urutan yang seragam, di dalamnya terdapat masing-masing sebotol anggur dari tahun yang berbeda. Tidak hanya terlihat menarik tetapi juga menunjukkan cita rasa dan pesona ruang.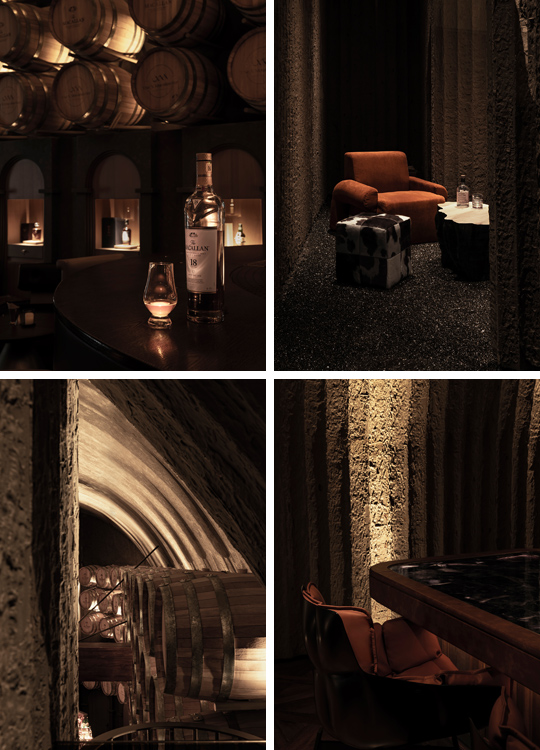 Demi memberikan pengalaman yang mendalam, para desainer menggunakan sofa kulit dan kisi-kisi kayu serta sentuhan oranye cemerlang, sehingga tercipta ruang yang merangkul emosi serta 'melindungi' mereka dari hiruk pikuk dunia luar. (DB)
Project Information
NAME|The X Macallan Bar
LOCATION|Shenyang, China
AREA|175 sq meters
DATE|Nov, 2021
FIRM|Jingle Design
DESIGNER|Zhou Bo, Cai Yuyang
TEAM|Zhang Shiyong、Zeng Fanlong、He Enbo、Song Liudan
MATERIALS|wood finishes, tiles, painting, metal, stone, glass