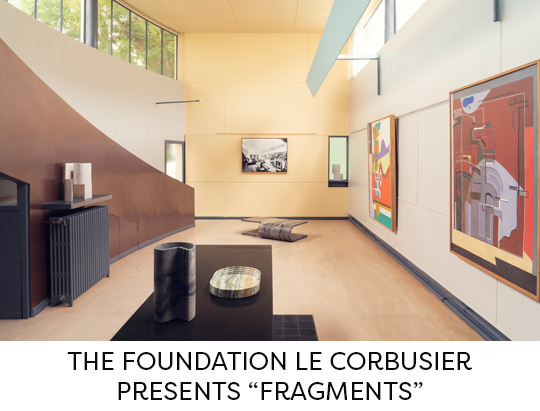 presented by

THE FOUNDATION LE CORBUSIER PRESENTS "FRAGMENTS"
Published by Sugar & Cream, Monday 26 September 2022
Images courtesy of The Foundation Le Corbusier
A Collection Of Furniture And Objects Designed By Anthony Guerrée And Edited By M Éditions.
"To work with marble is to investigate history. I have entered into a passionate dialogue between craftsmanship and design, inspired by the three ancient architectural orders: the Doric order and its noble austerity, the Ionic order and its tender scrollwork, the Corinthian order and its abundance of expression." – Anthony Guerrée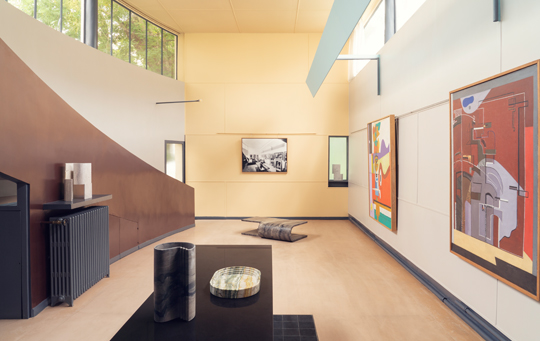 Exhibition "Fragments"
From 2nd to 24th September, 2022
Maison La Roche
10, square du Docteur Blanche,
Paris 16è (entrance by 55, rue du Docteur Blanche)
For this joint project with M éditions, the designer Anthony Guerrée examines two different mythologies: Greek architecture and Le Corbusier. Beyond the literal or figurative sense, he draws on his personal universe and his aesthetic convictions.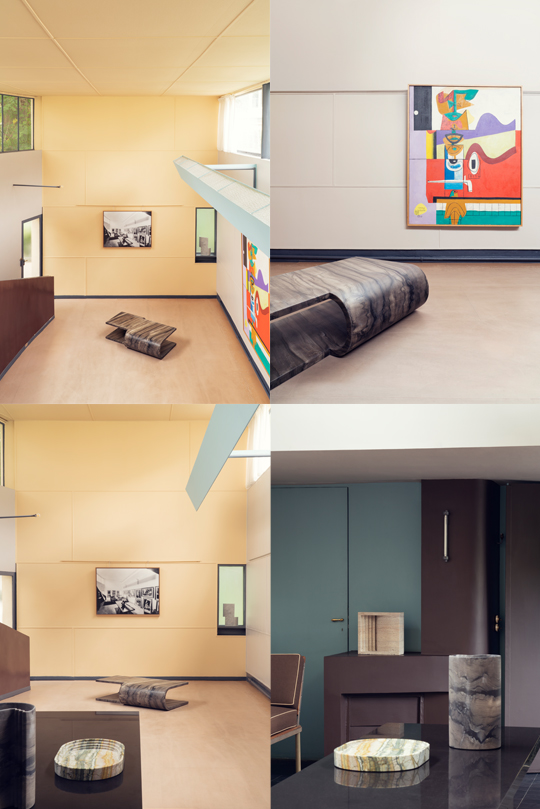 Anthony Guerrée's work is at once grounded in a thousand-year-old history and in the foundations of modernity. He offers a spectacular reading of this history thanks to the Marbreries de la Seine, who entrusted him with spectacular pieces of marble, which were too small to be used in interior architecture. This transformation would not have been possible without the complicity and dexterity of the marble workers. With total freedom, the designer gives life to these inert forms and reveals the raw beauty of the marble.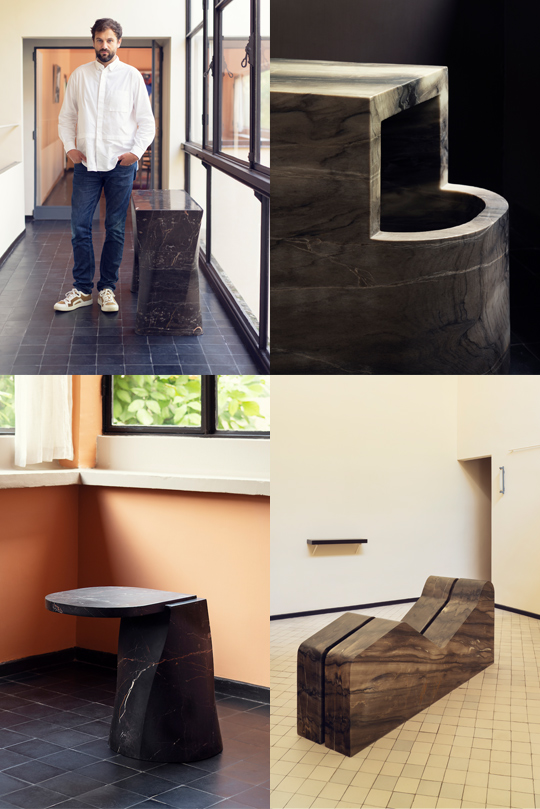 The "Fragments" collection is composed of functional furniture and objects, from coffee tables to pencil cases, from loungers to pocket trays, from consoles to floor lamps. Three lines – "Dorik", "Ionik" and "Corinth" – coexist and confront each other, inspired by the three ancient architectural orders: Doric, Ionic and Corinthian. Anthony Guerrée wished to make this explicit reference to architecture, and moreover to the wonder felt by Le Corbusier when he discovered the Parthenon.

Presented by LeChateau Living
Presenting the "Fragments" collection at the Maison La Roche – a masterpiece designed by Le Corbusier and Pierre Jeanneret, and the current home of the Foundation Le Corbusier – is of great symbolic importance to Anthony Guerrée. The designer's creations have dialogue with the spaces; revealed and magnified by the changing play of light and shadow, so dear to the great architect.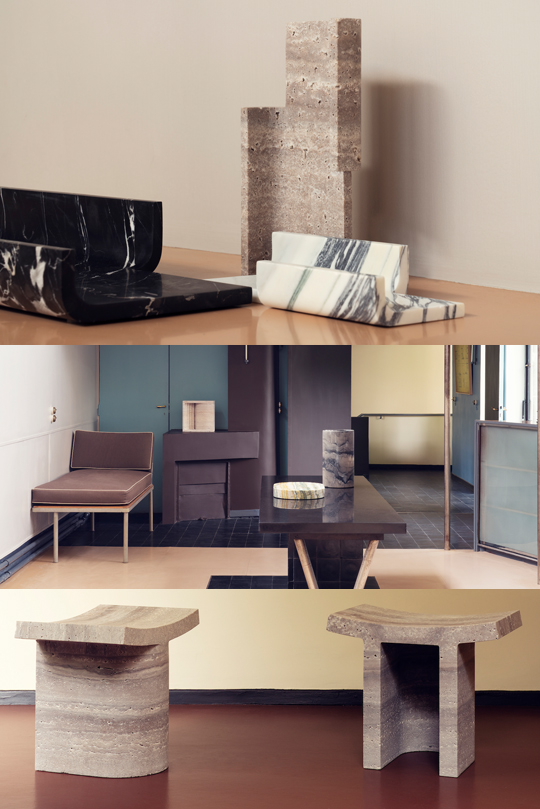 The exhibition is an introductory walk that finally sheds light on the rational use of resources: the fragments of marble worked and transformed by Anthony Guerrée evoke the recycled stones filling the concrete framework of the Notre-Dame du Haut Chapel, built in the Vosges by Le Corbusier in 1955.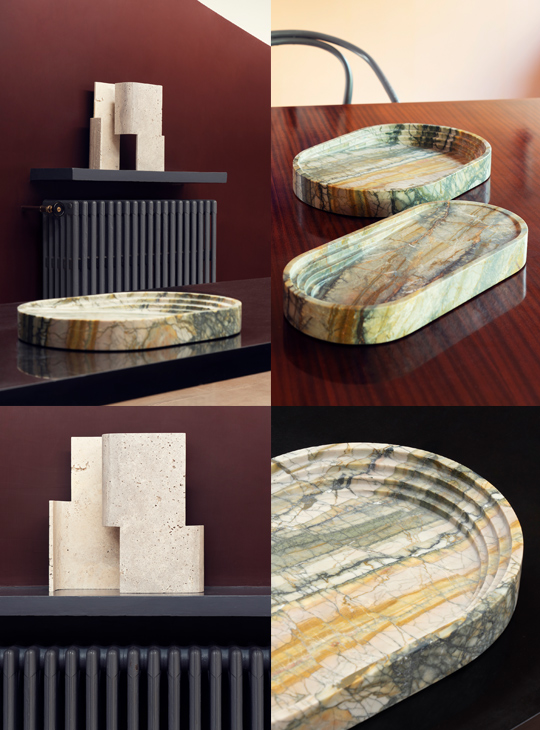 M éditions
M éditions was created in 2019 by Jean-Pascal Morvidoni, a third generation marble maker and manager of Marbreries de la Seine. With an eye for contemporary design, an enthousiast for beautiful objects and fascinated by the way designers use mineral stone, the entrepreneur now dedicates part of his activity to the manufacture and distribution of furniture.
Through daring «carte blanche» projects, Jean-Pascal Morvidoni wishes to promote new talents, whose fresh look and avant-garde vision of stone will push back the technical limits and stimulate the Marbreries' savoir-faire.
Whether the intention is conventional, experimental or chimeric, the collections of furniture and objects produced and distributed by M Editions are presented in exhibitions. Whether in the brand's Paris showroom – pending the opening of a second space in September 2022 in Miami – in partner galleries or in historic places such as the Foundation Le Corbusier.