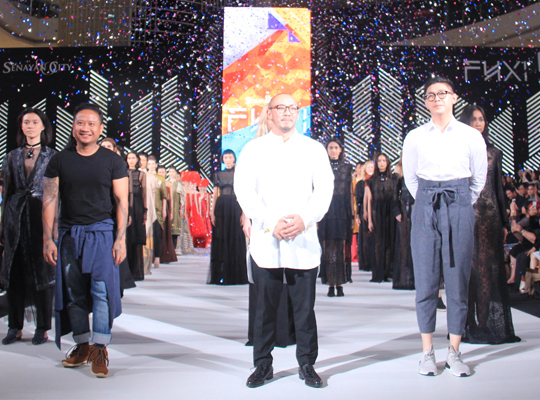 The Fashion Parade That Was Bold and Red
Published by Sugar & Cream, Thursday 04 May 2017
Text by Lynda Ibrahim, images courtesy of Studio One PR

Senayan City – Fashion Nation 11th
Recent years have seen competition between shopping centers intensifying through annual festivals. In Plaza Indonesia threw their 10th, Senayan City held their 11th, and Mall Kelapa Gading celebrated their 14th festivity this year. I've talked about what Plaza Indonesia featured; let's now look at the fab fashion paraded by Senayan City for their Fashion Nation.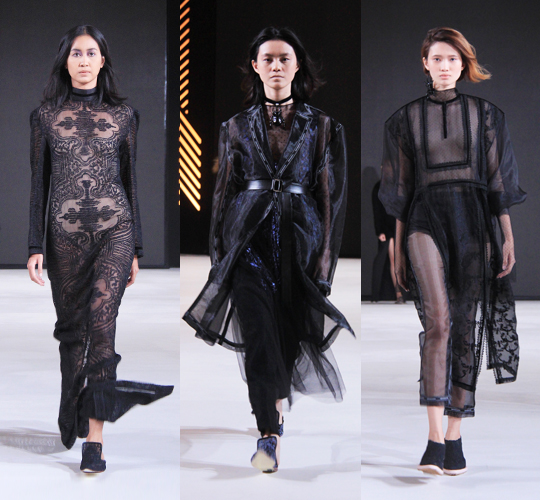 Fashion by Sapto Djojokartiko

The fashion festival opened strong by Sapto Djojokartiko's concoction of high-necked black lace cocktail dresses that managed to steer away from the trap of dowdiness and remained in the spectrum of coolness. At a glimpse, since the models walked just a bit too briskly, the collection somewhat reminded me of what he presented at the closing of Jakarta Fashion Week, yet in dark hue. Sapto rarely disappoints, just as he didn't this time.


Fashion by Yogie Pratama
The bold blacks were soon replaced by riveting reds. Yogie Pratama's 15-piece evening gowns were cut in classic silhouettes that emphasized just on one aspect at a time—a show of arms here, a drop of shoulder there, a hint of décolletage somewhere. It could have been boring, yet the red palette and fascinator set it to be both eye-pleasing and exciting. You'll need to be quite tall to pull off the collection, but it has potentials for the niche market of Chinese-Indonesians who'd want to mix modern wedding with Chinese tradition.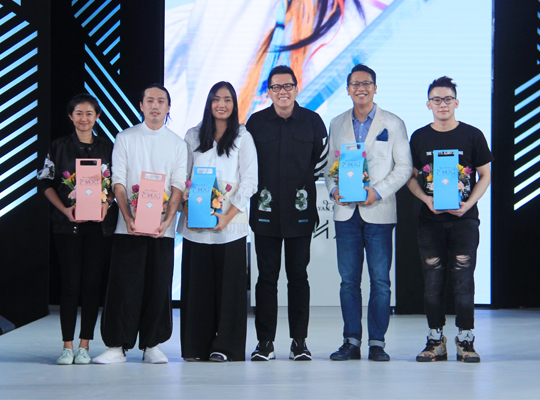 The weeklong festivity was closed equally strong by a coterie of rising young designers such as Monique Soeriaatmadja and William Utama.


Fashion by Monique
Having returned from a fashion course to learn further, among others, pattern-making, Monique showed her new skills in Soe Jakarta's latest collection. Worked mostly with handwoven technique since its inception, the label employed denim material to be interwoven with its signature thick fibers. Some accents used on their Jakarta Fashion Week's collection, such as the extra-long sleeves and flyaway straps, remained visible on this collection, yet as a whole the silhouettes looked richer and more dynamic. I'm hoping to see more from the label in the future.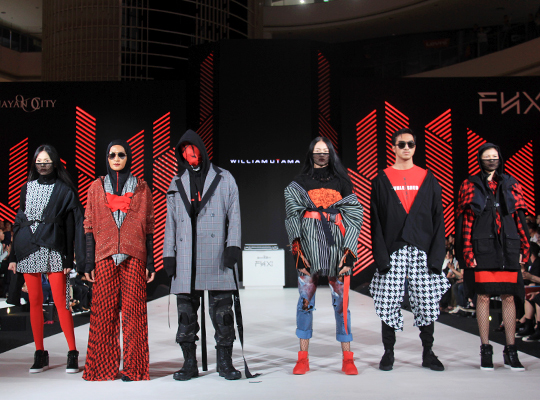 Fashion by William Utama
The fire of the closing show was delivered with sass and style by William Utama's very sharp collection. Inspired by the Japanese youth motorcycle clout Bosozoku, to me the red-black collection also could look as if high-street Londoners have stolen English prep school's plaids and immigrated to Harajuku, blending their subcultures and absorbing the angst. Urbane look is the aesthetic that can be both current and cliché, and I'm pleased to note that on this particular collection William Utama remained on the current side. Fashion Nation this year was indeed a red and bold parade.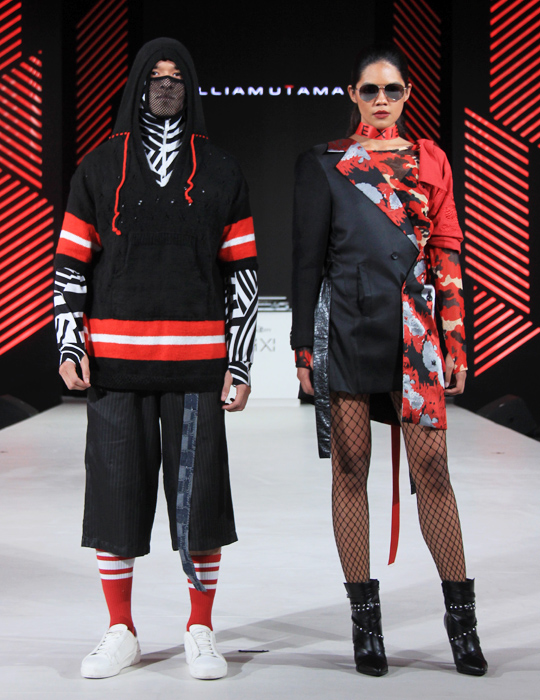 Fashion by William Utama
On a broader perspective, considering how in recent years the mall fashion festivals have gradually featuring more of trend shows from promising local designers than just trunk shows of their tenants, the challenge gets bigger for the established fashion weeks in Indonesia to serve up the latest and most relevant trends. Personally I think both Jakarta Fashion Week (JFW) and Indonesia Fashion Weeks (IFW), two of the longest running and most established fashion weeks in Indonesia, should focus on the curation of participating designers, the grooming of promising talents, and the building of legacy. The mall fashion festivals so far are good to create excitement and provide more showcases for local designers; JFW and IFW should be able to do beyond that.
Until the next fashion festivity, everyone.