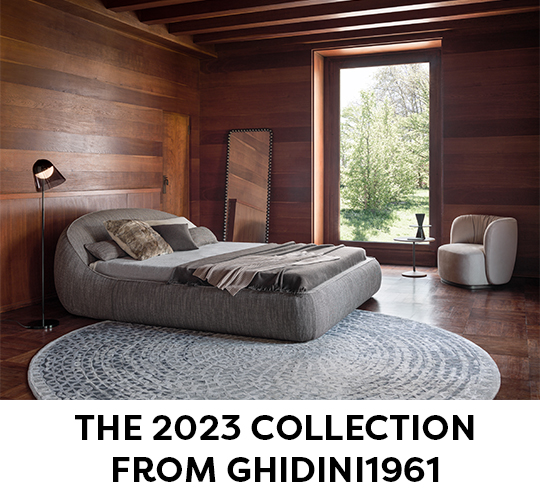 presented by

THE 2023 COLLECTION FROM GHIDINI1961
Published by Sugar & Cream, Monday 08 May 2023
Images courtesy of Ghidini1961
When Creativity, Craftsmanship & Engineering Align
2023 is a momentous year in our history of achievements! Why, might you ask?
It's rather simple, 2023 is the year we chose to define what a bedroom should look like, the year our brand challenged our designers and artisans to push beyond any known norm of creativity and creation crafting chairs and lighting solutions that might seem simple yet, are at the cutting-edge of conceptual and manufacturing complexity. It's the year we reclaimed our metal-inspired core to form new possibilities for what an elegant space should look like, whether you are sharing it with others or if it's simply your own. It's the year we focus on "YOU" as we redefine standards in the world of high-end residential furniture design and manufacturing, and we do not say this lightly.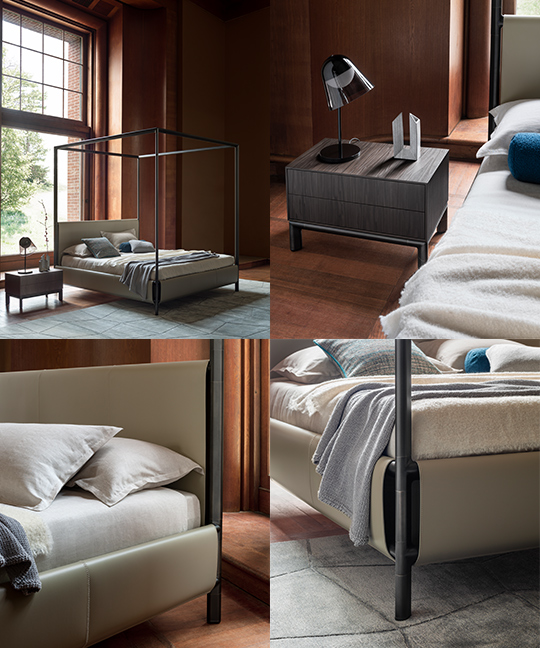 "My brief to the design and production team this year was rather simple; let's challenge ourselves and combine both our creative and craftsmanship strengths to produce furniture that will not only take the whole industry by surprise but to also challenge it. We wanted to show how synergizing investments in astounding creativity and superior engineering is capable of redefining what contemporary living should look and feel like. In all honesty, it is such a proud moment, not just for me, but for my whole team to see the level of trust we've built with our design partner which enables them to experiment and flex their creativity because they know we can make it happen and we can bring every detail of their creations to life," said Roberto Ghidini, CEO of GHIDINI1961.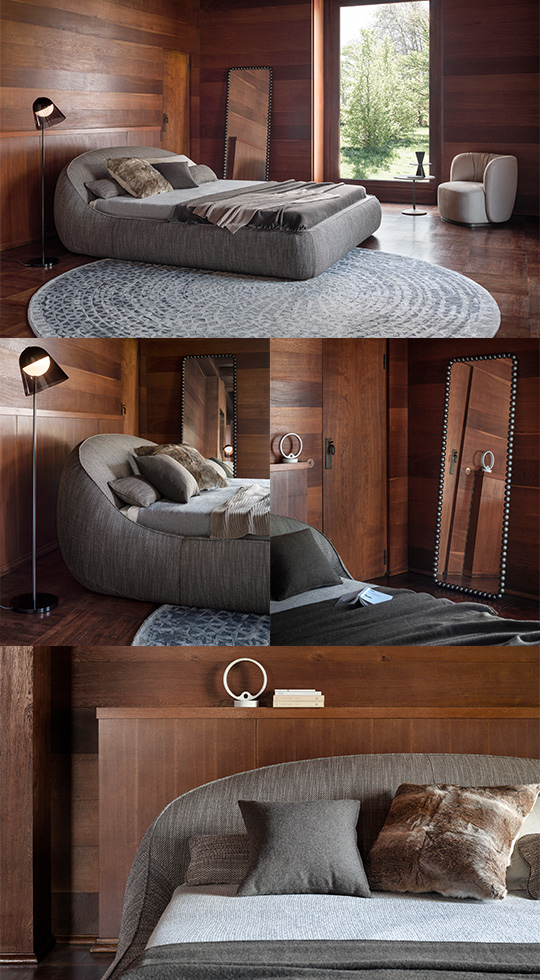 Our first order of business this year was taking a good glance into the bedroom with the intention to reinvent one of the most personal experiences in any living space, and we did.

Presented by Interni Cipta Selaras
We engaged Stefano Giovannoni and Lorenza Bozzoli to expand some of their iconic families of products into the bedroom and that was no easy feat.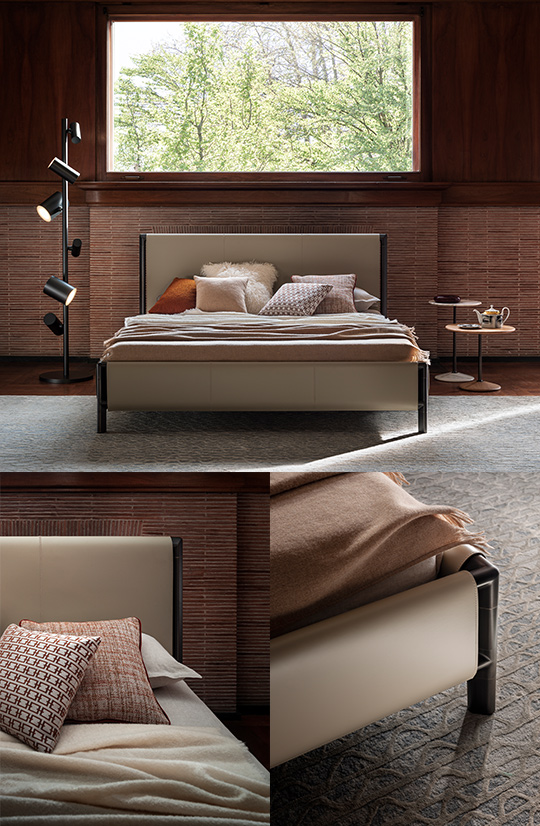 Stefano decided to take his Frame concept to design two types of Frame beds out of which one is a four poster masterpiece. Giovannoni did not stop at that, he decided to Frame the whole boudoir with a chest of drawers and bedside tables to complete the experience. The extension of the Frame family of products was designed to make a statement by Giovannoni. He wanted it to still create minimal, modern and refined metal structures adorned with detailed accents for such a personal space that still hinged on the "Frame Joint" with its elegant rounded 45 degrees extrusions.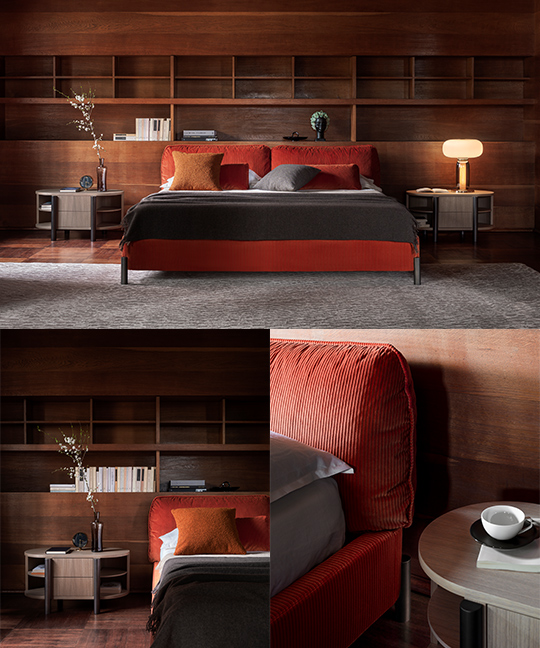 Lorenza Bozzoli on the other hand chose two of her favourite creations, The Abbracci and The Tarantino to conquer the bedroom. The Abbracci with its curvaceous, romantic twists was re-imagined to create a bed out of a dream. She simply wanted it to stand alone and fill the room with the warmth of a hug.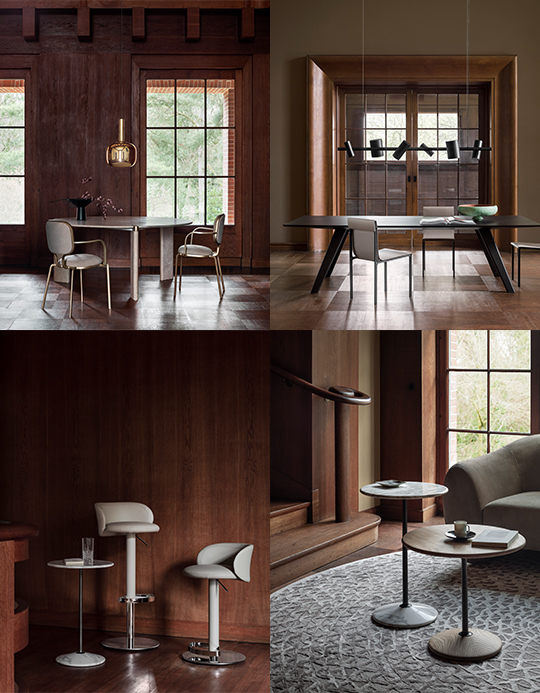 Stefano and Lorenza were not the only creators enthused by the challenge.  Some of our other, most prominent, designers decided to expand the creative possibilities outside the bedroom fashioning next level coffee tables, side tables, lighting, dining chairs and rugs.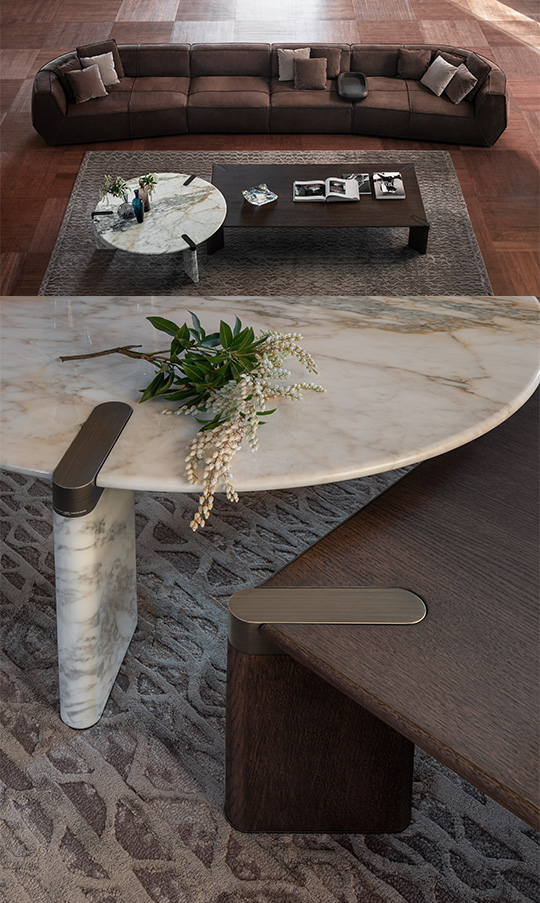 Our American design partners, Josh Morenstein and Nick Cronan from Branch Creative designed our new chair, Fabbrica. Josh and Nick decided to imagine a chair that might appear to be deceptively simple in its form but when engineered to life by our artisans it is nothing but. The Fabbrica chair, with its classic chair silhouette, carries a frame that is constructed of a single metal casting on two sides which emphasizes the simple I-beam structure with minimal weight.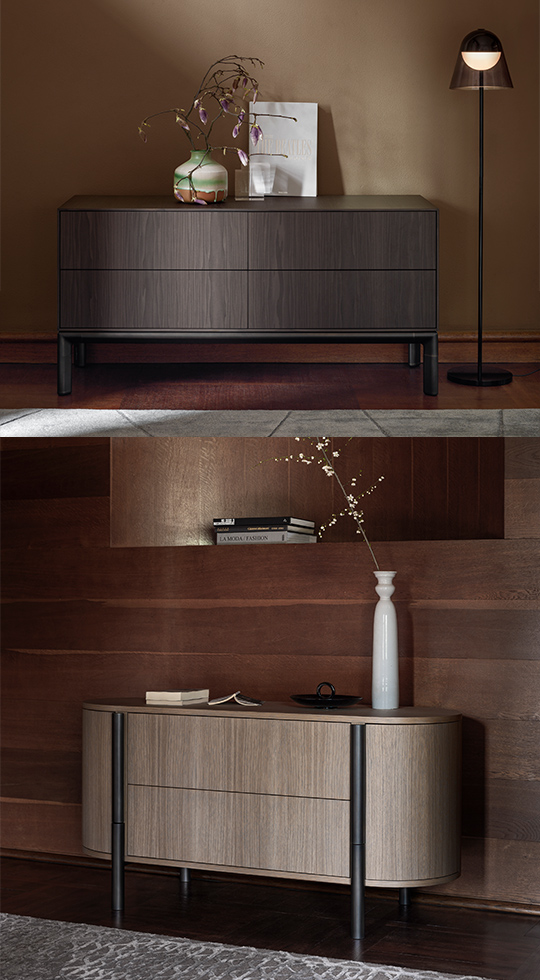 When Branch Creative decided to master this piece, they knew GHIDINI1961 can engineer it to life with perfection as it is a piece that technically requires machinery that can cast at least a thousand tons at a time, which of course is a part of our state-of-the-art factory in Brescia.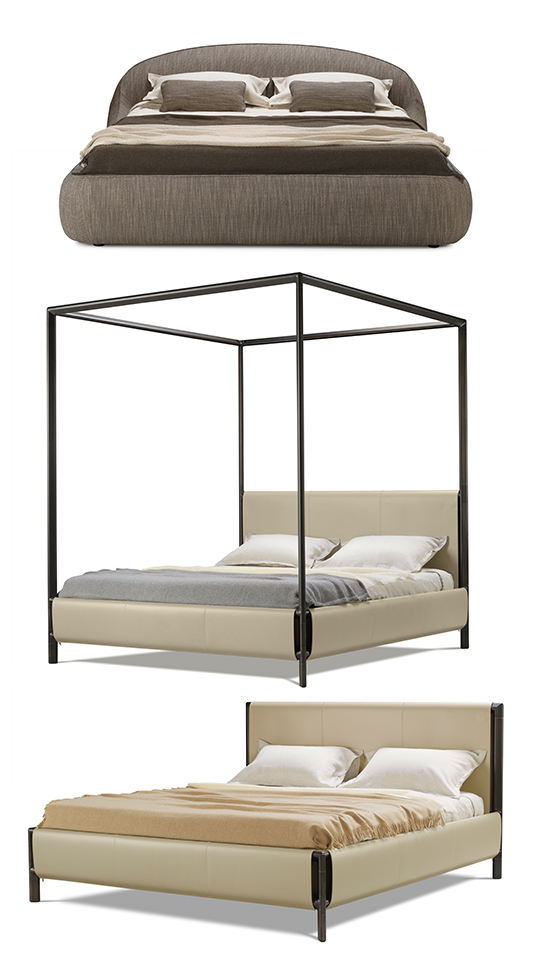 "2023 happens to be the year I looked at our collection and said to myself, YES! I look at this collection as an accomplishment because we have managed to create a full catalogue of products for the high-end interior residential experience. Our strong offering in all areas and aspects of the home is only solidified by staying true to our metal-inspired craftsmanship heritage that we show this year with pride and confidence. It's also a way for us to entice the industry out of the simplistic and lazy solutions to incorporate metal, in-style, into the furniture pieces no matter where they are in the living space. Of course, none of this is a coincidence. It's the result of years of planning, collaboration and investments in people, science, engineering and tools to bring every design to life in full force," said Giuseppe Ghidini, VP of Sales and Marketing at GHIDINI1961.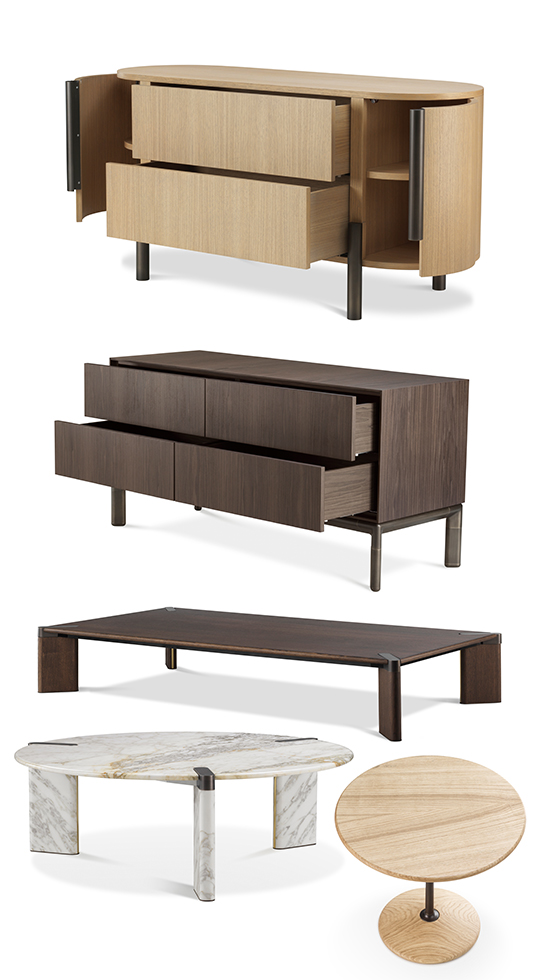 Branch Creative paraded its phenomenal track record of designing avant-garde lighting pieces, by designing the Helios Lamp for our collection this year.  The Helios is supported on a simple stand and base that balances a magical, semi-translucent, conic glass shade on top of a small glowing sphere which can be angled and pivoted in any direction allowing for a large range of versatility.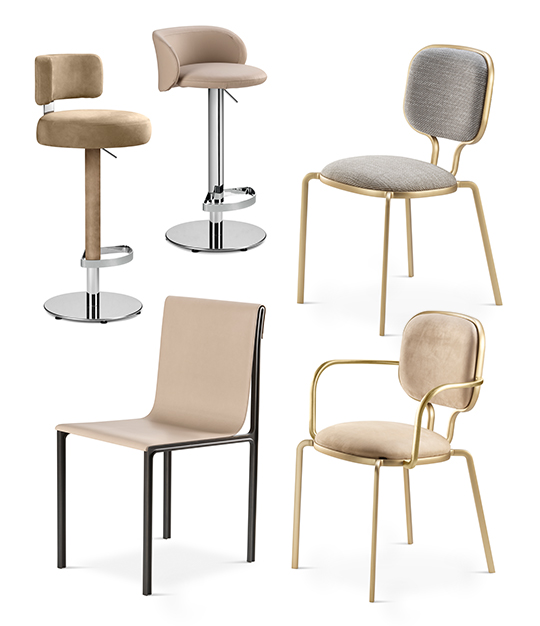 Richard Hutten, as usual, took an unusual path creating the Alfred and Hillary Barstools that are named after famous butlers in superhero movies. Hillary is named after the butler of Lara Croft in Tomb Raider, and Alfred, is named after the butler in Batman. Detailed in chromed aluminum and accented with premium fabrics and leathers the barstools are meant to inject a Hollywood charm into any space it lives within. Hutten also toyed with a concept of new rug that he named The Plumose as it exudes softness and warmth with its sophisticated color palette and its furry long yarns that make you want to lay on it forever.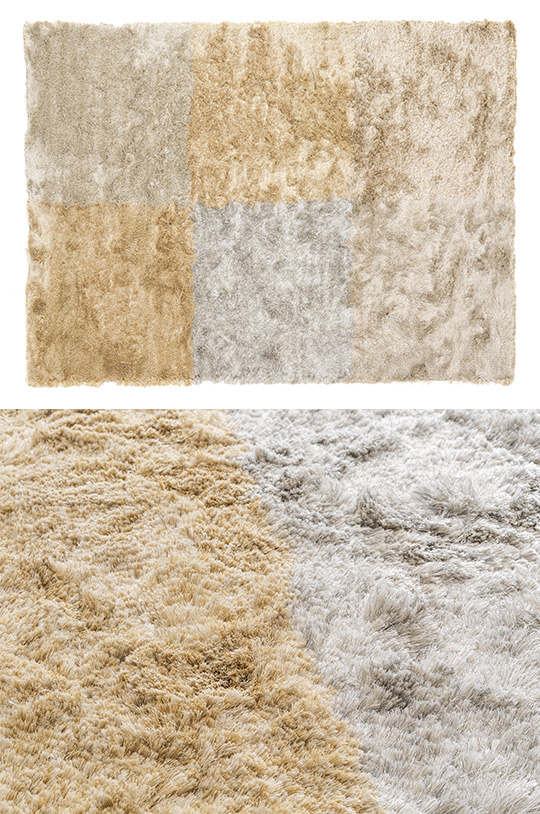 Paolo Rizzatto decided to come back with a twist, his discrete but determined Liu chair and armchair and the Arnold side tables. Rizzatto decided to give the Liu family of dining chairs a more traditional look but with an angle that hinges on the actual production of the chair itself that is created of three casting molds of the legs, seat and backrest coming together to form a freely moving and outspoken chair that can adorn any dining table or space with its presence.

Rizzatto also made sure he completes his return with a pair of the discrete but comfy Arnold side-tables. This side table duet is a living testament of the perfect marriage between design and craftsmanship to create an implacable piece of modern furniture. The side tables of two heights, are born from a combo of three elements (a top, a column and a truncated cone base) created out of metal, wood and marble and designed to fit into any corner of your living space with elegance and ease.
Lorenza Bozzoli was determined to bring in her fashionable contribution to our tables design this year by re-imaging her iconic round and rectangular Ottantas as coffee tables flaunting the premium woods and marbles we curate and the celebrated angled metal accents that give the tables their panache.
"Evolving is a part of our everyday life at GHIDINI1961, but however we evolve in creativity or craftsmanship we are always true to our metal-inspired heritage that stems from our leadership in the metal-casting industry and being a native of Brescia, which happens to be the largest global hub for this industry," added Roberto Ghidini, CEO of GHIDINI1961.
This 2023 full collection presents at Salone del Mobile this year!
Special Collaboration with Lasvit at Salone del Mobile
Experience GHIDINI1961 at the Lasvit Euroluce 2023 booth
Lasvit, the Czech design house specializing in glass and lighting objects, is back for the preeminent lighting presentation Salone del Mobile: Euroluce 2023.
The leading spacial design company will showcase debuts ranging from the large-scale artistic installation Cloud by Maxim Velčovský, to new collections conceived with leading designers such as David Rockwell, Yabu Pushelberg and Campana Brothers, along with taking a fresh look at its Icons. Lasvit looked up to the sky and its clouds and stars for inspiration: although they are the most commonplace views in every part of the world, they connect all of humanity across the globe.
As Lasvit reaches out to the skies to portray their creativity, they chose to ground their stand with the design furniture of GHIDINI1961.
This collaboration between Lasvit and GHIDINI1961 portrays an important element of synergy between both companies where creativity, craftsmanship and science take the lead in what they both offer in the world of high-end interior design and premium home décor.