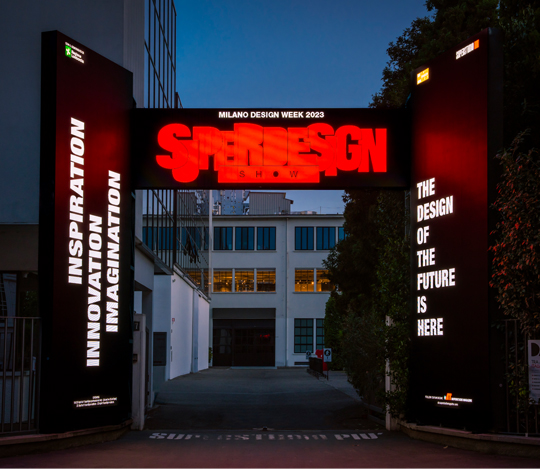 presented by

 SUPERSTUDIO PRESENTS SUPERDESIGN SHOW AT MILAN DESIGN WEEK 2023
Published by Sugar & Cream, Monday 10 April 2023
Images courtesy of  Superstudio
A Project by Gisella Borioli with the artistic direction by Giulio Cappellini
AL SUPERSTUDIO PIÙ
18 – 22 April, 11 a.m.- 9 p.m. / 23 April, 11 a.m.- 6 p.m. (registration is mandatory)
VIP & Press Preview, 17 April, 3 p.m.- 8 p.m.
Where is design and its very representation going, today bordering on the programs of Artificial Intelligence, Augmented Reality, the Metaverse, ChatBots, humanoid robots that seem to be taking us to unknown horizons where the creativity of the mind might even be challenged? And how will spaces and architecture, houses and cities, design evolve? How to bring reality and imagination together? In this science fiction scenario, how will functions and services change?
With such a visionary approach which questions the future and following the common thread Inspiration Innovation Imagination, Superdesign Show, Superstudio's annual event for the Milan Design Week, stages some spectacular and challenging installations that, while informing us about the latest updates of a selected international production, also anticipate questions and answers about the functions of the world to come.
Among them:
TODAY IS ALREADY TOMORROW
Learning to make sustainable choices with the support of products that arise from the well-assimilated circuit of the circular economy. This is the scenario proposed by Materially, which deepens its research on eco-sustainable and reclaimed materials each season and does so this year by invoking the concept of wonder in a magical and interactive installation. Among others, interesting is the use of concrete in combination with resin for benches in the "Building Progress for People and Planet" project by Holcim (Italia), a manufacturer of building concrete that, while proposing other natural concrete objects, indicates a trend along with innovative and sustainable solutions. Entering into the smart home thanks to the large interactive space dedicated to Samsung appliances with sustainability zones and more.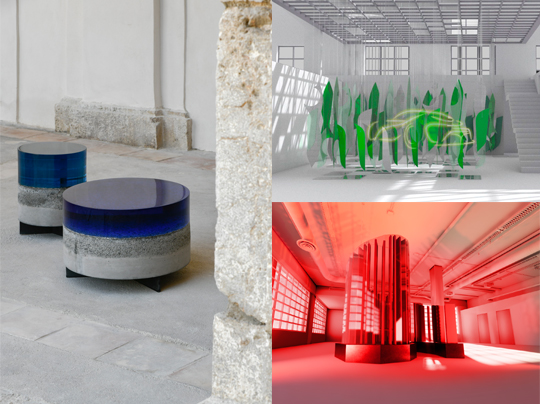 Getting used to the automotive of the future, naturally electric, which does not pollute, does not make noise, drives autonomously, scans obstacles, warns of dangers, provides security, and is constantly connected. Lexus has been researching this for 15 years and will be at the Superdesign Show 2023 with "Shaped by Air" by architect Suchi Reddy, who, inspired by the craftsmanship of the Lexus Electrified Sport coupé, gives a scale interpretation of it, shaped by light and surrounded by vibrant leaf-like sculptures. Also on display are the prototypes produced by the winners of the 2023 Lexus Design Award. And so does the "YouPower Bar" presented by YouPower – The Energy Company, which with its innovative electric car charging system for both commercial and residential use, brings us closer to the future of e-mobility.
Reflecting on the environment and understanding that being eco-friendly is a cultural fact that we need to learn from an early age to avoid an even greater disaster for the planet. This is suggested by architect Massimiliano Mandarini and Creative Italy Lab, who rethink work and living environments under the sign of inclusivity and sustainability; it is evoked in GN Architetti + Phononic Vibes by Giacomo Nasini's "SoundSpline", an acoustic island, a futuristic high-tech sculpture that is the result of the union of engineering and interior architecture; it is highlighted by the now iconic Fili Project with which Regione Lombardia, FNM, FERROVIENORD e Trenord regenerate main railway connection centers in urban and suburban areas through architecturally avant – garde and green interventions.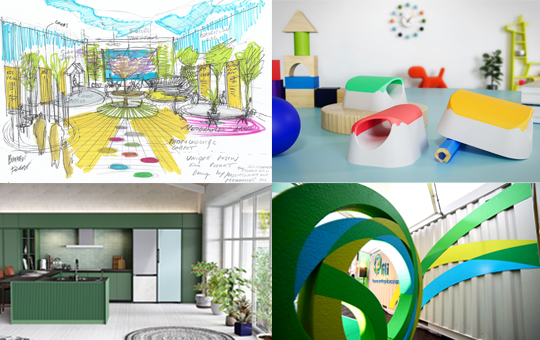 Getting familiar with digital platforms, virtual experiences, and unreality becoming real, is the other big challenge. The Istituto Marangoni • the School of Design joins us along an immaterial path, making us live tactile experiences through the Metaverse and learn about its students' most advanced projects.  "tactile" experience with our techno pads through the Metaverse and getting us to know the most-advanced projects of its students. Superstudio itself invites us to its Virtual Pavilion, with proposals developed by its team to live the experience of fairs, exhibitions and events with any devices, as if they were in presence. PNA –  Pietra Naturale Autentica makes us discover the wonderful Italian marbles in an immaterial way, through images projected on the ledwalls of an emotional cube.
ASIAN R-EVOLUTION
It is striking that the more conceptual presentations are the result of the mature creativity of Western companies and designers looking beyond, and that countries from the East and Far-East have chosen to be present at Superstudio  with proposals for a real and sustainable home that grafts tradition into modernity. The section reserved for years for significant Asian presences is now a long-awaited recurrence for us and allows us to stay connected with what is happening on the other side of the globe. This year the appointment is renewed.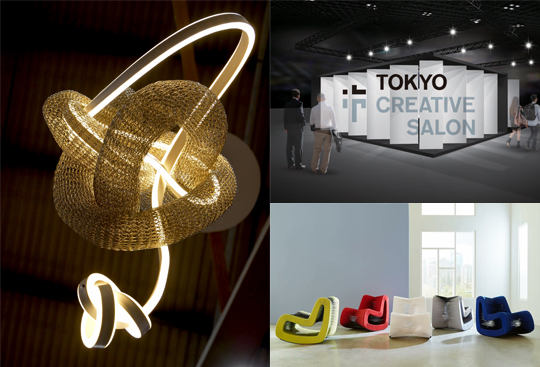 Here is China with Grado Design, which brings the round lines of comfort and refined minimalism to contract and living and, from the Chinese tradition reads cultural identities, embraces diversity and rewrites a new order through furniture design. At the entrance to the main hall, "Fabric Light Andon", three large sculptural and curvilinear objects by Japanese GPJ × YUTAKA interpret a new lighting system made from aluminum and fabric through innovative Onefabrica technology. Jakarta Tourism and Creative Economy Office, Jakarta Capital City Government, Indonesian Contemporary Art and Design and its artists present the many aspects of Indonesian design of yesterday and today with an installation between art and design, craftsmanship and technology.  Also, from Japan arrives Forum8 with a knotty installation devoted to VR technology and its ever-expanding applications, quantum with its fine lighting fixtures made in Japan, Tokyo Creative Salon (Mitsubishi Estate, Co., Ltd. / Mitsui Fudosan Co., Ltd. / All-Ginza Association / Tokyu Corporation / Japan Fashion Week Organization / Japan Airport Terminal Co., Ltd. / Panoramatiks / Hakuhodo Inc.), which through a symbolic exhibition promotes, precisely, the Tokyo Creative Salon, a design and fashion festival still little-known. Kawashima Selkon Textiles proposes by modernizing it the beauty of the complex textures of Japanese traditional furnishing fabrics. Thailand is represented by Slowhand Design Thailand by DITP, which adds a new chapter to the "Slowhand Design Exhibition" with an installation of materials from local manufactures. The purpose is to use solutions coming from reusing and maintaining the life cycle of industrial materials. From Korea comes the Seoul Design Foundation, the design hub that catches innovations, inspires creative people and expands their imaginations.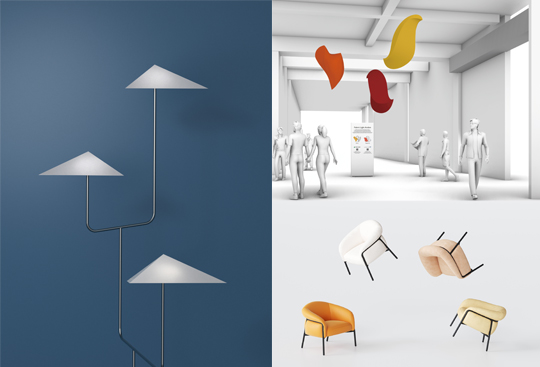 Presented by Interni Cipta Selaras
STRANGE YET BEAUTIFUL
Once again, we capture the aesthetic change of objects and furniture, in the name of total freedom, individualism, and eclecticism, in a place where nobody is still judging others except for themselves.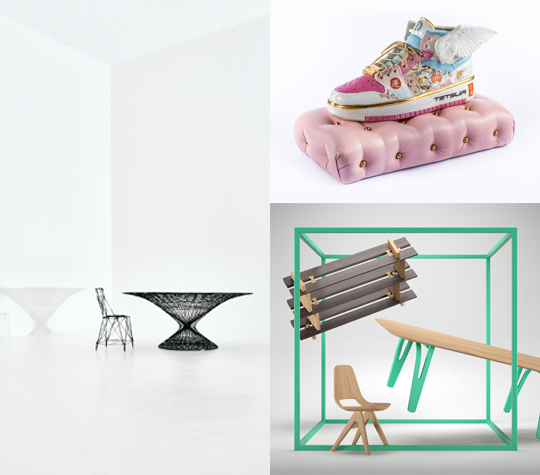 In the Unexpected Objects area the common thread is surprise, innovation, and non-banality in projects by designers who worked with artists, and artists who acted as designers. Without forgetting designers who brought their research to the limits of the known Examples of that are the ceramics by Pollini Home, the wood screens of BOTTOS DESIGN ITALIA BY SEBASTIANO BOTTOS and the porcelain of Daamstudio 's "Iconoclastic" project, the techno-creatives of Unuslab and Fluente with "Terre evolute. Evolution of craft workshops", a collection of handmade and 3Dceramic products. The sensory tales from Poliuretano è with "Inside Matter": seatings, acoustic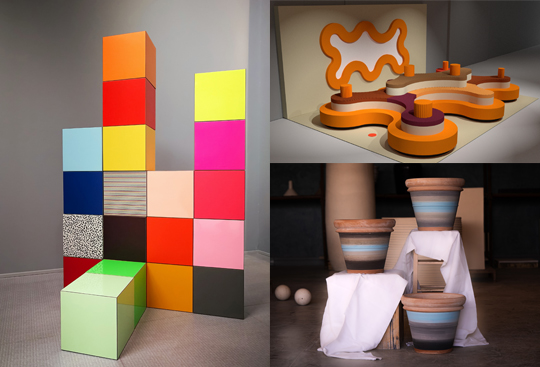 panels and furniture accessories made from polyurethane foam presented without any covering, thus enhancing the comfort of home environments. New insights add to the use of materials: alcarol presents "Geomorphic", a series of furniture pieces (seats, poufs, bookcases, consoles) that investigates the processes affecting matter through real trompe-l'oeil also involving touch. The proposal of KARBONY , a young start-up which creates small architectures from carbon filaments, finding a supporting element in the shadow of their own projection, as well as the new kind of polyurethane foam presented by Pelma that, thanks to a circular process of production, is completely sustainable and recyclable. Also, in this section are the 350 colored magnetic coated cubes produced by Abet Laminati from Paul Kelley 's "Re-make, Re-model, Re-imagine" project. Standing out in the greenery of plants there is the long parade of vases engraved using the engobe technique by Laboratorio San Rocco. Finally, back at the Superdesign Show, is Metoda, the Croatian company that presents elegant environments with a style between classic and avant – garde in which tradition and innovation, nature, imagination and technology coexist.
STARS OF TODAY AND TOMORROW
With a parade on the next generation design where the authors are rising talents, we enter the future. The group exhibition STARS OF TODAY curated by Giulio Cappellini, in the role of talent-scout, presents ten new contemporary protagonists: Leonardo Talarico, Elena Salmistraro, Francesca Lanzavecchia, Ilaria Marelli, Matteo Agati, Sergio Prieto, Daniel Nikolovski, Francesco Forcellini, Antonio Facco, Keiji Takeuchi. Young professionals add to this, like the members of the Third Floor Collective from London Royal College of Art Londra, who with the project "objections" combine the tradition with an experimental approach.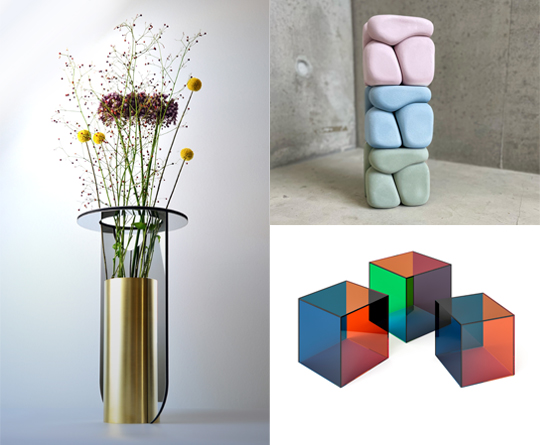 The usual section DONNE&DESIGN is back with "Mirror – CreaTTive allo specchio", featuring multifaceted and multitasking designers we learn about in a series of portraits recounting them through the images by Angelica Cantù Rajnoldi, young and sensitive photographer, who is present with her first exhibition at Superstudio. In the installation "EstETICA FLUIDA" by FoodDesignStories, a moving path follows the visitor through a journey about the work of 20 independent designers on water conservancy.
UNDER THE ART SIGN
Interaction with art has, as usual at the Superdesign Show, an important space and gives to our third word "Imagination" its fullest sense…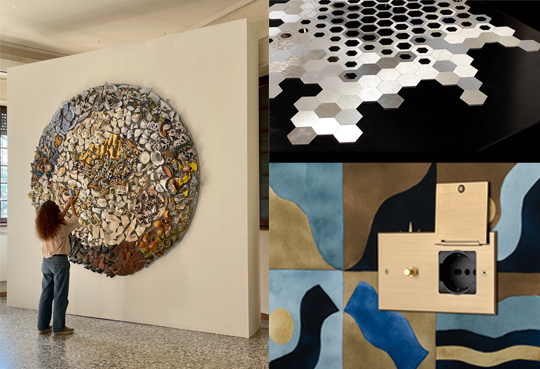 The refined presentation of TECNOLITE's for Meljac light switches, staged by the great Milanesearchitect Dante Benini, transforms them into small golden sculptures, very modern despite theirvaguely retro appearance. On a large surface of steel plates with different metal tones by Nichelcrom Lab, lay objects and furniture also made of steel with sculptures and other artworks, proving the great modernity and versatility of this material that continues to be a protagonist even in today's industrial evolution. The theme of breaking is addressed by Alberto Gianfreda in "ITALIA", a panel realized with Museo Casa Testori and AiCC – Associazione Italiana Città della Ceramica, made of a collection of ceramic objects expressing 21 traditions, carefully divided and then reassembled. The black-and-white interplay of the general setting finds its counterpoint in some presences: the  group of "cartoon rabbits" by Japanese artist Aki Kuroda for Slide; the large optical sculpture, a recent work by Flavio Lucchini whose complete production is on display at the FLA, Atelier, Museum at the end of the exhibition itinerary.
OTHER HORIZONS AND TALK
Experimenting, discussing, meeting and comparing on the keywords Inspiration Innovation Imagination and moving the goal much further: so does Mirko Tattarini in the spaces of the FLA by signing an unusual installation made by the students of ISIA Firenze from the furniture of Mirabili Design. The project is the opportunity to discuss the second life of objects in a series of meetings. A schedule of talks on materials' transformation attends you in the Materially area.