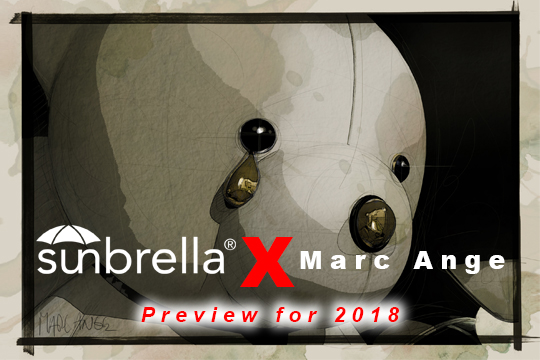 Sunbrella® X Marc Ange – Le Roi Installation
Published by Sugar & Cream, Friday 13 April 2018
Text by Auliya Putri, Images Courtesy of Sunbrella
Preview Salone del Mobile 2018
Sunbrella® untuk perhelatan Salone del Mobile, sekali lagi berkolaborasi dengan Marc Ange. Kali ini mereka menampilkan instalasi megah berjudul 'Le Roi' dengan desain eksklusif yang terletak di ruang taman wallpaper* handmade. Instalasi ini mengungkapkan Le Roi bersamaan dengan perilisan lampu Refuge yang ditutupi dengan indah oleh kain Sunbrella®. Pertemuan menarik antara Sunbrella® X Marc Ange menghasilkan sebuah koleksi dan instalasi yang paling unik, diwarnai dengan fantasi serta imajinasi mendalam.
When:
17 – 21 April 2018
Where:
Mediateca Santa Teresa Via della Moscova, 28 20121, Milan
''In the center of the garden, gold leaf lamps guide you to an elevated room, like an altar, whose walls, floors and ceilings are covered with the same deep blue Sunbrella fabric. At the back of the room, opposite you, sits, as if on a throne, like a king, a giant teddy bear with blue fabric skin, his head cramped by the ceiling which is too low for him. The bear is illuminated by two Refuge Lamps, presented here for the first time, which are also covered with the same blue fabric, and protected by a small army of Les Araignées chairs, still in the same material. You are standing at his feet and, four meters high, this Bear King, who has let his crown and sceptre fall to the ground, looks at you with a sad, marble gaze, a golden tear oozing from his right eye. Like an allegory of a lost childhood. He invites us, with his tender body, to come and lie against his belly, between his legs, or to sit on his plump thighs, behind his marble feet.'' – Sunbrella® tentang instalasi Le Roi.