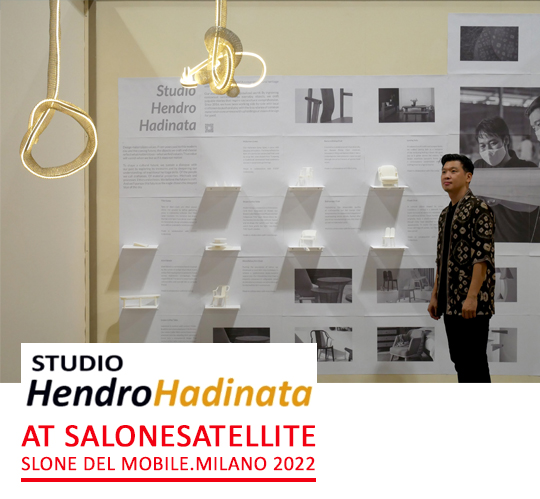 presented by

STUDIO HENDRO HADINATA AT SALONESATELLITE – SALONE DEL MOBILE.MILANO 2022
Published by Sugar & Cream, Monday 15 August 2022
Images courtesy of Studio Hendro Hadinata
Enliven Indonesian Tradition
What is the proudest thing of being a designer? Of course, if the work is accepted and presented in the international field, especially at the world design event. Inilah yang dirasakan oleh Industrial Designer asal Indonesia, Hendro Hadinata pendiri Studio Hendra Hadinata yang terpilih dalam kurasi SaloneSatellite 2022, mewakili desainer Indonesia dan bahkan satu satunya dari Asia Tenggara. SaloneSatellite edisi ke-23 ditujukan untuk society yang inklusif dan ramah di mana desain generasi muda semakin menjadi yang terdepan. Sekitar 600 talenta desain muda terpiliah bagian yang menghidupkan SaloneSatellite edisi ini.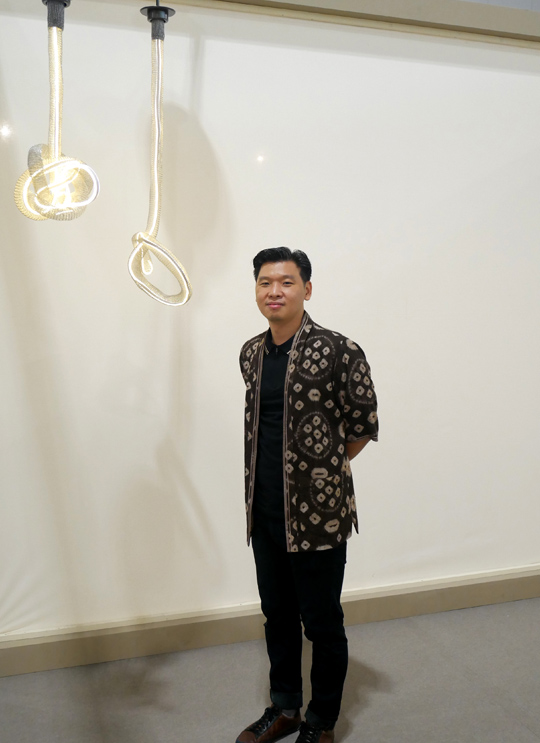 Simak interview eksklusif dengan sang desainer di Salone disini

Acara yang dikhususkan untuk usia di bawah 35 tahun, dan permata di mahkota Salone, 'ditugaskan' untuk menyambut publik ke tempat pekan raya. Dan, Hendro Hadinata menghadirkan sejumlah karya yang mengadaptasi tradisi Indonesia dalam koleksi objek sehari-harinya yang ditampilkan di Milan, Italia dalam rangkaian dari pameran desain terbesar di dunia, Salone del Mobile.Milano 2022.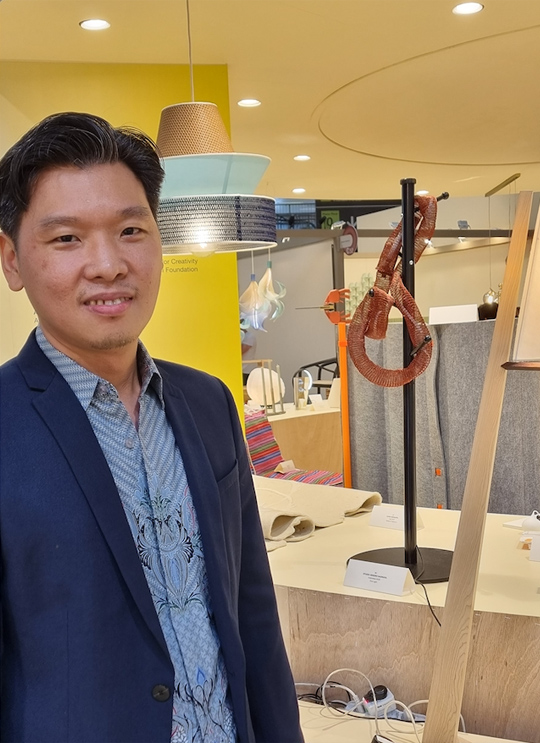 Melihat periode globalisasi, produk desain sangat dipengaruhi oleh metode manufaktur industrialis dengan desain yang mengikuti arus utama. Sedangkan pendekatan Hendro Hadinata menentang kebiasaan ini dan melihat inovasi dapat berangkat dan merujuk dari kerajinan lokal.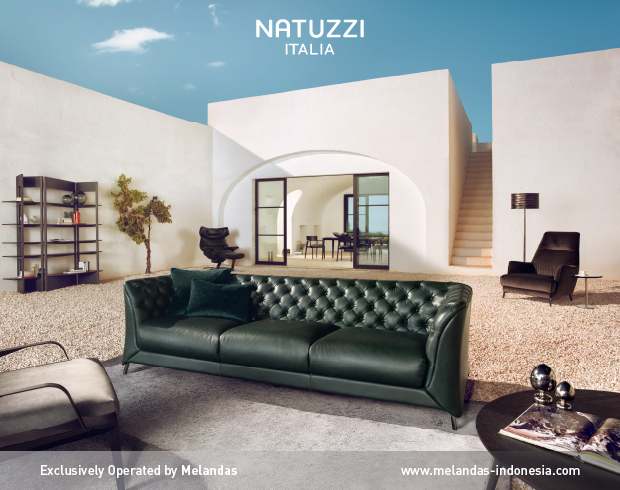 Presented by Melandas Indonesia
Ruang pameran Hendro di Salone del Mobile.Milano 2022 tersusun karya-karya pilihan nya pada dinding dalam bentuk prototipe skala kecil, masing-masing disertai dengan deskripsi inspirasi dari budaya dan tradisi khas — membawa permata budaya Indonesia ke audiensi desain internasional. Perancang independen ini memperkenalkan kekayaan dan potensi budaya khas Indonesia yang beraneka ragam dan eklektik di Rho Fiera Milano Exhibition Centre.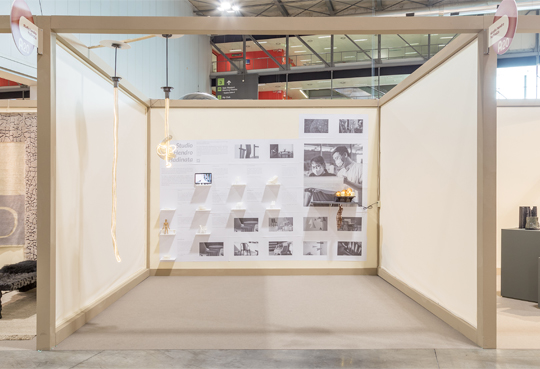 Karyanya yang menjadi highlight adalah "Eve Lamp" yang unik. Lampu ini merupakan objek ringan yang bisa dipakai. Desainnya membungkus untaian LED dalam anyaman stainless steel dan tembaga antivirus. Konfigurasinya yang versatile memungkinkan untuk disesuaikan sebagai kalung, digantung sebagai benda ringan, diikat sebagai lampu meja atau sesuai keinginan Anda. Eve Lamp ditujukan untuk anak-anak, manula serta orang dengan kursi roda sebagai bantuan untuk berkegiatan dalam gelap di luar ruangan. Lampu ini juga menjadi pengajuan Hendro untuk SaloneSatellite Award.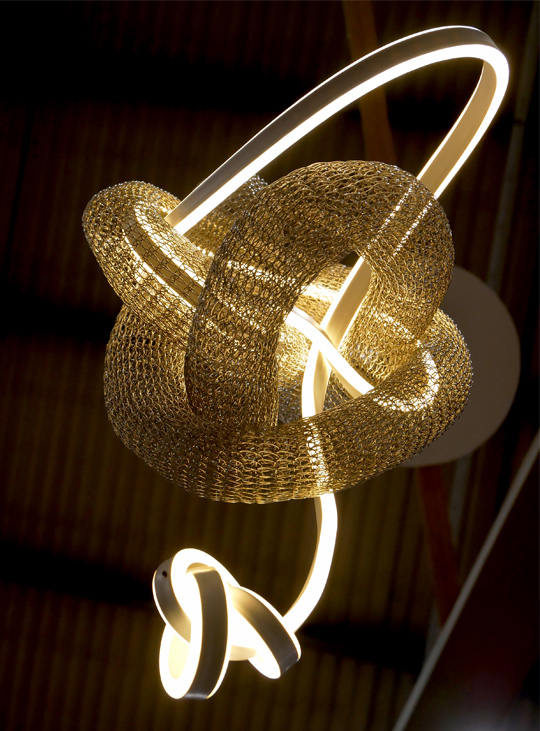 Kolaborasi Hendro dengan pengrajin lokal menjadi langkah yang menarik dalam mempopulerkan teknik kerajinan masa lampau dan mengeksplorasi dengan interpretasi baru dari metode lama. Anyaman metal Eve dibuat menggunakan teknik menenun logam berusia seratus tahun oleh pengrajin di pedesaan Sumba, sebuah pulau yang masih asri sekitar satu jam perjalanan dari Bali. Para pengrajin ini mempertahankan tradisi menenun ini dari generasi ke generasi. Tenunan logam kawat, yang dibuat dengan tangan di rumah mereka, pada awalnya merupakan perhiasan prasyarat yang harus dipelajari oleh calon pengantin pria sebagai hadiah untuk pengantin wanita mereka. Hal ini menjadi simbol  cinta dan dedikasi.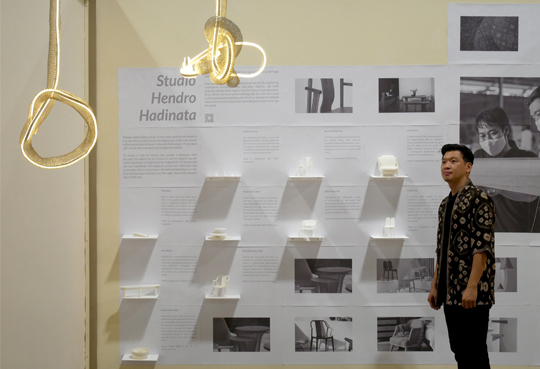 Ikuti terus kiprah Studio Hendro Hadinata melalui Instagram @studio_hendro_hadinata atau hendrohadinata.com. (DB)