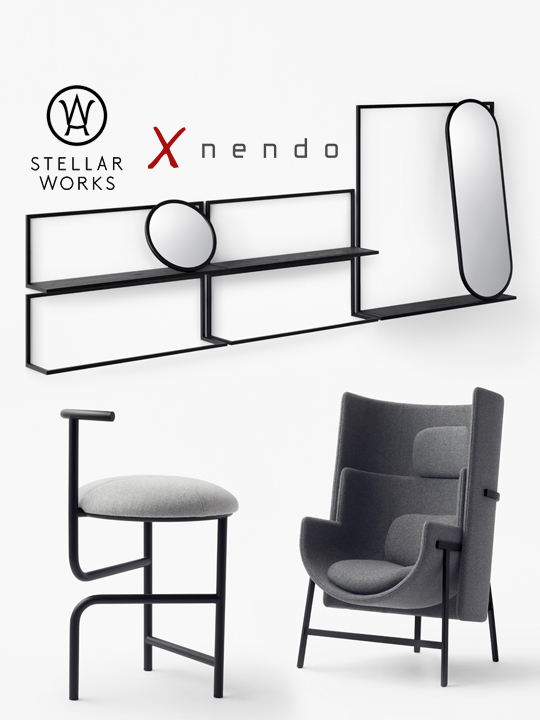 presented by

STELLAR WORKS X NENDO : Blend, Frame & Kite
Published by Sugar & Cream, Monday 15 June 2020
Text by S&C, images courtesy of Stellar Works
Avant-garde design x Craftsmanship
Yang selalu memikat dari kolaborasi dua nama besar adalah sinergi yang saling mencerminkan kekuatan karakter masing-masing. Ada apa dengan Stellar Works dan Nendo? Walaupun diterpa badai pandemik Covid 19 dan absennya ajang bergengsi Salone del Mobile.Milano 2020, Stellar Works tetap merilis 3 produk desain hasil kolaborasi dengan desainer ternama Nendo. Oase berita gembira disaat pandemic ini.
"I feel that one of the strongest characteristics of Stellar Works is the design and functionality of their pieces, which mean that they can be used in both home and hospitality/contract environments. Therefore, we started our design thinking by taking a similar approach to these collections for the brand," Nendo's statement about the collaboration.
Tiga produk desain terbaru : Blend, Frame dan Kite memperlihatkan keharmonisan rancangan desain yang detil dan avant-garde dari seorang desainer Nendo dengan keahlian Stellar Works dalam mengeksekusi furnitur dan aksesori yang berkarakter penuh namun juga fungsional.
Kite
Sebuah kursi kompak berlengan dan nir lengan dirancang khusus untuk ruang kecil di ruang komersial maupun ruang hospitality seperti hotel. Walaupun berukuran kecil dan kompak, kursi ini tetap mendukung esensi kenyamannya sebagai sebuah kursi sofa. Tersedia beberapa opsi seperti sandaran yang lebih tinggi yang menawarkan privasi dan ketenangan lebih, berbagai jenis lapisan untuk sandaran dan bantalan kursi hingga ketebalan bantal kursi. Kelebihan Kite dengan sandaran tinggi adalah hanya menempati ruang minimal sehingga untuk ruang kompak pun sangat ideal.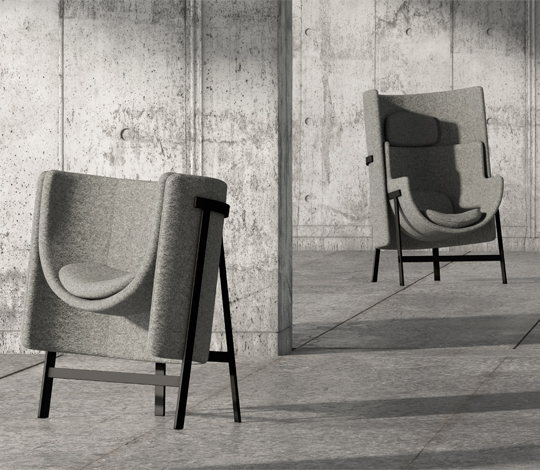 Kite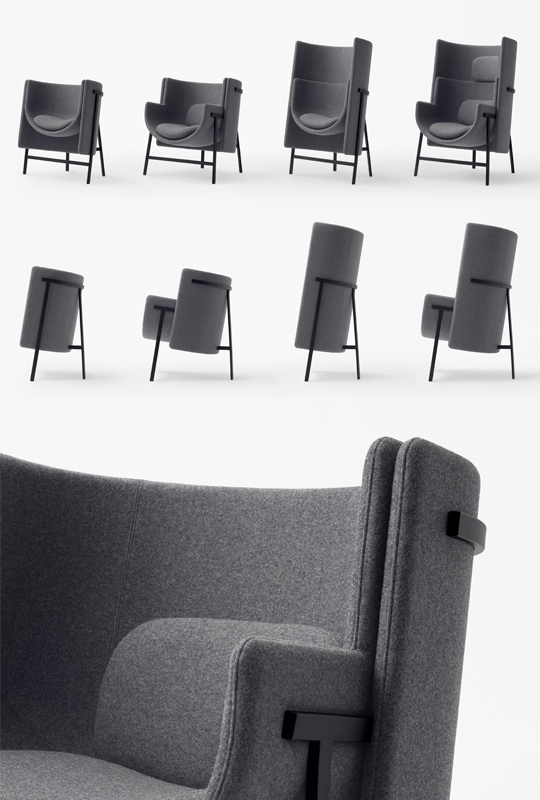 Kite
Blend
Kursi bar hadir dengan hanya tiga kaki? Karakter komposisi tiga kaki inilah yang mencuri perhatian dalam rancangan Nendo untuk kursi Blend. Salah satu kaki terpapas di tengah membelok dan menyambung ke kaki satu lainnya. Sedangkan bagian sandaran yang mungil tapi esensi, menyatu dengan bagian kaki lainnya. Kursi bar ini dilengkapi dengan footrest untuk kenyamanan pemakaianya.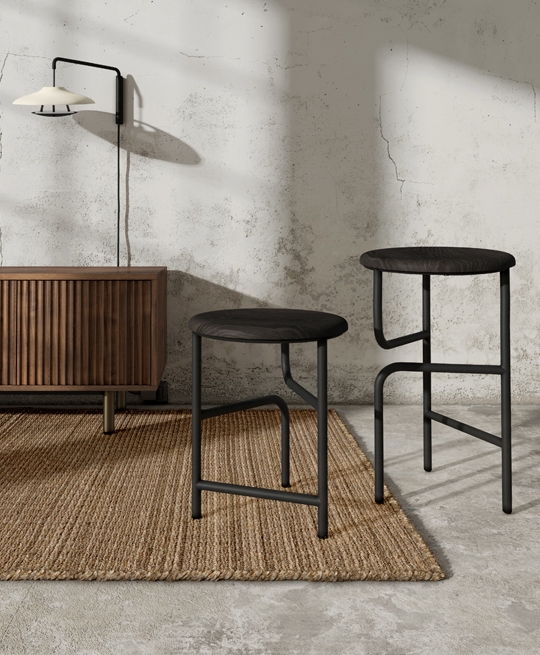 Blend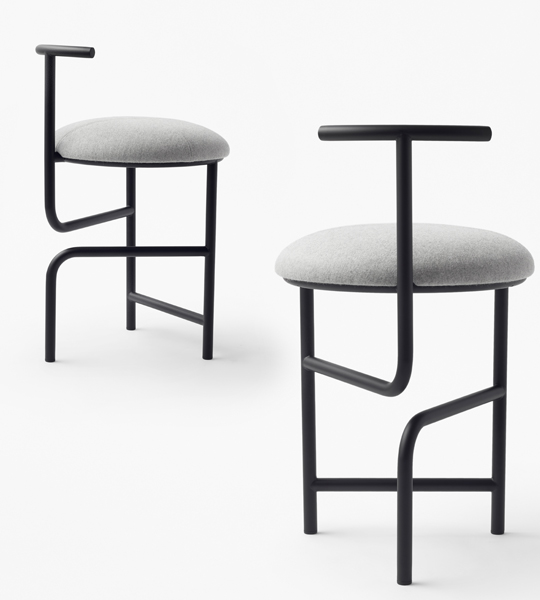 Blend
Kerangka struktur terbuat dari bingkai logam hitam atau opsi dari kayu oak atau walnut. Tersedia 5 variasi ketinggian.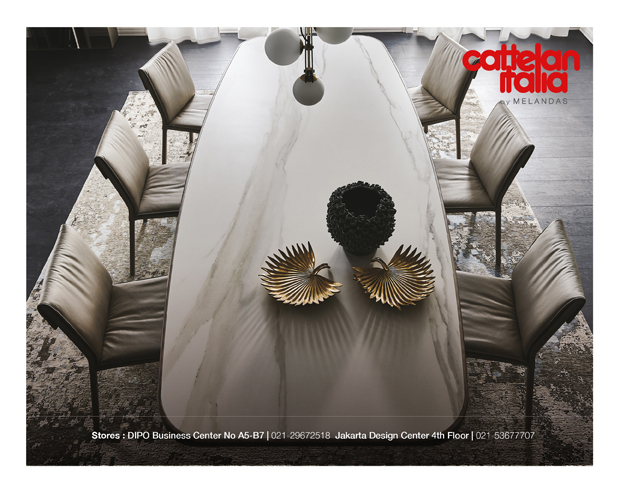 Presented by Melandas Indonesia
Frame
Nendo menawarkan komposisi sederhana namun cantik dan multifungsi dengan permainan bingkai metal berbentuk huruf L. Dapat digantung di dinding sebagai gantungan handuk, memegang cermin di dua titik dan dapat diubah menjadi rak. Komposisi dapat disesuaikan dengan bentuk cermin bulat atau oval yang lebih panjang yang bisa berfungsi sebagai rak dan gantungan handuk. Ada juga komposisi bingkai hanya untuk sebuah cermin besar berdiri dan bebas dari rak pakaian. Sebuah rancangan geometris sederhana, elegan, kompak namun menawarkan berbagai fungsi terpisah maupun menyatu.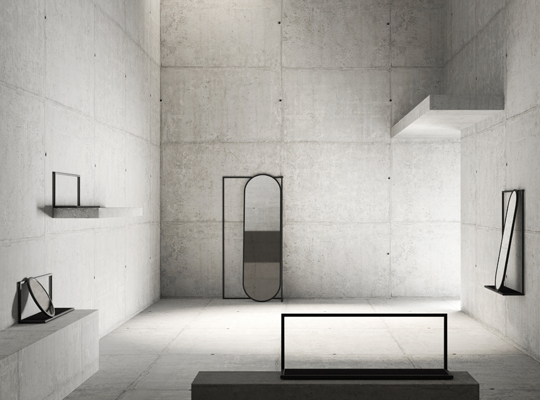 Frame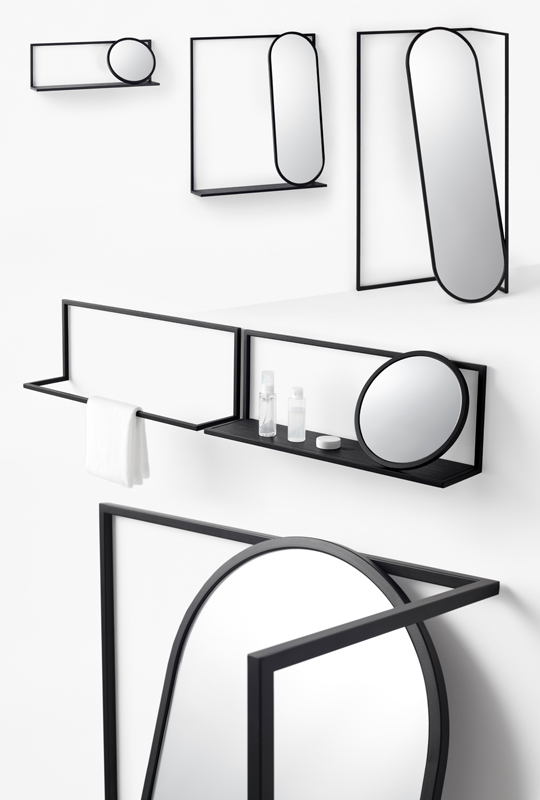 Frame