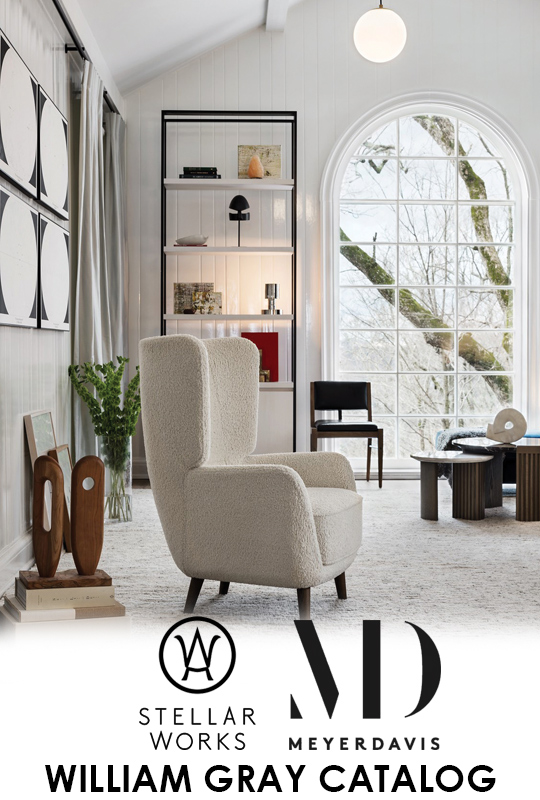 presented by

STELLAR WORKS X MEYER DAVIS STUDIO PRESENT WILLIAM GRAY CATALOG
Published by Sugar & Cream, Monday 13 December 2021
Text by Dinda Bestari, Image courtesy of Stellar Works
Generous, Engaging and Stylish
Setelah lama mengenal produk Stellar Works untuk proyek Meyer Davis Studio, Will Meyer dan Gray Davis akhirnya menjalin persahabatan dengan pendiri Stellar Works. Dengan tujuan yang sama demi menghadirkan produk fungsional, serbaguna, serta prospektif kepada publik, Meyer Davis Studio meluncurkan koleksi unik William Gray yang bekerja sama dengan Stellar Works.
Will Meyer dan Gray Davis mempersonifikasikan nilai-nilai bersama ke dalam koleksi William Gray. Karakter William Gray mewakili seorang pria modern yang menghargai keramahan, kemurahan hati, dan perjalanan sebagai sarana inspirasi. Koleksi ini mencerminkan pendekatan cermat para desainer terhadap detail dan kemewahan tanpa usaha yang mereka berikan kepada klien mereka di lingkungan perhotelan dan perumahan. Kumpulan awal furnitur ini mencakup potongan-potongan patokan untuk lounge dan ruang makan – pelapis yang indah dan meja rendah untuk hiburan, dan elemen yang disesuaikan untuk pengaturan ruang makan dan bar.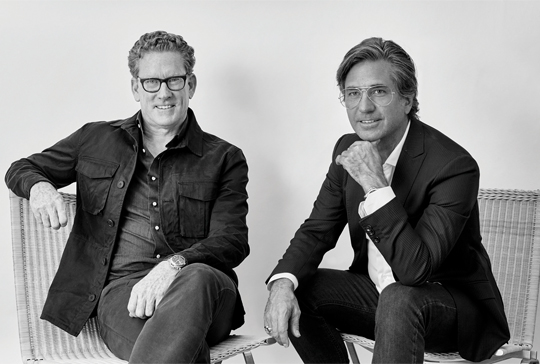 Will Meyer & Gray Davis
"William Gray is grounded in an appreciation for classic design and timeless craftsmanship. Each family of products highlights intelligent subtraction through the use of intentional and elegant details. William Gray pieces are generous, engaging and stylish. These designs are informed by a global outlook and wisdom gained from years of observation, study and collection." – William Gray by Meyer Davis Studio –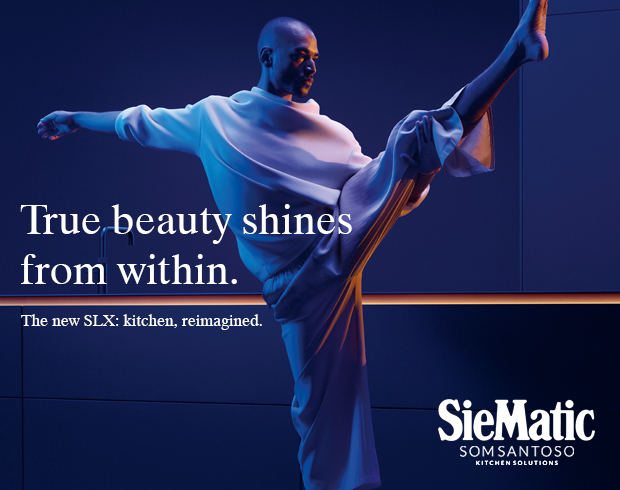 Presented by Som Santoso
Setiap item dalam koleksi dipilih merupakan dari arsip lengkap produk custom Meyer Davis Studio yang disempurnakan untuk pasar modern, di antaranya Hugo, Varick, Teddy, Enzo, Finn, dan Eclipse. Desain yang dihasilkan mencerminkan estetika desain Meyer Davis Studio yang terkenal – dengan hati-hati menyeimbangkan gaya modern yang sarat akan kenyamanan serta sentuhan kemewahan dengan aksesibilitas. Let's dig in!
Hugo Collection
Rangkaian kursi ini menjadi interpretasi menarik akan gaya modern dari Campaign Chair yang dengan cermat dielaborasi untuk ruang makan. Dan, hasilnya adalah workhorse collection yang ringan dan segesit 'tapak kuda'. Hugo mengelavasi kedua sisi material kulit, dengan menambahkan sentuhan 'segar' melalui lapisan tekstur. Jalinan tali  playful pada belakang kursi memberi detail yang menarik.

Varick Collection
Koleksi Varick ditandai dengan detail garis-garis tegas yang clean serta lengan furnitur yang kontras yang  disesuaikan untuk 'mengapit' tubuhnya dengan bahan kayu atau kulit. Referensi Varick merupakan dari Mid-Century Modernism yang berfokus pada keindahan fungsional.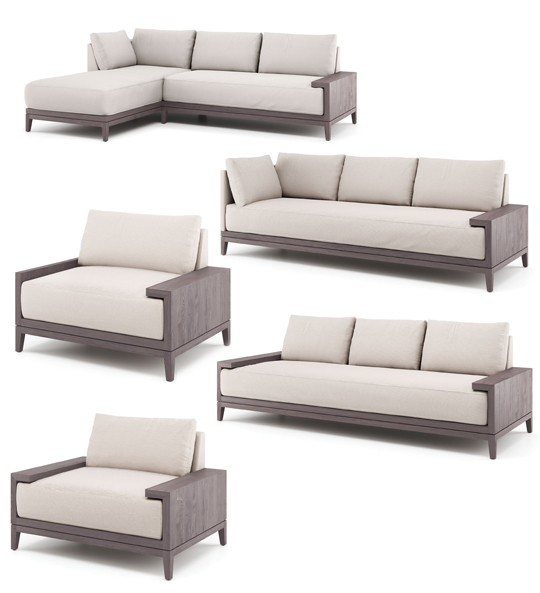 Teddy Collection
Garis vektor yang kontinuitas mempertegas desain dan bentuk koleksi Teddy ini sehingga menyeimbangkan 'vernakular' tradisional dengan siluet kontemporer. Profil Teddy yang 'hangat' seakan menyelimuti Anda demi menciptakan kenyamanan.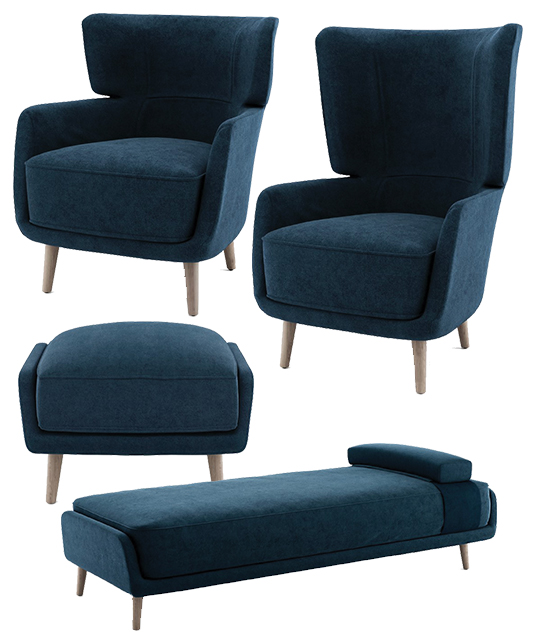 Enzo Collection
Koleksi furnitur bertekstur ini dicirikan oleh lurik vertikal dengan detail yang indah. Worktop yang dilapisi batu alam yang miring menjadi pelengkap yang sempurna pada panel kayu yang dibuat dengan craftsmanship yang apik. Cocok untuk mempercantik hunian Anda, di ruang apa pun.

Finn Collection
Finn didefinisikan oleh modernisme organik dengan bentuk kaki 'seperti sirip'. Kurva yang lembut dan tepi yang dilonggarkan mengelevasi pada interior hunian. Pilihan yang sangat tepat untuk area keluarga atau ruang tamu atau lounge besar yang membutuhkan banyak permukaan komunal.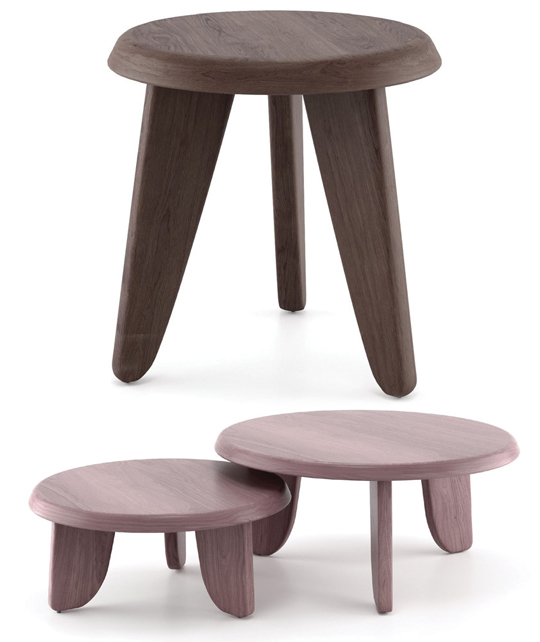 Eclipse Collection
Eclipse digambarkan seperti sebuah pahatan pada puncak batu grafis yang didukung oleh dasar kayu bergelombang dan berlekuk. Profil yang tumpang tindih membuat arsitektur visual ruang terlihat positif dan negatif.  Tampak 'terungkap' dan 'tersembunyi' saat Anda bergerak di sekitar koleksi. Eclipse begitu fleksibel sehingga dengan mudah disusun untuk membuat instalasi unik