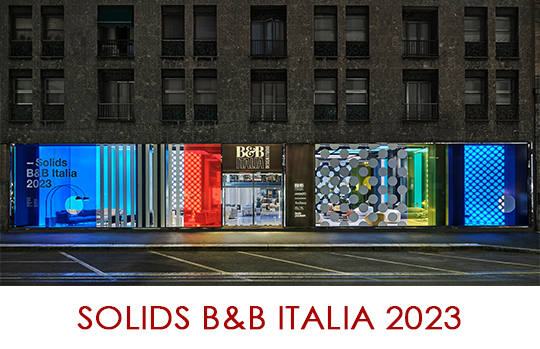 presented by

SOLIDS B&B ITALIA 2023
Published by Sugar & Cream, Monday 29 May 2023
Images and Text Courtesy of B&B Italia
New Collections @ Milan Design Week 2023
"We wanted to respect B&B Italia's creative DNA and its multiple languages, a tribute to its ability to keep paradoxes under control. B&B Italia is recognised for great classics but at the same time has always been able to surprise. This year we wanted to be as surprising as possible."  Piero Lissoni, Artistic Director at B&B Italia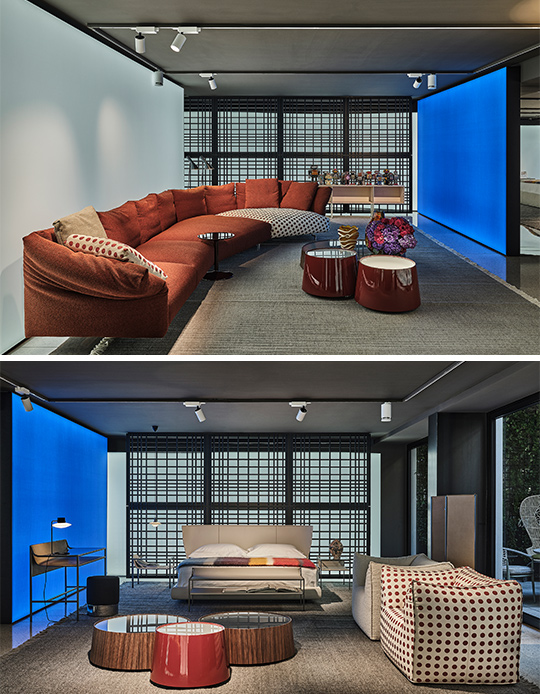 Like every year, Milan becomes caput mundi, a metropolis in which architects, interior designers and design enthusiasts meet to discover new products, exchange ideas and witness the birth of new trends in the furniture world. Customarily, B&B Italia transforms the store in Via Durini into a kaleidoscope of shapes, shades, lines, finishes and ideas with the aim of presenting the new collections.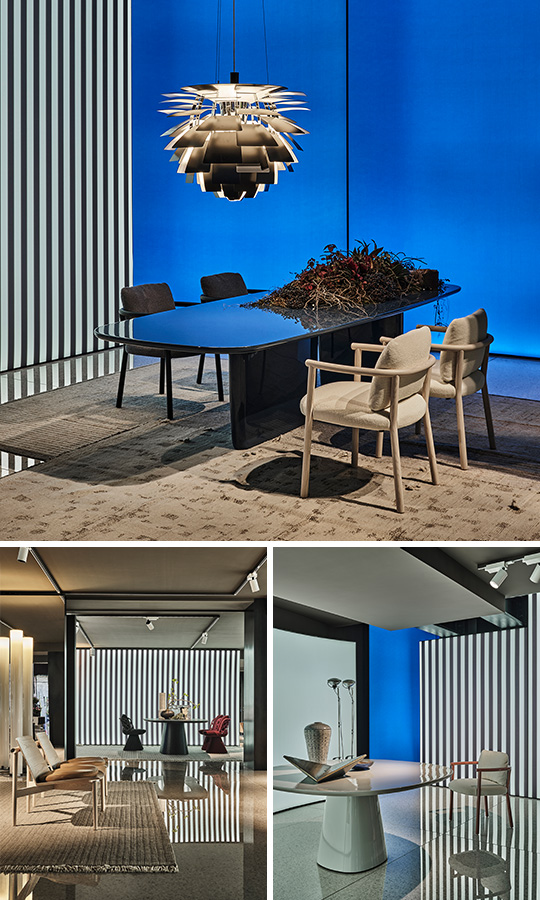 For this occasion, Piero Lissoni has adopted essential graphics and primary colours that are transformed into three-dimensional geometric solids defining the showroom space. The image is delineated by precise strokes and strong colours, assemblages of vertical and horizontal elements, backlit or mirrored volumes in a sensorial and unexpected representation of the new 2023 collections.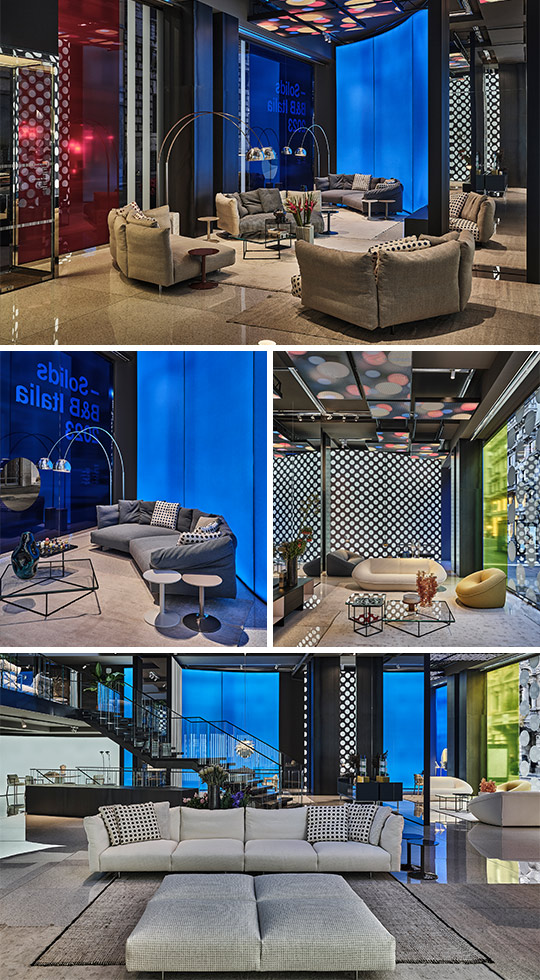 From the new Dambo sofa system to elegant seating, from storage units to accessories introducing new collaborations, and then on to new finishes and variants of iconic products,  Via Durini 14 becomes the vibrant centre of the Milanese kermesse.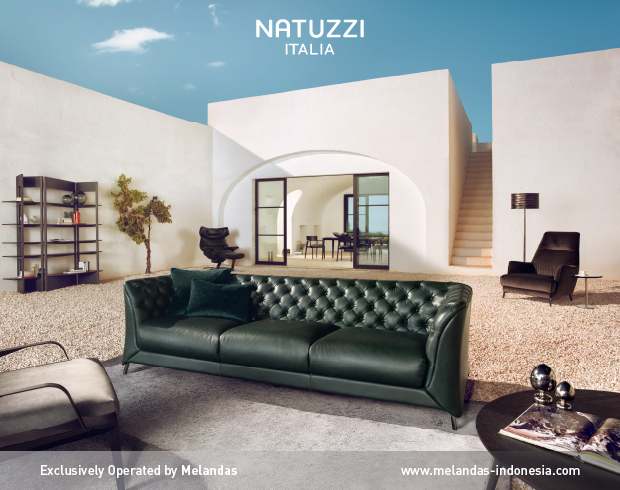 Presented by Melandas Indonesia
• Dambo (Piero Lissoni)
Dambo is the third sofa system that Piero Lissoni has designed for B&B Italia. It's a modular system composed of irregular pentagons and rectangular modules that combines more complex geometric shapes with linear elements and lends itself to multiple compositions and environments.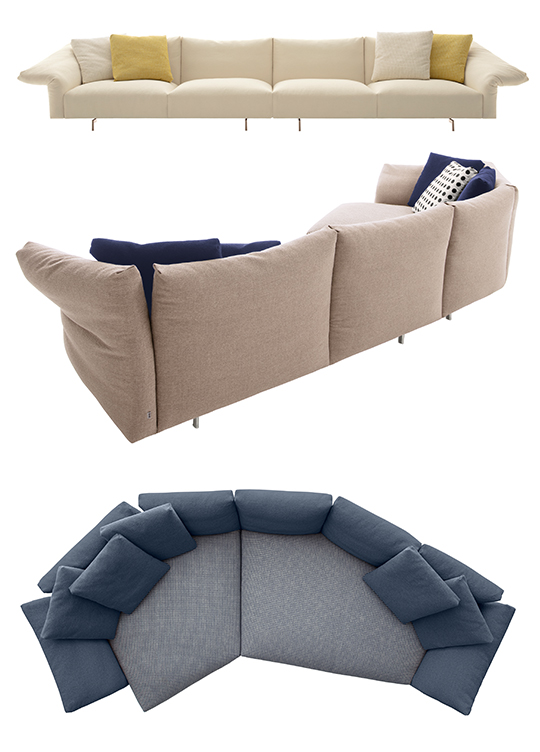 Dambo
• Eryt (Piero Lissoni)
Nodding to 1950s Nordic design and to elements of Japanese culture, Eryt is the new armchair by Piero Lissoni. With a strong graphic and welcoming presence, the ash structure recalls Nordic rigour and an oriental spirit through a linear combination of materials but with refined touches. The turned solid wooden frame is made of light or black brushed ash topped with a curved plywood backrest and seat. The armchair is available entirely in wood or with the seat cevered in thick leather and can be complemented with a soft elliptical cushion upholstered in fabric or leather. Eryt's design is reduced to a minimum to meet technical requirements, guarantee a light-weight aesthetic, and provide comfort.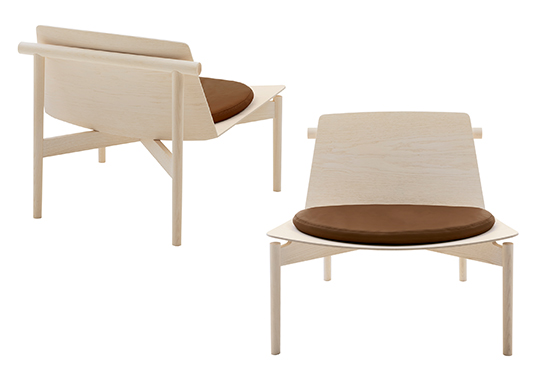 Eryt
• Tortello (Edward Barber and Jay Osgerby)
British designers Edward Barber and Jay Osgerby certainly know how to be witty, hinting at the name of their latest creation, Tortello. The new seat presents itself as a monolithic sofa and armchair that amuses with its generous, soft and cosy shapes. Just as the name leaves no room for the imagination, the design is also striking. Tortello is composed of several unexpected elements. The supporting structure, a sort of tray with a trapezoidal section base, is rotationally moulded from recycled polyethylene. It is then completed by an elastomer mattress on which the foamed upper element is laid, a soft fabric-covered volume characterised by a peculiar profile thanks to a 'pinched' stitching.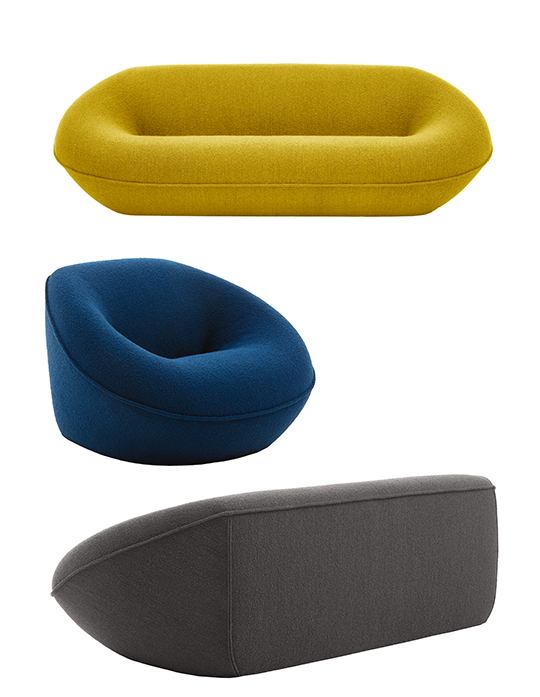 Tortello
• Lemante (Kensaku Oshiro)
Lemante is a collection of small tables replate with striking stylistic signs and with a strong biographical note for its creator, Japanese designer Kensaku Oshiro. The collection refers to organic forms found in nature juxtaposed with the more essential lines of the structure and is based on a simple geometric idea: two parallel squares rotated and offset by 45°.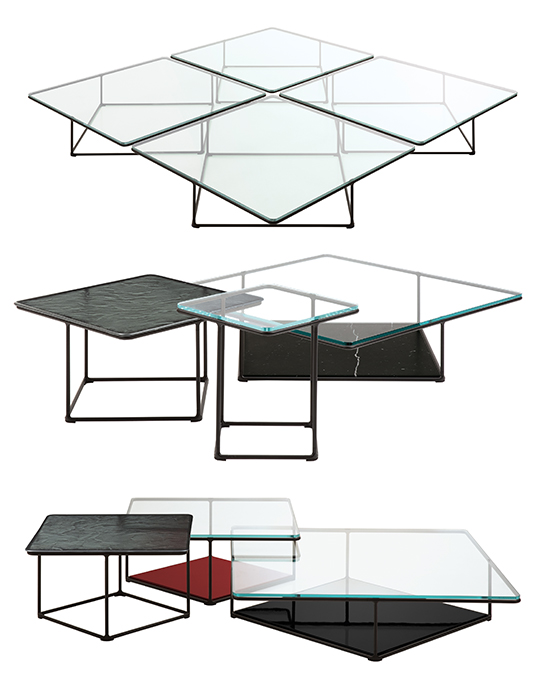 Lemante
• Alys 10 (Gabriele and Oscar Buratti)
10 years after the presentation of the bed Alys, designers Gabriele and Oscar Buratti celebrate the anniversary with a new version to accompany the original. Alys 10 has been envisioned with a more prominent base and soft shapes while maintaining the iconic headboard, made up of a sheet of thick leather 'pinched' at the base.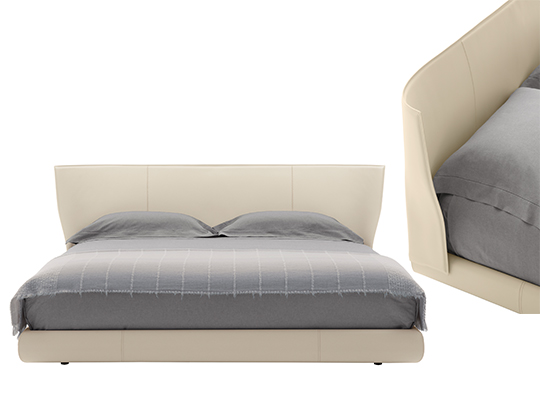 Alys 10
• Quite Lines (Gabriel Tan)
In recent years, life and our priorities are migrating towards interior spaces, environments in which feelings of security and comfort contribute to physical and mental well-being. The bedroom is becoming more than ever a place for reflection and rituals. Quiet Lines, a transversal collection consisting of writing desk, bench, bedside table, and screen, is the result of research into serenity by Gabriel Tan and B&B Italia. The silhouette of each collection piece is made up of curved and straight lines, with a striking graphic mark. The curved upholstered surfaces, a distinctive feature of the series, form a protective layer on which to sit or display objects.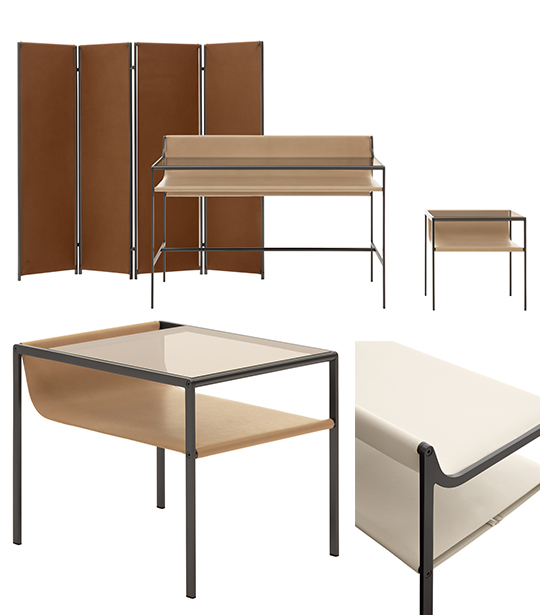 Quite Lines
• Heri O' (Monica Armani)
Seemingly elementary, Heri O' by Monica Armani combines elegance, essentiality and charm, and nods to the '60s. An object whose shapes and key colour hark back to the pop side of that era. The name Heri O' comes from the combination of the word heritage with O'. Heritage for the clear references to the archetypes of round wooden chairs, O', like the Flair O' and Allure O' collections, is an homage to the timeless style icon Jackie O'.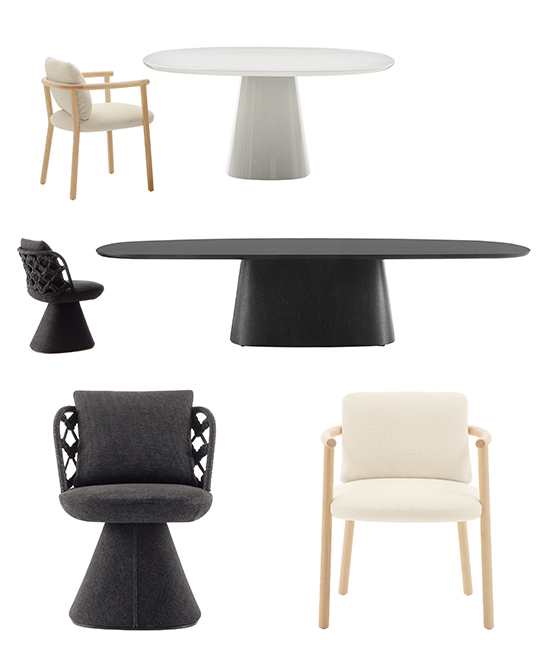 Heri O' , Flair O'
• Flair O' Couture (Monica Armani)
Following the success of Flair O', a series of elegantly designed chairs available in indoor and outdoor versions, Monica Armani proposes Flair O' Couture. Geometrically similar to the previous designs this new chair boasts a woven backrest made using a special circular loom (tombolo) in line with an ancient weaving technique typical of the area where B&B Italia is located.
• Tetrami (Naoto Fukusawa)
A linear graphic character, with a strong functional impact, distinguishes Tetrami, the new collection of free-standing containers born from the creative flair of the Japanese master Naoto Fukasawa. The rectangle is the star element, as are the feet that unexpectedly materialise as vertical extensions of the two central partitions. The object is created thanks to the experience of expert cabinetmakers and is composed of extra thin wooden lists.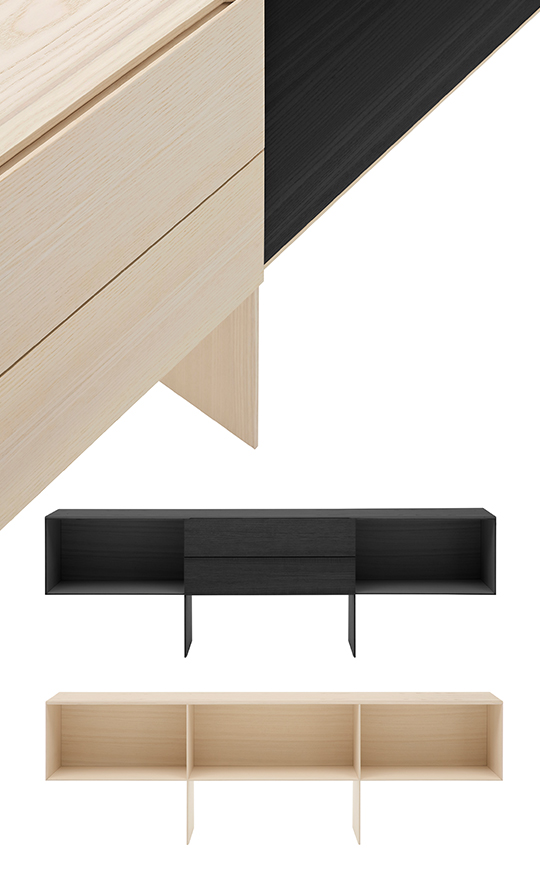 Tetrami