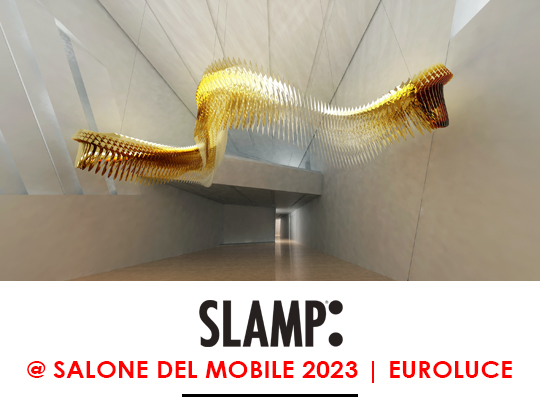 presented by

SLAMP @ SALONE DEL MOBILE 2023 | EUROLUCE
Published by Sugar & Cream, Friday 07 April 2023
Images courtesy of Slamp
When Architecture and Sculpture Meet
SLAMP, on the occasion of the tenth anniversary of its collaboration with ZAHA HADID, presents ARIA INFINITA, a majestic lighting project in which architecture and sculpture meet.
Salone del Mobile / Euroluce
Fiera Milano, Rho | Hall 9 – Stand 114 | From April 18th to April 23rd, 2023
Slamp Milano Duomo
Via Larga 2 | From April 17th to April 23rd, 2023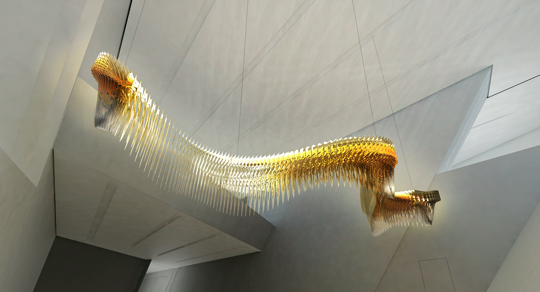 Slamp, the lighting brand that combines the innovation of shapes and materials with the tailoring of production, has chosen Euroluce 2023 to inaugurate the celebrations of the tenth anniversary of its partnership with Zaha Hadid, one of the most significant exponents of contemporary architecture, the first woman to be awarded the prestigious Pritzker Prize in 2004.
The collaboration between Slamp and Zaha Hadid (1950-2016) gave rise in 2013 to Aria and Avia, a signature project of a company vision that has always been characterised by a declared aptitude for experimentation. Thanks to the versatility of the technopolymers with which all the brand's creations are made, the world of Slamp is distinguished by an organic aesthetic, in which fluid and complex forms define projects that are often imposing, but with extreme lightness.
ARIA INFINITA is in fact a real dynamic and majestic sculpture, in which the original architectural approach of Zaha Hadid manifests itself: sinuous lines and bold shapes are the main features of this luminous object with a powerful and scenographic expressive charge.


Presented by Interni Cipta Selaras
The result is surprising and goes beyond the traditional concept of lighting to give rise to a real modular installation: ARIA INFINITA is a modular system that, starting from a minimum extension of 3 metres, can be ideally replicated indefinitely, thus also responding to the needs of large environments, both domestic and related to the world of contract.
"The partnership with Zaha Hadid was born from a brilliant intuition of Nigel Coates who was Art Director of Slamp at the time and a friend of the architect. He invited her to imagine a project for us. This encounter marked a very important moment for us, consolidating the dialogue with the more visionary world of contemporary architecture. ARIA INFINITA is our way of paying tribute to Zaha's revolutionary presence, her charisma, and her ability to look at things in such a radical way" – Luca Mazza, General Manager of the brand –
 "Looking back at when we started our journey with Slamp in 2013, with the launch of Aria and Avia, it's incredible how our relationship has grown in strength, teamwork is the foundation of what we do, especially when it builds on mutual trust: we very much look forward to what the next ten years will bring!" – Woody Yao, Director Zaha Hadid Design –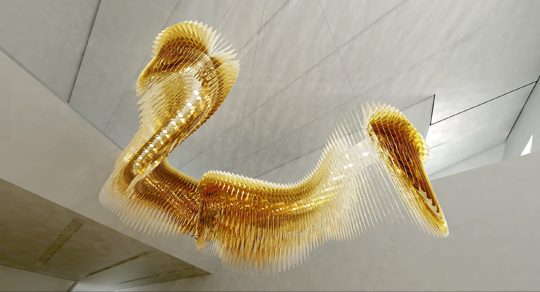 "We couldn't be happier to celebrate the 10th anniversary of our collaboration with Slamp – we do not see them simply as clients, yet as part of our family. Slamp shares our ethos, we approach our contemporaneity with the same curiosity and optimism, and I think this is evident in the work we develop together" – Maha Kutay, Director Zaha Hadid Design –
The Aria and Avia light sculptures, which were created ten years ago, are precisely the starting point for the creation of ARIA INFINITA: the sheets that follow one other in the structure are in fact the same ones that now harmoniously assume imposing formats, open and develop linearly in space, creating a large sinusoidal wave, available in white and gold colours.
Made and assembled manually through a tailoring process, the sheets – 3 mm thick each – are positioned around a luminous body made of Lentiflex, from which a poetic and luminous vitality emanates, lending dynamism and elegance to the environments in which they are placed.
ARIA INFINITA –  majestic, luminous architecture  – it seems to float with intrinsic lightness in a wide movement. Thanks to a careful study of density and light perception, its light changes and evolves according to the point of observation, fascinating anyone who looks at it.
SLAMP
Founded in 1994 by Roberto Ziliani in Pomezia (Rome), Slamp was created with the aim of reinterpreting the world of lighting creating light and colourful objects, as opposed to the traditional idea of static and heavy lamps. All the products are handcrafted with flexible technopolymers allowing the creation of well-structured and complex shapes, impossible to achieve with any other material. Numerous architects and designers have collaborated with the company over the years, starting with Alessandro Mendini in 1996 and continuing with internationally renowned names such as Nigel Coates, Zaha Hadid, Daniel Libeskind, Doriana and Massimiliano Fuksas, Robert Wilson, Aldo Cibic, Studio Job, Analogia Project, Marcantonio. Luca Mazza took over the artistic direction in 2016, leading Slamp towards a considerable expansion in the contract sector, establishing itself as a leading partner in the lighting sector for custom-made projects – including the striking Angie's Restaurant in Rome and the Azimut Yachts Lounge by VMarine in Ponza –, as well as in the retail sector, with the opening of the brand's first flagship stores in Milan and London in 2022.