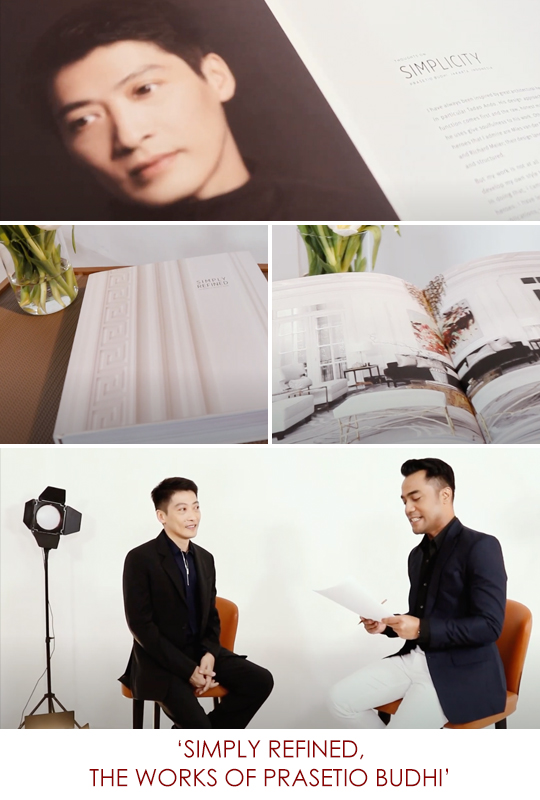 presented by

Simply Refined, Buku Prasetio Budhi
Published by Sugar & Cream, Monday 28 June 2021
Text by Sunthy Sunowo, Images courtedy of Prasetio Budhi
PELUNCURAN BUKU TERBARU DESAINER INTERIOR PRASETIO BUDHI BERJUDUL 'SIMPLY REFINED,THE WORKS OF PRASETIO BUDHI'
Prasetio Budhi telah menjadi salah satu desainer interior Indonesia yang kiprahnya sudah begitu dikenal di Indonesia. Salah satu dari 12 desainer yang tergabung dalam ID12 ini selalu memanjakan klien dan penikmat karya desainnya dengan kreativitas yang ekspresif, elegan, dan menyentuh jiwa. Lulusan dari Interior design di The Academy of Art di San Fransisco, Amerika Serikat ini telah membuai publik lewat pameran-pameran yang diselenggarakan oleh ID12 dan juga dalam buku pertamanya yang diterbitkan delapan tahun yang lalu, berjudul Simply Stated; The Works of Prasetio Budhi. Tahun ini, sosok yang memiliki panggilan akrab 'Pras' ini mempersembahkan kembali buku kedua yang berisi sembilan karya desain interior dengan judul "Simply Refined; The Works of Prasetio Budhi".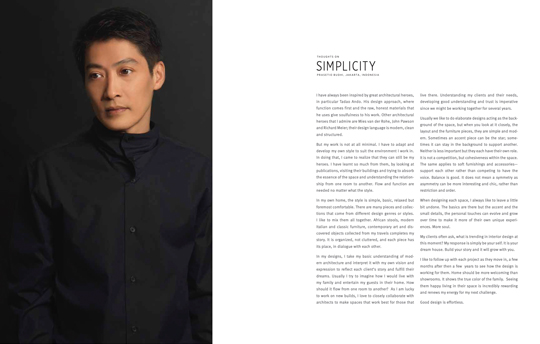 Simak wawancara eksklusif dengan Prasetio Budhi tentang buku terbarunya di sini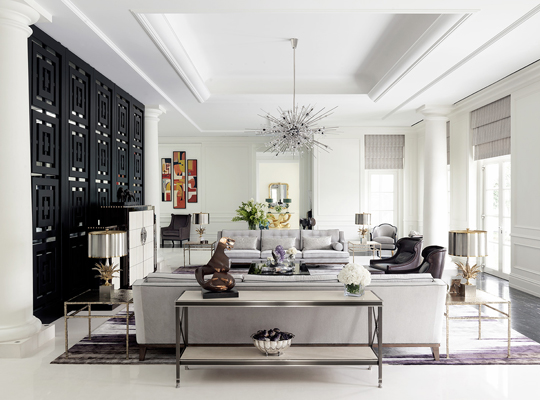 Sembilan karya terbaru dengan firma PLUS Design yang didirikannya sejak tahun 2003 ini terkurasi dengan cermat agar membawa pembaca buku ini ke dalam perjalanan visual menikmati karya desain interior yang berkarakter, artistik, ekspresif, dan elegan. Karya-karya ini juga merefleksikan pendewasaan dalam berkarya yang dialami Pras, sehingga karyanya memiliki kompleksitas yang unik, tetapi juga simpel dan pragmatis secara bersamaan.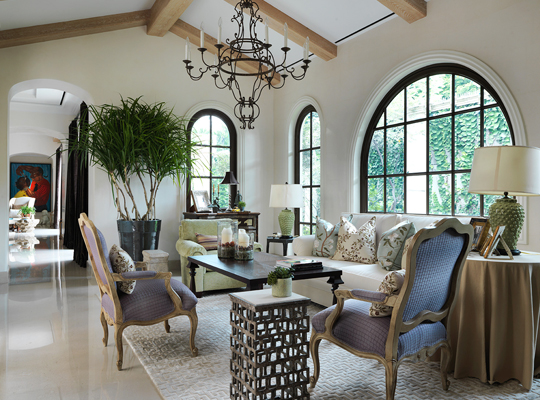 Dalam buku kedua ini Pras kembali melibatkan fotografer Peter Tjahjadi yang sudah begitu mengenal gaya desain dan karakter desain Pras dari sejak buku pertama. Kekuatan visual Peter Tjahjadi kemudian memperkaya cerita dari Arsitek Jasin Tejasukmana, Philantropist Widi Wardhana, dan Desainer Interior Ary Juwono yang menjadi saksi dari proses berkarya Pras.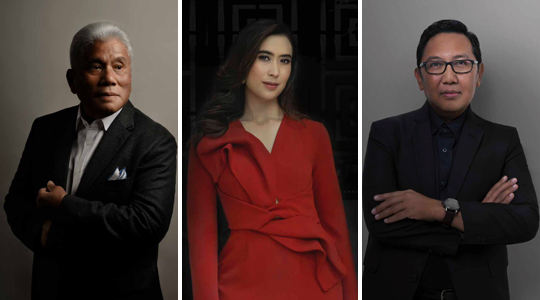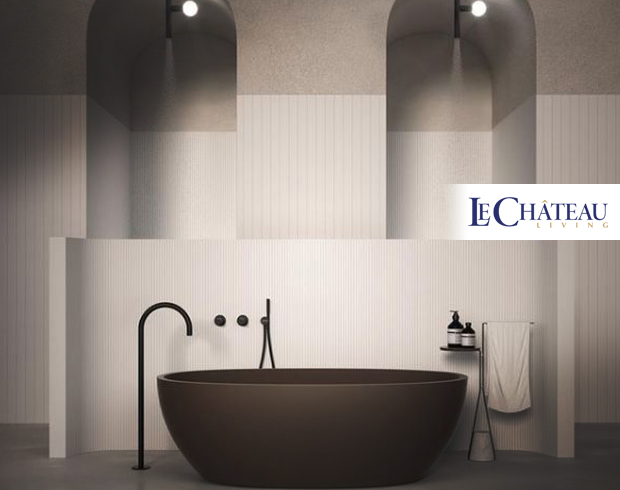 Presented by LeChateau Living
"Pras selalu berhasil membangun jiwa dan karakter dalam karya-karyanya. Satu dari sedikit desainer interior Indonesia yang mendesain dengan intuisi yang tajam dan kepekaan melihat kebutuhan dan konteks arsitektur secara menyeluruh" kutipan Jasin Tejasukmana dalam kata sambutan. Selain itu, Widi Wardhana (philantropist) memiliki kesan mendalam tentang Pras. "Bekerja dengan Pras begitu menyenangkan, dia sangat menghargai saya sebagai klien dan juga memahami selera saya."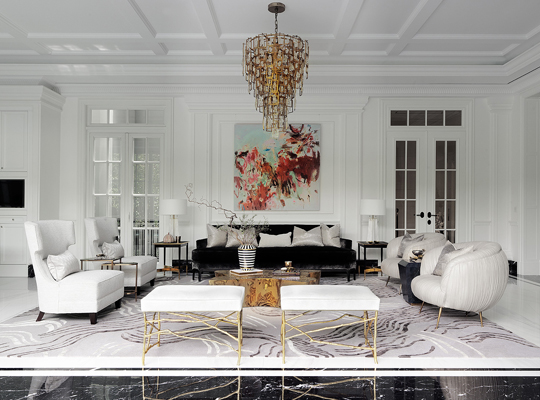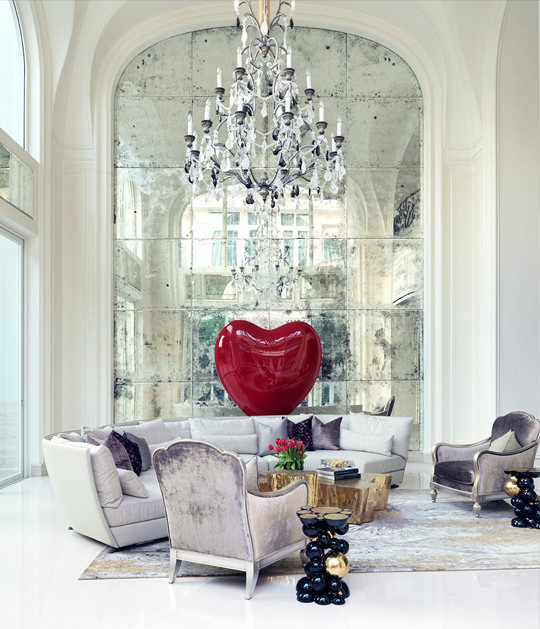 Sementara, di mata Ary Juwono, "Pras adalah salah satu contoh dari kontrol diri yang luar biasa terhadap begitu banyak pilihan. Semua melalui pertimbangan yang terukur dan hati-hati." "Saya suka memadupadankan gaya desain. Menatanya dengan tatanan yang teratur, tidak berantakan, dan setiap elemen saling berdialog dan berada di tempat yang tepat," tutur Prasetio Budhi. "Good design is effortless".