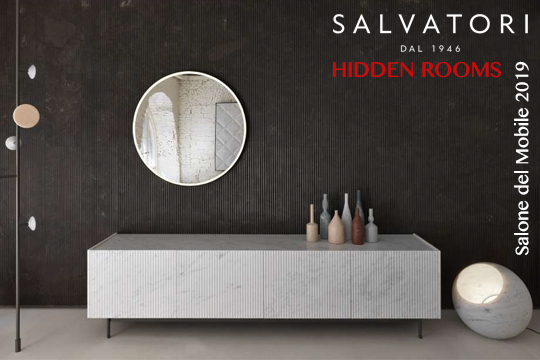 presented by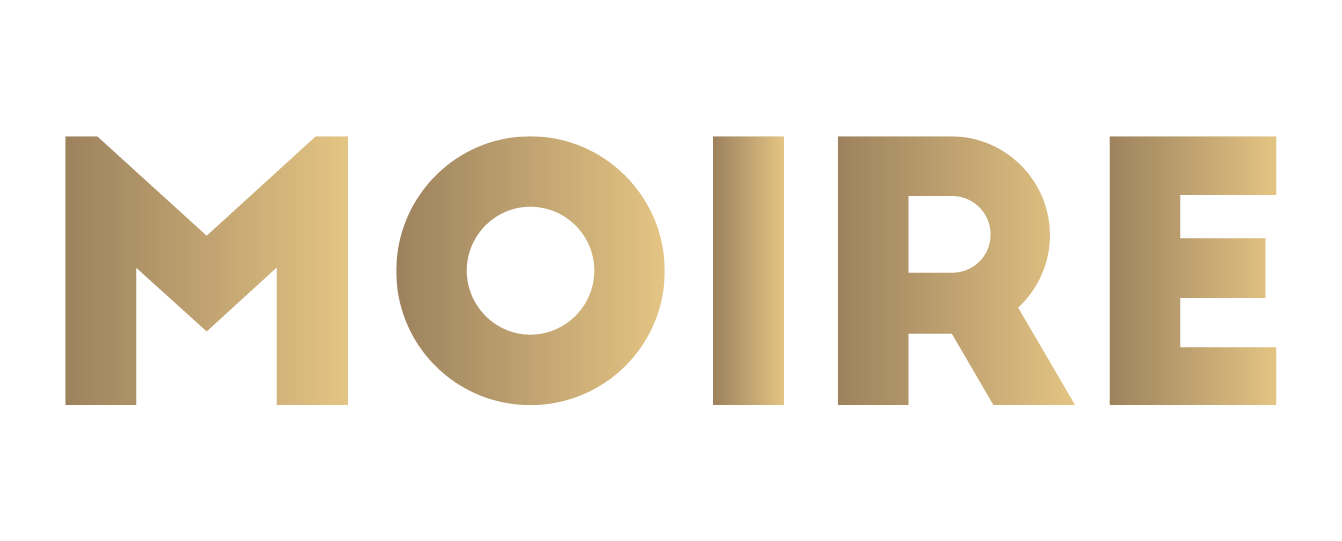 SALVATORI PRESENTS: HIDDEN ROOMS @ SALONE DEL MOBILE.Milano 2019
Published by Sugar & Cream, Friday 21 June 2019
Text by Dinda Bestari, image courtesy by SALVATORI
An Adventurous Journey Through Installation
Instalasi objek dan aksesori yang imersif untuk rumah, dirancang oleh deretan desainer ternama internasional seperti John Pawson, Piero Lissoni, dan Elisa Ossino.
Dalam ajang pesta desain Salone del Mobile 2019 lalu, showroom Salvatori Brera telah diubah oleh kolaborator yang telah lama ikut berpartisipasi, Elisa Ossino. Desainer berbasis di Milan ini menciptakan serangkaian kamar yang mengejutkan, seperti varian jenis, tekstur, dan pola batu alam Salvatori. Ketika pengunjung melakukan perjalanan melalui galeri berliku, mereka akan menemukan lingkungan tersembunyi: ruang kecil dengan ilusi optik berlipat ganda dalam refleksi cermin, mural besar relief-figur geometris yang 'diperlakukan' dengan varietas berbeda dan bobot marmer serta berbagai pemeriksaan spasial dari batu Salvatori, mengikuti satu sama lain dalam bentuk bebas.
Proyek dari Ossino, "Hidden Rooms" dengan brilian menginterpretasikan tekstur dan warna batu Salvatori yang berbeda, mendorong batas kreatif dari bahan yang sudah serba guna. Ide ini lahir dari proyek kamar mandi Ossino, Balnea, jelas Salvatori.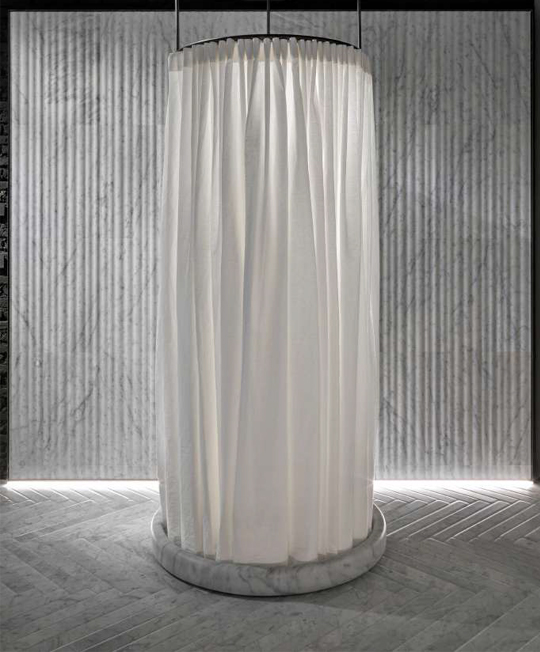 Elisa Ossino memperkaya penelitiannya tentang interpretasi marmer Carrara putih dengan Balnea, koleksi kamar mandi terbaru yang dirancang untuk Salvatori. Sensitivitas dan kualitas pahatan batu alam mengilhami serangkaian aksesori dan benda baru dari koherensi estetika yang luar biasa. Dibangun di sekitar kontras tanda arsitektural dua dimensi Ossino dan monumentalitas plastik dari marmer Salvatori yang berharga, koleksi ini 'diringankan' dengan tindakan menyeimbangkan kekosongan yang kontras. Wastafel, unit penyimpanan, shower box, dan gantungan melengkapi bathtub monolitik besar Ossino, bentuknya yang mengesankan ditempa oleh tirai linen tenun yang berkelip-kelip, tema visual yang diusung di seluruh ruang pamer.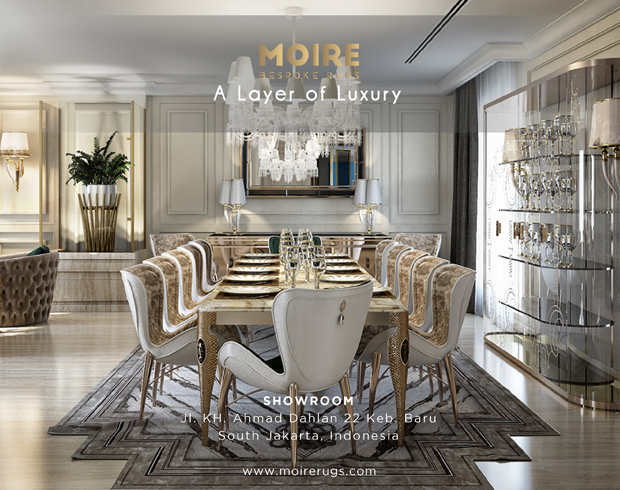 Presented by MOIRE Rugs
CEO Gabriele Salvatori: "We were inspired by the collection's beautifullinen curtains and wanted to recall this idea throughout the exhibition in order to create a sense of detachment for visitors. Hidden spaces you could view from distance but not touch, as if you are looking out from behind a curtain."
John Pawson – Ellipse Collection
John Pawson telah menciptakan variasi bejana dan peralatan untuk rumah dengan afinitas kuat mencakup kesederhanaan bentuk, material, dan fungsi. Masing-masing bagian yang dari Ellipse Collection dibuat dari satu potong marmer Bianco Carrara yang halus. Desain berbentuk bola dengan potongan berbagi rincian geometri dan proporsi, dengan variasi dalam karakter kurva internal yang ditentukan oleh ritual penggunaan tertanam. Tekstur yang dipoles dengan kontras dan berpasir membuat perbedaan tipis antara permukaan datar dan berkontur, untuk indera penglihatan dan peraba.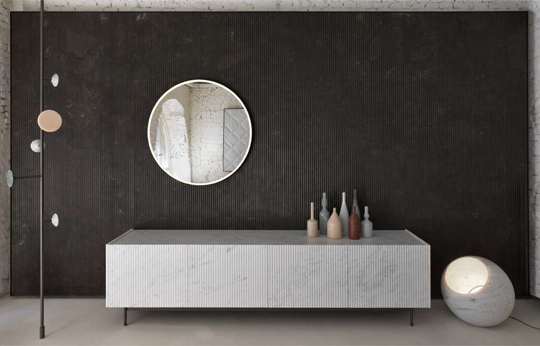 Piero Lissoni – Lost Stones Collection & Home Collection
Piero Lissoni dengan koleksi Lost Stones, meluncurkan serangkaian meja terbaru yang dibuat dari heritage stone yang ditemukan di arsip Salvatori. Mejanya menggunakan teknik Jepang kintsugi − metode memperbaiki keramik yang hancur dengan lapisan emas yang halus − setiap meja adalah objek unik, dengan  pola alami, seperti sambaran petir, yang tidak mungkin ditiru. Lissoni juga memperluas Home Collection-nya: nampan, vas, dan kotak yang memadukan batu alam Salvatori dengan kaca, kayu, dan logam. Koleksinya meliputi wewangian rumah pertama Salvatori, aroma yang kuat dari kayu cedar dan melati yang mengingatkan pada kebun jeruk dan pantai Sisilia yang bermandikan sinar matahari, rumah bagi Pietra d'Avola, yang senama dengan batu alam.
"The Lost Stones Collection gives new life to fragments of precious stone, joining them by following the randomness of its shatter. The golden seams along the profiles of each cut transform the imperfect form into a perfect State," explains Lissoni of the project.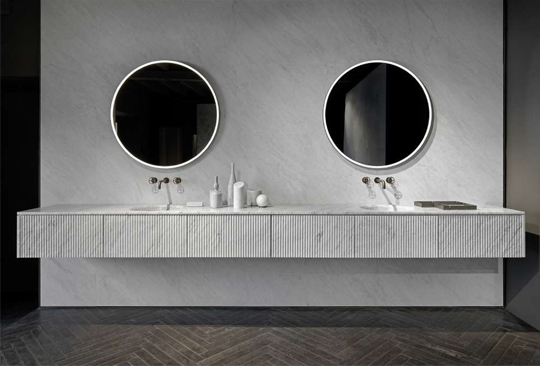 Gabriele Salvatori notes of the collection: "We collaborated with John Pawson, Piero Lissoni and Elisa Ossino because we are drawn to their understated sense of proportion and purity. Their collective feeling of calm is in line with all that Salvatori is."
David Lopez Quincoces – Adda
Menyusul keberhasilan koleksi wastafel dari Adda, oleh David Lopez Quincoces, Salvatori menghadirkan tambahan baru untuk seri ini, yang dianggap memenuhi permintaan yang terus meningkat baik dari sektor perhotelan dan perumahan swasta. Wastafel yang dipasang di dinding dilapisi batu alam berpotongan presisi yang memberikan tampilan balok padat dan menghindari komplikasi berat. Wastafel Adda diukir dari satu balok batu untuk membuat potongan yang sederhana namun mengagumkan.