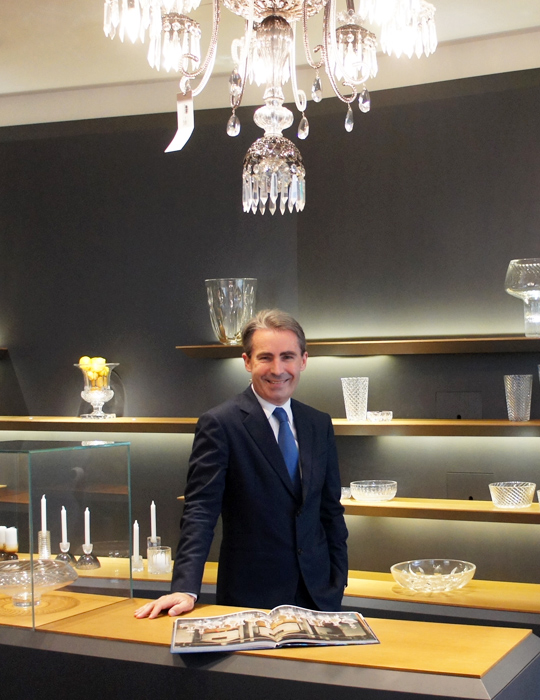 Saint Louis Crystal – 4 New Things You Want to Know
Published by Sugar & Cream, Monday 20 November 2017
Text by JW, images courtesy of Saint Louis & S&C
From Upcoming Exhibition to New Collection
Seperti halnya desain produk, perkembangan desain kristal terus  mengasah diri dengan pembaruan-pembaruan, terobosan inovasi hingga menampilkan bentuk kontemporer menyesuaikan jamannya. Inilah yang dilakukan kristal ternama Saint Louis (tahun 1586) dari Prancis. Seperti diketahui Saint Louis telah resmi menjadi milik group Hermès dari beberapa tahun lalu.
Berikut video singkat mengenai customized Chandelier Saint Louis :
Kedatangan CEO Saint Louis tidak disia-siakan oleh penulis ketika diundang untuk melakukan wawancara privat di Bika Living, Kemang Jakarta. Perkenalan Jerome de Lavergnolle, CEO dari Saint Louis berawal ketika penulis mendapat undangan untuk menyaksikan sebuah customized chandelier sepanjang 9 meter di tahun 2011 di desa Saint Louis. Sejak Bika Living menjadi wakil resmi produk kristal Saint Louis di Jakarta, Indonesia, Jerome cukup akrab dengan wajah Jakarta.
Dalam wawancaranya, Jerome mengatakan bahwa,"kewemahan atau luxury tidak lain adalah memiliki opsi berpartisipasi dalam merancang sebuah produk desain yang ingin dimiliki. Lampu kristal chandelier Saint Louis khususnya koleksi Royal memliki lebih dari 50,000 kemungkinan desain yang bisa dipilih."
Saint Louis memang memiliki kelebihan dengan  lampu chandeliernya.  Menawarkan opsi customized berdasarkan warna, bentuk, susunan, jumlah lampu hingga jenis penutup untuk setiap lampu chandelier koleksi Royalnya. Ditambahkan juga oleh Jerome, jika pemilik chandelier bosan dan ingin merubah warna atau  bahkan penutup lampunya, mereka dengan mudah bisa melihat opsi yang ditawarkan.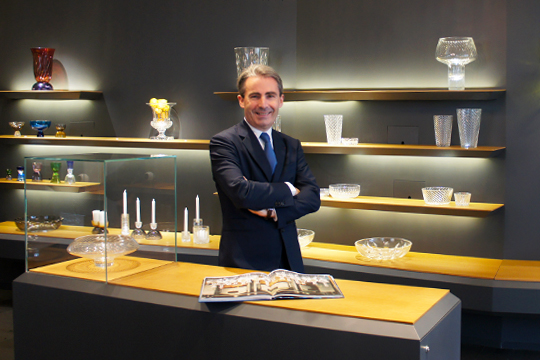 Saint Louis dengan produk kristalnya  hingga saat ini masih mengandalkan tradisi teknik ketrampilan tangan tingkat tinggi dari proses blowing hingga cutting permukaan. Tingkat kebeningan dan kemilau yang tinggi serta eksklusivitas setiap produk kristalnya ,membuat Saint Louis sebagai objet of  desire in every home.
4 New Things You May Want to Know :
Participation in Salone del Mobile 2018
Partisipasi di ajang bergengsi Salone di kota Milan yang merupakan pameran furnitur dan desain terbesar di dunia tidak dipungkuri pilihan konsisten bagi Saint Louis untuk tetap dekat dan terus dikenal (branding). Bulan April 2018, Saint Louis sudah dipastikan hadir menyapa pencintanya dengan koleksinya.
Salone del Mobile di kota Milan berlangsung  17 April – 22 April 2018
New Collections
Bulan January 2018 bertepatan dengan Design Week Paris, Saint Louis melansir produk barunya di gedung Committee France dekat Grand Palais Sejumlah produk baru seperti koleksi chandelier Royal , edisi terbatas vas dan tentunya produk yang berhubungan dengan shio tahun ini yaitu anjing akan dilansir.
Tahun ini juga, Saint Louis berkolaborasi dengan Experimental Group ( 3 young designers) untuk menghadirkan koleksi cocktail terbarunya.
Simak koleksi cocktail collection sebelumnya yaitu SAINT-LOUIS TWIST 1586 di sini.
Saint Louis App
Sejak diluncurkannya tahun lalu, applikasi khusus ini sangat memudahkan para professional untuk mendesain, memilih, menentukan warna hingga menampilkan dalam simulasi ruangan yang ditentukan. Jangan lupa untuk menjajalnya.
New Stores Opening
Bagian dari pengembangan bisnis, tahun ini Saint Louis akan menambah 3 toko barunya yaitu di Dubai Mall, Moscow dan salah satu kota di Middle East (masih dalam tahap persiapan).