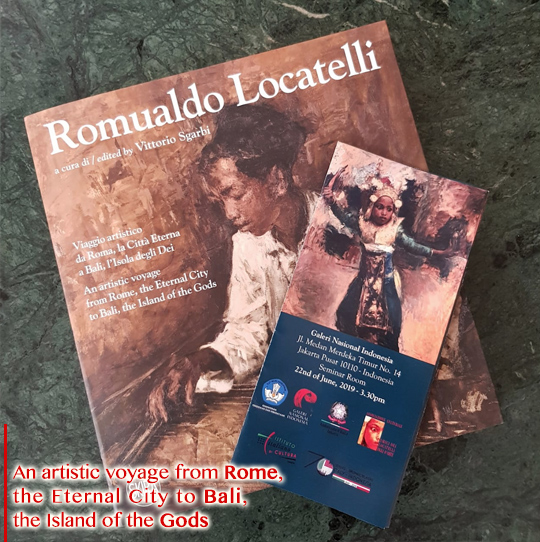 presented by

Romualdo Locatelli: An artistic voyage from Rome, the Eternal City to Bali, the Island of the Gods
Published by Sugar & Cream, Thursday 27 June 2019
Text by Dinda Bestari Image courtesy of Italian Institute of Culture in Jakarta and S&C
Edited by Vittorio Sgarbi
Dalam rangka perayaan ulang tahun ke-70 hubungan diplomatik Indonesia-Italia dan peringatan ke-80 pameran pertama Romualdo Locatelli di Jawa, Kedutaan Besar Italia, Institut Kebudayaan Italia di Jakarta bekerja sama dengan Asosiasi Seni Locatelli meluncurkan monograf terbaru berjudul "An artistic voyage from Rome, the Eternal City to Bali, the Island of the Gods" pada pelukis terkenal Italia, Romualdo Locatelli. Acara ini berlangsung di Galeri Nasional Indonesia di Jakarta, 22 Juni 2019 lalu.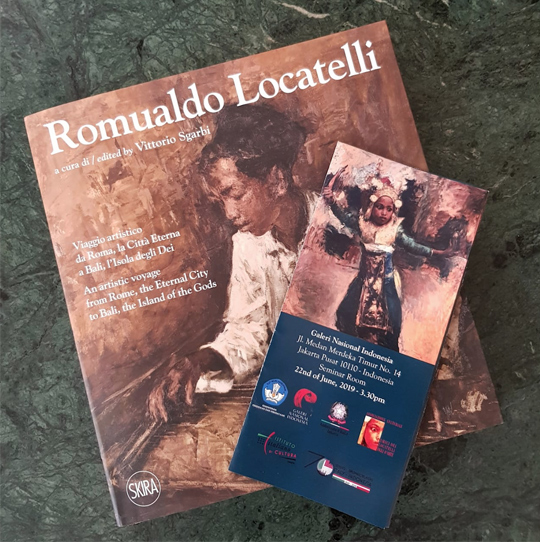 Acara peluncuran buku ini dihadiri oleh H.E. Vittorio Sandalli (Duta Besar Italia), Daniela Locatelli (pendiri Asosiasi Seni Locatelli), Amir Sidharta (kurator seni Indonesia), Didier Hamel (direktur dan kurator untuk Seni Rupa Duta, pelukis dan pemahat), dan Philippe Augier (pendiri Museum Pasifika) .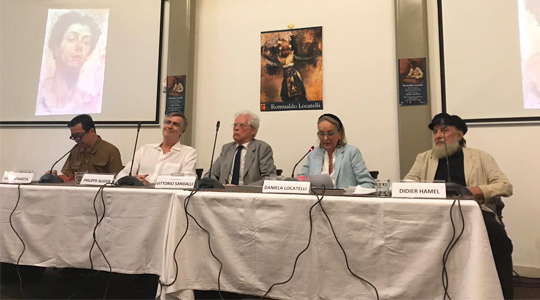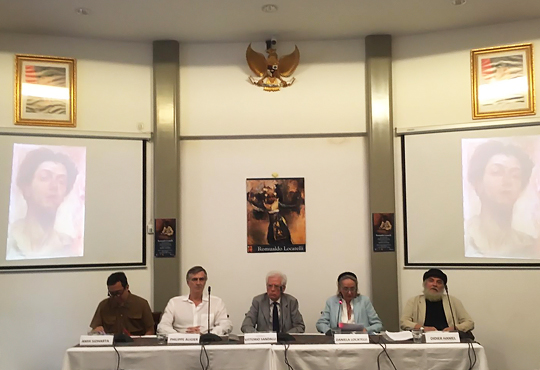 Monograf tentang Locatelli ini diedit oleh Vittorio Sgarbi, nama par excellence para kritikus seni di Italia. Sgarbi adalah seorang kurator pameran internasional besar, penulis produktif buku seni laris, presenter transmisi sukses yang telah menandai sejarah televisi Italia, dan juga pembela seni dan budaya yang tak kenal lelah. Vittorio Sgarbi juga merupakan penaksir dan kolektor hebat karya Romualdo Locatelli. Dalam buku terakhirnya tentang seniman-seniman Italia terbaik abad ke-20, berjudul Novecento volume II, yang diterbitkan pada Desember 2018, Sgarbi mempersembahkan bab sepuluh halaman untuk pelukis.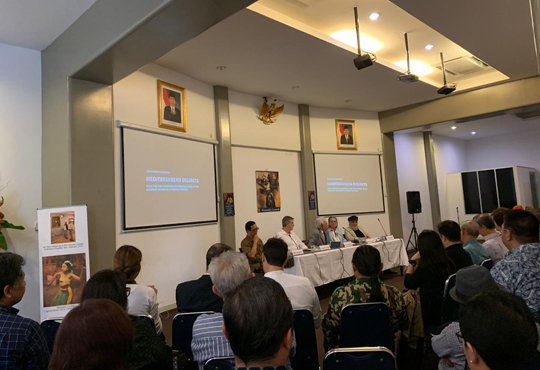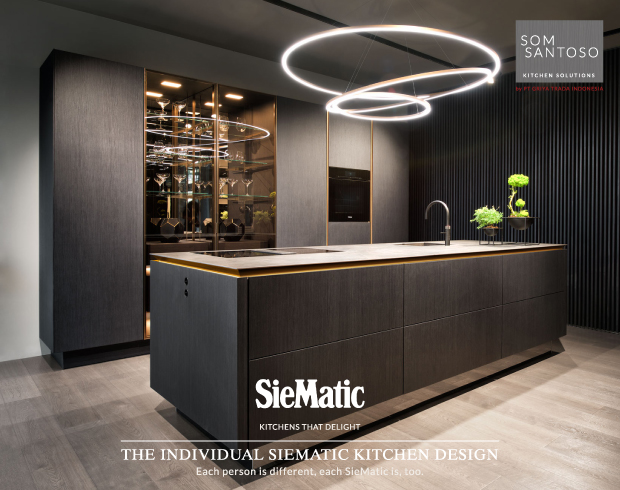 Presented by Som Santoso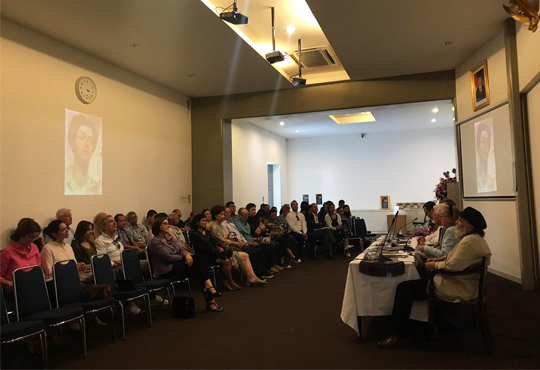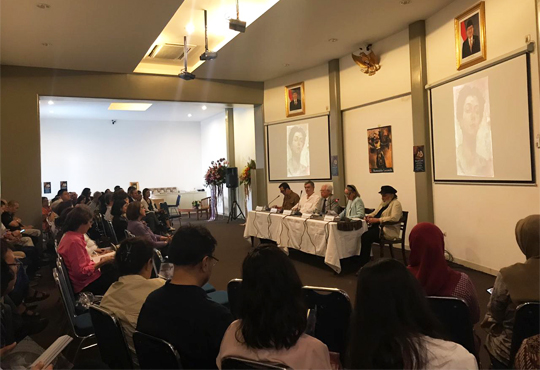 Acara ini digagas oleh Daniela Locatelli. Ia mulai melakukan penelitian tentang kehidupan pamannya di Indonesia tahun 1970-an dengan mengumpulkan karya-karya terbaiknya. Pada 1998, ia mendirikan galeri permanen Locatelli (delapan pelukis dan satu pematung dari tiga generasi Locatelli yang berbeda) di bagian tengah-tengah bekas Pieve di Caminino. Kemudian pada 2011 ia mendirikan Asosiasi Seni Locatelli dengan pewaris dan kolektor Locatelli.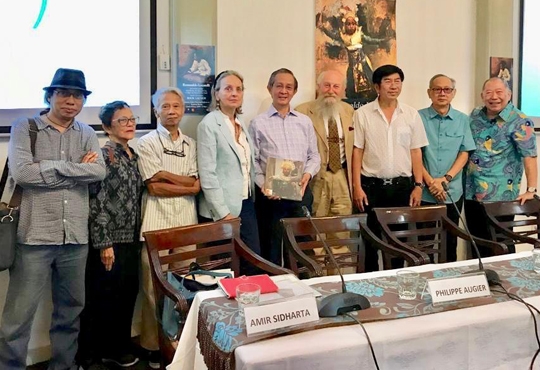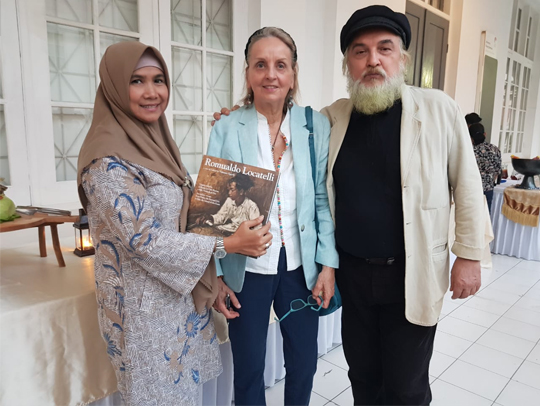 Darmastuti Nugroho Kepala Biro Pengelolaan Istana
Monograf ini diterbitkan oleh Skira, sebuah rumah penerbitan legendaris dengan sejarah sembilan puluh tahun, rumah dari Picasso dan Matisse, persimpangan jalan gerakan surealis, Art Penerbit par excellence."An artistic voyage from Rome, the Eternal city to Bali, the Isle of Gods" adalah sebuah monograf mengenai penulusuran kembali kehidupan dan karier singkat Romualdo Locatelli, dari tahun-tahun awal di Italia, di mana sapuan kuas pertamanya dibimbing oleh keluarga yang luar biasa dari tradisi lokakarya keluarga Locatelli, ke tahap-tahap yang didambakan Milan dan ibukota, diselingi dengan perjalanan artistik pertamanya di Sardinia, Sisilia, Maremma, dan Afrika. Jilid ini sangat berfokus pada tahun-tahun terakhir kehidupan seniman, ketika kegelisahan tiba dan menemukan rumah idamannya − pindah dari Roma, kota abadi, ke Bali, pulau para Dewa. Publikasi ini menyajikan pilihan luar biasa karya terbaik sang pelukis, beberapa di antaranya masih belum diterbitkan, disertai dengan foto, surat, dan dokumen bersama dengan beberapa item dari arsip Locatelli. Selain itu, monograf ini dilengkapi dengan kontribusi esai oleh beberapa pakar seni dan kurator seperti Philippe Augier, Didier Hamel, dan Amir Sidharta, semuanya ditampilkan dalam 232 halaman, 150 ilustrasi dan 80 piring seni berwarna. Edisi terbatas akan tersedia untuk semua anggota asosiasi dan kolektor pendukung, sementara edisi khusus kedua akan didistribusikan oleh Skira di perpustakaan seni utama di seluruh dunia.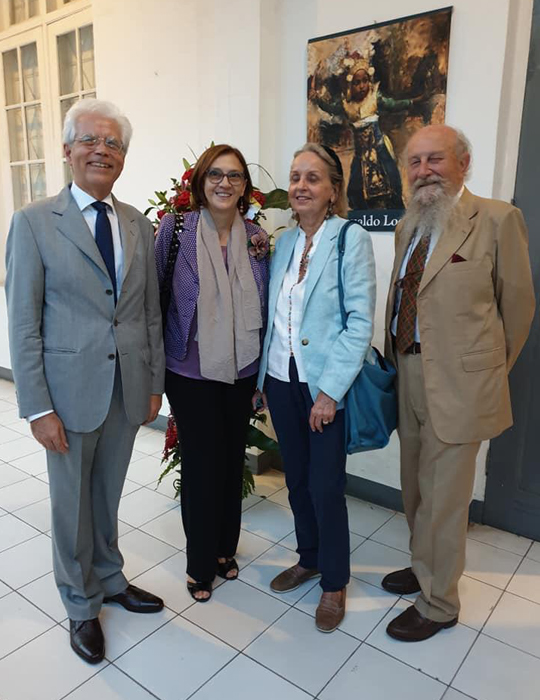 Ambassador of Italy and Madam, Daniela Locatelli and Piero Marrucchi (Spouse of Daniela Locatelli)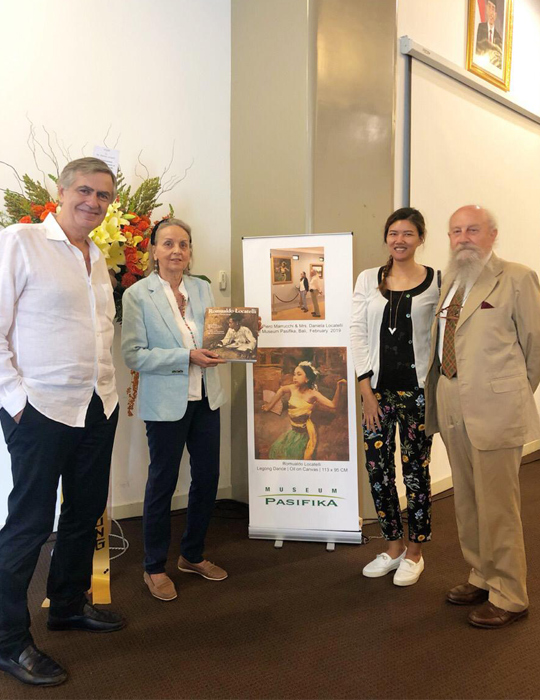 Philippe Augier, Daniela Locatelli, Novika Indah Soraya, Piero Marrucchi