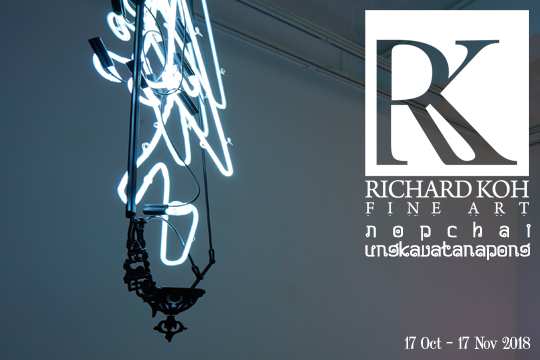 RK Projects – Nopchai Ungkavatanapong Recent Works
Published by Sugar & Cream, Tuesday 16 October 2018
Text and images courtesy of Richard Koh Projects (RKProjects)
Richard Koh Fine Art, Bangkok : 17 October – 17 November 2018
Richard Koh Projects (RK Projects) and Thai artist Nopchai Ungkavatanapong will present an exhibition by showing the latest art work by Nophchai : an installation consists of readymade objects, neon and electronic components.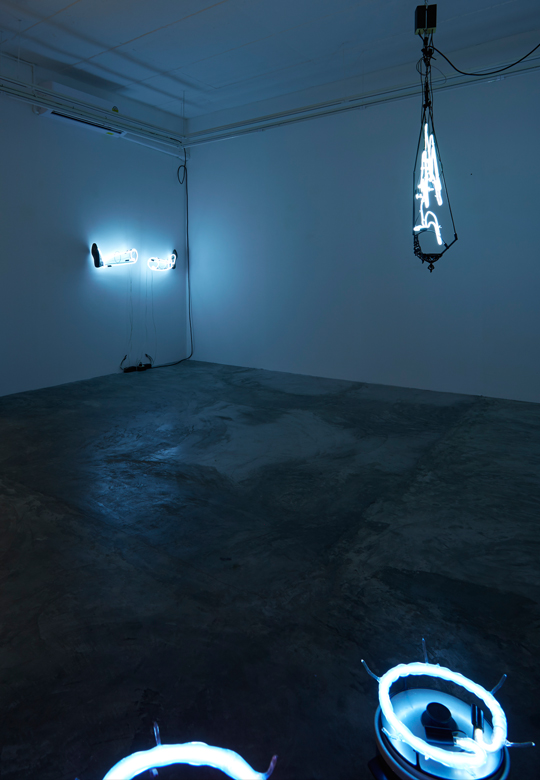 Recent Works
Nopchai Ungkavatanapong
17 October – 17 November 2018
Richard Koh Fine Art
Unit A, 3rd Floor,
N22 Art Warehouse, 2198/10-11, Narathiwas Rajanakarin Rd soi 22, Chong Nonsi, Yannawa,
Bangkok 10210, Thailand
"My work is a compilation of intertextuality. I use signs (objects) to communicate my interpretations of humans' existences and phenomenon." – Nopchai Ungkavatanapong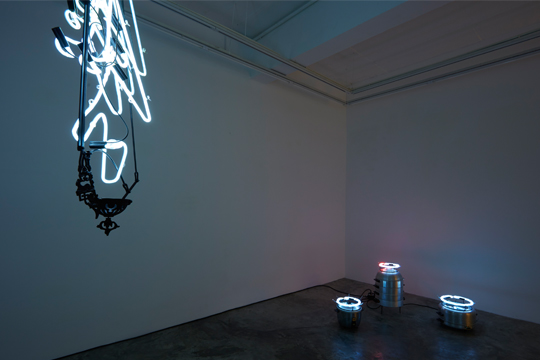 Nopchai Toi Ungkavatanapong (b.1959, Thailand) is a mixed-media and sitespecific installation artist who creates artworks that explore the idea of finding layer of meanings in objects. The subject matter in his works often revolve around the re-interpretation of consumerism and human's existence and phenomenon. Thailand's native, he received his Bachelor's degree in Fine Arts from the Art Academy of Cincinnati, U.S.A. in 1985. While working as a museum assistant, he earned a Master's degree in Fine Arts from the University of Cincinnati in 1987. In 1998 in Bangkok, Nopchai and a group of friends initiated and founded "Nuts Society," the artist collectives well-known for their subversive works that merged art into consumerist culture. This collective attempts to raise public awareness of social issues through art objects and artrelated activities.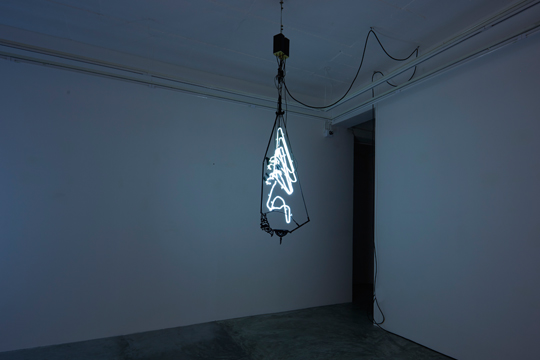 Nopchai Ungkavatanapong – Altar 1 Part 1 (The Constellation), 2017-2018_46 x 140 x 46 cm
Nopchai has been a lecturer in the Faculty of Painting Sculpture and Graphic Arts, Silpakorn University in Bangkok since 2005. In addition to his teaching, the artist continually exhibits and installs his works throughout Thailand and in many countries. He participated in artist residencies such as Ecole Nationale d'Arts de Paris-Cergy in Cergy, France, Gresol Art in Girona, Spain, and Headlands Center for the Arts, U.S.A. He was awarded "Aid to Individual Artist Grant," U.S.A. in 1986 and 1990, "National Endowment for the Arts," U.S.A. in 2001. And in 2005 and 2017, he was awarded Silpa Bhirasri creative Grant for Excellence Artist from Silpakorn Art Centre, Bangkok. Nopchai is nationally and internationally recognized for his experiments of medias, neon lights, objects, and stereoscopic photographs.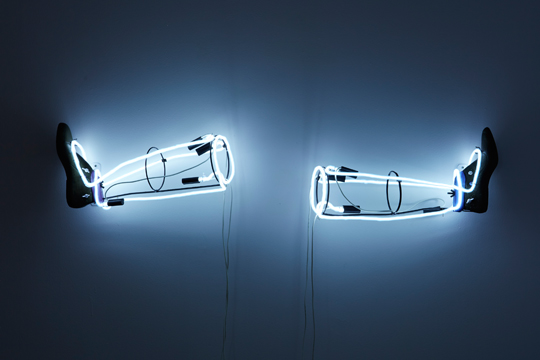 Nopchai Ungkavatanapong- Diptych (Untitled), 2017-2018_55 x 29 x 19 cm each, diptych
Richard Koh Projects is a pop-up space setup in 2018 under Richard Koh Fine Art, who has been in operation since 2005 and is regarded as a pioneer for introducing Asian contemporary art to Malaysia and the region. Promoting an adventurous roster of emerging and established artists, the gallery regularly mounts exhibitions locally and abroad with a commitment to emerging practices and challenging media.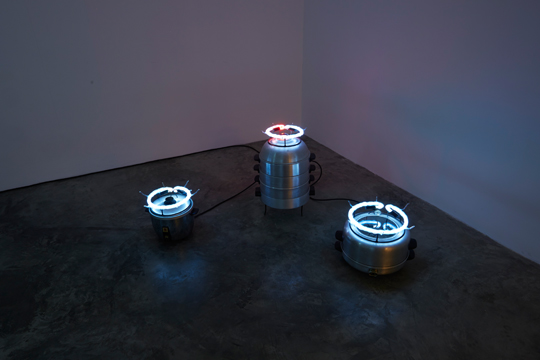 Nopchai Ungkavatanapong – Triptych (After the Modern Love), 2017-2018_46 x 30 x 46 cm; 40 x 60 x 40 cm; 34 x 30 x 34 cm, triptych
For further information about the exhibition, please do not hesitate to contact Michael Low at +6016 217 5112 or the gallery at info@rkfineart.com / +6 03 2095 3300.