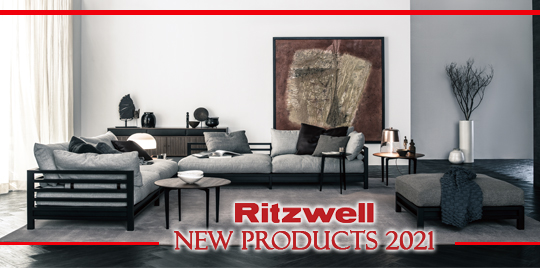 presented by
Ritzwell – New Products 2021
Published by Sugar & Cream, Tuesday 09 March 2021
Text by S&C, images courtesy of Ritzwell
Junichiro Watanabe &  Shinsaku Miyamoto,
Perpaduan kenyaman dengan  kualitas premium serta detail artisanal yang terinspirasi dari esensialisme khas Jepang menjadi andalan produk terbaru Ritzwell 2021. Produk terbaru ini adalah hasil kolaborasi dengan desainer ternama seperti  Junichiro Watanabe dan Shinsaku Miyamoto
Leewise Exclusive Sofa by Junichiro Watanabe and Ritzwell
Proporsi yang terkalibrasi sempurna antara semua elemen mengiduksi rasa ketenangan yang kuat dan sekaligus merangkul kenyamanan maksimal dari sofa terbaru ini. Sofa modular Leewise Exclusive Sofa hadir dengan tempat duduk lebih rendah dari sofa biasa. Dirancang senyaman mungkin dengan bantal empuk dan besar. Keseluruhan struktur sofa terbuat dari kayu solid Ash. Struktur sofa di tunjang oleh jajaran tongkat silinder kayu solid Ash pada sisi kursi berfungsi sekaligus sebagai elemen dekoratif yang estetis. Istimewanya lagi adalah Leewise bisa dipersonalisasi baik bahan pelapis maupun panjang sofa mulai dari 80 cm – 250 cm.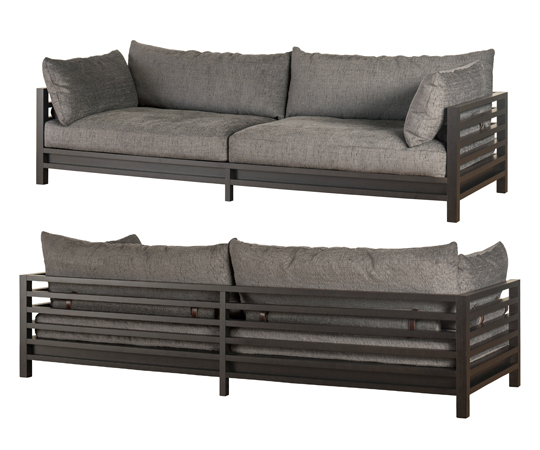 Mo Dining Table by Shinsaku Miyamoto
Jika versi sebelumnya hadir dengan meja bulat, maka Mo Dining Table terbaru tampil empat persegi panjang. Cocok untuk hunian pribadi maupun ruang komersial. Dibuat sepenuhnya dari kayu solid. Bagian atas  memiliki tepi yang agak membulat dan dikombinasikan dengan kaki berpenampang bundar yang ditempatkan secara diagonal. Rancangan tersebut memberi kesan  berkarakter dinamis namun tetap terlihat lembut. Permukaan kayu ditampilkan secara halus dan detil untuk menyampai sensasi kedamaian dan kesejahteraan.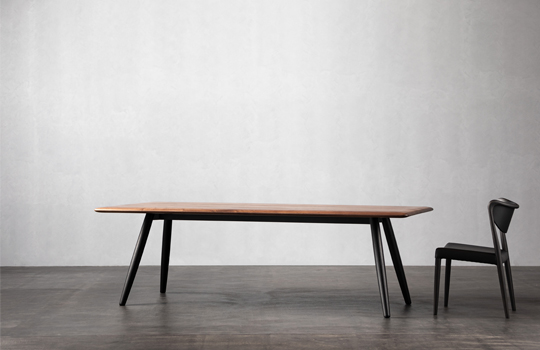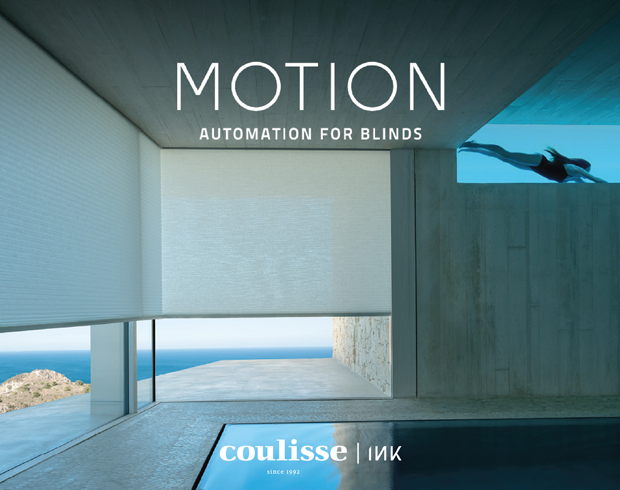 Presented by Coulisse | INK
MT Dining Table by Shinsaku Miyamoto
Keanggunan meja makan ini dihasilkan oleh keseimbangan sempurna antara dua elemen yang terlihat kontras: bagian atas kayu solid yang lebar dan kaki logam yang ramping. Kehangatan elemen kayu berdialog dengan ringannya struktur menciptakan harmonisasi yang halus. Profil meja yang dirancang membulat halus dan nyaman disentuh menawarkan eleganitas abadi secara keseluruhan. Ideal untuk hunian pribadi maupun ruang komersial. Nilai tambah dari meja ini adalah tersedia dalam berbagai ukuran hingga opsi warna finishing kayu dan metal yang diinginkan.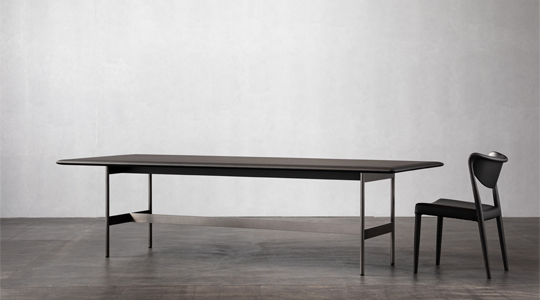 Mo Bridge Square Bench & Mo Bridge Square Bench with Wooden Structure by Shinsaku Miyamoto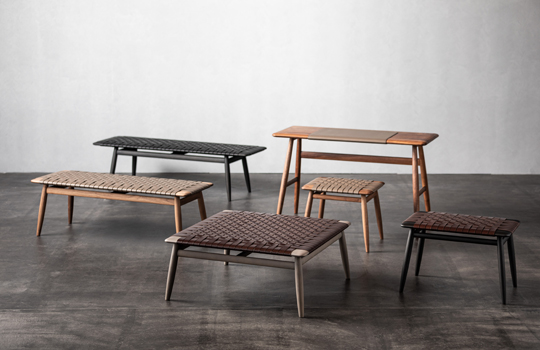 MO Bridge square Bench and MO Bridge Bench family

Menampilkan esensialisme khas gaya Jepang, dua bangku bench ini layak dipuji. Bench hadir dengan dua bentuk: segi empat dan segi empat panjang menampilkan daya tarik bentuk struktur yang bersahaja dari kayu solid. Alas duduk dirancang dengan anyaman kulit pilihan. Dirancang serba guna dimana bisa digunakan sebagai tempat duduk maupun menempatkan objek pajangan kesayangan Anda.


MO Bridge Bench