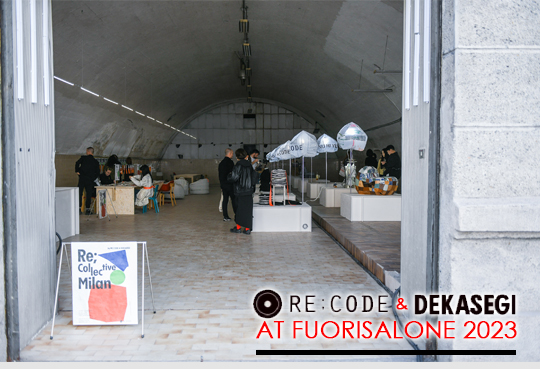 presented by

RE;CODE & DEKASEGI AT FUORISALONE 2023
Published by Sugar & Cream, Wednesday 21 June 2023
Images courtesy of RE;CODE
"RE;COLLECTIVE MILAN": Sustainability and Upcycling between Fashion and Design
 From 15 to 23 April, the Re;collective Exhibition took place in the evocative setting of Dropcity, the new center for architecture and design in via Sammartini in Milan, inside the Magazzini Raccordati of the Central Station.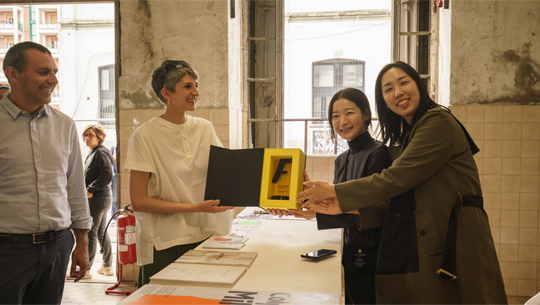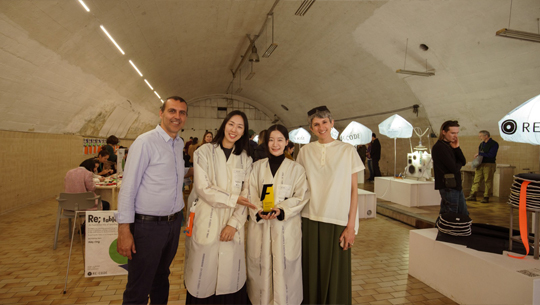 The problems our planet is facing today cannot be solved by one actor alone. It is for this reason that the Korean brand RE;CODE, founded by the Korean textile and chemical company Kolon in 2012 with the aim of creating a sustainable fashion brand based on the virtuous circle of limited resources and ethical values ​​as an alternative to fast fashion, will promote a sustainable initiative at the next FuoriSalone, in collaboration with DEKASEGI, the Japanese design unit by Schemata Architects (Design) and TANK construction company (Product Realization).Just like RE;CODE paints a better world through its clothes, to reach more people and solicit action RE;CODE & DEKASEGI have selected nine groups of Asian designers (Japan, Korea and China) who pursue sustainability in their respective fields.Together, they are the protagonists of the "Re;collective" exhibition dedicated to the "Upcycle" theme, dreaming of a sustainable future under the slogan of 'creating significant changes together'.From fashion to industrial design, moving on to furniture design, ranging from seats, street furniture, lighting, to clothes that speak of haute-couture details and tailoring: the theme of reusing industrial waste is tackled with creativity and imagination through the 12 projects on display.The exhibition is taking place from 15 to 23 April, from 10 to 18, in the evocative setting of Dropcity, the new center for architecture and design in via Sammartini in Milan, inside the Magazzini Raccordati of Milan Central Station. The venue of Re;Collective exhibition, designed and realized by DEKASEGI, offers communal tables, benches and table lamps realized with waste where, during a rich calendar of workshops, visitors will be given the opportunity to experiment with the recovery of objects, with the idea that solidarity for a sustainable world could become even stronger and wider in the future.In the reception counter near by the entrance, visitors receive an explanation and may walk through the exhibition hall to view the works one by one. After they can have a break at the relaxing zone, with sofas made of airbag fabrics, and around tables, where they can experience "UPCYCLING" also by joining "RE;TABLE" which is RE;CODE's upcycling workshop activity, that will be held several times a day.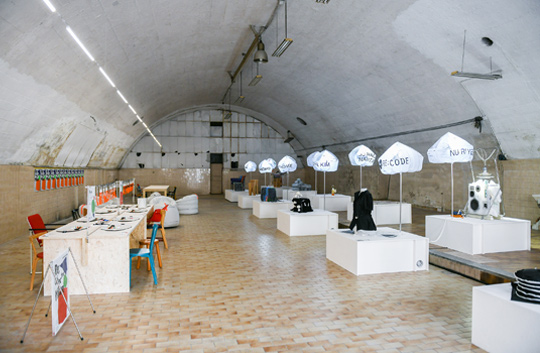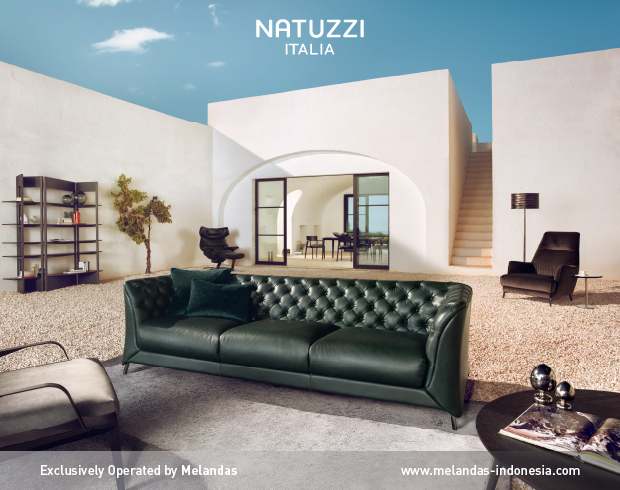 Presented by Melandas Indonesia
During the workshop, the visitor will experience the creative process of upcycling and designing with various subsidiary materials such as leftover labels and buttons. Participants will be provided with a key ring made from repurposed airbag tape and colored straps and will have the opportunity to decorate it using a variety of subsidiary materials.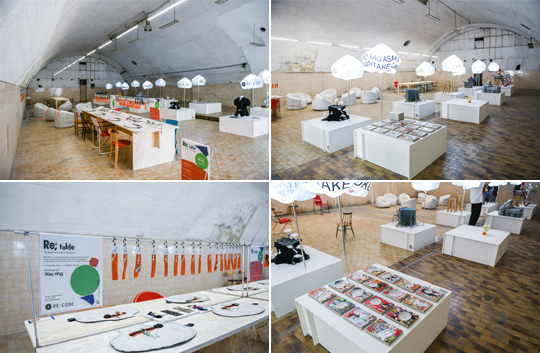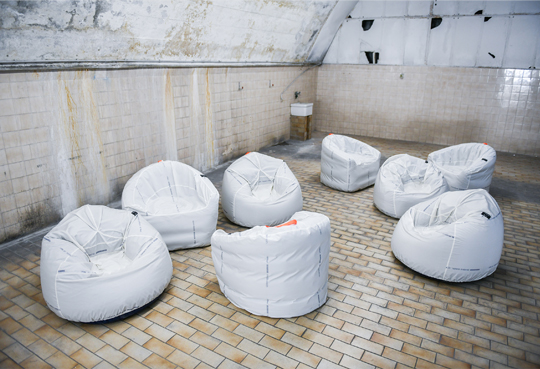 For the exhibition, Dekasegi conceived a venue composed of fixture and display made of old wood and reused materials. The tables, surrounded by sanded antique chairs, are made of Japanese old wood: by filling the holes, the putty makes flat face and emphasize characteristic mortise and tenon shape of the old wood.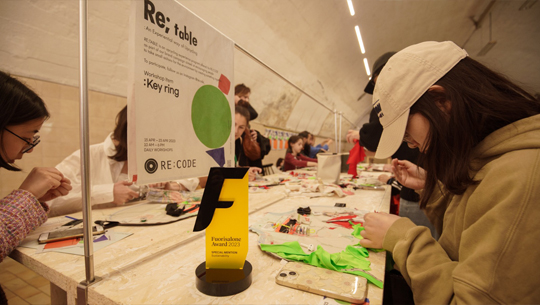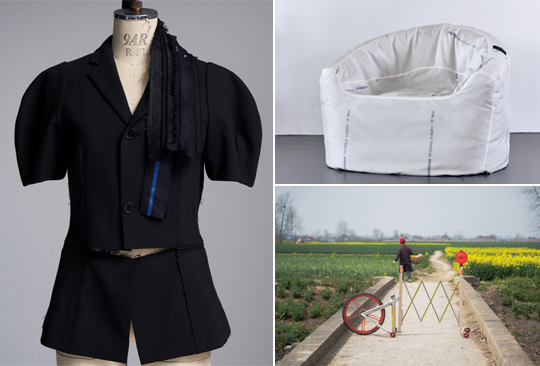 The balloon-type lighting, made of old plastic bags, can be brightly illuminated with a small amount of light source. Display boxes and counter are made of plywood on site. The furniture used in the exhibition, will then become permanent DROPCITY furniture.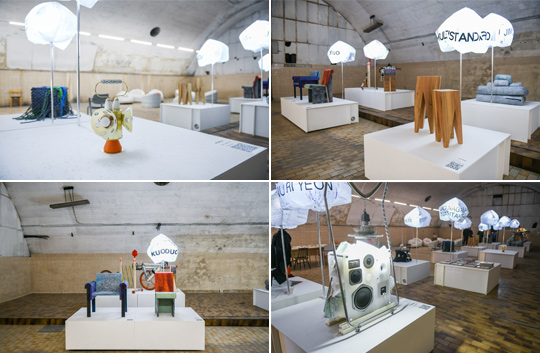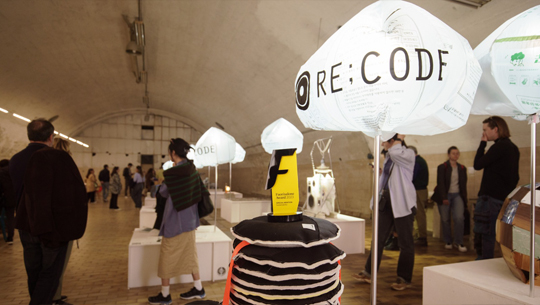 Products: RE;CODE, JO NAGASAKA & NARITAKE FUKUMOTO, EUNHA KIM, HYESUN LEE, JINYOUNG YEON, KUO DUO, KWANGHO LEE, MULTISTANDARD, NURI YEON, PINWU DESIGN STUDIO, ROARCRENEW ARCHITECTS.
Venue design: DEKASEGI.