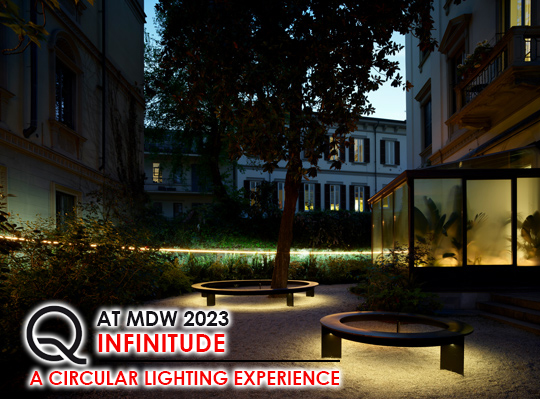 presented by

QU AT MDW 2023 – 'INFINITUDE. A CIRCULAR LIGHTING EXPERIENCE'
Published by Sugar & Cream, Tuesday 13 June 2023
Images courtesy of Qu
Astonishing Sensorial Journey: Lights, Sound, Shadows And Reflections
During MDW 2023 at temporary showroom, Qu presents the temporary installation 'Infinitude. A circular lighting experience', a coherent and integrated circular project involving the garden and interior, where light is the common thread of the experience.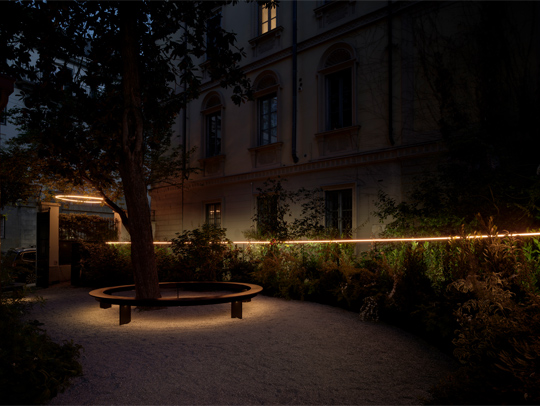 The concept, designed by Parisotto + Formenton Architetti, results from the desire to provide the visitor with a complete sensorial experience, light and sound integrating and converging in suggestions that can take you elsewhere up to the cosmos. The circularity of signs that gives the imprinting to the whole project is expressed in various degrees and can be interpreted by the visitor as a recurring element that leads to the discovery of the different spaces and Qu's conceptual approach.
A long strip of light guides the visitor through the courtyard; circles of light mark the garden as steps along the visitor's route, intersecting with the trees that are present, and becoming, from time to time, signals, seats, and patterns created by the light on the ground.
Interiors are conceived as a clean, white box in the centre of which, in a coherent semantic continuity, there is a circular lounge enveloped in greenery. The interior room is dotted with lighting fixtures from the Magritte collection, used on the ceiling and on the wall, grouped in constellations that create evocative light patterns.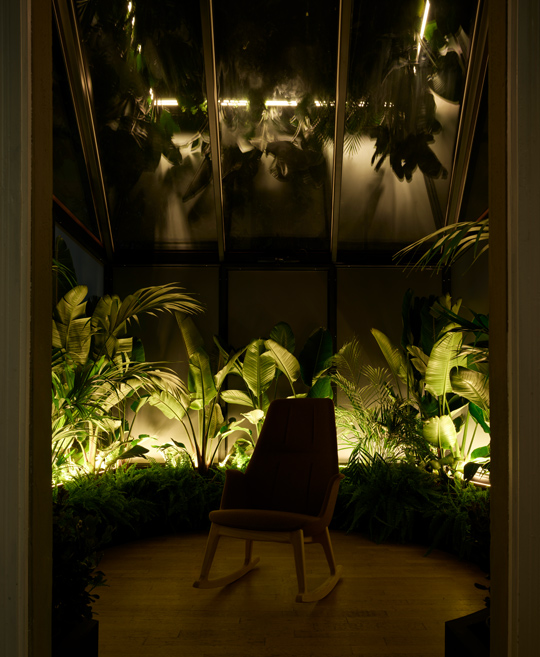 Presented by Interni Cipta Selaras
The peak of the route, and the icon of the permeability of nature taking possession of indoor spaces, is the greenhouse. In this place, plants and light together create suggestive atmospheres, changeable if they are experienced by day or night, if seen from inside or from outside.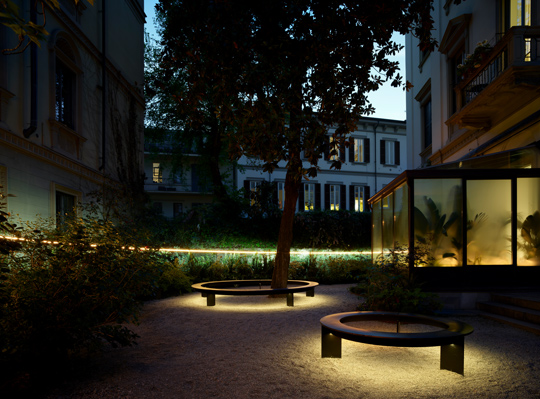 The installation experience is completed by the will to provide a complete and astonishing sensorial journey: lights, shadows and reflections play together with a site-specific sound art. In fact, the installation features an avant-garde sound design in visual interaction with the lighting fixtures in the exhibition space. A dynamic and changing sound carpet, the result of sound experimentation using electronic melodies from space, such as samplings of sounds from the planets and the cosmos, reworked from an artistic and musical perspective.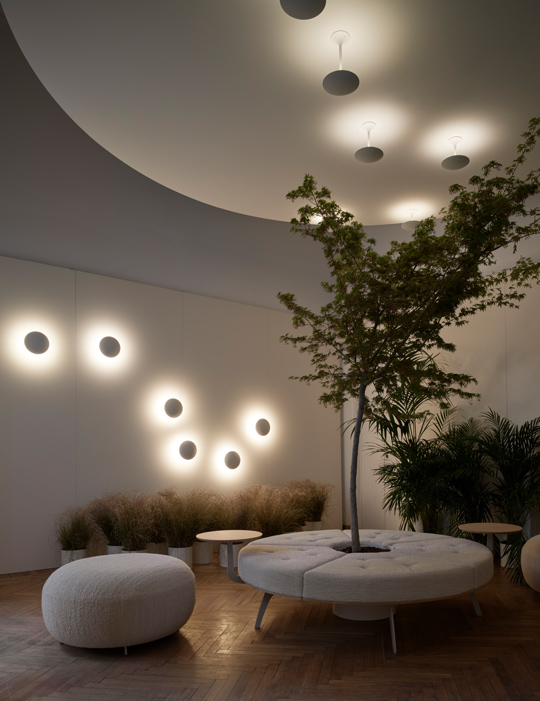 The sound-luminous experience thus makes it possible to explore new expressive possibilities and to question the relationship between user – space – light – universe.