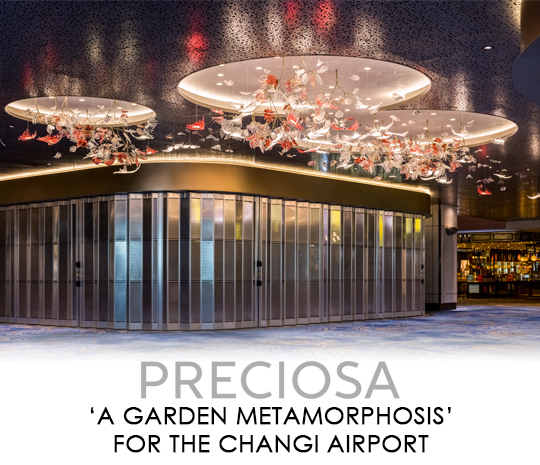 presented by

PRECIOSA LIGHTING CREATES 'A GARDEN METAMORPHOSIS' FOR THE CHANGI AIRPORT
Published by Sugar & Cream, Monday 17 January 2022
Images courtesy of Preciosa Lighting
Sculptural Light Garden At Terminal 1, Singapore Changi Airport.
Satu lagi kejutan akhir tahun 2021 lalu datang dari jenama ternama Preciosa Lighting asal Ceko. Sebuah instalasi memikat (perpaduan cahaya dan kristal) bertajuk 'A Garden Metamorphosis' menghias Terminal 1 Departure/Transit Hall, Bandara Changi Singapore yang baru saja direnovasi.
Dengan ukuran area cukup masif yaitu 10 m x 9m , 'A Garden Metamorphosis' menampilkan sebuah taman dengan kupu-kupu kristal melayang diantara daun-daun kristal yang menyala secara bertahap. Taman fantasi tersebut dirancang oleh desainer Preciosa Lighting Anna Kralova yang mengeksplorasi bentuk dan pola alam pada langit-langit di terminal bandara. Instalasi organik menyerupai sebuah taman tersebut memperlihatkan komposisi lebih dari 650 komponen kristal tiup tangan terdiri dari kupu-kupu kecil dan besar termasuk daun-daun.


Garden Metamorphosis at Changi Airport
"This is the transformation that nature naturally undergoes," Ms. Kralova said. "Here, these leaves turn into butterflies which visually blend with the leaves. Just like in nature – when a butterfly sits on a flower or a leaf, it completely merges with it."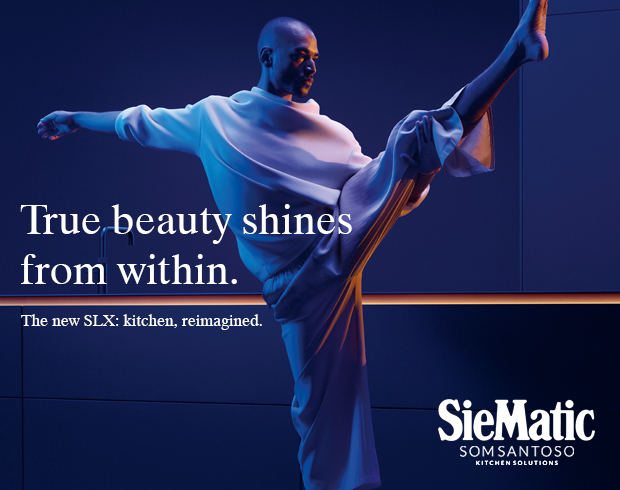 Presented by Som Santoso


Preciosa Lighting Designer Anna Kralova
Semua komponen dibuat dengan ketrampilan tangan di pabrik Preciosa di Republik Ceko. Dasar logam berwarna sampanye dari kuningan yang dipoles untuk nuansa hangat. Sedang kristal hadir dengan variasi warna bening, buram, sampanye, light pink, pink, kristal berkilau dan kristal gelap.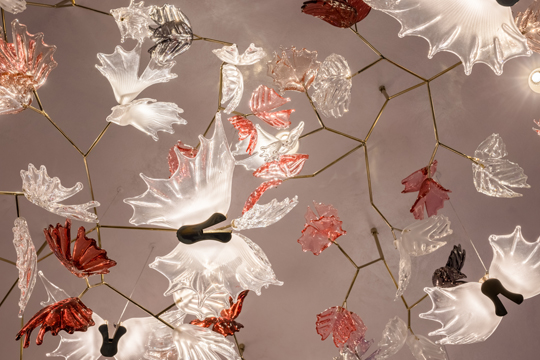 The craftsmanship of glass masters
Instalasi perpaduan cahaya dan keindahan kristal dalam tema taman tropis ini tidak saja menawarkan daya tarik visual yang menyegarkan tapi juga siap memicu fantasi-fantasi indah pengunjung.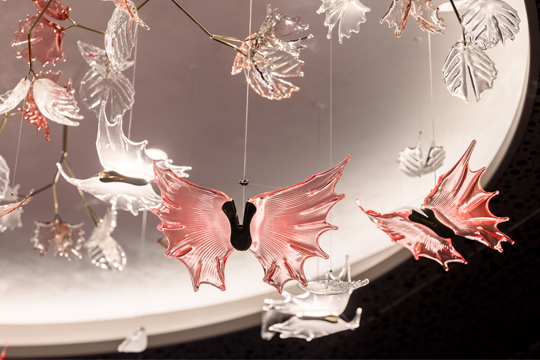 Each butterfly and leaf is a hand-blown original
Memenangkan 11 kali sebagai Bandara Terbaik Dunia versi Skytrax, Bandara Changi Singapura terus berinovasi melalui hiburan-hiburan visual terbaru untuk memanjakan para pengunjung. Termasuk keajaiban fantasi cahaya dan kristal terbaru dengan 'A Garden Metamorphosis'. (S&C)