presented by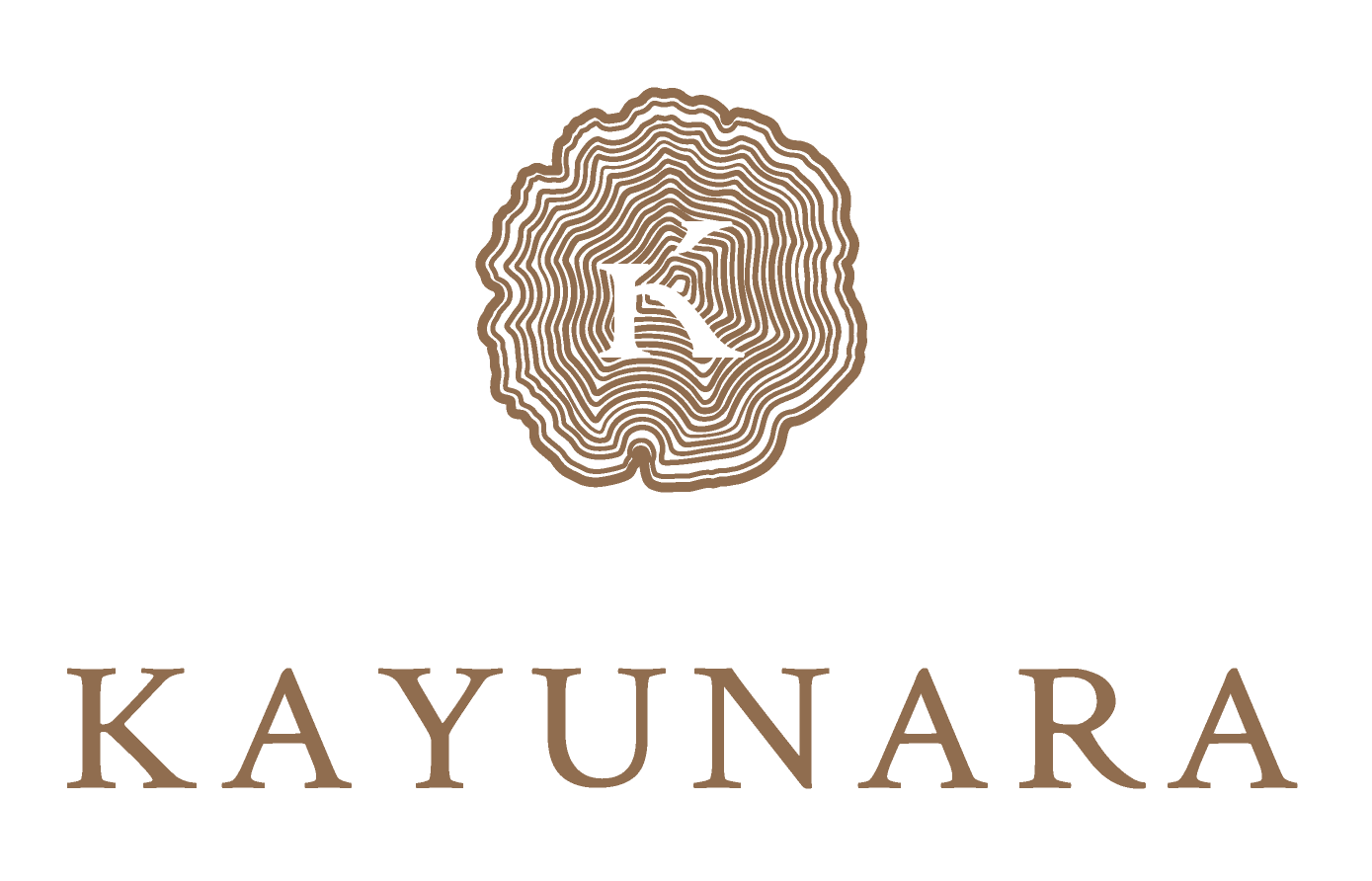 Piuarch X P 448 Launch Their 1st Store in Milan
Published by Sugar & Cream, Monday 02 March 2020
Text by Dinda Bestari, Image courtesy of Piuarch
The First Mono-Brand Store In The Heart of Brera District, Milan
What happened when the famous Italian sneakers P488 collaborated with an architect firm? A stylish store! Inilah yang terjadi ketika brand sneakers ternama Italia bernama P488 bertemu dengan studio arsitektur asal Italia, Piuarch.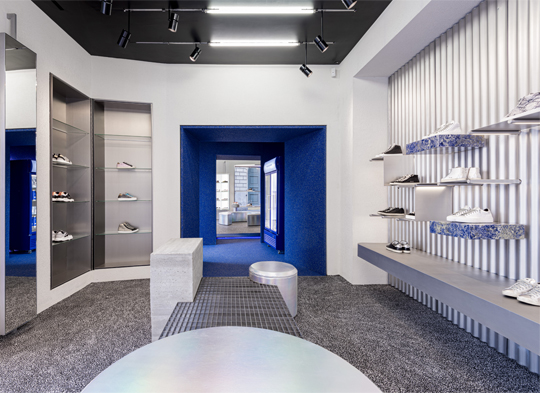 Kehadiran butik P448 pertama yang letaknya di jantung Distrik Brera adalah untuk merayakan visi P488. yaitu menghadirkan kebanggaan 100% Made in Italy dengan koleksi pria, wanita dan aksesorinya.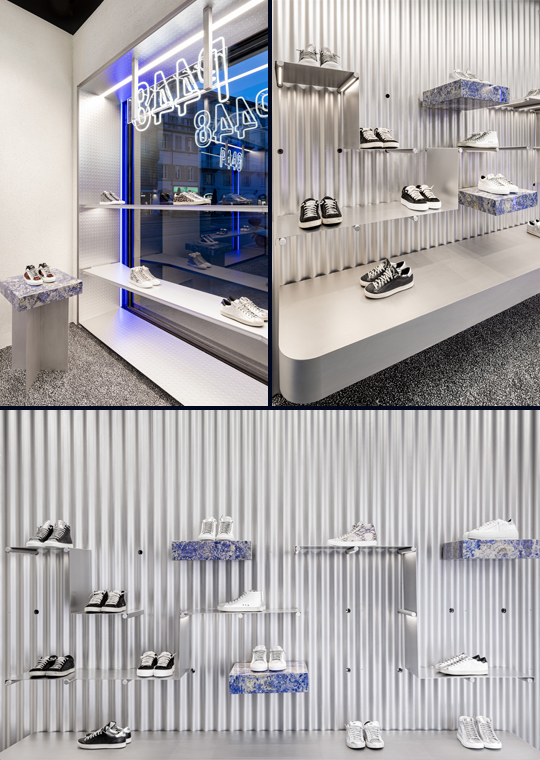 Dalam memahami proyek ini, Piuarch berusaha untuk mengembangkan identitas brand yang sebenarnya, membuat store yang inovatif dan tidak konvensional, serta dikembangkan dengan memperhatikan detail dan bahan berkualitas. Setelah pengalaman selama 20 tahun bekerja sama dengan luxurious brands (Dolce & Gabbana, Givenchy, Gucci and Fendi), Piuarch menempatkan keahliannya pada kepuasan klien demi menciptakan proyek ritel inovatif.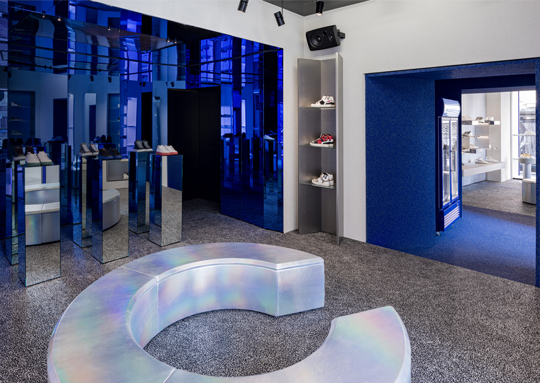 Terdiri dari lima window displays dengan permukaan lebih dari 80 meter persegi menutupi sudut-sudut antara kota bergengsi via Ponte Vetero dan via Cusani. Desain butik merupakan hasil kolaborasi antara Studio Arsitektur Italia ternama Piuarch dan tim kreatif P448, Marco Samorè dan Andrea Curti.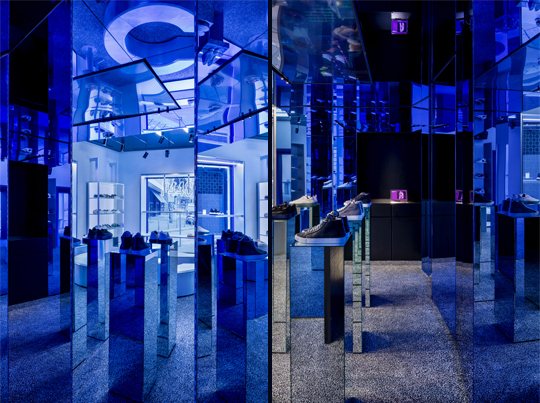 Dominasi warna biru adalah 'benang merah' yang menerangi butik ini di malam hari, sehingga muncul sebagai objek biru cerah yang berinteraksi dengan konteks urban, keluar dari konsep toko tradisional, memberikan makna dan fungsi baru seperti perjalanan ruang angkasa.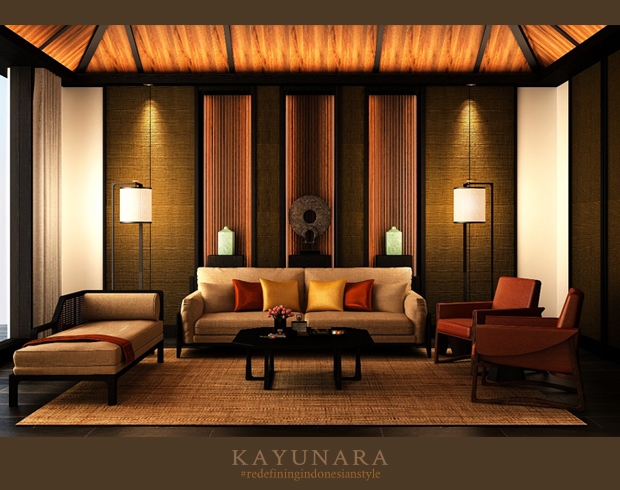 Presented by Kayunara
Desain interior menonjolkan sifat produk dengan menciptakan lingkungan perkotaan, yang menghubungkan beragam aspek P448, tidak konvensional namun sophisticated, mengikuti semangat yang penuh energi.
Detail industrial dan semangat urban terlihat di pintu masuk, dengan neon art and a double-colored playground floor yang menyambut pelanggan, membangkitkan 'konteks' jalanan di perkotaan  dengan  menggunakan bahan utama dalam memproduksi sepatu yaitu karet. Banyaknya bahan dan tekstur ini menghasilkan beragam wefts dan pola permukaan yang menyoroti kontur produk dengan tetap menjaga linearitas polos dan mudah.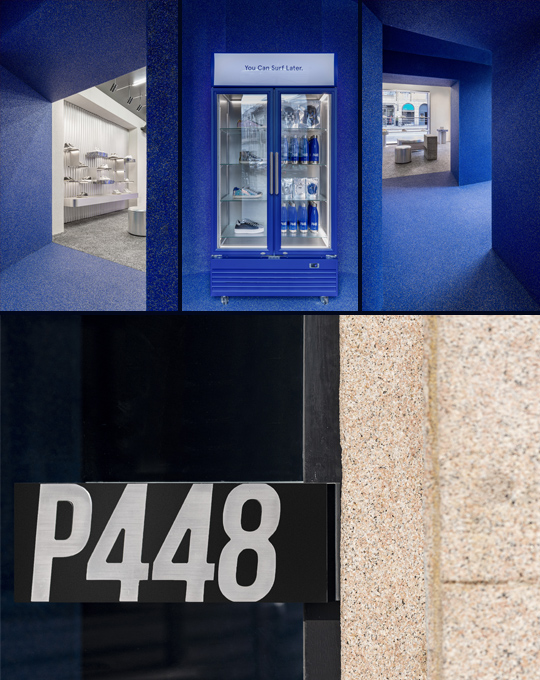 Perpaduan raw material seperti mesh logam dan aluminium, kontras dengan film warna-warni dan tekstil berkilauan, serta marmer biru yang indah, menciptakan kolaborasi yang unik dengan eklektisme dan modernitas dari brand ini.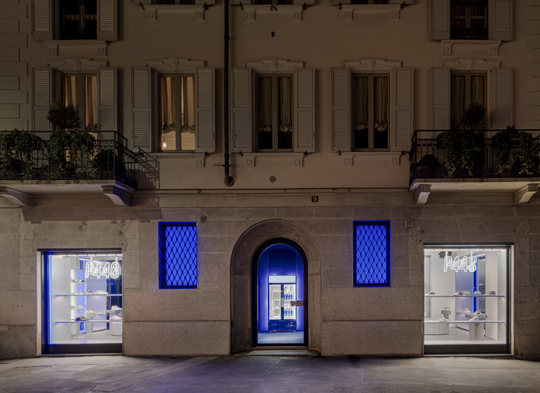 Frosted glass and ultra-dark blue lacquering digunakan bersama dengan cahaya alami untuk memberikan transparansi dan efek kaca tampak, lebih ditingkatkan lagi dengan ruang multifungsi cermin berwarna biru sehingga mengekspresikan identitas brand yang kuat pada pandangan pertama, dengan meng-highlight P448 electric blue yang ikonis.