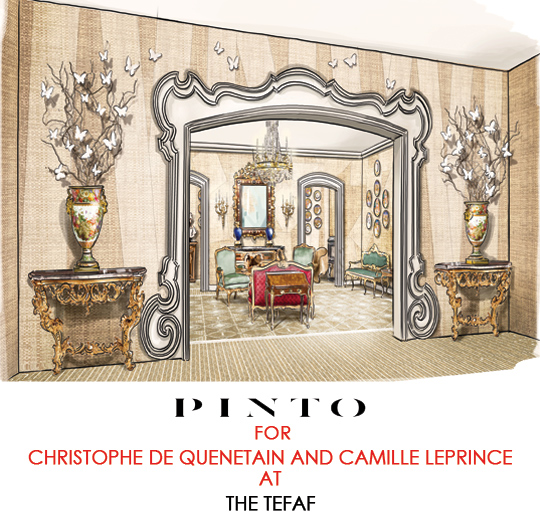 presented by

PINTO FOR CHRISTOPHE DE QUÉNETAIN AND CAMILLE LEPRINCE AT THE TEFAF
Published by Sugar & Cream, Wednesday 08 March 2023
Image and text courtesy of PINTO
TEFAF Maastricht, March 11-19, 2023
As a client, PINTO is used to strolling the aisles of TEFAF in Maastricht in search of unique and exceptional pieces for its projects around the world. The interior design and decoration agency is a regular at the fair, which brings together leading international art galleries and antique dealers every year.
For the first time and based on an idea by Marella Rossi Mosseri, a faithful friend of the house, PINTO has created a custom-made showcase to house the pieces of furniture and art objects brought together by the two renowned antique dealers, Christophe de Quénetain and Camille Leprince, for this new edition of TEFAF, which will take place March 11-19, 2023.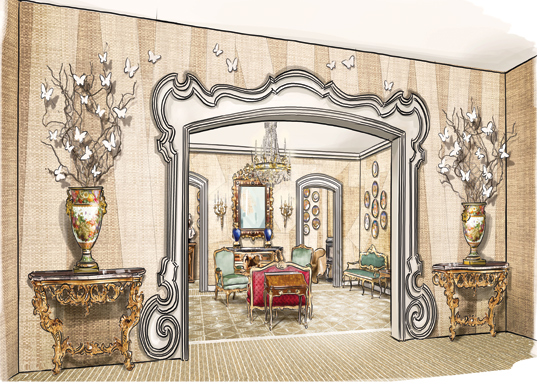 Like a breath of fresh air in the fair's itinerary, PINTO creates a surprise and imagines the home of an art collector far from the big capitals: a vacation home away from the hustle and bustle of the city, like Patricia López Willshaw's Villa in Saint-Tropez, or Quinta Patiño in Portugal. PINTO, which has created residences in Brazil, Florida, the Caribbean and the Riviera, invites us to one of these large seaside residences, to gently slow down time and enjoy the moment a little.
There, simple materials, essentially stucco and straw, great classics of the PINTO house, are luxuriously reworked and create a joyful and luminous decor that reveals the preciousness of the bronzes, ceramics, marquetry and gilded wood of the extraordinary pieces brought together for the occasion by Christophe de Quénetain and Camille Leprince.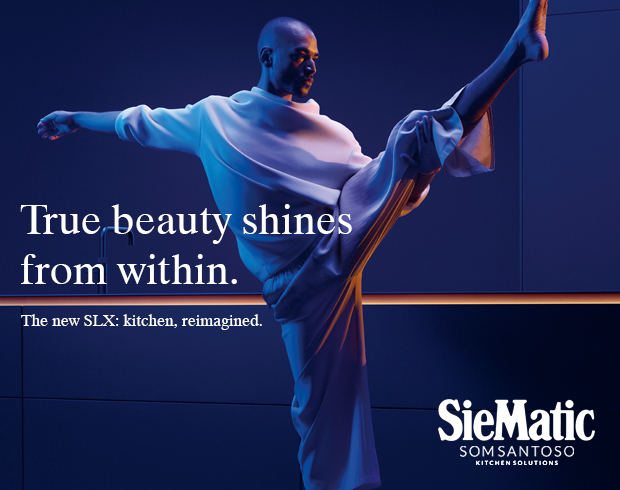 Presented by Som Santoso
The bays and ceilings are highlighted by large molded frames and cornices. The walls, covered with raw straw, are painted in transparency and freehand in situ by Pietro Scaglione, Artistic Director at PINTO, in a contemporary and graphic spirit. Spiral willow branches extend the large vases in the entrance, from which a cloud of butterflies escapes, a poetic reference to Alberto PINTO's residence in Rio. As for the floors, they are covered with a border-to-edge carpet printed in trompe l'oeil with large woven hemp rugs.
Following the initial inspiration, the PINTO x PILATI armchair, imagined by the fashion designer Stefano Pilati for PINTO, freezes in bronze the ephemeral furniture that Pilati composed for his summer residence in Sicily around water hyacinth carpets and rattan armchairs. This contemporary furniture- sculpture is presented alongside classic furniture and art objects selected by Christophe de Quénetain and Camille Leprince, playing harmoniously with contrasts, in a mastered eclecticism, a PINTO know-how. A carte blanche that gives PINTO, which creates custom interiors based on the personality of its clients, the opportunity to present a renewed vision of classic furniture to TEFAF collectors. A wonderful way to showcase the role of the decorator close to the collectors and to "give ambition to the clients" as Jean- Marie Rossi said so well.