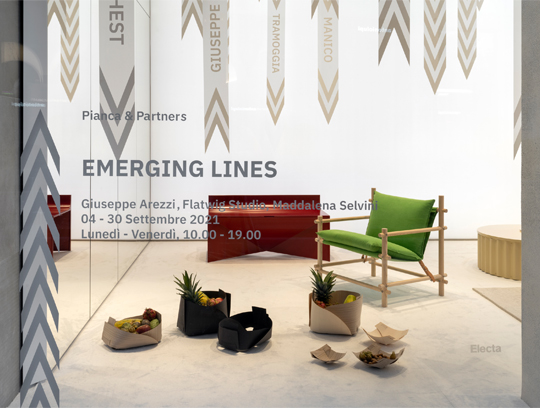 presented by

PIANCA & PARTNERS : THE CREATIVITY OF THE FUTURE AT MILAN DESIGN WEEK
Published by Sugar & Cream, Tuesday 21 September 2021
Text and images courtesy of Pianca & Partners
Emerging Lines Exhibition : 4 – 10 September 2021, Milan
Giuseppe Arezzi, Maddalena Selvini and Flatwig Studio are the stars of the format created by Pianca & Partners to promote new design talent. The windows of the Milan showroom become the backdrop to the display of creativity and experimentation, via a selection of work by the young designers (under 35s).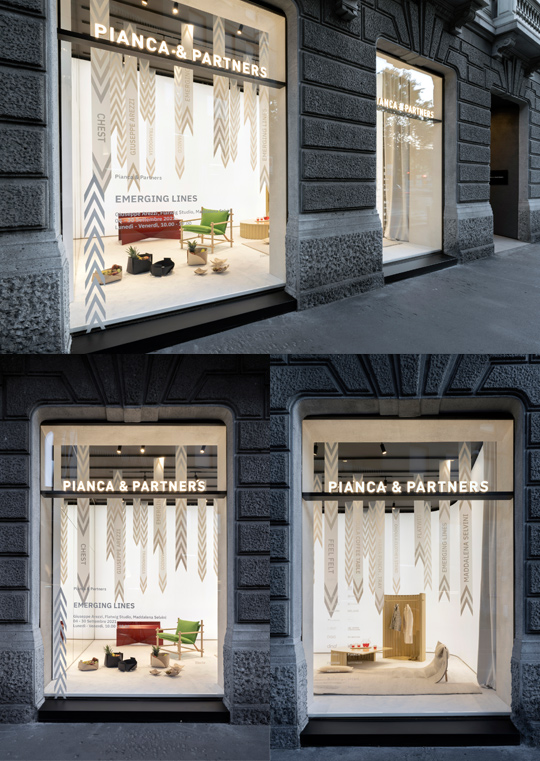 The specific styles of the designers come together in a display of their work in the windows of Pianca & Partners in a setting designed by Calvi Brambilla and they become the expression of the experimentation that defines contemporary design. Their unique features and common traits reveal their personal analyses in defining the objects and furniture and show how such analyses manage to achieve diverse and complementary forms and functions.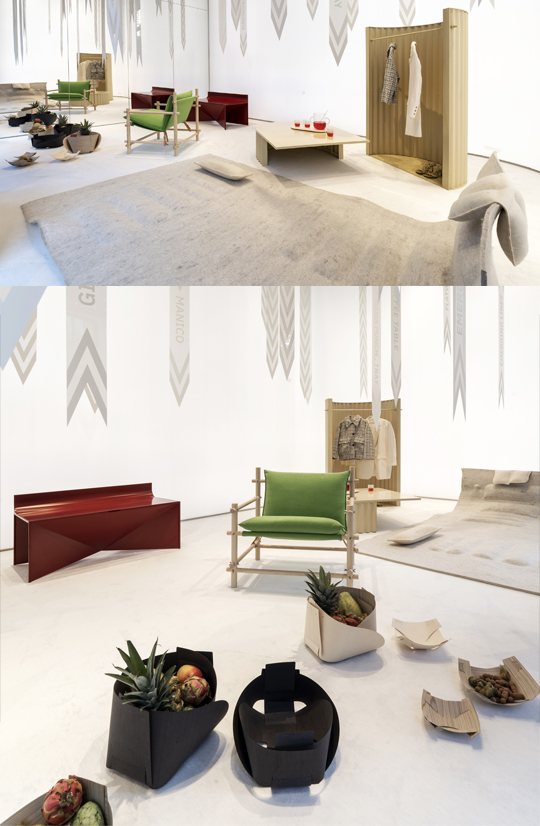 Emerging lines highlights the trust in new forms of creativity to create opportunities for contact, stimulate exchange of ideas and development of unexpected collaborations during a symbolic occasion like Design Week.
"We think it is right to also give space to talented new designers in a key moment for the industry, like Milan Design Week in September", explains Aldo Pianca, president of Pianca and promoter of Pianca & Partners. "Emerging lines is the symbol of trust in that design ability that pushes beyond mere functionality, but thrives on research, experimentation and questions".
Emerging lines: Giuseppe Arezzi, Maddalena Selvini and Flatwig Studio.
The anthropological approach of Giuseppe Arezzi, the multidisciplinary approach of Erica Agogliati and Francesca Avian, aka Flatwig, and Maddalena Selvini's exploration for a new concept of conscious sustainability. The unique styles of the designers emerge alongside their common traits: study of popular traditions, study of materials and techniques, respect for circular sustainability and observation of the most ancestral social behaviours and actions.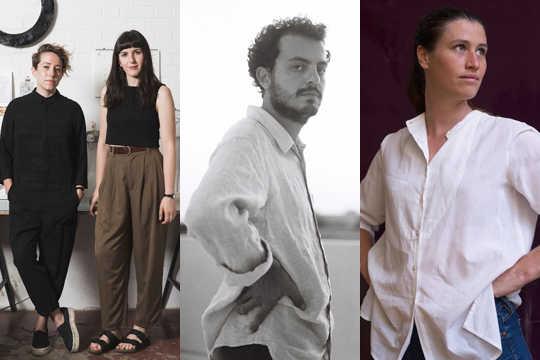 Flatwig Studio | Giuseppe Arezzi | Maddalena Selvini
A skilled craftsman, Giuseppe Arezzi focusses on what lies behind things and lets that emerge via an utterly simple compositional style. Paredback and exact, in this way, his objects communicate a personal, enduring relationship. The Flatwig Studio duo get right to the point and for this reason they transmit lightness and generate empathy. For them, the design study, free of reverential fear, looks at the past which is an inexhaustible source of inspiration for unusual constructive interpretations of use and meaning. Maddalena Selvini chips away like an archaeologist, following barely-deposited traces in the fertile terrain of the emotions and delivers products that we still feel the need for through the organic relationship with the material.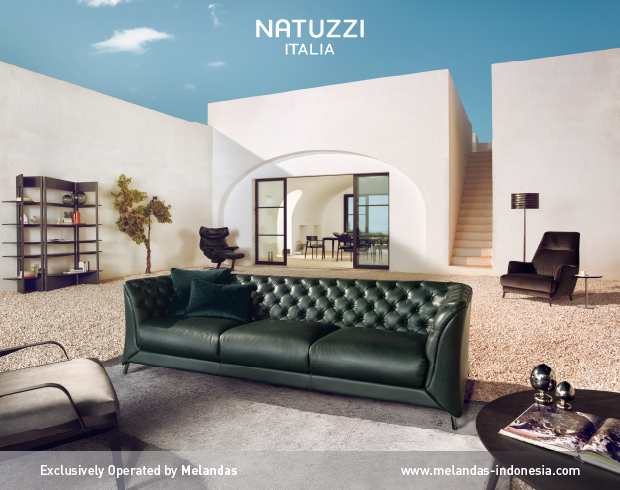 Presented by Melandas Indonesia
"Spontaneity, truth, purity and simplicity combined with the master craftsmanship of my homeland are helping me construct an original and authentic symbolism often unknown in the world's major cities. My design style aims to portray simple, rural culture with a contemporary influence via an accessible global language, far-removed from the Sicilian folk style that almost everyone is familiar with" Giuseppe Arezzi
"In this postponed age, I have managed to regain the silence needed to explore totally new places and materials with my eyes, my mind and my hands, forging solid professional and personal relationships with incredible businesses like Feltrificio Biellese, who have given me not only their trust, but the most precious gift of all, time" Maddalena Selvini
"The pieces we are presenting in Emerging lines display many of the values that underpin our work. In Ondula we have the theme of reclaimed waste materials reinvented as furnishings. The Mama Punch design instead shows our love for Art de la Table, objects that tell stories and instigate exchanges that create conviviality" Flatwig Studio
WORKS ON SHOW
MANICO, Giuseppe Arezzi
Its name derives from manico, the handle of the tools of the countryside, no longer in use today. It is inspired by rustic life and local tradition: a paean to the most authentic, simple Sicilian culture. In its pared-back style, it consists of essential elements: an ash structure, two cushions, and natural leather belts.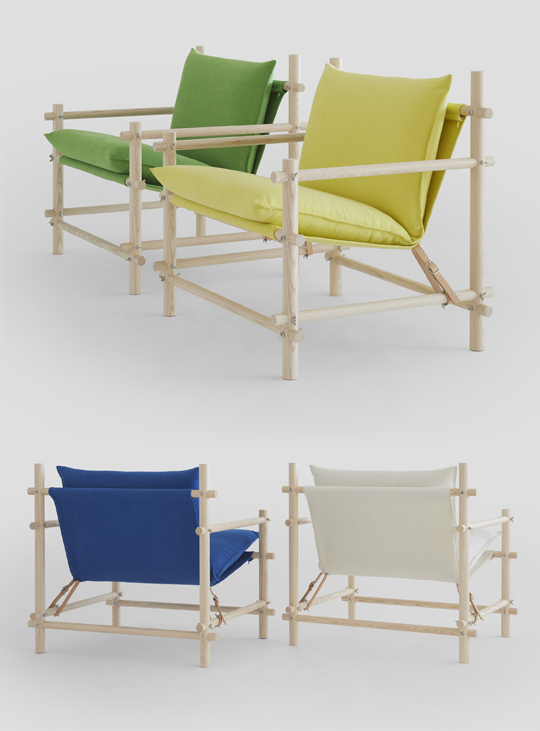 Manico
TRAMOGGIA, Giuseppe Arezzi
The chest made of varnished sheet steel is a new spin on the archetype of wood, an indispensable element of the furniture of the past. It is also a comfortable seat, in single or twin versions, for use both indoors and outdoors. A contemporary style designed around the pyramid shape.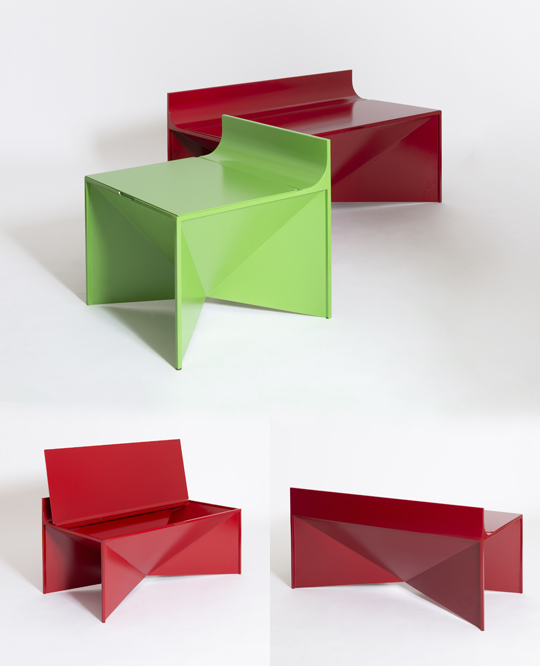 Tramoggia
CHEST, Maddalena Selvini
"Chest" derives from the Greek word kiste, and refers to a box, a woven basket. "Chest" also means thorax in English, the hollow space that contains our vital organs. Her collection of baskets, created using a laser-cut panel of flexible precomposed veneer, combines the two meanings to hold what gives us life.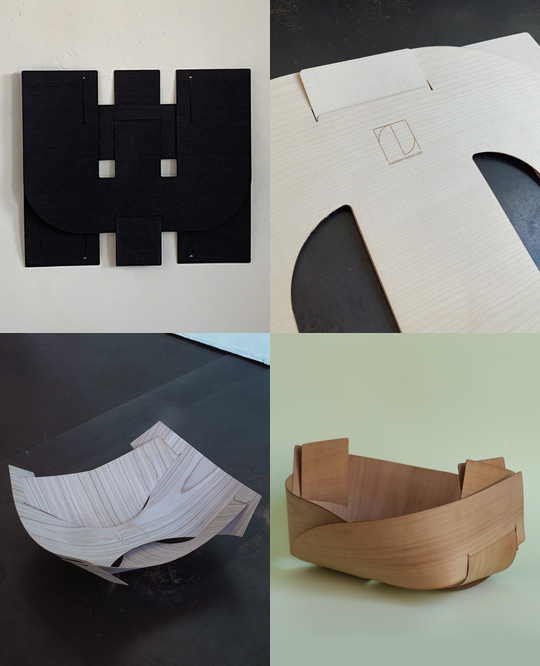 Chest
FEEL FELT, Maddalena Selvini
The intention is to rediscover the old-fashioned characteristics of felt, in synergy with the most modern manufacturing technologies. By creating fabric moulds, it is possible to create three- dimensional objects, cutting out several steps and reducing waste. Everything is made from the same sheet. A project supported, in research and production, by Feltrificio Biellese.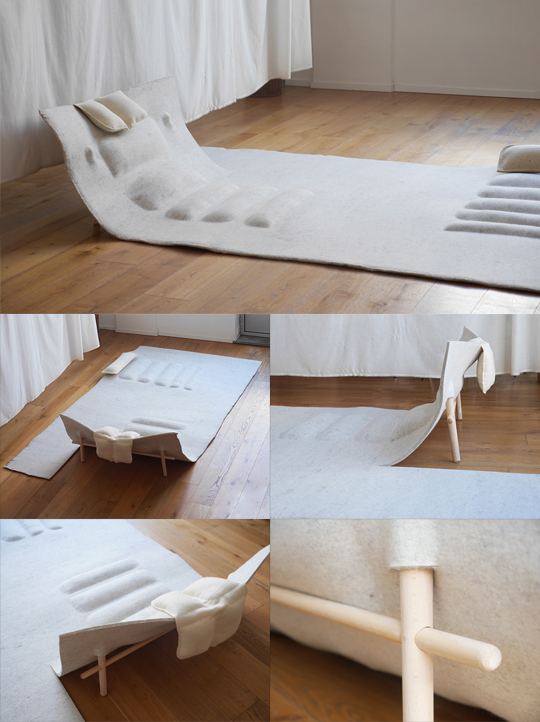 Feel Felt
MAMA PUNCH, Flatwig Studio
With the theme of sharing, the set is a take on the English tradition of drinking punch. Completely handmade, it is a set of blown borosilicate glass elements and a tray made of Jesmonite, a material made of aqueous acrylic resins, cast from a hand-mixed compound.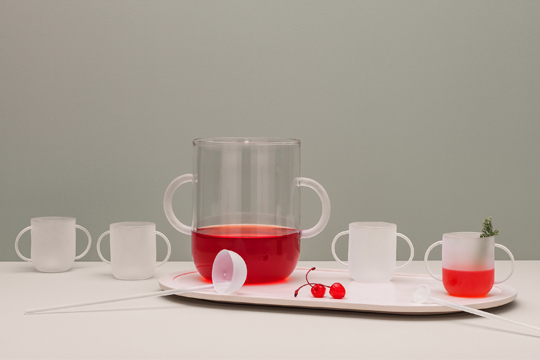 Mama Punch
ONDULA CLOTHES STAND – ONDULA COFFEE TABLE, Flatwig Studio
Both pieces, the clothes stand and coffee table, can be dismantled and are designed using onduline in the vertical position to exploit its stability. Soft tones, contrasts of matt and gloss finishes and exposed screws create a new use for the undulated sheet and make it domestic and exploitable.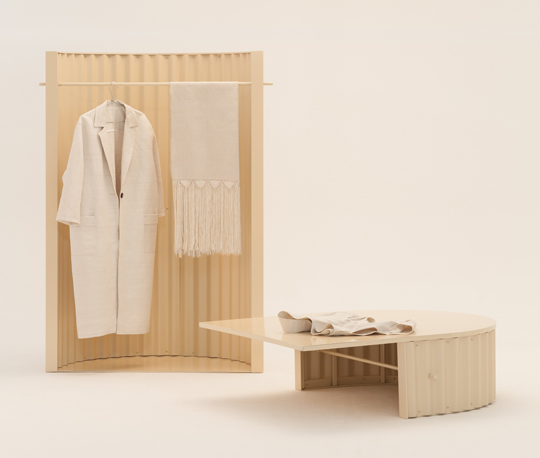 Ondula
Giuseppe Arezzi – www.giuseppearezzi.com
Maddalena Selvini – www.maddalenaselvini.com
Flatwig Studio – www.flatwig.com