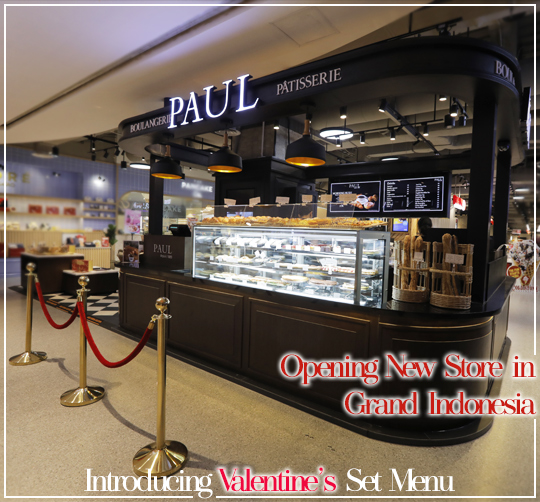 presented by
PAUL Bakery Celebrates the Opening New Store in Grand Indonesia
Published by Sugar & Cream, Friday 14 February 2020
Text by Dinda Bestari, Image Courtesy of PAUL
Introducing Valentine's Set Menu
How do you describe French Cuisine? High quality with elegant touch? Definitely both! PAUL Bakery dengan produk-produknya yang menjadi bagian dari timeless French way of life : hangat, ramah dan selalu mengikuti perkembangan zaman, menempatkan kualitas sebagai inti dari pelayanannya. Brand ini menjaga kualitas bahan serta kesegaran untuk berbagai makanannya, dengan produk yang dihasilkan seperti  kue, roti, dan sajian khas Prancis lainnya yang cara pembuatannya sebagai bentuk apresiasi terhadap tradisi demi kepuasan para pelanggan.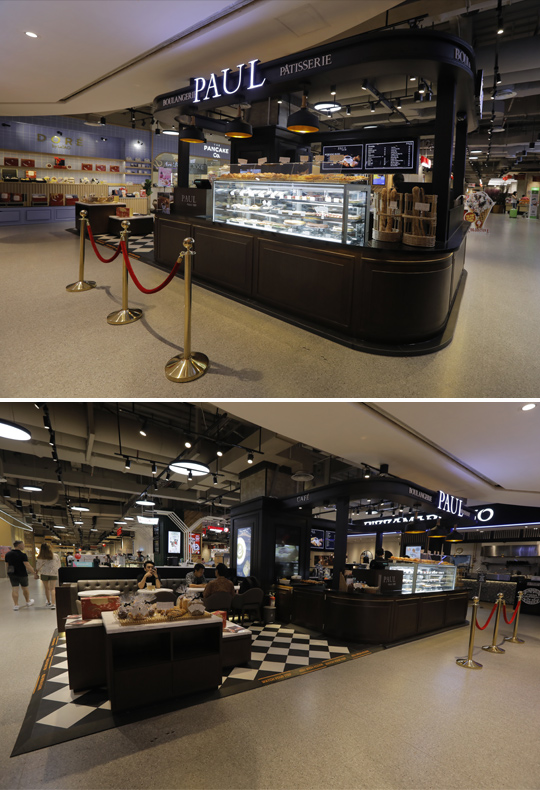 PT Sari Food Lestari, salah satu bagian dari peritel lifestyle terkemuka PT Mitra Adiperkasa, Tbk. (MAP), membuka gerai PAUL terbaru di The Foodhall Grand Indonesia West Mall, Lower Ground Floor. Gerai dengan konsep unik ini menawarkan beragam jenis kue dan roti demi memberikan pengalaman baru untuk para pelanggan setia, berupa pelayanan grab-and-go sehingga semakin banyak pelanggan merasakan produk-produk khas PAUL Bakery yang fresh from the oven serta berkualitas tinggi.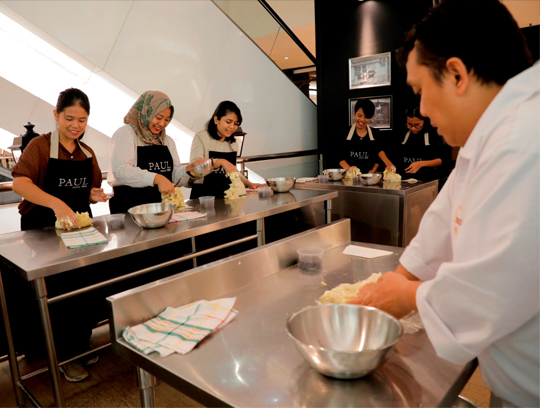 PAUL Bakery Baking Class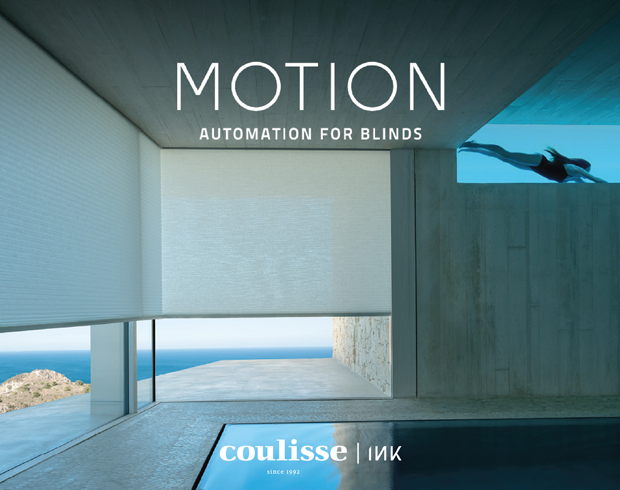 Presented by Coulisse | INK
"Kami sangat senang atas pembukaan gerai keenam kami di Indonesia. Gerai dengan desain yang menarik ini terinspirasi oleh French Art de Vivre (Gaya hidup Prancis). Pelanggan sudah dapat memperoleh menu favoritnya mulai pukul 10:00 hingga 22:00 setiap hari. Anda sekarang dapat menemukan berbagai macam croissant, kue kering, dan roti yang fresh. Kami dengan senang hati berbagi momen menyenangkan bersama Anda, saat sarapan, makan siang, tea time ataupun pada saat makan malam, sambil menikmati tradisi Prancis," kata Michael McGill, Chief Operations Officer, PT Map Boga Adiperkasa, Tbk.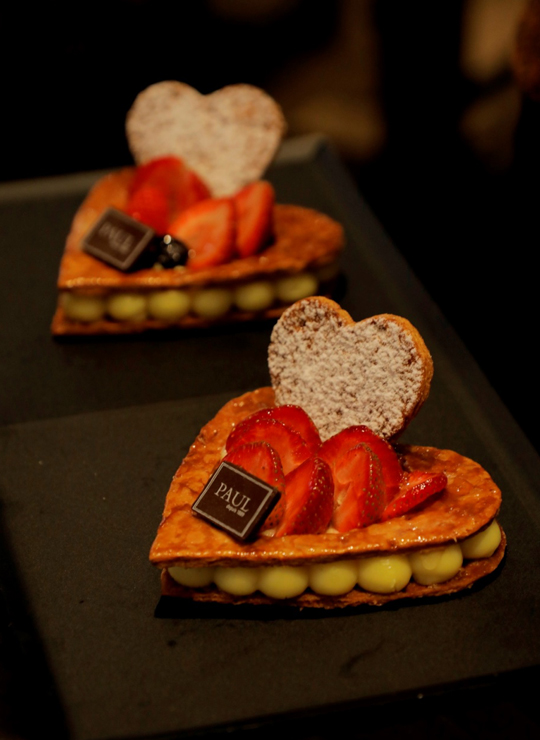 PAUL Bakery Valentine's Menu – Heart Millefeuille Strawberry
PAUL merupakan toko roti Prancis dari Croix, berada dekat Ibu Kota Lille, Nord Pas de Calais, Prancis, yang diakui seluruh dunia dan telah berdiri sejak 1889, dan masuk ke Indonesia pada 2013. PAUL Bakery tetap mempertahankan identitas utamanya dengan terus berinovasi dan menawarkan banyak produk dan layanan optimal untuk memenuhi kebutuhan pelanggan di Indonesia. PAUL Bakery dapat ditemukan di mal-mal terkemuka di sekitar Jakarta Pusat dan Jakarta Selatan, membawa tradisi Prancis bagi masyarakat Indonesia.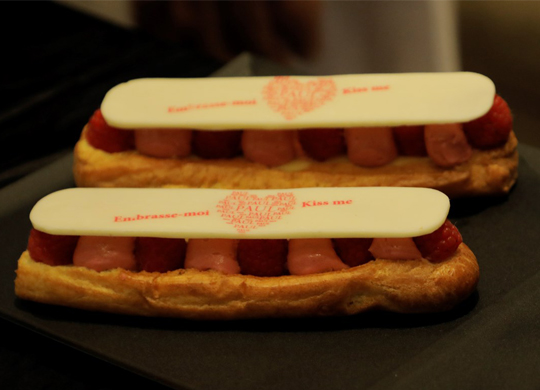 PAUL Bakery Valentine's Menu – Eclair Embrasse Moi
Pada 6 Februari lalu, Sugar & Cream berkesempatan hadir menyaksikan PAUL memperkenalkan seasonal menu, seperti untuk kali ini Valentine's Menu. Mulai dari starter hingga dessert. Prawn Cocktail (A classic starter made of prawns in cocktail sauce, together with a lotus chips); Crepe Millefeuille Smoked Salmon (Napoleon revisited with smoked salmon and cream cheese flavored with parsley and dill); Tagliatelle Ricotta and Parmesan Crumble (Tagliatelle prepared from a marriage of sweet and sour with ricotta,dried tomatoes, black olives and shallots); Chocolate Heart Brioche (Classic French buttery brioche dough dipped in chocolate and hazelnut); White Chocolate Heart Brioche (Classic French buttery brioche dough dipped in white chocolate); Rose Entremet (A rose made of strawberry mousse with a heart of raspberry and strawberry, standing on a matcha brioche); Heart Shaped Strawberry Millefeuille (Revisited millefeuille to celebrate love with the smoothness of custard, crunchy of puff pastry and sweetness of the strawberry); dan Eclair Embrasse Moi (A raspberry eclair with raspberry custard for a special occasion). Yang semuanya menggunakan bahan asli dari Prancis berkualitas dan diracik menjadi hidangan lezat.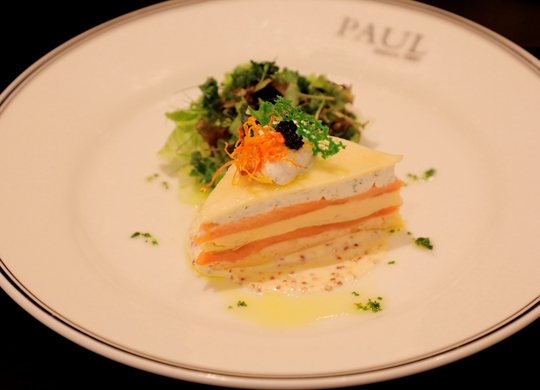 PAUL Bakery – Salmon Millefeuille

Sekaligus di kesempatan yang sama, PAUL re-introduce as a brand, mereka menawarkan produk dan servis yang menarik mulai dari baking class, French dining, catering service, dan seasonal menu.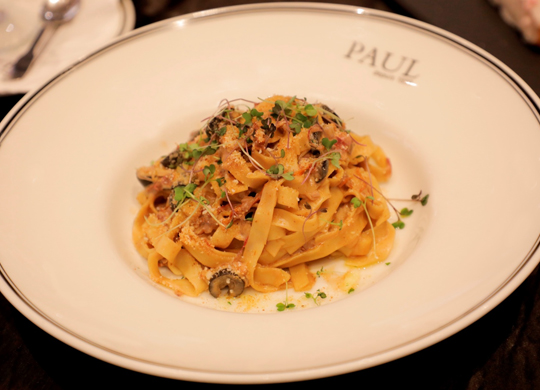 PAUL Bakery – Tagliatelle Ricotta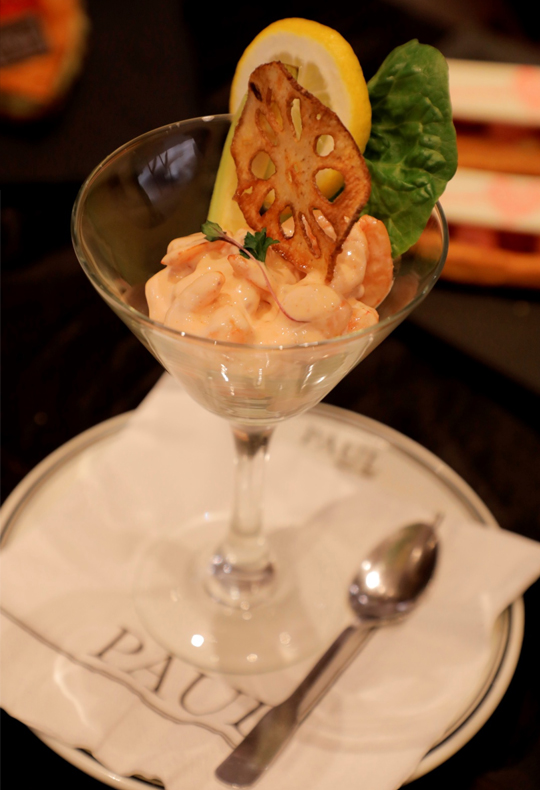 PAUL Bakery – Prawn Cocktail