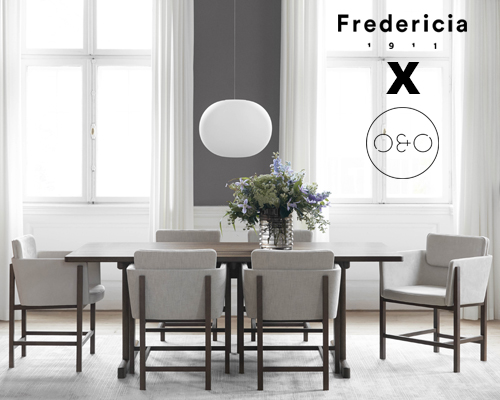 OEO Studio for Fredericia – Din Chair
Published by Sugar & Cream, Thursday 01 February 2018
Text by S&C, images courtesy of  Tomorrow PR
Launch at Stockholm Furniture Fair 2018
Ajang pameran Stockholm Furniture and Light Fair 2018 yang akan berlangsung 6-10 February, 2018 menjadi pilihan tepat bagi produsen furnitur Fredericia , label dari Denmark untuk melansir kursi makan terbaru bertajuk 'Din Chair'.
Din Chair adalah kursi makan terbaru yang dirancang dengan silouet bingkai kayu yang tipis diinfuskan dengan karakter dan kenyamanan maksimal. Kursi menawan dan menawarkan rasa privasi karena samping yang tertutup dirancang oleh OEO Studio dibawah Thomas Lykke, creative director OEO Studio ternama ini.
"The Din chair is gracious, welcoming and designed for relaxed dining and generous hospitality"
Thomas Lykke, creative director OEO Studio


Din Chair

Secara desain yang paling menonjol adalah kontras antara kerangka kayu yang tipis dan ringan dengan upholstery nya yang terlihat mewah dan nyaman, Din Chair tidak saja sempurna untuk pelengkap meja makan. Anda bisa menggunakannya juga dalam meeting room,  ruang tamu atau diruang dimana dibutuhkan statement yang kuat.
Tersedia dalam 5 pilihan jenis finishes : oak smoked stained, black lacquered, lacquered, oiled and white oiled. Sedangkan pelapis terdapat opsi fabric atau kulit.