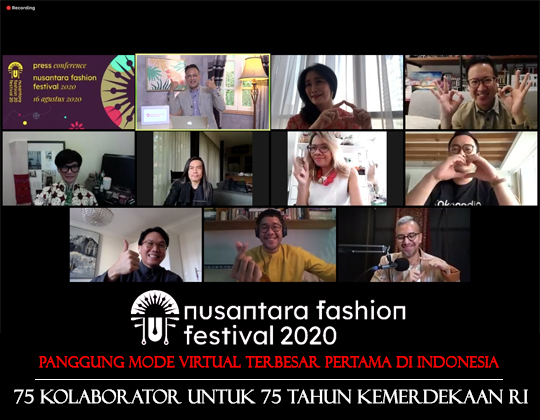 presented by

Nusantara Fashion Festival 2020 : Panggung Mode Virtual Terbesar Pertama di Indonesia Bersama 75 Kolaborator
Published by Sugar & Cream, Tuesday 25 August 2020
Text by Dira Rohmatun, images courtesy of Nusantara Fashion Festival 2020
Gerakan Nasional Bangga Buatan Indonesia & Simak Secara Virtual Hingga 31 Agustus 2020
Kehadiran Nusantara Fashion Festival 2020 (NUFF 2020) menjadi angin segar bagi para pelaku UMKM di tengah kondisi pandemik COVUD-19 ini. Bagaimana tidak? Sebuah panggung mode virtual yang diselenggarakan oleh Kementerian BUMN melalui Bank BRI pada tanggal 16 dan 17 Agustus 2020 ini, hadir untuk mendukung Gerakan Nasional Bangga Buatan Indonesia dan industri mode tanah air, dengan mempesembahkan virtual fashion show terbesar pertama di Indonesia! Membangkitkan semangat baru disaat perekonomian mulai lesu akibat pandemic.
Didiet Maulana, Kurator UMKM NUFF 2020 mengatakan, "Virtual Fashion Show NUFF 2020 merupakan panggung presentasi mode yang menghadirkan kolaborasi antara UMKM mode, brand dan label fashion, serta perancang busana. Ragam dari industri mode nasional diperlihatkan, mulai dari perancang maestro yang menghadirkan karya couture, brand dan label fashion dengan karya streetwear lokal, kearifan busana lokal serta karya UMKM mode. Sehingga dapat memperkenalkan kualitas dari UMKM mode Indonesia dan juga mengajak masyarakat untuk menyemarakkan Gerakan Nasional Bangga Buatan Indonesia."
Sebanyak 75 kolaborator perancang busana, label, dan UMKM mode menampilkan karya terbaik mereka untuk 75 tahun kemerdekaan Indonesia. Nantinya, mulai dari pakaian, sepatu, aksesoris, fabric, kerajinan tangan, dan riasan yang ditampilkan pada panggung mode virtual ini akan dilelang secara eksklusif melalui situs NUFF 2020 pada tanggal 16 Agustus 2020 dan ditutup di tanggal 31 Agustus 2020. Seluruh profit yang didapatkan akan disumbangkan bagi UMKM sektor mode yang membutuhkan melalui Dewan Kerajinan Nasional (DEKRANAS).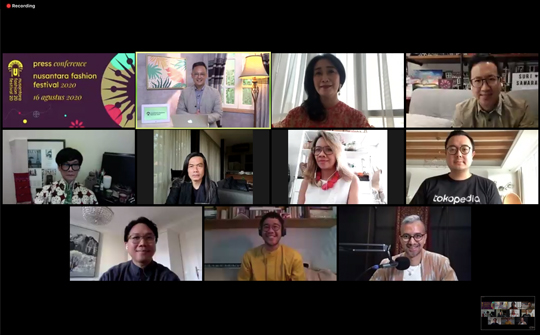 "Antusiasme dan sinergi semua pihak yang terlibat dalam NUFF 2020 merupakan bentuk semangat kemerdekaan yang dijunjung oleh pekerja seni dan mode Indonesia untuk maju. Kami harapkan Virtual Fashion Show dan Charity Auction NUFF 2020 dapat menjadi wujud perjuangan industri kreatif untuk dapat mengakselerasi UMKM di sektor mode, serta mempresentasikan karya dan produk mode tanah air. Dukungan ini juga merupakan bentuk nyata upaya Bank BRI mendukung UMKM yang tengah berjuang untuk bangkit di tengah pandemi" ucap Handayani, Direktur Konsumer Bank BRI.
Mereka yang berpartisipasi dalam panggung mode virtual ini ialah Aidan And Ice, Amalia Jewel, AMOTSYAMSURIMUDA, Amstamb, Atelier Pedra, BYO, Chiel Shoes, Ciel, Clarissa Kwok, Cotton Ink, Danjyo Hiyoji, Deden Siswanto, Denny Wirawan, Dibba, Égon, Ella & Glo, EPA Jewel, ETU, fbudi, Fréj, Friederich Herman, Hattaco by Rani Hatta, House of Jealouxy, IKYK, Kana Goods, Lekat, Lulu Lutfi Labibi, Mader, Mahija, Major Minor, Massicot, Monday To Sunday, Mote Mote, Noesa, Not Your Birthday, Pala Nusantara, Patrick Owen, Peggy Hartanto, Pendulum, Purana, Pvra, Rama Dauhan, Riana Lombok, Rosalyncitta, Runa Jewellry, ScissorsPaperRock, Sean Sheila, Semomondeezy, Sepatu Compass, SOE Jakarta, Stella Rissa, Straps, Moral, Tangan, Terima Kasih Kembali, Tities Sapoetra, Toton, Tulola, Yogie Pratama. Adrian Gan, Auguste Soesastro, Bin House, Didi Budiardjo, Didiet Maulana, Eddy Betty, Edward Hutabarat, Ghea Fashion Studio, Heaven Tanudiredja, Hian Tjen, Mel Ahyar, Priyo Oktaviano, Rinaldy A. Yunardi, Sebastian Gunawan, Sejauh Mata Memandang, dan Tex Saverio. Dan tak ketinggalan sejumlah penyanyi papan atas seperti Afgan, Hindia, Rossa, dan Sara Fajira turut memeriahkan hari ulang tahun Indonesia yang ke-75.

Presented by Interni Cipta Selaras
Tidak cukup sampai di situ, NUFF 2020 juga menghadirkan 10 karya exclusive kolaborasi dalam gelar Virtual Charity Auction pada 16 Agustus 2020 hingga 31 Agustus 2020. Diantaranya yaitu kolaborasi dari jenama Sepatu Compass x Sejauh Mata Memandang, Darbotz x Bluesville, NIION x Rama Dauhan, HitHat x Stereoflow, Voyej x Dibba, Elhaus x Agugn, Didi Budiardjo x DGTMB, Aesthetic Pleasure x Olderplus, TANGAN x Abenk Alter, dan Rinaldy A. Yunardi x Museum of Toys featuring Putu Arya.
Selain menghadirkan presentasi karya mode, NUFF 2020 juga mendukung dan memberikan ruang bagi UMKM mode untuk berinteraksi dengan konsumen, melalui pemasaran yang didukung oleh Tokopedia dan Bukalapak sebagai official e-commerce partner. Seluruh rangkaian acara ini dapat disaksikan secara live stream di www.nusantarafashionfestival.com, serta informasi lebih lanjut terkait NUFF 2020 juga bisa didapatkan di situs tersebut dan akun instagram @nuff.id.