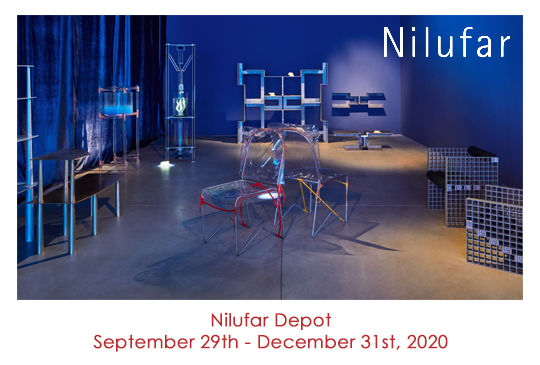 presented by

Nilufar Depot: September 29th – December 31st, 2020
Published by Sugar & Cream, Thursday 19 November 2020
Text and images courtesy of Nilufar Gallery
The Future With New Creative Connections
Nina Yashar has decided to dedicate Nilufar Depot to three important projects: TERRA (IN)FIRMA, a solo show by the artist Flavie Audi; the second edition of FAR – BRASSLESS curated by Studio Vedèt; Nina Yashar's Heritage – A Lifelong Collection.
NILUFAR DEPOT
Viale Lancetti 34
Milan
Seemingly unrelated, the designers and their works are in effect united by a common fundamental creative process—combining the desire, intention, and ability to transcend limits, restrictions and boundaries towards incredible new possibilities.
central hall
TERRA (IN)FIRMA
Flavie Audi
Nilufar Gallery is pleased to announce TERRA (IN)FIRMA, the first Italy solo exhibition of the French- Lebanese artist Flavie Audi. This exhibition will present five new series of tables alongside sculptural artworks. The show weaves through a geological narrative shaping a utopian world where real and virtual meet and seeking to destabilize our encounter with the terrestrial and imagine a post-human topography.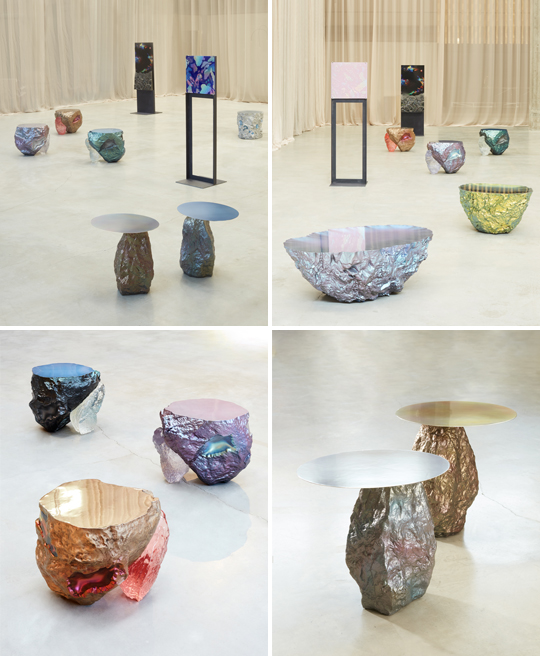 Terra (In)Firma
In navigating this uncanny plain, we encounter fragments of hyper-liths dispersed through space, rupturing our sense of stability; rocks become fluid, tilting on their axis, conglomerating. Forms caress and nudge each other in tender relations. Digital aesthetics warps our sense of material nature, hybridising the organic and synthetic. Ultimately, TERRA (IN)FIRMA confronts us with the Promethean dilemma: should the Earth be treated as a resource whose utility is determined primarily by human needs? Can human technology overcome our environmental problems?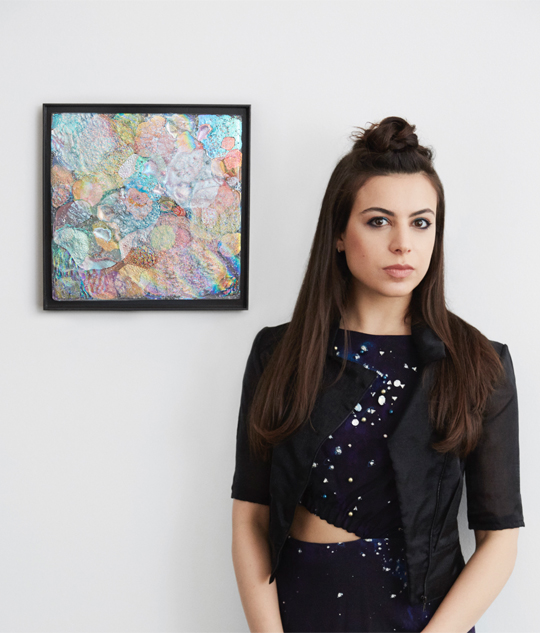 Flavie Audi
caveau
FAR – BRASSLESS New accords for the metallic wave
Curated by Studio Vedèt
FAR is a parasitic entity, an unsettling intestinal project that has crept among the spaces and programs of Nilufar Gallery for the past three years. FAR will take over the spaces of the Caveau at Nilufar Depot, in viale Lancetti, with the collective show BRASSLESS. The show is a provocative yet light gesture which strikes an irreverent and playful attitude in response to a trend that has popped up everywhere in product and interior design, in companies and galleries —including Nilufar itself—in recent years.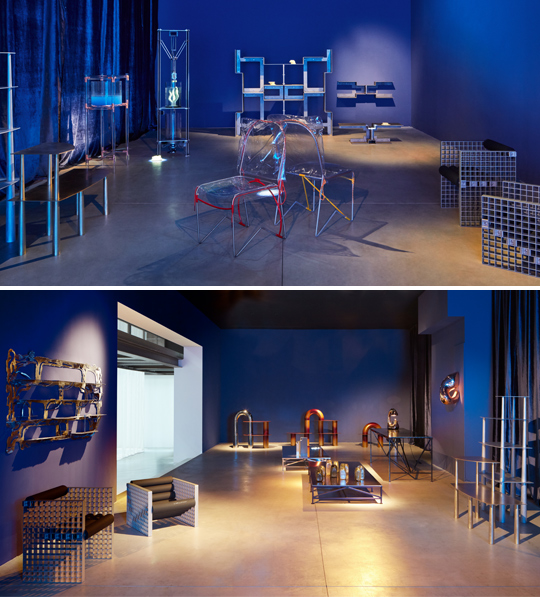 Far
BRASSLESS comments on the use (or abuse) of this metal, most popularly in the form of surface-layer sheets that cover everything (and nothing in particular) in contemporary design, with little regard for the unique properties of brass. FAR celebrates the return of material potentiality and meaning as urgent design topics, showing 13 projects (in different metals and 1 nonmetal) that investigate physical and visual qualities of matter—exploring forms and avoiding uniformity.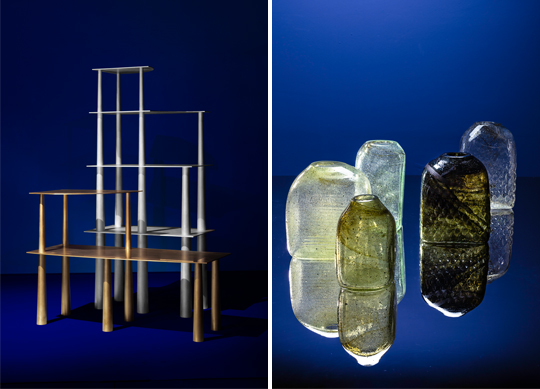 Brassless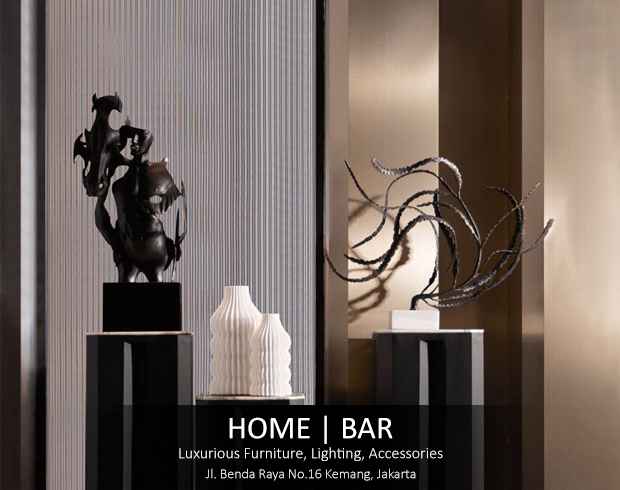 Presented by HOME | BAR
Anna Diljá Sigurðardóttir
Antonio Barone
Carlo Lorenzetti
Destroyers / Builders
Lukas Wegwerth
Objects of Common Interest
Odd Matter
OLDER with Alexander Benjamin Vinther
Simon Ballen
Studio Minale-Maeda
Thomas Ballouhey
Wendy Andreu / Bram Vanderbeke
Special contributor – Martino Gamper

boxes
HERITAGE – A lifelong collection + new contemporary pieces
Nina Yashar, in forty years of career and research in Europe, Asia and the United States, has collected a compendium of works that has distinguished her history as a collector and gallery owner, has helped to outline her vision in the world of design and has marked the evolution of Nilufar.
The selection of historical pieces, also present in the catalogs published by the gallery on the occasion of the exhibitions curated by Nina Yashar, testifies to Nilufar's strength in the mid-century international design – among the authors: Gio Ponti, BBPR, Osvaldo Borsani, Arne Jacobsen, Bruno Mathsson, Alvar Aalto – but also in contemporary design, with projects by her beloved designers such as Gaetano Pesce, Andrea Branzi, Massimiliano Locatelli, Fabien Cappello and Nucleo.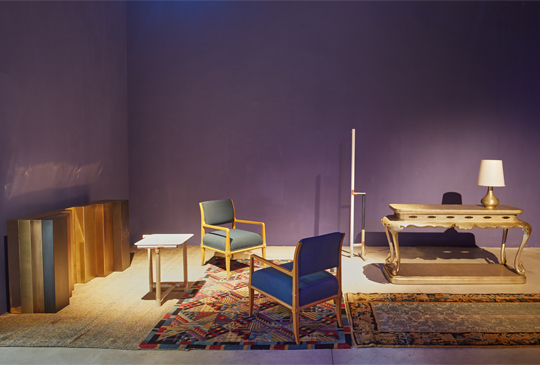 Nilufar Heritage
Heritage stands out from all the other Nilufar projects also for the attention by Nina Yashar to the democracy of the selected pieces, with the aim and desire to make collectable design accessible to a younger audience, the future collectors of tomorrow.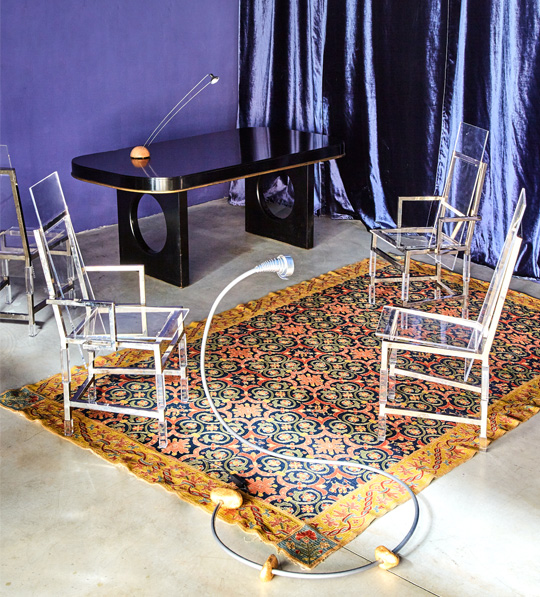 Nilufar Heritage
In the settings surrounding Nilufar's three-story central atrium, contemporary creations and historic furnishings give life to harmonious scenographies and unique contexts, putting an exclusive selection of designs by Italian masters in dialogue with unique Brazilian pieces and new contemporary products.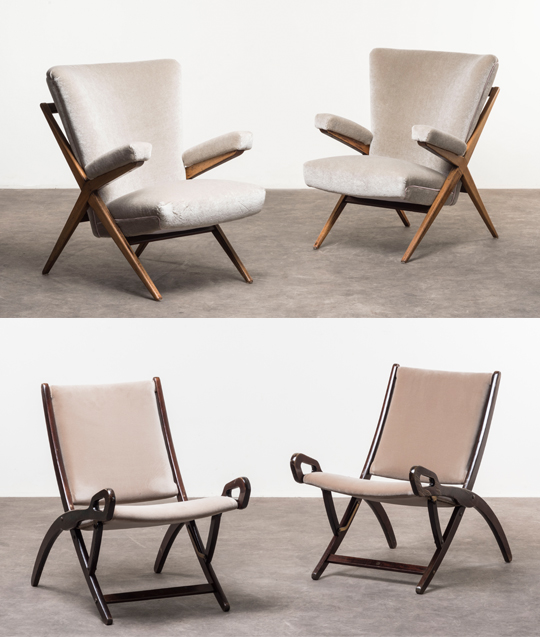 Franco Albini, Pair Of Armchairs | GioPonti, Four Rare Ninfea Folding Chairs
Claude Missir,Marco Lavit, Massimiliano Locatelli, Osanna Visconti, Sophie Dries, Tommaso Bertocco