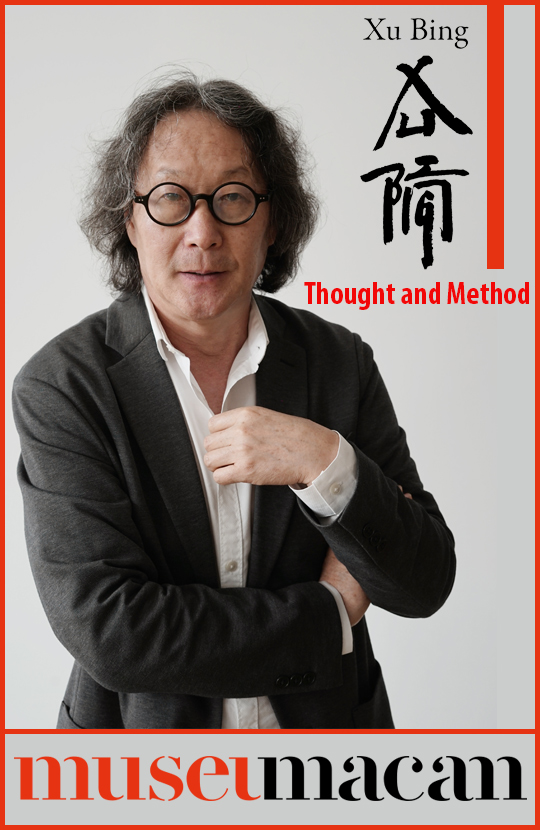 presented by

Museum MACAN Presents Xu Bing: Thought and Method
Published by Sugar & Cream, Friday 14 June 2019
Text by Dinda Bestari, image courtesy Museum MACAN
Solo Exhibition by Renowned Chinese Artist, Xu Bing : 31 August – 12 January 2020
Museum MACAN mempersembahkan Xu Bing: Thought and Method, sebuah pameran tunggal skala besar dengan menghadirkan karya-karya dari Xu Bing, seniman kontemporer kenamaan asal Tiongkok. Pameran ini akan berlangsung dari 31 Agustus 2019 – 12 Januari 2020.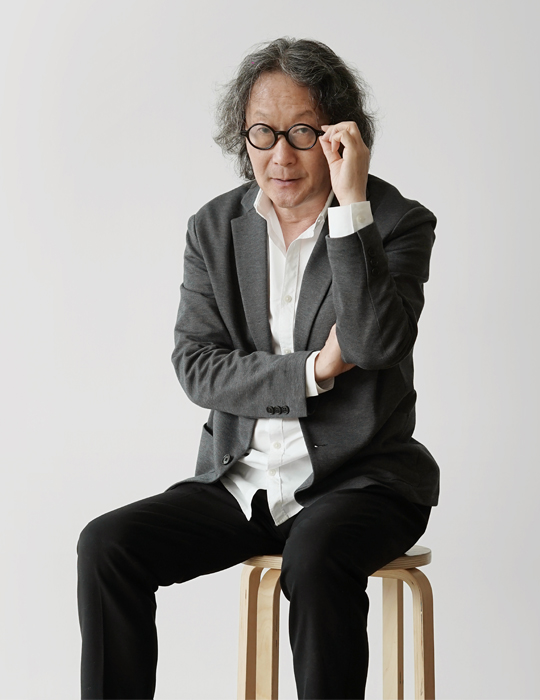 Xu Bing
Xu Bing : Thought and Method adalah pameran retrospektif Xu Bing terbesar dan pertama di Asia Tenggara, juga di Indonesia. Menampilkan lebih dari 60 karya Xu Bing, yang dibuat selama lebih dari 40 tahun. Karya-karya tersebut menggunakan berbagai medium – termasuk drawing, seni grafis, instalasi, film, dan materi arsip. Xu Bing: Thought and Method terlaksana atas kerjasama Museum MACAN dengan UCCA Center for Contemporary Art, Beijing, Tiongkok; tempat pameran ini pertama digelar pada Oktober 2018.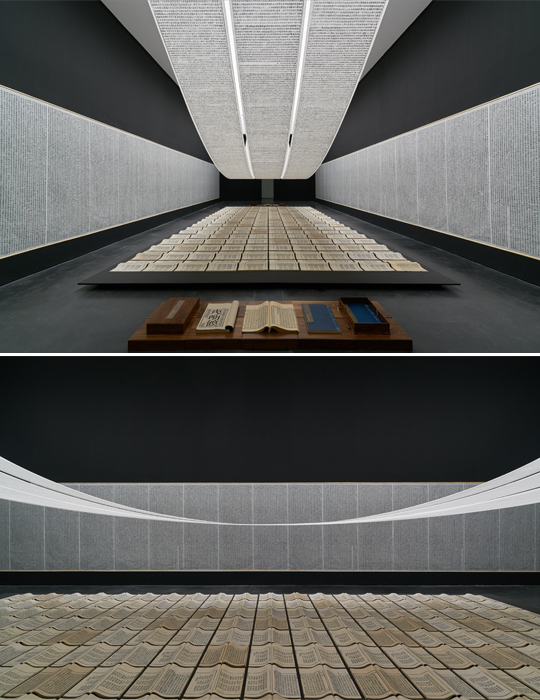 Xu Bing – Book from the Sky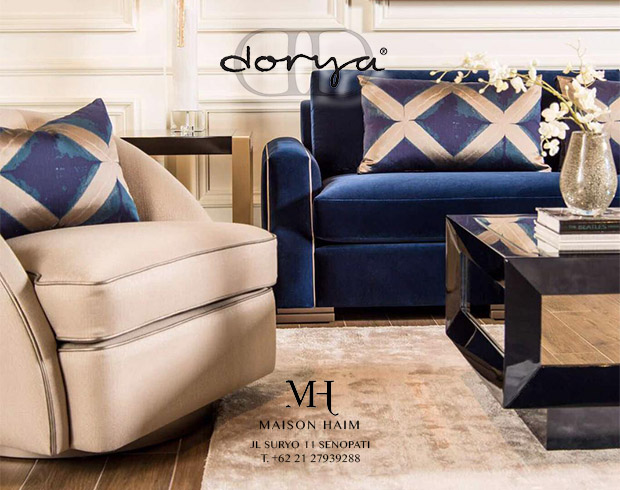 Presented by Maison Haim
Sesuai dengan judulnya, Xu Bing: Thought and Method menampilkan perjalanan karier Xu Bing secara menyeluruh, serta metode, dan motivasi di balik gagasan artistiknya. Beberapa karya yang akan ditampilkan meliputi; Book from the Sky (1987-1991) adalah karya instalasi masif yang dibentuk dari banyak gulungan kertas yang tingginya mencapai hampir tiga meter dan menjuntai dari langit-langit hingga lantai; Ghosts Pounding the Wall (1990-1991) adalah instalasi berukuran 15 x 32 meter, merupakan gambaran dari Tembok Besar Cina; Square Word Calligraphy (1994-kini), sebuah sistem bahasa ciptaan Xu Bing yang lahir dari "perkawinan" huruf Latin dan karakter yang menyerupai kaligrafi Tiongkok; Honor and Splendor (2004), instalasi berbentuk karpet motif loreng harimau, dibuat dari 660.000 batang rokok; Book from the Ground (2003-kini) adalah sebuah proyek yang menggunakan simbol-simbol universal, termasuk tanda-tanda yang sering kita lihat di ruang publik dan kumpulan emoji, untuk membentuk sebuah cerita; Dragonfly Eyes (2017) adalah sebuah film panjang yang dirangkai dari kompilasi rekaman kamera CCTV di Tiongkok.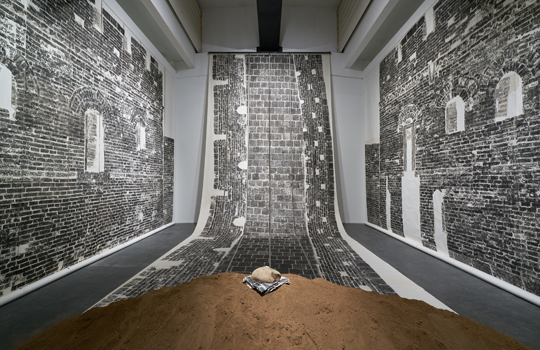 Xu Bing – Ghost Pounding the Wall
Xu Bing, dalam wawancara dengan Museum MACAN, berkata: "Untuk menjadi perupa yang baik, seseorang mesti menjadi pemikir yang baik. Tetapi, jika perupa tersebut hanya memiliki pemikiran atau filosofi yang baik, ia dapat menjadif ilsuf yang hebat, namun namanya tidak akan pernah tercatat dalam sejarah dunia seni. Karena itu, seorang perupa mesti mempunyai sebuah cara artistik untuk mempresentasikan idenya, sebuah metode yang lepas dari konsep budaya yang normatif."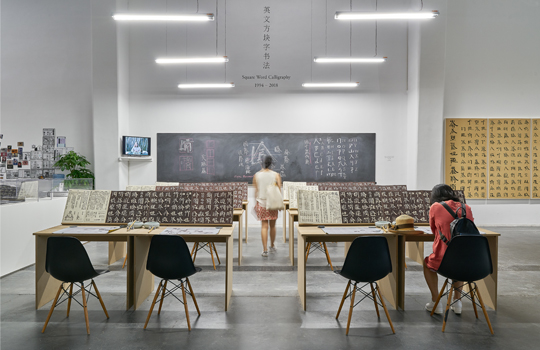 Xu Bing – Square Word Calligraphy Classroom
Sebagai seniman, Xu Bing mendapat reputasi globalnya lewat metode unik dalam penyajian isu yang merefleksikan kehidupan kontemporer, eksplorasi berbagai medium – dari yang tradisional seperti tinta Cina hingga yang eksperimental seperti film dan kreativitasnya dengan bahasa.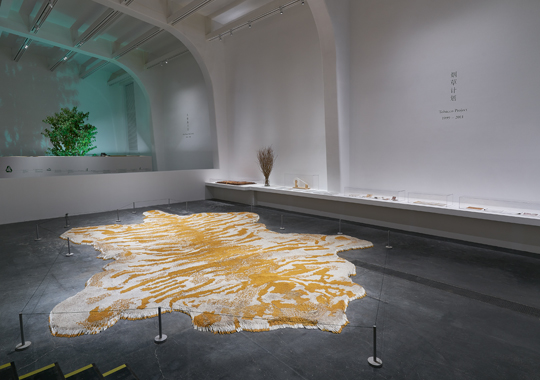 Xu Bing – Honor and Splendor
Kunjungi www.museummacan.org untuk info lebih lanjut. Atau follow Instagram dan Twitter (@museummacan) juga Facebook (Museum MACAN)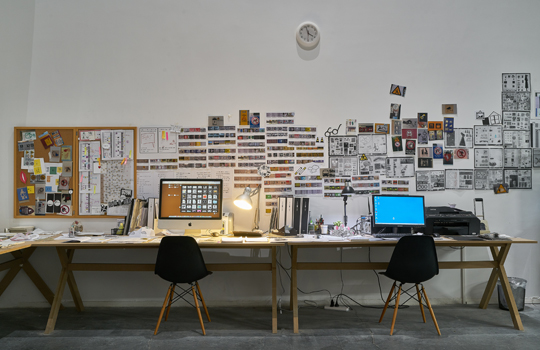 Xu Bing – Book from the Ground Studio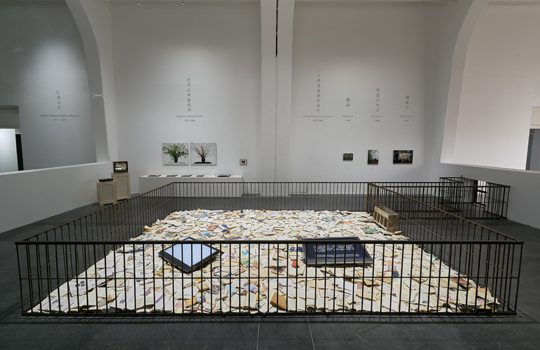 Xu Bing – A Case Study of Transference