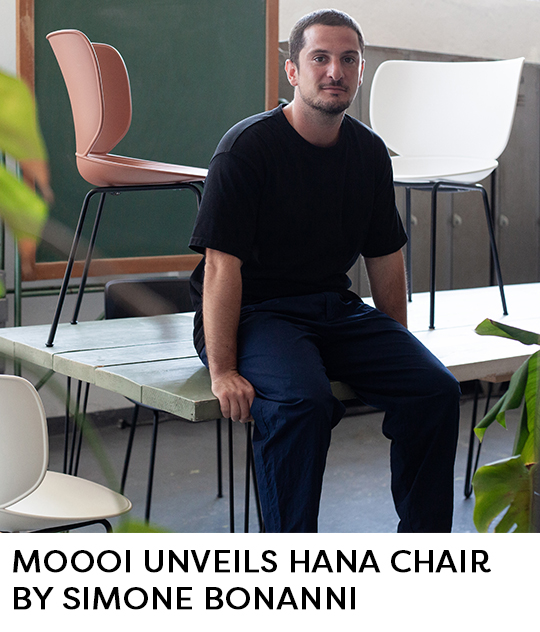 presented by

MOOOI UNVEILS HANA CHAIR BY SIMONE BONANNI
Published by Sugar & Cream, Wednesday 27 September 2023
Images and text courtesy of Moooi
Blending Comfort and Versatility into an Iconic Silhouette
Lifestyle brand Moooi introduces a brand new dining chair: the Hana Chair by Simone Bonanni. Redefining elegance and comfort in the world of seating. Versatile and customisable, the Hana Chair heightens any space with its impeccable style and unmatched comfort. Whether it's standing at a dining table in fours, or in a conference room in hundreds. With a customisable shell, different bases and an extensive range of upholstery options, the Hana Chair can be configured to perfection to match any taste and any space. The Hana Chair is available worldwide at Moooi Stores, on Moooi.com, and selected dealers from 12 September 2023.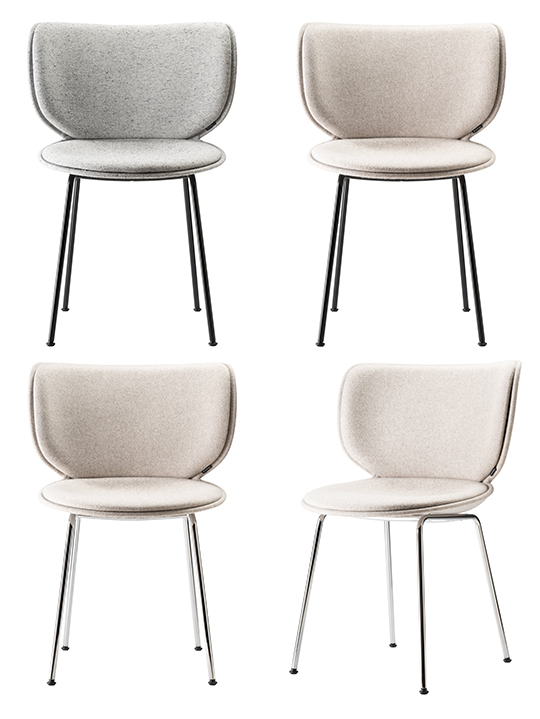 DESIGNED TO BE COMPATIBLE WITH ANY SPACE
The Hana Chair by Simone Bonanni combines timeless comfort and unparalleled distinction. Inspired by the unfurling of a flower, its unique design captivates with organic shapes, curved lines, and a petal-like backrest. Versatile and customisable, the Hana Chair effortlessly blends into any space with its impeccable style and unmatched comfort. Whether it's standing at a dining table, living room, the office, restaurants, or any other type of private or public space.

PERSONALISE YOUR SEATING: HANA CHAIR'S
CUSTOMISABLE COLOURS & BASES
The Hana Chair boasts six carefully selected colours to choose from, ranging from classic Black and White to contemporary options like Concrete Grey, Oyster White, Dusty Pink, and Terracotta. This diverse palette ensures you can effortlessly harmonise the chair with any interior style or theme. To further accommodate individual preferences, the Hana Chair offers a choice between stackable and non-stackable metal bases available in striking chrome or sleek matte blackfinishes. With all materials of the un-upholstered version being recyclable, the diverse combination of colour and base options allows you to curate a personalised seater that perfectly complements your space.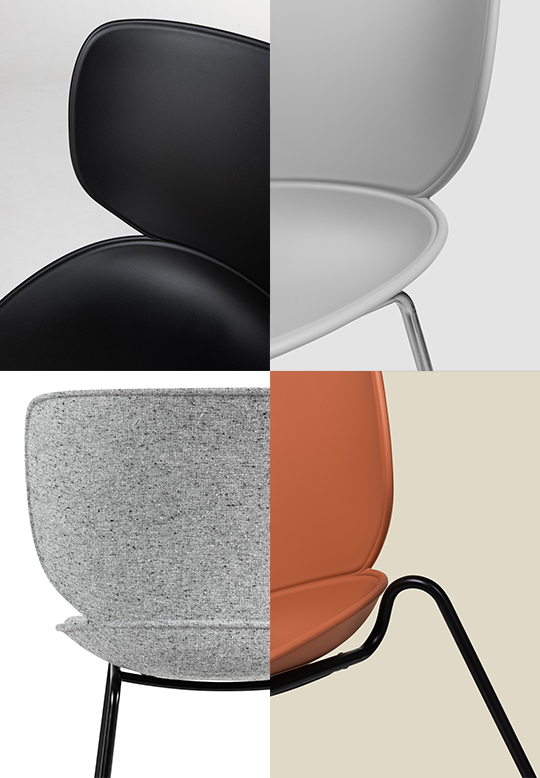 TAILORED TO PERFECTION: HANA CHAIR'S

Presented Interni Cipta Selaras
VERSATILE UPHOLSTERY OPTIONS
With Moooi's rich and diverse range of premium fabrics and leathers, offering infinite options for upholstery, the Hana Chair's charm lies in its versatility. This allows you to transform the Hana Chair into a luxurious seating experience that mirrors your unique taste and lifestyle. It also adds to the already high comfort level of the Hana Chair. Whether seeking the opulence of lush velvet, the earthiness of fine leather, or the chic texture of contemporary fabrics, the Hana Chair becomes a canvas for personal expression. This level of versatility empowers you to create truly bespoke chairs that seamlessly blend into any setting, residential or commercial.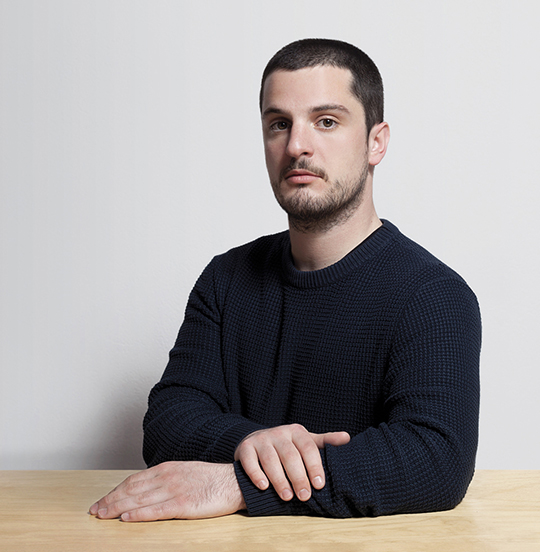 "The Hana Chair by Simone Bonanni perfectly complements our successful Hana family, adding a fresh dimension to our design language. Its distinctive silhouette and versatile charm reflects our commitment to creating extraordinary designs that leave a lasting impression." –  ROBIN BEVERS, CEO OF MOOOI –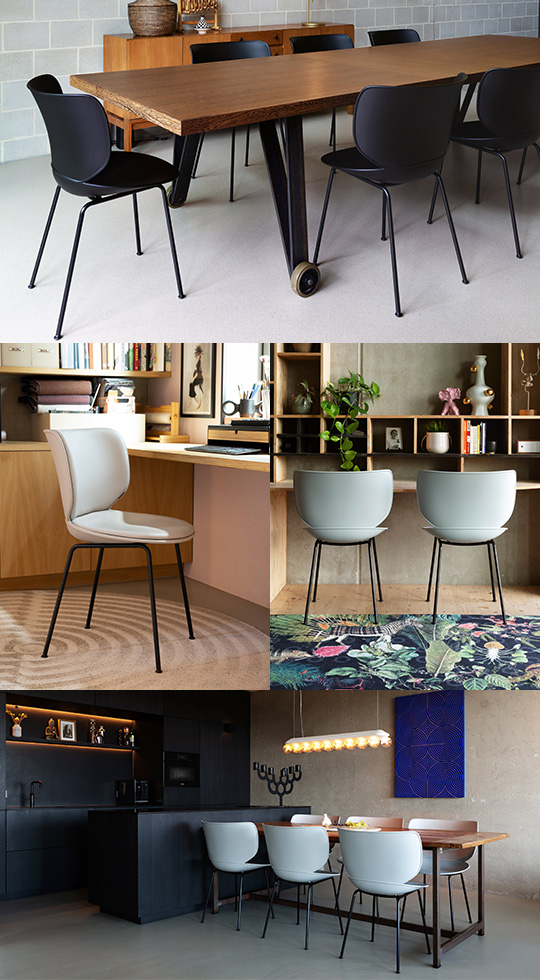 Simone Bonanni

PROLONGED COMFORT AND AESTHETICS IN PERFECT HARMONY
The Hana Chair is designed to last. The encompassing backrest, that makes up the chair's distinctive silhouette, provides you with support and flexibility, prioritising comfort without compromising on aesthetics. The Hana Chair is more than a seating object. The design is sculptured around the human body and offers a sense of pampering and flexibility for extended periods of sitting. Hana's generous proportions ensure unparalleled comfort, makes it the perfect chair for any space, be it at a dining table, reading nook, boardroom, or event venue.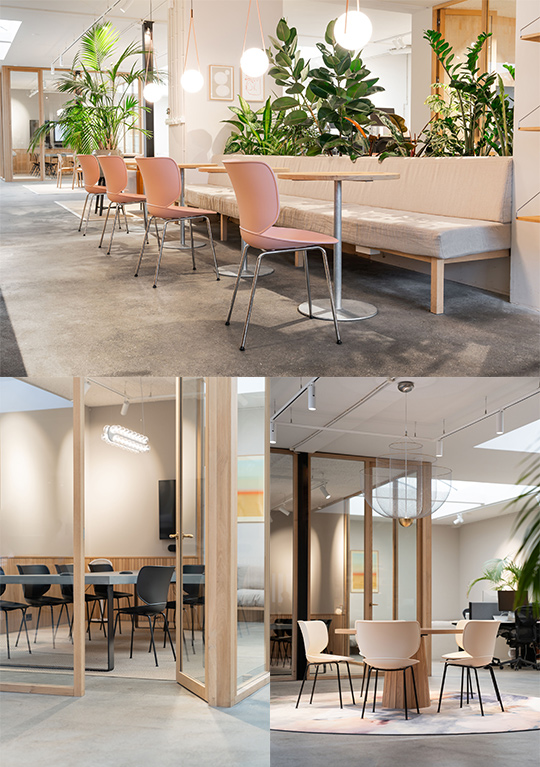 "Ergonomics are useless if the aesthetic is wrong." – SIMONE BONANNI, DESIGNER OF THE HANA CHAIR –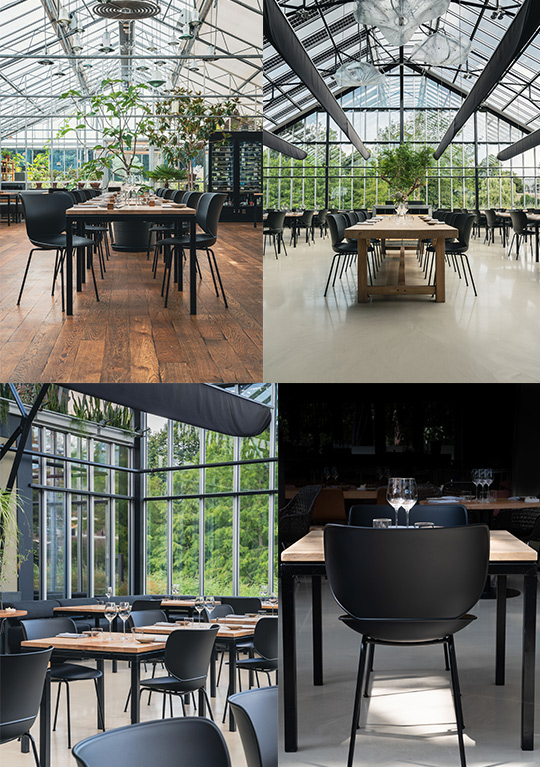 THE HANA FAMILY BY SIMONE BONANNI
Hana means 'blooming' in Japanese, which perfectly fits the design as it unfolds like a flower in bloom. The inspiration behind the Hana family comes from the aesthetics of an unfurling flower. The design incorporates organic shapes and curves, as well as the encompassing backrest reminiscent of flower petals, which gives the chair its unique and recognisable look. The Hana Chair, part of the Hana family that also boasts the sizeable Hana Armchair, invites you to sit down and relax in its enveloping embrace. According to designer Simone Bonanni: "Ergonomics are useless if the aesthetic is wrong" and proves with his Hana family, that you don't have to compromise on either. The Hana chairs are more than seating objects. They're sculptured around the human body and its need to be pampered, embraced and accommodated for long stretches of time.