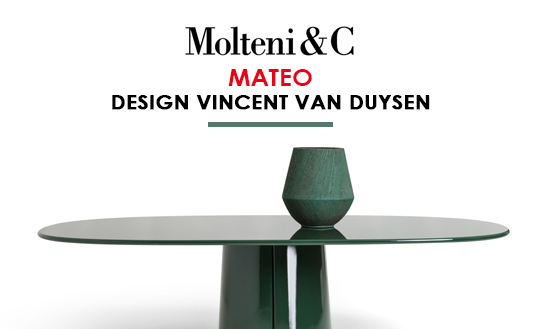 presented by

MOLTENI&C: MATEO – DESIGN VINCENT VAN DUYSEN
Published by Sugar & Cream, Tuesday 18 April 2023
Text & images courtesy of Molteni&C
A Table With Scalable Proportions And Clean Lines, Designed For The Art Of Entertaining Guests
Vincent Van Duysen reconfigures the dining room, adding character with a new table design, available in two different versions.
"It was inspired by the hospitality area designed for the new Pavilion inside the Molteni&C headquarters. A welcoming place, conceived to create an atmosphere of Italian hospitality, elegant and minimal, in line with the soul of the brand", said Vincent Van Duysen
The table, featuring a cylindrical and cone-shaped pedestal in the centre, divided in two in the vertical part of the base, is available in two versions tapered at the edges: round and oval, blending in perfectly with all kinds of environments. The cone-shaped base is made with a curved plywood template; the two printed halves, when juxtaposed, design an open furrow in the centre, giving the base a completely unexpected personality.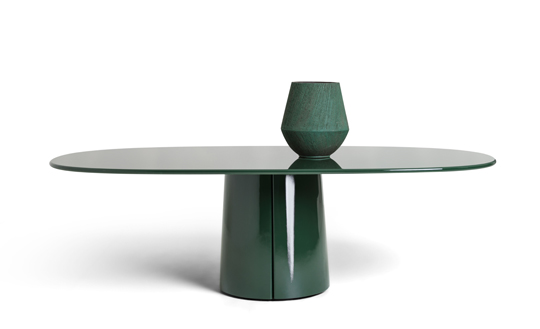 The internal frame adds solidity thanks to an invisible rod in lacquered metal, ensuring stiffness where the base meets the top.
"When making the central pedestal" stated Van Duysen – "I was inspired by the solidity of a company with almost 90 years of history behind it. Roots that are deeply anchored, and which support its dynamic approach to the future."
The Mateo table, available in the 140, 160 and 180 cm diameter sizes for the round version and in the 220 and 250 cm sizes for the oval version, sports wood or shiny lacquered finishes.
Two new colours enrich the palette of the lacquered finishes: Pine Green, evoking the typical dark green colour of pine trees during the winter months and Almond White, a sophisticated shade of milky white.


Presented by Interni Cipta Selaras
For the wood version, the Mateo table comes in a new oak variant that features the many shades and hues of coffee.
For the 160 and 180 cm round versions, a swivel tray – Lazy Susan – can be added in the centre, a practical way to serve all the diners seated round the table, creating an informal setting for meals in good company.
A modern concept of dining: a table with scalable proportions and clean lines, designed for the art of entertaining guests.