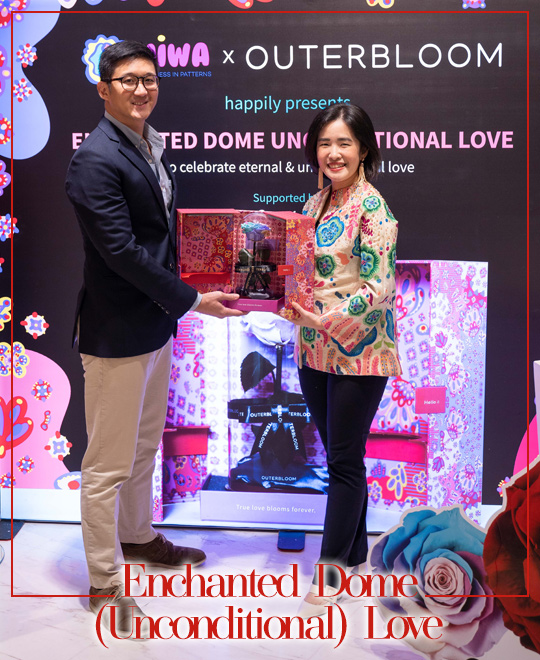 presented by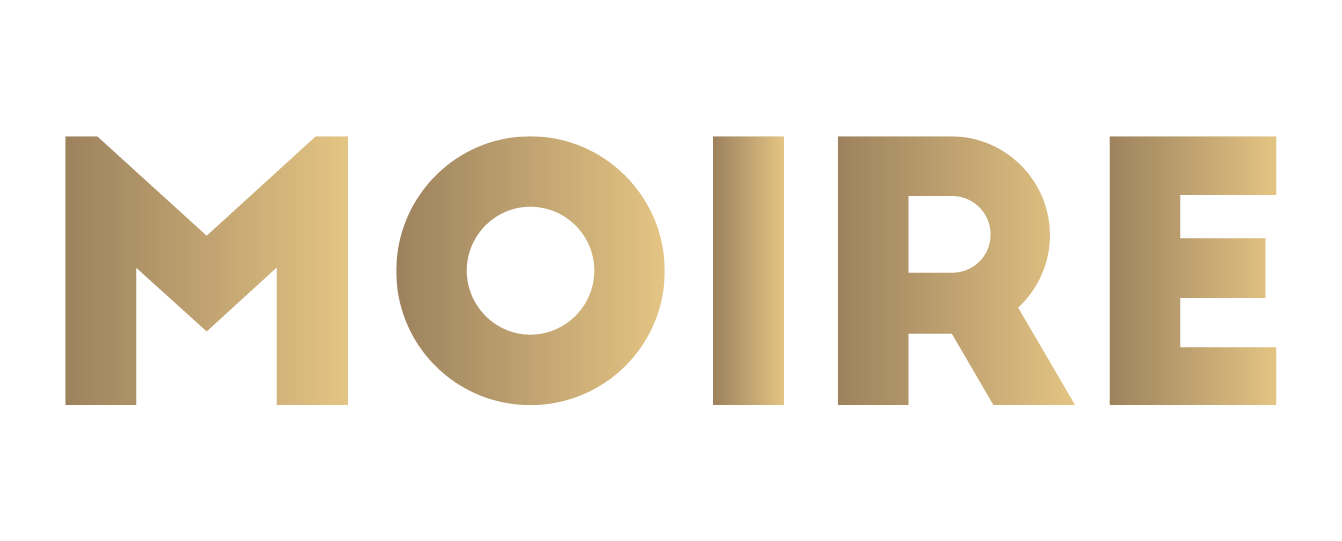 MIWA Pattern x Outerbloom Presents Enchanted Dome
Published by Sugar & Cream, Friday 14 February 2020
Text and Image Courtesy of Dinda Bestari
(Unconditional) Love
Have you ever thought about what to give to your special one on Valentine's day? Rose? So typical! Bagaimana kalau dome berisi bunga mawar dan di-'bungkus' dengan kotak yang cantik? Pasti menarik. Inilah yang terjadi dari dialog jenius antara MIWA dan Outerbloom, dengan meluncurkan Enchanted Dome: (Unconditional) Love pada 5 Februari 2020, di Central Dept. Store, Grand Indonesia.
Produk limited-edition ini menjadi persembahan yang unik nan cantik untuk para pria yang kesulitan memilih hadiah untuk pasangannya di Hari Valentine. Bunga mawar asli yang diawetkan hingga bertahan selama 3 tahun diletakkan dalam glass dome, lalu dikemas indah dalam kotak ekslkusif berlapis pola unik kreasi MIWA.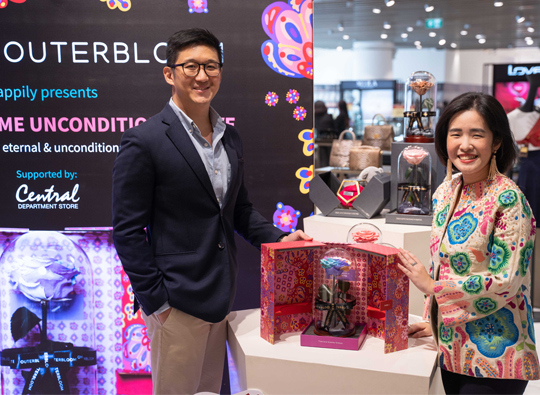 William Tunggaldjaja dan Mira Hoeng
Untuk mengeluarkan produk spesial ini, Outerbloom dan MIWA berinovasi dalam seluruh prosesnya. Jenis bunga mawar yang digunakan impor asli dari Ekuador dengan bentuk kelopaknya lebih besar dan mekar sempurna. Proses pengawetannya pun alami sehingga tidak merusak keaslian bentuknya. Glass dome sendiri terbuat dari material premium borosilicate sehingga menambah kesan elegan seperti timeless flower di salah satu film ikonis, Beauty and The Beast.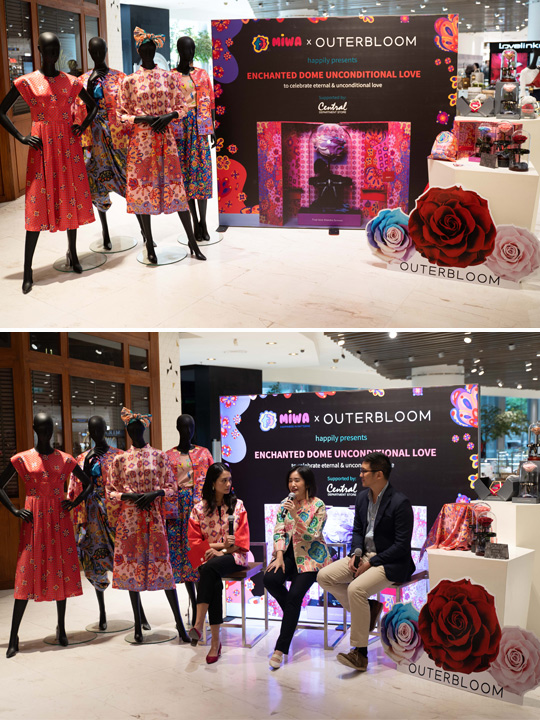 Mira Hoeng, dan William Tunggaldjaja
William Tunggaldjaja, founder Outerbloom menjelaskan bagaimana terciptanya timeless ross ini,"Misi Outerbloom ialah demi melahirkan sebuah 'memento' yang bisa membuat kita mengenang momen indah itu. Karena itulah, kami khusus mendatangkan bunga mawar terbaik dari Ekuador, mengawetkannya di dalam glass dome lalu di-bungkus kotak eksklusif sehingga berkesan mewah dan modern."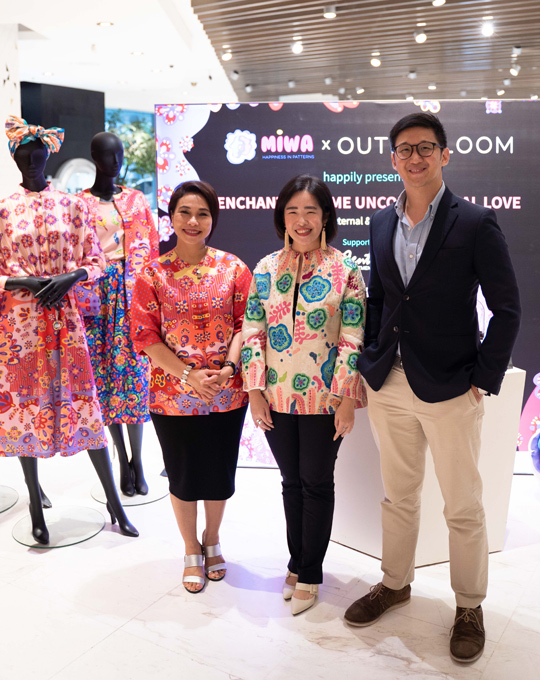 Sunny Setiawan, Mira Hoeng, dan William Tunggaldjaja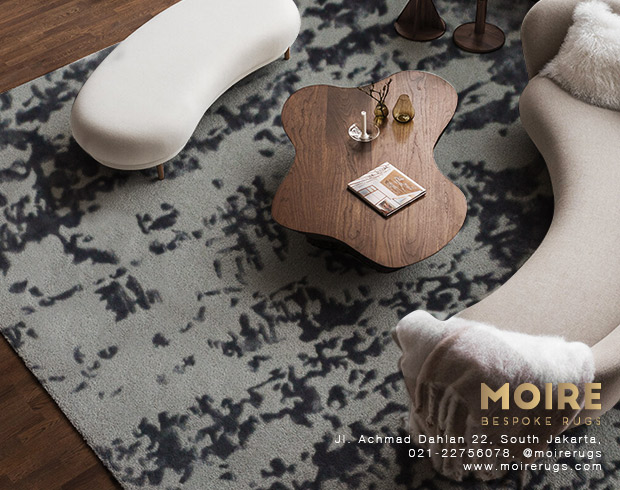 Presented by MOIRE Rugs
Kotak ekslusif yang dirancang MIWA dengan motif istimewa "Priyata" bertemakan cinta tak bersyarat (unconditional love) pada kemasannya. Motif ini terinspirasi dari bunga Peony yang melambangkan kemakmuran, feminitas, serta unconditional love. Warna yang dihadirkan cerah, padu padan pink dan ungu, untuk merealisasikan suatu gambaran tentang kenyamanan sebuah cinta tanpa syarat.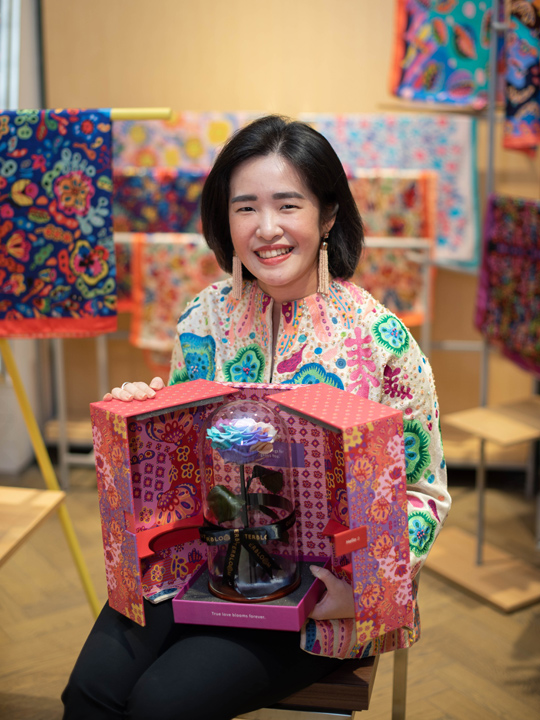 Mira Hoeng
Enchanted Dome: (Unconditional)Love merupakan kali pertama MIWA berkolaborasi dengan florist. Produk ini memiliki tiga varian warna, Passionate Red, Pastel Rainbow, dan Charming Pink. William dan MIRA sama-sama mengagumi produk-produk mereka satu sama lain. Sehingga keduanya tertantang untuk menciptakan cantik dan timeless dari konsep sesuatu yang modern dengan dunia pattern.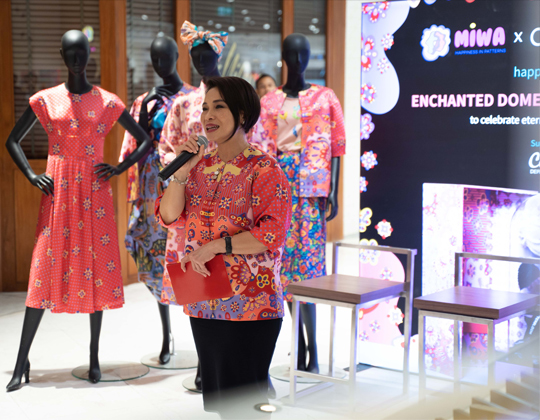 Sunny Setiawan

Produk Enchanted Dome: (Unconditional)Love bisa didapatkan di gerai Outerbloom di Central Dept. Store, Grand Indonesia atau melalui online di www.Outerbloom.com. Produk kolaborasi MIWA dan Outerbloom hanya bisa didapatkan waktu peluncuran hingga Hari Valentine. Dan untuk pembelian pada saat peluncuran beberapa waktu lalu, mendapat potongan disc. 15%.